Program Founders and History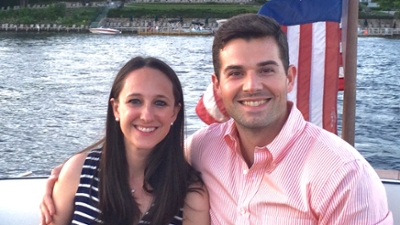 Mariah Rich Collins '10 and James Collins '09
Active Community Engagement is a lifelong commitment and value. The Rich/Collins Community Leadership and Impact Fellowship is made available thanks to the generous support and commitment of married alumni Mariah Rich Collins '10 and James Collins '09.
The fellow is modeled after one established at Rice University by Mariah's grandparents, Hilda and Hershel Rich, and funding and support comes from the Rich/Collins family, including Sharon Rich and Nancy Reed, Renie Rich Carniol, and Mariah and James.
Mariah Collins and James Collins are both recent Brandeis graduates. James, an American studies major and Environmental Studies minor, graduated in 2009. Mariah, a Health: Science, Society and Policy Major and Environmental Studies minor graduated in 2010.
While at Brandeis, both Mariah and James were very involved in the Brandeis and Waltham communities. Mariah volunteered for multiple Waltham Group programs, including leading the program formerly known as Waltham Kid's Club for over three years. As a senior, she took on a leadership role in the Waltham Group, serving on the Budget and Steering leadership team. With a couple of close friends, she helped start the Brandeis Farmer's Market as well as the Stanley Elementary School garden. She was recognized for her volunteer work at Brandeis with the Edwin E. Hoken Memorial prize for service and citizenship and as an AmeriCorps Student Leader in Service. When studying for her master's degree at the Harvard School of Public Health, Mariah returned to the Waltham community as an Albert Schweitzer Fellow, partnering with local nonprofit Healthy Waltham to launch Michelle Obama's Let's Move campaign in Waltham, focused on healthy eating and active living.
James spent four years on the Brandeis baseball team as a pitcher. He led the team as one of the captains his senior year. As a Brandeis sustainability initiative intern, he launched an "Energy Challenge" between dormitories to reduce energy usage across the Brandeis campus. He also volunteered at the Waltham Alliance to Create Housing. In his home community of South Boston, James co-founded an annual free little league clinic for local youth.
Today, both Mariah and James have focused their careers on the social sector. Mariah is a Manager at The Bridgespan Group, a nonprofit advisor and resource for mission-driven organizations and philanthropists. James is the Director of Statewide Energy Efficiency Programs, an energy efficiency program for low income families, at Action for Boston Community Development, the largest nonprofit human services agency in New England. James also just recently completed his MBA at Boston College.