Shapiro Campus Center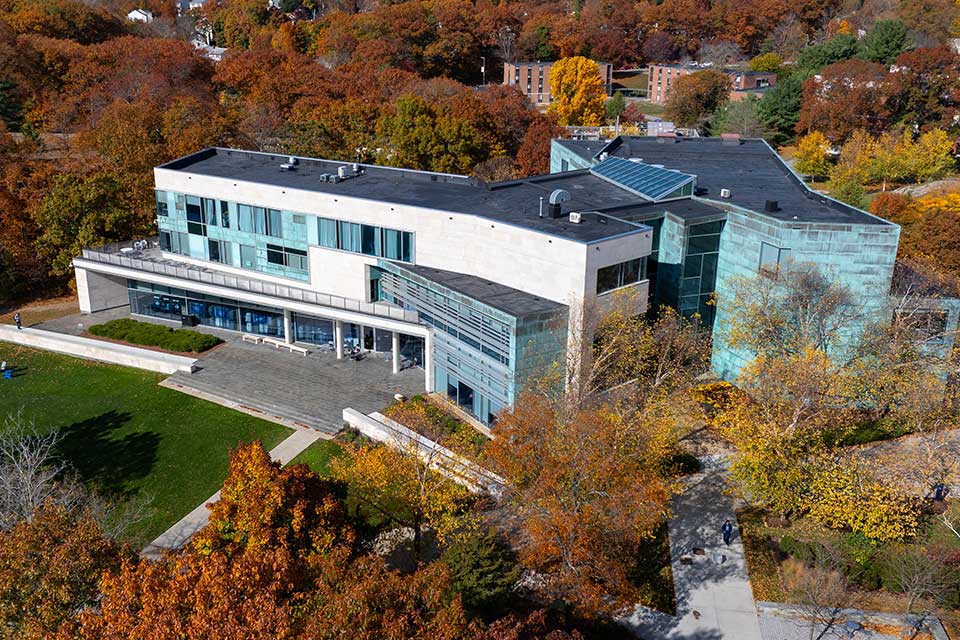 The Shapiro Campus Center (SCC) is accessible by ID card 24 hours a day. There are many resources housed within the building, including the info booth. Students are often in their club spaces throughout the day and evening hours; please check individual websites for office hours. The SCC is also the home of the Carl J. Shapiro Theater.
Use the SCC Space Request form to request to use conference rooms, the Shapiro Theater or to request a table. The Policies page includes information on tabling requests and posting policies and vendor information are included.
Shapiro Campus Center Enhancement Project
Executive Summary
Student Affairs initiated a review of the Shapiro Campus Center with the aim of understanding the extent to which current programs, services and spaces align with best practices as identified by the Association of College Unions International and the College Union principles outlined by the Council for the Advancement of Standards in Higher Education, the University's Framework for the Future, and the needs of today's students. This review was facilitated by an external consultant who brought together a variety of constituencies on campus to have input in the review process.
The review included:
Focus Groups consisting of students, the Student Union, SCC student employees, Student Affairs staff members, and other campus stakeholders.
Campus Center Survey of Brandeis students (n=652 respondents)
Analysis of space utilization from access cards
Review of historical documents, current policies and procedures, and documents from professional associations and other colleges and universities
Physical review of SCC spaces
Tours of spaces at local colleges and universities
Themes from the review findings include:
The SCC was described as a safe, welcoming, and enjoyable space and often referred to as the living room of the campus.
Student club members, particularly those that do not have office space in the SCC, frequently mentioned they would use the Campus Center more if they felt a deeper sense of belonging and connection to the building.
Concerns over mismatched, unsightly, and often uncomfortable furniture scattered throughout the building as well as lack of wayfinding and signage to navigate the building.
A desire for additional food options to be provided, including late-night, grab and go, and Kosher offerings
A need for updated spaces for quiet/individual work, group meetings, and general collaboration.
Feedback from Survey
General themes from open-ended survey questions include:
More equitable options for student clubs to meet and work
More areas with flexible, moveable soft-seating for social, collaborative, and individual pursuits 
More storage for all student organizations
Increased food options with longer hours of service
Activate space throughout the campus center to support more activities
The chart below depicts survey respondent preferences for future amenities.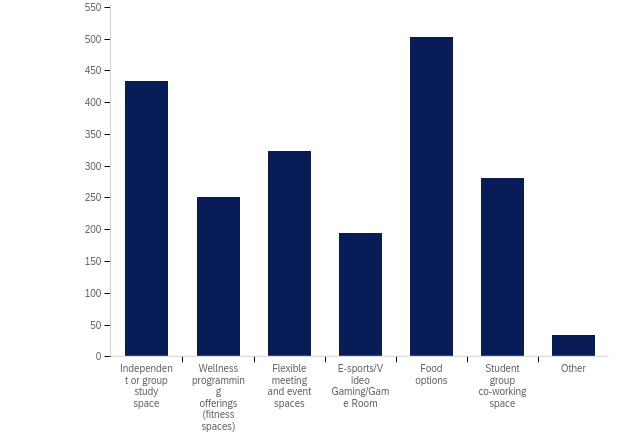 Recommendations
The following recommendations were identified for short, medium, and long-term projects:
Creating equitable student organization space(s) that leverage shared resources and provide easy access to flexible meeting space(s). Identifying several locations for dedicated student office spaces balanced with more flexible space for all organizations. 
Reviewing the professional offices and services located inside and restructuring their office space and storage needs to meet the current and future needs of the campus.
Developing common spaces with intentionality that feature various seating options for independent use and group collaboration.
Updating the meeting and event spaces with new modular furniture to accommodate various configurations. 
Outfitting the meeting and event spaces with user-friendly audio-visual equipment featuring hybrid capabilities.
Providing increased opportunities for cultural, educational, recreational, service oriented and social programming both inside and outside of the building. 
Improving the overall aesthetics of the building by installing better wayfinding signage.
Removing outdated and mismatched furniture, updating, and upgrading resources, and infusing identity by way of branding.
Short Term Goals and Projects (to be implemented prior to Fall 2023 semester)
Specifically, projects include:
A major cleanout of all SCC spaces
Furniture refresh for the TV Lounge and MPR
Ensure space allocations are maximized to serve the greatest number of clubs, right-size allocations, and serve the needs of campus.
Transitioning identified spaces currently held by non-secured clubs into flexible, shared meetings spaces (including reservable spaces) and resource spaces for all clubs.
Co-location of Student Wellness and Orientation into one student facing suite
Relocation of the food insecurity resources from Lower Usdan to the SCC
Addition of commuter and club lockers, charging stations, microwaves, and other amenities to the Shapiro Campus Center
Mid-Term Goals (to be implemented throughout the 2023-2024 academic year)
Create a Shapiro Campus Center Advisory Board composed of students, faculty, and staff to ensure involvement with continued changes and projects.
Refresh meeting furniture throughout Campus Center spaces with flexible, moveable, and updated pieces (as funds are available)
Update signage throughout the Shapiro Campus Center
Relocate game room and gaming functions into the Campus Center
Continue to increase storage for clubs and organizations
Replacement of lounge furniture in first floor Library, Atrium, common areas within the campus center (as funds are available)
Long-Term Goals (to be discussed and implemented beyond summer 2024)
Ongoing refresh of meeting and lounge spaces 
Discussions with Brandeis Hospitality and Campus Operations about food service offerings in the SCC
Ongoing implementation of the report's recommendations will be adjusted as needed, based on the changing needs of the campus, priorities, and resources available.
Building Directory