Staff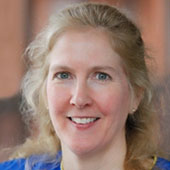 Laurel Carpenter
Senior Academic Administrator
Office Hours: Mon.-Fri. 9 a.m. to 4:30 p.m.
One thing I like about being the Anthropology Department administrator is the mix of repeating elements—semesters begin and end, familiar tasks come around annually—and the elements that are unexpected and exciting. Each year the mystery of our new matriculating class unfolds, bringing with it students full of creative energy and questions. In hosting a spectrum of guest speakers for our colloquium series, we discover unique approaches to particular anthropological questions. Over the course of the year, we celebrate the surprises, not wholly unexpected, but not taken for granted—when our students earn grants and awards, present papers, achieve acceptance to graduate programs, and begin on new career paths. Our graduate students have recently earned grants from Fulbright, Fulbright-Hays, National Geographic, National Science Foundation, Wenner-Gren, and the Social Science Research Council.
I've enjoyed hearing our anthropology undergraduate majors present their work during the eXperiential eXpo, the Community Engaged Learning Symposium, and our Senior Thesis Research Day in the spring.
In December 2012, I was honored to receive the Lou Ennis staff award.
I welcome inquiries about the Brandeis anthropology program, and if you are on campus, please stop by and say hello!
Radhika Moral
Academic Coordinator
Radhika holds an MA from Dartmouth College in Cultural Studies. She is from Assam, a state in India's Northeast. Radhika's research interests focus on migration in agrarian societies and the shifting ecologies of river systems which shape everyday practices and cultures of communities. She wrote her MA thesis on the Rohingya crisis and politics of ethnonationalism and recognition in Myanmar leading to the refugee community's precarious existence given the long history of migrations, border cultures and frontier geographies of the Burma, India, China and Bangladesh transregion. She completed her undergraduate in English Literature from Lady Shri Ram College, University of Delhi. She also holds a post-graduate degree in Conflict Studies from the Aung San Suu Kyi Center for Peace, University of Delhi.