David Wright Receives the 2016 Mentor Award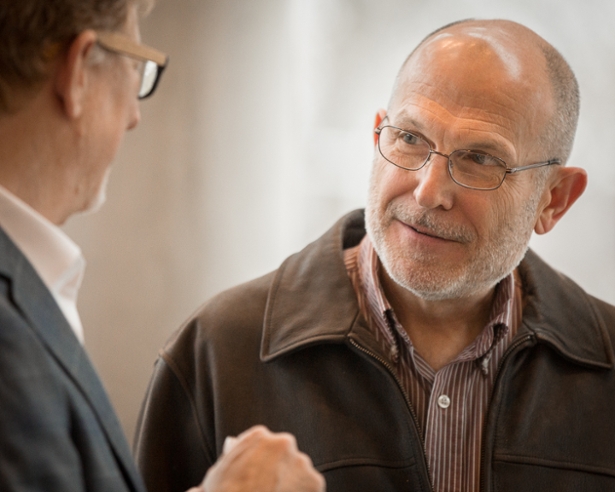 April 18, 2016
One of the hallmarks of a Brandeis graduate-level education is the personal support that our students receive from faculty. Every year since 2005, the Graduate School of Arts and Sciences has recognized the importance of first class mentorship with the Dean's Mentoring Award, worth $2,500. We are pleased to announce that this year's recipient is David Wright, Professor of Bible and Ancient Near East in the Near Eastern and Judaic Studies (NEJS) department.
Six students nominated Dr. Wright, making him one of the most popular recipients ever. Reading their essays paints a picture of a talented instructor who is unwavering in his support for students. "He is always available to talk, and is quick to give helpful advice," said one student. "My favorite thing about him is how enthusiastic he gets over my own research, and I know he is equally enthusiastic about other students' work." Another student claimed that she would not be in the NEJS Ph.D. program at all without his support.
"I'm gratified and humbled by this completely unexpected expression of confidence," says Wright. His approach to mentoring focuses on the idea that his students are emerging scholars. "In my classes and especially in my one-on-one work with students I attempt to engage them in discussion as peers. I like to take them through the process of identifying problems and questions, experimenting with a variety of solutions, rejecting weak ones, and cultivating those that are most reasonable. I basically think out loud and get them to join me. In these interactions I try to model the tension that scholars face in advancing creative solutions in view of the restrictions required by evidence and common sense. The joy comes when students get excited about this process, when it starts to inform their formal work, and when, selfishly, I get to learn from them."
"I always look forward to reading the nomination letters for the Mentor Award every year," says Eric Chasalow, Dean of the Graduate School of Arts and Sciences. "Providing a personal experience to our students with exceptional mentoring is a commitment that we take very seriously. When it comes to faculty members who excel in that regard, we have an embarrassment of riches at Brandeis. I am very proud of Dr. Wright's achievement, and I am grateful for his ongoing effort on behalf of our students." Susan Birren, the Dean of Arts and Sciences, presented the award to Dr. Wright at the faculty meeting on April 15.
David Wright joined the Brandeis faculty as an assistant professor in 1991. His research specialties are primarily Near Eastern and biblical ritual and law in comparative perspective. He is author of  "Inventing God's Law: How the Covenant Code of the Bible Used and Revised the Laws of Hammurabi" (Oxford University Press). This book argues that the biblical law collection in Exodus 20:23-23:19 was created as a response to Neo-Assyrian imperialism in Israel-Judah around 700 BCE and used Hammurabi's collection as a model for both its casuistic and apodictic laws.