3MT Finalists Prepare to Compete in the Last Round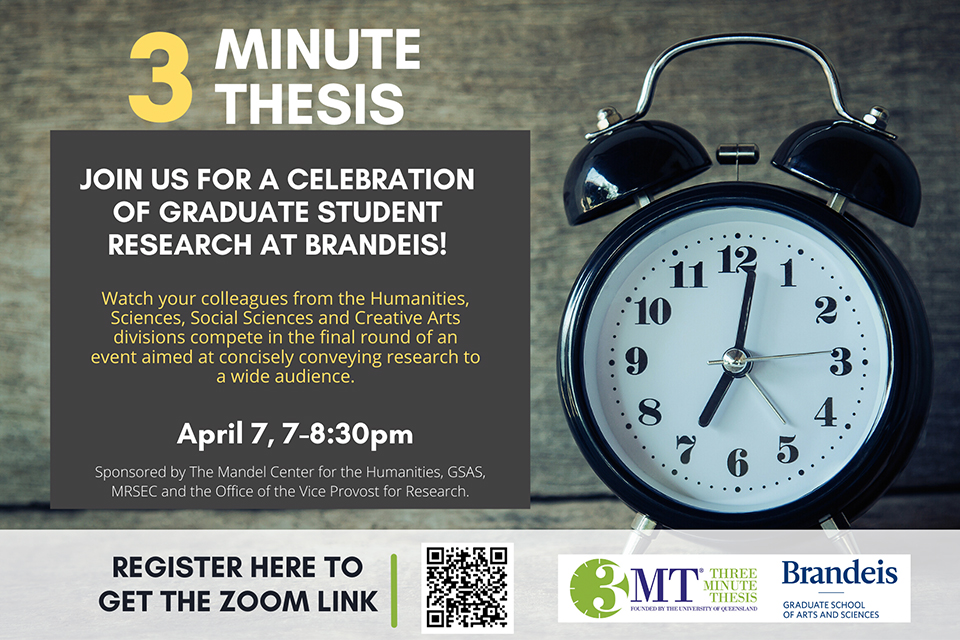 April 6, 2022
On Thursday, April 7, twelve GSAS students will compete in the final round of Brandeis University's first ever Three Minute Thesis (3MT) competition. 3MT is a speaking competition designed to showcase graduate student research in three-minute talks to a general audience. This competition is being organized by Jonathan Anjaria and Marika McCann, Professional Development Office at GSAS, and Anahita Zare, Materials Research Science and Engineering Center. Additional funding comes from the Mandel Center for the Humanities and the Office of the Vice Provost for Research.
More than 40 students participated in the early rounds of the competition, and the finalists include: 
Habiba Braimah, Social Policy
Kimberly Butland, Genetic Counseling
Kerry Jo Green, History
Emiliano Gutierrez-Popoca, English
Chih-Chien Hsieh, English
Kalie Jamieson, Anthropology
Rachel Runqiu Jin, Psychology
Pyunghwa Lee, English
Anthony Libscomb, NEJS
Xin Yao Lin, Psychology
Alex Luu, Computer Science
Joseph Peter Yauch, History
The Judges for the final round will include a selection of Brandeis faculty and alumni: 
Dorothy Hodgson, Dean of the School of Arts and Sciences, Brandeis University
Ulka Anjaria, Professor of English and Director, Mandel Center for the Humanities, Brandeis University
Bulbul Chakraborty, Enid and Nate Ancell Professor of Physics and Division Head for the Sciences, Brandeis University
Robert Pearson, GSAS PhD'11 in Musicology, Assistant Dean, Professional Development and Career Planning, Emory University
Vipin Suri, GSAS PhD'01 in Biochemistry, Chief Scientific Officer, Catamaran Bio
Peter Taylor, GSAS PhD'00 in English, Executive Associate Dean, Academic & External Affairs, Nova Southeastern University
Students have found that the competition has been very helpful as they learn how to communicate about their research. "Our school offers a lot of workshops to help students to speak about their research. So I always feel that I am equipped with every technique theoretically," says Alex Luu, one of the finalists. "3MT is a precious opportunity for me to put the theory into practice." Another finalist, Habiba Braimah, agrees that 3MT has helped her learn how to communicate about her research more effectively. "This competition has forced me to highlight the parts of my research that people can either connect with, understand, or desire to learn more about," she says. "It has also helped me with polishing my elevator pitch." 
Finalist Chih-Chien Hsieh sought support when learning how to speak about his research. "At first I had a hard time summarizing my research within three minutes," hw says. "However, through the workshops hosted by the Brandies Comm Lab, I learned how to structure a three-minute talk and convincingly communicate my ideas. Also, a meeting with Professor Jonathan Anjaria helped me realize that, instead of summarizing your research, a more effective way was to focus on just one idea and elaborate on that idea as clearly as possible."
For finalist Emiliano Gutiérrez Popoca, the competition has helped him identify and clarify the core ideas of his dissertation. "It has also been great to boost my confidence in the importance of my research," he says. "Having to think about why my research matters and getting that idea across for more people has made me think differently about why doing this kind of research in the humanities is important." 
Members of the Brandeis community may watch the final competition on Zoom on April 7, at 7:00pm. GSAS students are encouraged to attend.