One of Brandeis' Earliest Alums Spends Her Life Preserving History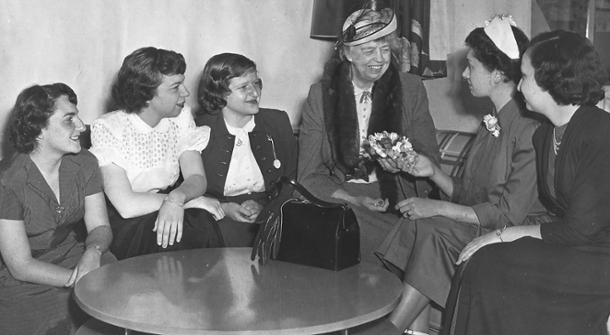 July 29, 2016
In 1992, a man knocked on the office door of Adaire Klein '53, MA '57. She had never met the man, but he told her, "I have a letter that belongs to you."
Adaire Klein was born Adaire Schwartz in Leavenworth, Kansas in 1931 and grew up in Columbus, Ohio. She attended Hebrew School throughout her childhood there, and as her high school graduation approached, she had hoped to pursue Judaic Studies at Columbia University. Around this time, her parents noticed an article in the New York Times about the establishment of Brandeis University. When Adaire realized that she could pursue a degree in Hebrew and Judaic Studies on the fledgling campus, she decided that she wanted to attend.
Brandeis was still a very young institution when Adaire arrived on campus, but many of the values that define university today were already taking root. Students maintained very close relationships with faculty, and Adaire would eat Shabbat meals with her faculty advisors while having class around their dining room tables. Abram Sachar, Brandeis' first president, knew all of the students. "If you passed him on campus, you were greeted by name," she says. Adaire majored in Hebrew Literature, and she was very active in the extracurricular activities, including the United Nations club, which received frequent visits from Eleanor Roosevelt.
Perhaps the story that best illustrates the closeness of the community at Brandeis is the tale of how Adaire met her husband. One of her best friends at Brandeis was Theresa Klein. "My brother, Ephraim, told me that he would come and visit me at Brandeis if I could convince one of the girls to write him a letter," she says. Theresa took the bait, and things went so well during the visit—Adaire notes that Ephraim spent much more time with Theresa than with her—that the two were married in 1951. While attending their wedding, Adaire met Theresa's cousin, Manny Klein, whom she would marry in 1957. The irony is not lost on Adaire, "Theresa was a Klein and became a Schwartz. I was a Schwartz and became a Klein!"
| | |
| --- | --- |
| The Graduate School of Arts and Sciences was established while Adaire was studying as an undergraduate. She became one of the 42 students in the first class at the time when there were only four departments: Chemistry, Near Eastern and Judaic Studies, Music Composition, and Psychology. She remembers taking a long time to complete her master's thesis, noting that, "Typing was a little different in those days!" | |
After graduating from GSAS, Adaire worked as a teacher in New York City until she and Manny moved to California 1973, where they would remain for the next forty years. Adaire was working at Sinai Temple in West Los Angeles, which propelled her career in new direction: the world of libraries. The synagogue had a magnificent library, and Adaire and started taking on responsibilities there and at another library in Encino.
In 1977, the Simon Wiesenthal Center opened a museum in Los Angeles. Adaire heard that the center was opening a library to support the museum, and she applied for the position. Based on her experience as a librarian and the depth of knowledge she had acquired at Brandeis, she was offered the job, a role she would keep until the end of her career in 2012. Adaire didn't have an office or a telephone during the first few weeks, but she was given two boxes with about 50 books, mostly about the Holocaust. The 1970s was a providential time for curators of Holocaust material, as many survivors were publishing their memoirs and donating their ephemera. As the profile of the library grew, people started donating books and family collections. One of these donors was the man who knocked on the door of her office in 1992.
The man was named Henri Silvers, a Belgian Jew who had survived the war. During the war, the Nazis had broken into a house in Belgium and taken the family that lived there. The letter that Silvers had in his possession was thrown from a deportation train destined for Auschwitz by the eighteen-year-old daughter of the family. "In the letter, she described everything that transpired on the train," says Adaire, "everything that we have read about in books." She had also enclosed a passport-sized picture of herself for Silvers, who was a close friend, with the words "Henri Silvers: until we are able to meet again" on the back. She would be murdered at Auschwitz. Nobody knows how the letter made its way back to Silvers, but he decided to turn it in to the Simon Wiesenthal Center, telling Adaire, "This letter no longer belongs to me. I have taken care of it and protected it, but now it belongs to the world."
The Center, known as the Museum of Tolerance today, provided a lot of educational programming for school children to help them understand the Holocaust and broader issues of tolerance and diversity. Adaire would tell the story of the letter and ask students how they thought it reached its destination. "It brings to life so much for young people," says Adaire, who regards the museum's work with children as one of her most important achievements. "You have to help them understand the value of artifacts like this."
Many people are surprised to hear that some of the books contained in the library were written by Holocaust deniers. Holocaust denial was a little-known movement at the time, and Adaire found processing these books very difficult. Initially, she kept them in the back room, "hoping it would go away," but the books would turn out to be very useful in years to come. One frequent visitor to the library was fellow Brandeis GSAS alumna Deborah Lipstadt, M.A. '72, Ph.D. '76, who reviewed these materials during her research for her own book, Denying the Holocaust, which was published in 1993. A British historian, David Irving, sued Lipstadt over his portrayal in her book. Denial, a film about the legal battle that ensued, will be released in the autumn.
The archives contain many other notable materials. When the survivors of the Mauthausen concentration camp realized they were being liberated, they took scraps from uniforms and Nazi banners and put the pieces together to create an American Flag. "They were all agreed that there were seven red stripes and six white stripes, but they were not sure how many stars there were," says Adaire. "So it became the flag with 56 stars." Other artifacts included letters from Anne and Margot Frank's pen pals in Iowa. "These are the kind of things that are so important," says Adaire. "Children learn in particular when they can see and touch, while hearing the adjoining story from history. We are able to take the items and memorabilia and let them speak for themselves." Wiesenthal himself visited the center a number of times, and they inherited a few items from his extensive personal archive when he died. The influx of material has tapered off because so many survivors have passed away, but they still regularly host Holocaust survivors who speak about their experiences.
In spite of being in Los Angeles for forty years, Adaire has maintained ties with Brandeis. Part of her education efforts at the museum included videoconferencing with school children around the world. Brandeis was involved in one of these efforts in 2009, when the museum hosted a conference with Claire Nivola, the author of Planting the Trees of Kenya. Students in Los Angeles and Kenya joined the conference, but Nivola could not come to Los Angeles. She lived in Newton, MA, so Adaire asked Brandeis to help. The university provided the necessary video technology and invited their own Kenyan students to join the conversation. Not only did the children in Kenya enjoy seeing Nivola, but also seeing their peers at an American university. "The teachers in Kenya said that the children were so excited to see college students from Kenya on the video," says Adaire.
Adaire last visited campus in 2003 for her 50th reunion. She retired in 2012 and moved to Jerusalem. She is very proud of her life's work at the museum. "The archival materials are what will provide the evidence of the Holocaust for generations yet unborn," she says. "If we don't collect, process and organize these artifacts, four or five hundred years from now, there would be no way of the world knowing what happened. They will enable people to prove that what happened, happened."
Elie Wiesel, a celebrated holocaust survivor and recipient of an honorary doctorate from Brandeis, passed away earlier this year. During a visit to Buchenwald Concentration Camp, Wiesel told President Obama, "Memory has become a sacred duty of all people of goodwill." Perhaps no Brandeis alumna has done more to embrace this responsibility than Adaire Klein.