AK King Investigates Queer Identities Among People of Color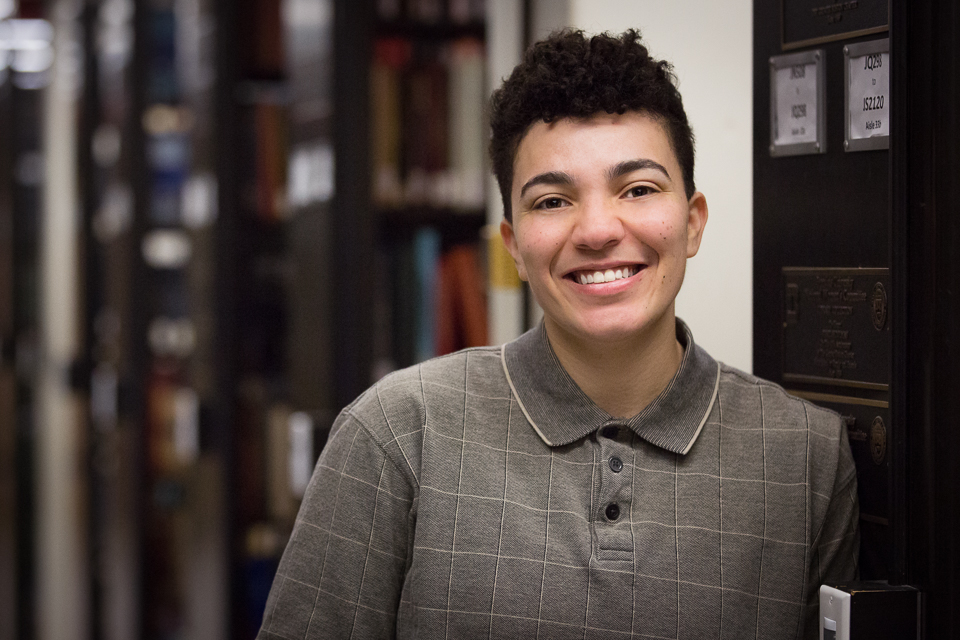 Photo Credit: Simon Goodacre
February 12, 2018
Helen Wong | Graduate School of Arts and Sciences
Master's candidate AK King came to Brandeis knowing they wanted to enter a Gender Studies program. Having majored in Sociology and Spanish at Hendrix College, they chose Brandeis after being offered the DEIS Scholarship. Informed by their own lived experience and conversations with other members of the queer community, they research individuals of color who are masculine and assigned female gender identity at birth as part of the Women's, Gender and Sexuality program.
"I believe that masculine-of-center folk, especially black and brown folk, have important perspectives and hold so much knowledge when it comes to critiquing and resisting current power structures," says King. "I'd like to continue to refine my research more, but the variety of classes that I've taken have really encouraged me to think about how people of color who are masculine and assigned female negotiate race, gender and gender expression. I am also interested in the ways that these same folks seek to frame their masculinity."
Despite the larger size of Brandeis compared to their undergraduate institution, King has found the faculty to be accessible, and they have found the Gender and Sexuality Center to be a particularly helpful resource. "Madeleine Lopez, the coordinator for the DEIS program, suggested that I look into working in the Gender and Sexuality Center, which is similar to an LGBT center," says King. "It's been a great experience and has actually piqued my own interests in serving marginalized students on university campuses."
King has also taken the initiative in forming groups such as the new Black Graduate Student Association, where they now serve as the Treasurer, and the Queer Graduate Student Union. "It's been fun and rewarding to be a part of graduate student organizing," says King. "The organizers of these groups believe that these spaces are necessary for these respective graduate students on campus and I couldn't agree more." They plan to apply for doctoral programs during the coming semester but are also considering how they might be able to support students in the future.