At Brandeis, Community and Academics Cohere for DEIS Scholar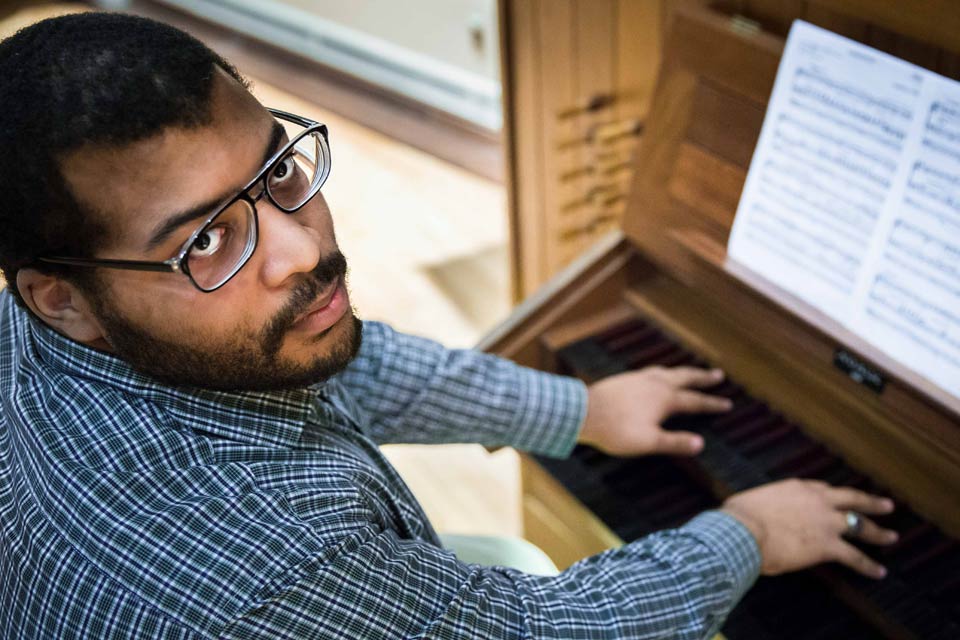 February 16, 2017
This story is part of a series about recipients of the DEIS Scholarship at GSAS.

Donald Warren has only been on campus for six months, but he is already fully ingrained in the Brandeis community, serving on the Graduate Student Association senate, managing the University Chorus, performing with the Early Music Ensemble, and contributing to the upcoming production of Pirates of Penzance. "Brandeis is not so terribly different from my dear Southern Arkansas," he says. "It has its hiccups and quirks, but what school doesn't?"
Warren was born and raised in Pine Bluff, Arkansas. "History buffs may know it as the hometown of Martha Mitchell, who fanned the flames of the Watergate scandal with late-night phone calls to the press," he notes. He is the second of four children, and the first of them to complete college.
As a high school student, Warren's involvement with the Pine Bluff Singers—which hosted an annual Madrigal Dinner—gave him an appreciation for early music. He earned his bachelor's degree in Vocal Music at Southern Arkansas University (SAU). "I tend to refer to SAU as just to the left of the middle of nowhere," he says, "but I wouldn't trade my time there for anything in the world." He performed in a number of ensembles at SAU. "I was a founding member of my chapter of Phi Mu Alpha Sinfonia, the first president of the choral ensembles, and president of the student chapter of the American Choral Directors Association."
Although Warren is a very accomplished vocalist, his musical expertise extends far beyond singing. "I'm a bit of an instrumental polyglot," he says. "I've had lessons in piano, organ, flute, oboe, clarinet, trumpet, trombone, violin, viola, cello, guitar, lute, and snare drum. I'm also a self-taught soprano/tenor recorder player and alto/tenor ocarina player."
Warren is pursuing a degree in Musicology at Brandeis. "My research interests include music of the UK from the Interwar period and back." He is particularly focused on Sir Charles Villiers Stanford and the composers he influenced. He is also interested Florence Price, the first African-American female composer to be nationally recognized with a performance at the Chicago Symphony. He was drawn to "her immense talent" and her ties to his home state. "Price's works have a magnetism and freshness scarcely attributable to any other composer," he says.
Warren has enjoyed being a member of the inaugural DEIS cohort. "My cohort seems to be an academically spirited and globally aware bunch. From current politics to Foucault to the incisive and ribald poetry of Catullus, nothing is off-limits in our meetings." He also notes that Madeleine López, coordinator of the program, "is a wonderful facilitator for the DEIS scholars."
Next year will be a time of intense focus for Warren as he completes his thesis and applies for doctoral programs. He still has a few more decisions to make. "After Brandeis, I would love to plunge into even more school," he says. "I feel, however, that I might have earned a little bit of a break from school!"