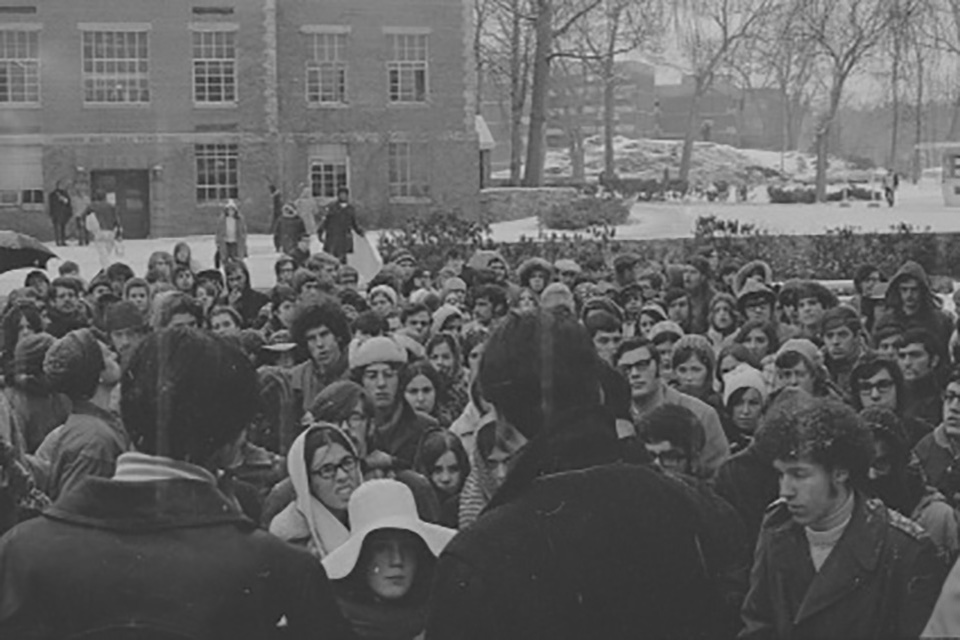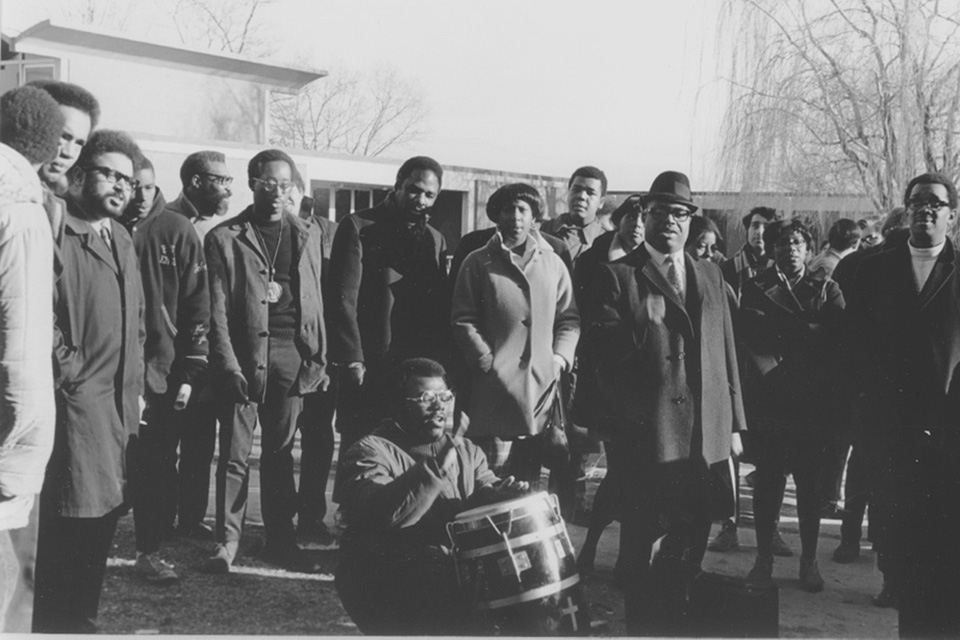 February 15, 2023
In honor of Black History Month, we highlight Black scholars, alums, and faculty who played important roles in the history of GSAS. Brandeis opened its doors in 1948 during a time when minorities faced discrimination in higher education. GSAS continued the university's commitment to openness and acceptance when it opened in 1953. Please write and let us know of other people we should highlight.
Ford Hall Occupation
On January 8, 1969, seventy African American students took control of the Ford and Sydeman Halls for ten days and presented the administration with a list of ten demands related to the treatment of African Americans and minorities on campus. The Ford Hall Occupation, led by both undergraduate and graduate students, sparked the demand for racial representation and equal treatment on campus, and urged GSAS to take rightful steps to make every student feel comfortable and accepted on campus. 
Student leaders and participants in the 1969 Ford Hall Occupation included GSAS students. Roy DeBerry (Sociology '70, Political Science MA '78 and PhD '79), was an undergraduate student and President of the Brandeis Afro-American Society during the Occupation. After his graduate education at Brandeis, he co-founded The Hill Country Project, which collects oral histories from Benton County, MS, residents who lived through the civil rights movement. In 2014, he was named the inaugural activist-in-residence at the William Winter Institute for Racial Reconciliation at the University of Mississippi. 
Helen Stewart (Sociology PhD '80) was a graduate student during the occupation. After graduation, she became a management consultant and academic administrator for schools across the U.S., including serving as the Vice President for Academic Affairs and Provost of Rider University in Lawrenceville, New Jersey. 
Hortense Spillers (English PhD '74) was among the occupants of Ford Hall and is now the Gertrude Conaway Vanderbilt Professor of English at Vanderbilt University. Professor Spillers is a recipient of numerous awards and honors including grants from the Rockefeller Foundation and the Ford Foundation. She has been a fellow at the National Humanities Center and the Center for the Study of Behavioral Sciences. Professor Spillers is a scholar of the African diaspora and her article, "Mama's Baby, Papa's Maybe: An American Grammar Book" (Diacritics, 1987) is one of the most cited essays in African American literary studies. Her current research interests include the idea of Black culture and women and early Republican formations.
Transitional Year Program
Following the occupation, GSAS took action to enlarge and support the Transitional Year Program, now called the Myra Kraft Transitional Year Program. Since its inception, it has been a one-year compensatory program designed to help educationally disadvantaged secondary school graduates matriculate into college. Historically, TYP courses were mostly taught by graduate students, which created teaching opportunities for graduate students who might not have had teaching fellowships on campus. The program continues to be an integral part of Brandeis and its enduring commitment to social justice.   
Program and Policy Changes
In the 1970s, GSAS also began to work closely with the Educational Policy Committee (EPC), a committee established to review and create program and policy changes that reflected equal rights and treatment on campus. Brandeis created the Martin Luther King Jr. Scholarship, still in place today for undergraduates, increased fellowship support for Black students, and appointed a Director of Special Recruitment in an attempt to increase the number of GSAS applications from students from minority backgrounds. The establishment of the African and African American Studies Department (AAAS) offered GSAS students a chance to contribute to AAAS education on campus. Graduate students continue to serve as Teaching Assistants for AAAS classes, work with AAAS faculty on dissertations, and actively participate in AAAS programming and events.