DEIS Scholar Pursues MA in Philosophy, Prepares for Career in Academia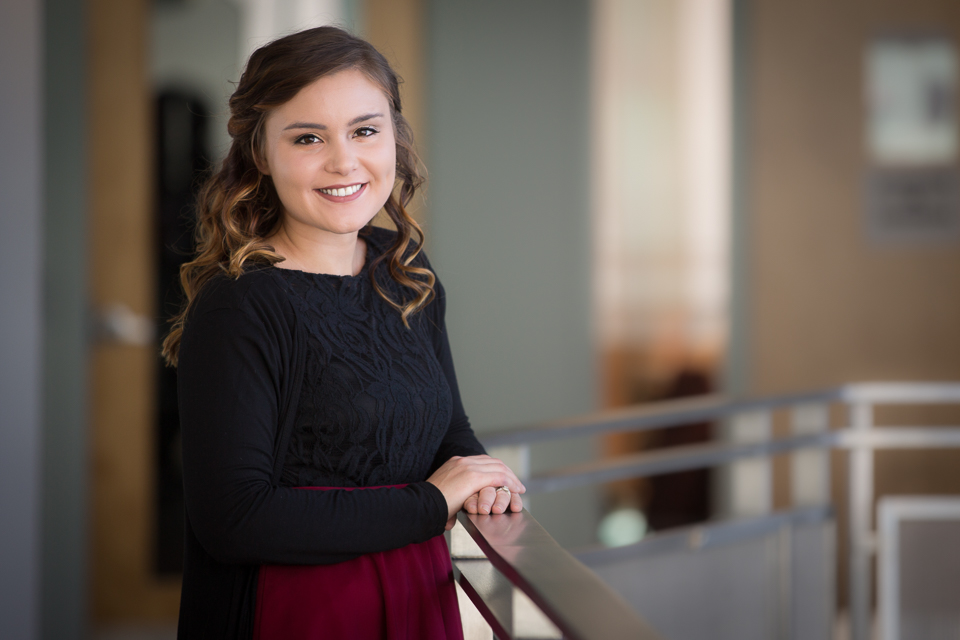 Photo Credit: Simon Goodacre
February 23, 2017
This story is part of a series about recipients of the DEIS Scholarship at GSAS.

This semester, Mahala Rethlake, a master's student in the Philosophy department, is grappling with key ideas in Aristotelian thought and philosophical perspectives on gratitude and forgiveness. As a member of the first ever DEIS cohort, Mahala's experience at Brandeis has been impacted not only by the support of faculty and the wider community, but by the encouragement of her fellow DEIS scholars.
"By exposing me to students from various disciplines and offering countless opportunities to process my own academic goals, being a member of the DEIS community makes the Brandeis experience much more reflective and full," says Mahala. "Like my undergraduate institution, Brandeis has a relatively small student body, allowing for smaller classes which afford students ample opportunity to engage in classroom discussions and work closely with professors."
Mahala grew up in an Amish community in Nappanee Indiana, where students typically terminate their education in the eighth grade. Mahala describes herself as "an avid reader of fiction," a passion she first discovered as a child. "I think that reading literature encouraged me to see the world as diverse and full of opportunity, which then encouraged me to push the boundaries a bit when it came to my pursuit of higher education."
In her community, "higher education" first meant moving beyond the eighth grade. "By attending high school, I was stepping into uncharted territory," she says. "During this time, I had to figure out how to reconcile my desire to respect my family and what they had taught me with my new desires and goals." In spite of the initial tension caused by Mahala's decision to pursue higher education, she remains very close with her family, noting that "eventually they came to be very supportive of my academic pursuits."
At the age of fifteen, Mahala made the decision to leave her childhood community. "I realized that the kind of person I was becoming—my personality, goals, and vision for life—didn't quite align with the kind of person my community was encouraging me to become," she says. "I also recognized that, through education, I could actualize the life I envisioned for myself, one filled with various and valuable opportunities." In 2010, she enrolled at Bethel College.
At Bethel, Mahala first became interested in philosophy after becoming friends with philosophy majors and professors. "I quickly realized that my interest in the topic was deep and lasting," she says, and after some consideration, she added it as her second major. "I decided to pursue philosophy because I appreciated how it shaped me as a thinker and because of the issues it allowed me to engage in," she says. "I was intrigued by the philosopher's ability, curiosity, and generosity—ability to identify and articulate important questions; curiosity to follow the questions wherever they might lead; and generosity in listening to alternate positions, in taking seriously objections to their own views, and in being ready to admit when they've made a mistake in their thinking."
Mahala earned degrees in English and Philosophy in 2014. With the goal of earning a doctoral degree and eventually teaching at the university level, Mahala decided to pursue a Master's in Philosophy. During a phone conversation with Dr. Berislav Marusic, Director of Graduate Studies in Philosophy, she was informed that not only had she been accepted to the program, but she had also been offered the DEIS award, a scholarship for nontraditional or first-generation students pursuing advanced degrees.
"Since I didn't know about the DEIS award before the phone call, the news came as a pleasant surprise," she says. "Receiving the scholarship made Brandeis a live option for me, financially speaking. Furthermore, knowing that I would have an interdisciplinary cohort with which I could engage throughout my experience as a master's student further motivated me to choose Brandeis." She has also found Madeleine Lopez, director of the DEIS program, to be an encouraging and helpful presence. She appreciates Lopez's willingness "to offer resources specific to my needs" and says that her "general concern for my academics and wellbeing has made my time at Brandeis a welcoming experience."
Mahala has found the department to be very supportive. "The faculty in the philosophy department are approachable, accessible, and helpful," says Mahala. "Additionally, the department has developed a comprehensive system to support graduate students as they go through the program and prepare for their next program, if that's their goal. Professors are ready to aid students with whatever further needs they might have, including those that the system doesn't address, such as the needs and concerns of those who do not plan to continue work in philosophy."
The department also supports students by offering sessions that address common concerns such as how to prepare a curriculum vitae and how to decide which doctoral programs best fit with a student's interests. It encourages students to present and critique each other's writing samples, and invites philosophers from outside the department to present their work. These services provide direction and enable students to expand their philosophical engagement beyond the classroom.
In the past, Brandeis' Graduate Studies in Philosophy program has consistently placed students in top PhD programs. Mahala hopes that she will be one of them. "Education has been hugely influential in my own story," Mahala says. "I hope to continue my relationship with education by being a lifelong student and by sharing what I learn with others."
Mahala's journey to Brandeis has been fraught with unusual challenges. As she approaches her last semester on campus, we asked her what the value of education means to her. "From my experience, education has enabled me to discover much more about the world than I could have without it," she says. "It has presented me with countless opportunities to learn about not only basic academic and social matters but also complex theoretical ones. Thus, I think education can expand and challenge one's knowledge and conception of the world."