Stephen Guerriero, MA'16, Designs Ancient History Curriculum for Needham Public Schools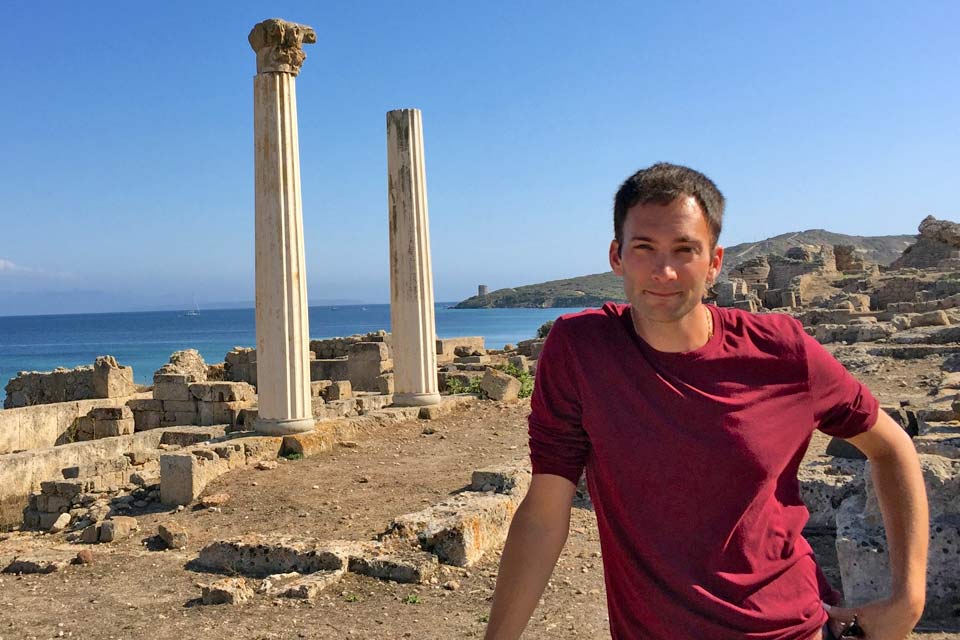 January 6, 2017
Stephen Guerriero, MA'16, is a leader in his department at Needham Public Schools. He uses his extensive expertise to create engaging course designs for sixth grade students in Social Studies, which include curriculum based on archaeology, Ancient Greece and Rome, Egypt, and the Near East.
Guerriero came to Brandeis with degrees in International Relations, Italian, and Latin from Boston University and a master's of education from Boston College. He had fallen in love with Latin literature and ancient Roman history years before as a high school student at Boston Latin. As luck would have it, he met the chair of the Classical Studies Department, Ann Olga Koloski-Ostrow (known to students as AOKO), during a professional development course at Brandeis. In speaking with her, he realized that the Ancient Greek and Roman Studies (AGRS) program at Brandeis was "a perfect fit for what I was looking for, personally and professionally."
Over the course of his Brandeis career, Guerriero had the opportunity to work closely with Koloski-Ostrow and Lenny Muellner, particularly as he developed his thesis: Among the Phantoms of Men Outworn: In the Tomb of Orcus, Greek Myth Illustrates Etruscan Beliefs and Political Reality, an exploration of the expression of Greek myths on the walls of a famous Etruscan tomb. He found the support he received from AGRS faculty to be invaluable.
"The faculty were not only knowledgeable and offered great classes, but also worked personally with me to accommodate my schedule as I taught during the day and attended classes in the evenings," says Guerriero. "They were so understanding of my situation and appreciative of my interest and my work." He notes that whenever he sees AOKO, he always reminds her that she has changed his life.
Dr. Muellner also went above and beyond, working with Guerriero on his thesis even after Muellner had formally retired from his position. "I was in awe of [Muellner's] brilliance and humility the whole time," Guerriero says. "I'm so grateful for all of the time the faculty put in to help me."
As part of the AGRS program, Guerriero was also able to realize his lifelong dream of participating in an archaeological dig for two summers at the Via Appia Antica in Rome and a Mycenaean/Minoan site on Crete. "Both were tremendous experiences I could only have done with the support of Brandeis and the Department of Classical Studies," he says. "Professor Koh helped me realize my dreams of participating in an archaeological dig. He also guided my career at Brandeis, and we had great conversations exploring possible future goals I might have."
Now that Guerriero is on the way to achieving those goals, he looks back on his time at Brandeis with fond memories. "Joining the AGRS program put me onto a fulfilling and challenging academic path that I would never have otherwise taken," says Guerriero. "This program was a rigorous, flexible, and personalized one that gave me an opportunity to explore topics in Classical history and literature, had a faculty that was invested in my success, and offered great opportunities to apply what I was doing to both fieldwork and professional presentations."