DEIS Award Enables Zachary Elliott to Pursue a Degree in Ancient Greek and Roman Studies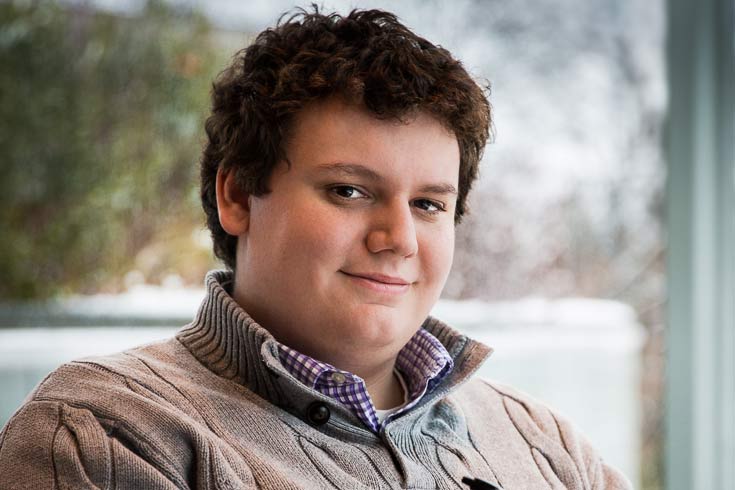 February 8, 2017
This story is the first in a series about recipients of the Diversity, Excellence and Inclusion Scholarship at GSAS.

Zachary Elliott was very excited about being accepted to the Ancient Greek and Roman Studies (AGRS) program at Brandeis, but he had a major concern. "I thought that I would not be able to attend because of financial issues," he says, "so I was considering post-baccalaureate programs to improve my language skills while working and waiting for the next round of graduate school applications." Then Andrew Koh, the Co-Director of Graduate Study for the program, told him that he had been offered the Diversity Excellence and Inclusion Scholarship (DEIS).
The DEIS award is designed to enable students from non-traditional backgrounds—including first generation college graduates like Elliott—to benefit from a world-class Brandeis education. "I was interested in the opportunity but did not expect to receive the scholarship," he says. "When I heard I had been selected, I was thrilled and knew I wanted to come to Brandeis."
Elliott, a New Jersey native, earned his bachelor's degree at the College of New Jersey. The college does not offer a Classical Studies major, so he created a self-designed major in the field, taking independent study courses on Latin and Greek and extending his education while studying abroad in Britain. He graduated summa cum laude, Phi Beta Kappa, with a double-major in Classical Studies and History. He was interested in the AGRS program at Brandeis "because it afforded the opportunity not only to increase my exposure to the ancient languages, but also to help me grow as a scholar."
Elliott has found the AGRS department and its faculty to be very welcoming and supportive. "I've been working most closely with Dr. Joel Christensen," he says. "In addition to exploring some nascent ideas that might eventually lead to my Master's thesis, I am working with Dr. Christensen on a project that explores African-American reception of and experience with Classics." Through his research on the topic, he has found that the demographic issues in the field might be linked not to an inherent "whiteness" but rather to problems of access and presentation. Elliott and Dr. Christensen plan to present the research at conferences and publish it in an academic journal over the course of the upcoming year. He makes regular blog posts on the topic at the Classical Studies blog Sententiae Antiquae.
As a member of the first DEIS cohort, Elliott has found the program to be very conducive to participating in dialogue around the issue of diversity in academia. "The meetings with my fellow DEIS scholars have been great opportunities for sharing experiences and learning from a group of people studying diverse disciplines," he says. He also credits Madeleine E. López, the coordinator of the DEIS program, with helping him to acclimatize to the Brandeis community. "The DEIS program provides a strong support network at an excellent research university, and I hope to continue to build on these relationships in the future."
As Elliott completes his second semester of graduate study, he is making plans for the future. "Much of my time over the next academic year will be devoted to writing my Master's thesis," he says, "but I also plan to continue to improve my familiarity with Ancient Greek and Latin and remain active in my department."