Undergraduate Departmental Representatives
Undergraduate departmental representatives are responsible for opening avenues of communication between undergraduates and music department faculty.
They also provide academic and career information to majors, minors and prospective students; organize meetings and information sessions on topics related to the music program; disseminate information on music department events and activities; and serve as ambassadors for the music department at universitywide events such as admitted students day and the academic fair.
Meet the 2022-2023 UDRs!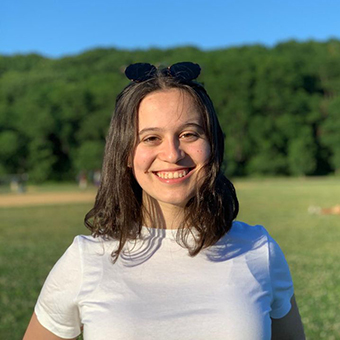 Davina Goodman '23
Music UDR
Davina Goodman is a junior majoring in biology and minoring in music. She studies vocal performance and is one of the Leonard Bernstein Fellows. Davina loves to perform musical theater or operatic pieces (two different sides of the vocal music spectrum). In addition to singing, Davina is pre-med. She is extremely interested in how music and medicine can be used together to benefit patients.
Davina can be found in the lab, SCC, or SSC listening to music she needs to memorize while studying for her classes. Davina is really excited to work with the other UDRs to create a collaborative and fun space. Additionally, Davina hopes to be a liaison for students who need help balancing their music coursework with their other majors/minors.
Grace DeRoche '24
Music UDR
More to come!