Bachelor of Arts in Music
The Brandeis Music Department is excited to announce major curricular revisions to the requirements for the music major and minor, in both content and requirements. These changes support the vision for the Brandeis music department: that it is a place for all musicians, regardless of their particular musical languages, to pursue the advanced study of music with excellence and rigor. Learn more about the revisions. 
Music is more than notes and sound. It is also a technical discipline, cultural artifact, and form of communication. At Brandeis, we take an integrated approach to the study of music that incorporates all these dimensions.
Our undergraduate program combines music history, theory, composition and performance. As a music major, you'll take one to two years of theory and training in musicianship skills, as well as courses in global soundscapes, critical listening and history. You'll participate in university ensembles and take electives chosen from a broad selection of topics. We now offer three flexible tracks: Composition & Theory, History & Culture and Performance.
Our music program will not only give you a deep appreciation of the complexity and richness of music—from its basic rules and its range of styles to its performance—but it will also prepare you for a variety of careers. Many of our graduates pursue master's and doctoral degrees in performance, composition, musicology, music production and technology and other related fields. Others go on to become music professors, arts administrators, opera singers, cantors, orchestral musicians, composers, conductors, musical theater directors, TV and record producers, media and digital arts specialists—not to mention doctors, attorneys and teachers.
Why Brandeis?
Music is thriving at Brandeis. We have an award-winning faculty comprised of composers, scholars, instrumentalists, vocalists and conductors who will give you individualized attention. We've got a state-of-the-art music center with 30 pianos (in addition to the one Leonard Bernstein played as a child!), an electro-acoustic studio and a large collection of historical instruments, including a French double harpsichord, a cornamuse and Renaissance flutes.
When you're not studying or practicing, you'll have a front-row seat to hear the renowned Lydian String Quartet. And you'll have myriad opportunities to perform with others—whether your thing is world music, early music, jazz, improv, choral, chamber music or orchestra.
In keeping with the Brandeis commitment to social justice, we see and teach music as a shared human experience, and a way of understanding others, creating a sense of community, and fostering cross-cultural appreciation.
Academics and Research
Faculty Excellence
Outside the Classroom
Graduate Study, Careers and Alumni
"We believe that music is a common medium that can help us to unite diverse cultures in our own neighborhoods and transcend boundaries in the global community."
Judith Eissenberg
Founding member of the Lydian String Quartet and former director of MusicUnitesUS
Student Experience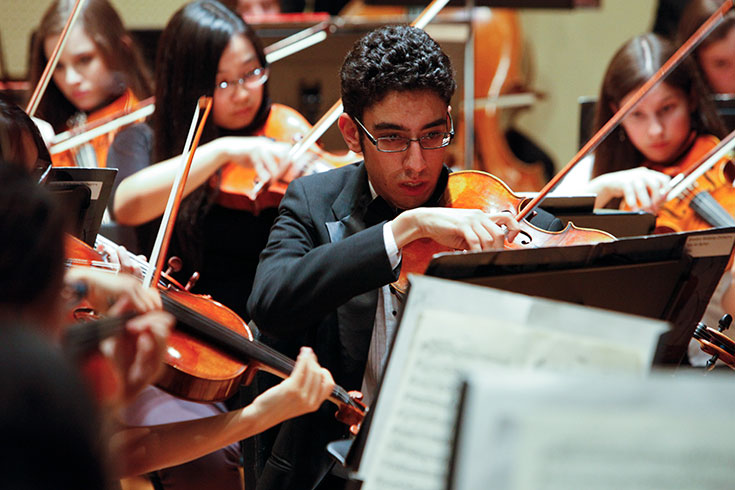 "Art Isn't Everything; It's About Everything"
After attending an arts intensive high school, Yoni Battat '13 wanted to continue his education at a place where he could pursue music as well as other interests. After arriving on the Brandeis campus, he found a quotation on a bulletin board in Slosberg Music Center. Reading these words attributed new meaning to his path at Brandeis.
"Art isn't everything; it's about everything."