Teaching Improvement, Experimentation, and Research (TIER) Grants: Applications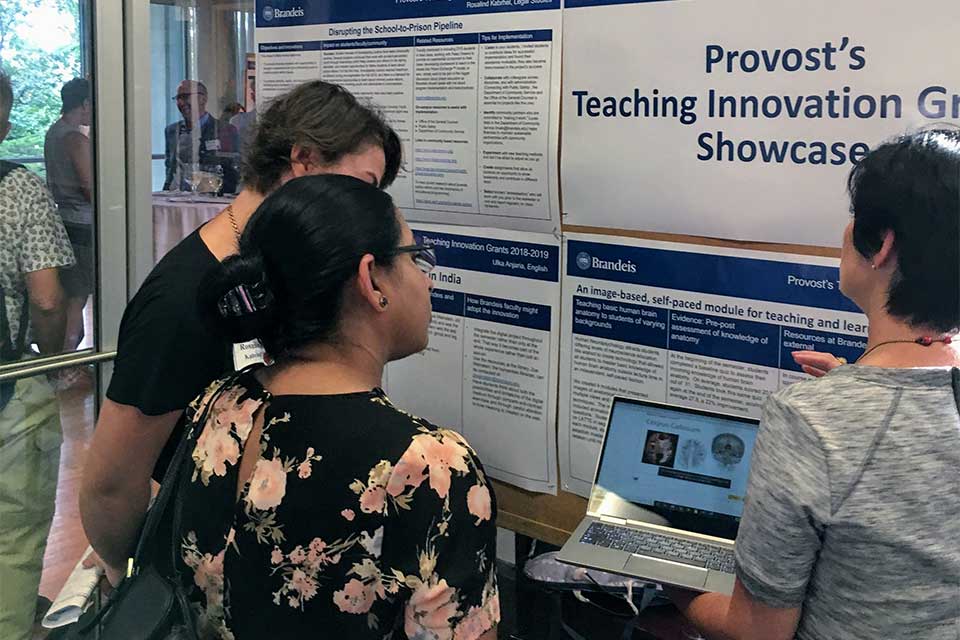 Teaching Improvement, Experimentation, and Research (TIER) Grants
The Center for Teaching and Learning, with the generous support of the Provost's Office, is pleased to provide Teaching Improvement, Experimentation, and Research (TIER) Grants for Brandeis faculty. These grants (previously known as Teaching Innovation Grants) are designed to encourage faculty to try new and/or enhanced ways to enrich their students' learning. 
There are several directions in which the grants can be used to achieve the goals of improving teaching and/or assessment of student learning. Faculty may 
Improve: enhance student learning using approaches they have learned from pedagogical literature or colleagues;
Experiment: develop and try out new pedagogical methods or approaches; or
Research: conduct classroom-based research.
Eligibility and Requirements
Tenured, tenure-track, and multi-year contract faculty are eligible to apply for TIER Grants as project leaders. All members of the Brandeis community may participate as collaborators.
The grant cycle covers the 2023-24 academic year, with the requirement that all awards must be completed by June 30, 2024 without exception. While TIER awards typically range between $3,000 and $15,000, funding consideration will be based on efficiency and impact of the proposed project.
Faculty who win TIER grants will be expected to share their project's outcomes with the Brandeis community by writing a short narrative report that will be published on the CTL website and/or by making a short presentation at the Celebration of Teaching Day.
Budget Guidelines
TIER grants recognize the importance of the time and energy instructors invest in enhancing their teaching and continuously adapting their courses to best foster student learning. 
TIER grants can only be spent in line with university guidelines about faculty and staff travel and human subjects. Examples of expenses may include:
Equipment, software, supplies, literature, etc., for proposed project use
Wages for undergraduate or graduate student assistants (fringe included)
Stipends for faculty (fringe included)

Stipends for faculty have been $2,000 - $5,000 per person recently, depending on the amount of work involved.
Fringe rates can be found on the Brandeis Office of Research Administration page under the Fringe Benefits Rates section. Please include fringe in your application budget.

Honoraria for guest speakers (when they are integral to the project)
Criteria for Selection
A selection committee consisting of faculty members and CTL staff will evaluate proposals according to these criteria:
potential significance of the project in improving students' learning, their sense of inclusion and belonging, and/or their ability to see the world in a new light, etc.;
potential breadth of impact beyond a single course (i.e., whether the project can serve communities across Brandeis); 
clearly stated goals with strong evidence of careful planning, thought and research; 
proposed metrics that can be used to demonstrate the project's impact (e.g., pre- and post-surveys of the students, etc.);
potential sustainability beyond the grant's conclusion; and
the viability of the timeline and cost-effectiveness of the budget.
Proposal Support
The CTL staff are happy to assist you with your proposal. We can help you identify studies that would support your proposed project, design metrics of impact, or just be a sounding board if you need to talk through your ideas. Please reach out to ctl@brandeis.edu with any questions.
To be eligible for the Spring 2023 TIER Grants, please complete this application form by midnight of March 26, 2023. Decisions will be announced during the first week of May.
Please download and complete the budget spreadsheet to submit with the application. It includes information about the fringe costs that apply to the project.
Selection Committee
Anahita Zare Director of Education, Outreach and Diversity; Materials Research Science and Engineering Center (MRSEC)
Cindy Thomas Professor and Associate Dean for Research; The Heller School for Social Policy and Management
Irina Dubinina Associate Professor of Russian and Director of the Russian Language Program; German, Russian, and Asian Languages and Literature (GRALL) / Faculty Director; Center for Teaching and Learning (CTL)
Laura Hibbler Associate University Librarian for Research & Instruction; Library
Lynn Kaye Associate Professor of Rabbinic Literature and Thought; Near Eastern and Judaic Studies
Marty Samuels Program Director; CTL
Sarah Mayorga Associate Professor of Sociology; Sociology