Brandeis University Admissions
Problem-Solving His Way to Wall Street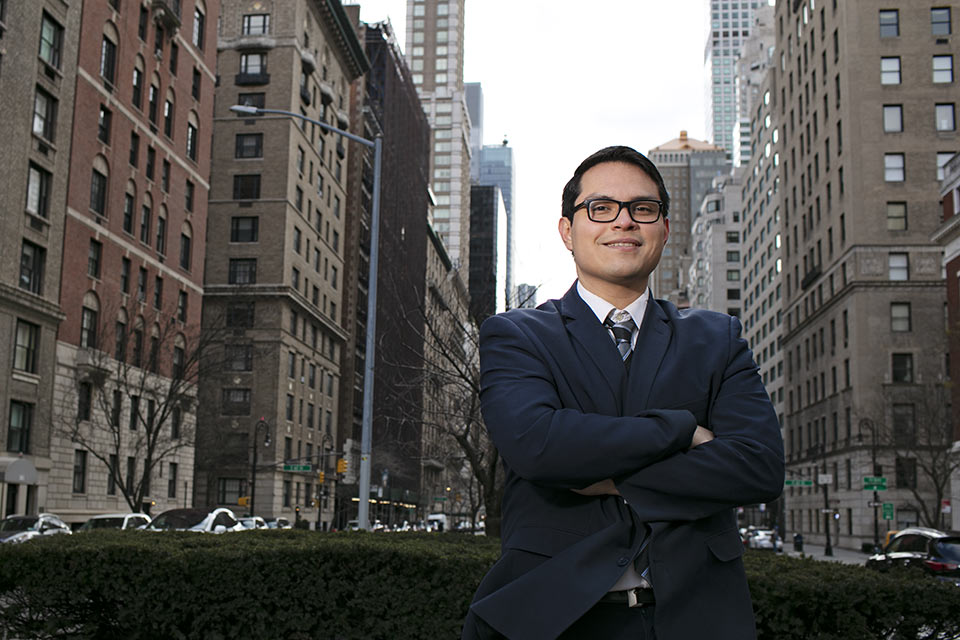 Every day, Ernie Aranda '18 participates in deals worth millions  —  even billions  —  of dollars in his Wall Street job.
The Los Angeles native is a fixed-income analyst for J.P. Morgan in Brooklyn, New York, where he supports stock traders, monitors Wall Street trades, and follows through on clients' deals and investment requests.
"I enjoy the responsibility of my job," said Aranda, who majored in business and economics and minored in Hispanic studies. "A lot of the time I'm dealing with very expensive transactions in the millions and billions. It's what makes me wake up every morning and say 'today's going to be a good day,' knowing I am helping our company and our clients by making these deals run smoothly."
Brandeis undergraduates can major in economics through the School of Arts and Sciences and take classes at the Brandeis International Business School. 
Aranda said both the faculty and coursework at Brandeis prepared him well for a career in finance. "Brandeis turned me into a problem-solver," Aranda said. "There are so many nuances or different things that can occur in my work, so having taken challenging classes at Brandeis, where I learned about the subject from scratch and performed really well, was an asset for me."
Aranda advises students interested in economics, business and finance but who may be nervous about gaining the experience and skills they need to succeed in the industry to network.
"Speak to people in the field," Aranda said. "If you're a high school senior or a first-year in college, talk to students ahead of you in the major. Or talk to someone who has the type of job you want and ask them how they got there."
And talk to professors, too, he advised. "I felt very fortunate to have amazing professors at Brandeis," Aranda added. "Professor Bayonne in the business major was extremely honest and always looked out for students' best interests. Professor Aldo Musacchio was a great inspiration. Both gave me ideas and suggestions of how I could stand out in my career."