Brandeis University Admissions
Finding the Perfect Path Toward a Career in Medicine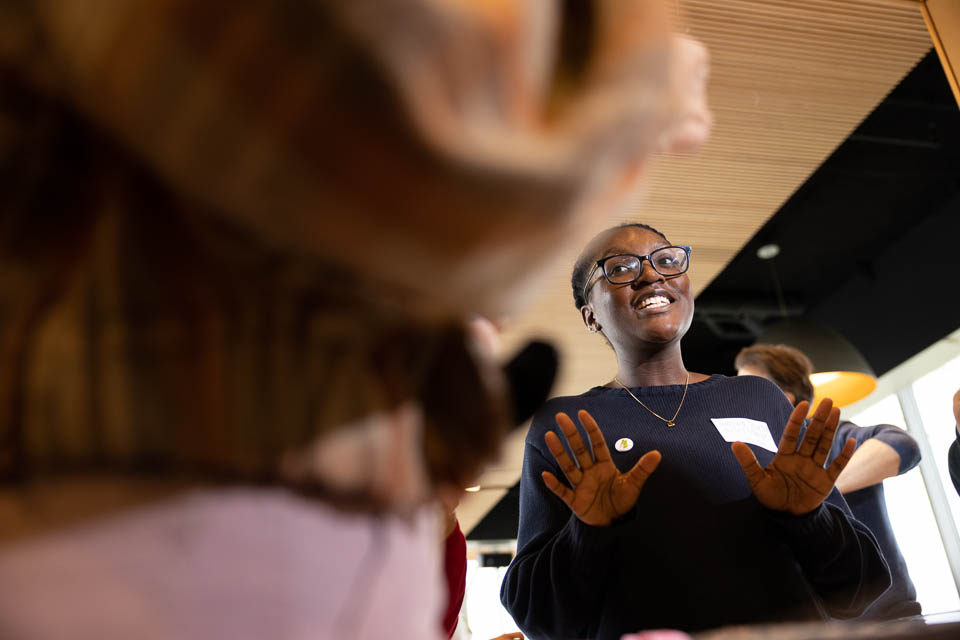 Justine S. '25
"The [Brandeis] community fits me. It's easy to make personal connections on campus and in the classroom. "
As a high schooler, Justine S. '25 decided she wanted to pursue a career in health care.
"I was interested in medicine and I learned about physician assistants. You get to be a healthcare provider, but the path isn't quite as long as becoming a doctor. You also have some more flexibility to pursue different specialties," she says. "For me, it seemed like the perfect route to take."
When it came time to narrow her list of college choices, Brandeis quickly rose to the top.
"I knew I wanted to major in something related to science, but I didn't just want to major in the life sciences. I was interested in the healthcare field, not only the science aspect of it. I wanted to understand the policies and issues in our healthcare system," she says. "Then I learned about the HSSP program."
The Health: Science, Society, and Policy program, commonly called HSSP, isn't only for students who know the path they want to take. The interdisciplinary undergraduate program combines the life sciences, the social sciences of health, and health policy to prepare students for a variety of careers, including medicine, public health, and social policy. The program is a popular choice for Brandeis students looking to pursue a pre-health or pre-med track.
A first-generation college student from New York City, Sarkodie is majoring in HSSP with a minor in biology. She came to Brandeis through the Posse Scholarship Foundation. Founded by Deborah Bial '87, H'12, the foundation recruits, trains, and provides mentoring and other services to cohorts of students in cities across the United States.
Why does Brandeis fit you?
The community fits me. It's easy to make personal connections on campus and in the classroom. I can't imagine myself in a much bigger school. There are so many resources, and it doesn't feel like you have to fight for them. They are open and available to anybody.
Before classes even started, I met Kate Stutz, the director of pre-health advising, through the Posse program. We had a meeting to talk about some of my interests and goals. A few weeks later, she sent me a follow-up email, and I was like, "Oh wow, she remembers me!"
She's helped me in a lot of ways since then, including connecting me to the NIH Summer Internship program. I participated in it this past summer as an intern at Albert Einstein Medical Center. The internship involved cellular biology and molecular biology research that focused on leukemia. It was a great experience that made me feel more prepared for the future.
That's a small example of how faculty and staff connect with students. Even though they have a bunch of things going on in their lives, they can somehow maintain that sort of communication and relationship.
Which professor has had a profound impact on you?
I haven't even taken a class with her, but Dr. K.C. (Professor of Biology Melissa Kosinski-Collins) has had a huge impact on me. I got introduced to her through Posse, but I also heard from other students that she was just a great resource. So, I emailed her early in my first year. Now, I pretty much go to her for anything. She's helped me with coursework, finding volunteer opportunities, and places to get clinical hours. Like, she's my go-to person.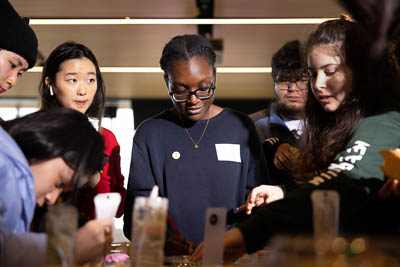 What has been your most rewarding experience outside of the classroom?
Getting involved in the Gen One Network. It's a program that provides a support system for first-generation college students here at Brandeis.
In Gen One, I found a community of first-generation students from backgrounds both like mine and completely different. We host events to bring the community together, like paint nights and cafés. We talk about campus resources, and share the obstacles we are facing and the obstacles we have overcome.
It's really helped me navigate college life, and I've had a positive impact on others, as well. It's been super rewarding.
How has Brandeis helped you prepare for the future?
I came here knowing that I wanted to become a physician's assistant, and Brandeis has provided me with the resources to kind of lead me that way. I think the same is true for people who aren't sure about their future. If you don't know what you want to do, it isn't hard to find people and resources that will help you find your way.