Brandeis University Admissions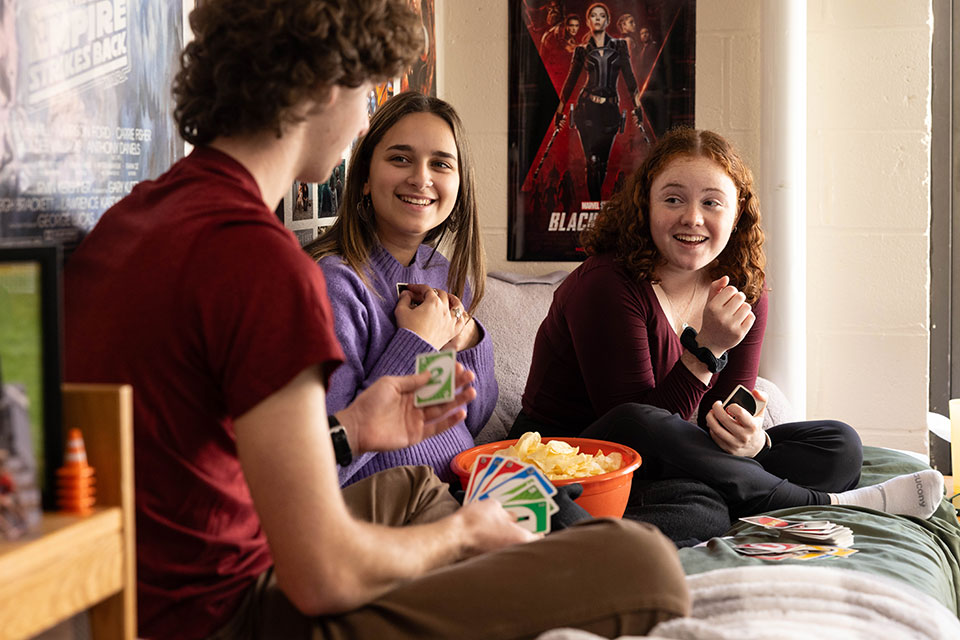 All the comforts of your new home away from home.
Maybe it's the 19 campus residence areas, with options that vary from traditional halls to suites and apartments. Or the wide range of on-campus eateries, from coffee shops to food courts. Or the big-city cuisine just down the street in downtown Waltham.
Whatever it is, the result is that 78% of Brandeis students live on campus for all four years.
And we think that's nice.
Housing Options
As an incoming first year, you're guaranteed on-campus housing for your first four consecutive semesters (or three, if you're part of the midyear class).
For your first year, you'll live in either Massell or North Quad — classic college residence halls with doubles and triples. Juniors and seniors can request suite- and apartment-style residences.
Supervised by area coordinators, community living staff and upper-class students, residence halls are the perfect place to immerse yourself in the Brandeis community — whether through structured programming and activities like barbecues and lectures to informal get-togethers with roommates and neighbors.
Dining Options
A well-fed Brandeis student is a happy Brandeis student.
Luckily, there's no shortage of dining options on campus:
Usdan Student Center is home to two separate food courts: Upper Usdan Food Court, which offers soups, salads, sandwiches, burritos and sushi, all prepared fresh daily, and Lower Usdan Resident Dining — an all-you-care-to-eat facility that offers an even wider selection, from vegan and vegetarian options to international cuisine, pizza, salad and more.
Sherman Dining Hall is another all-you-care-to-eat facility, housed in the Hassenfeld Conference center. It provides a range of glatt kosher and nonkosher meals.
The Stein, just above the Sherman Dining Hall, is a cozy pub with delicious appetizers and entrees, as well as beer and wine for students 21 and older — plus a late-night breakfast buffet for those midnight munchies.
For students on the go, Brandeis offers a convenience store, Hoot Market C-Store, an Einstein Bros. Bagels, and several sandwich and coffee stands throughout campus, including Dunkin' and Starbucks.
And the options don't end there. Choose the meal plan that fits your appetite!