Brandeis University Admissions
Experiencing a Whole Spectrum of Jewish Life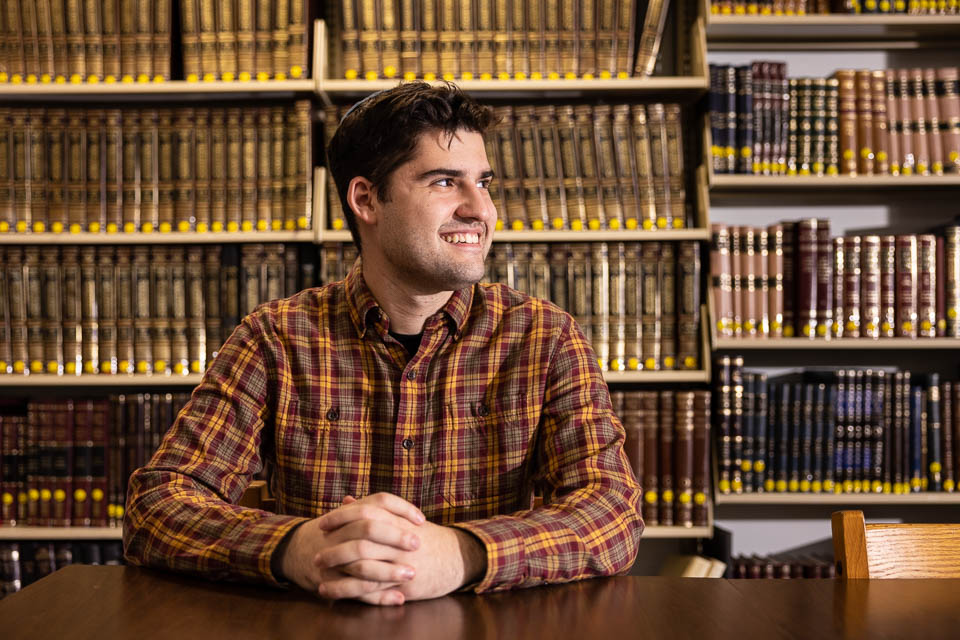 Elisha G. '25
"[At Brandeis] there's a great sense of community where people want to help each other and collaborate. "
For Elisha G. '25, Brandeis is a place where he can be himself while experiencing new perspectives and cultures.
"I am Shabbat observant, and that community is very strong here. But there is a whole spectrum of people participating in Jewish life here, both socially and academically," Elisha says. "College is a time to explore, and to be able to connect and interact with different people in different places on that spectrum is an educational experience for my own Judaism. It's inspiring and it builds confidence in myself."
The Near Eastern and Judaic studies major from Philadelphia quickly found his stride at Brandeis after taking time off between high school and college to live in Israel.
How has Brandeis opened your mind?
I have had so many opportunities to meet people from different cultures and learn about those cultures.
In a given class you might be sitting next to someone who is from Egypt on one side and someone from China on the other side. Just the diversity of people coming together, that in itself is so educational, seeing how different people relate to the same thing.
I think a lot of times, especially in the Orthodox setting that I come from, there's this idea that when you go to college, you're going to have to compromise on your religious observance. But something that makes Brandeis special is that you don't have to compromise, and you are still a part of a bigger community that is diverse in so many ways.
Tell us about your involvement with Hillel and your position as Education Coordinator.
I've been involved in Hillel in so many different ways, as teacher, songleader, Torah reader, prayer organizer, and more.
Specifically in regards to education, I've organized speakers and educational events that highlight diverse aspects of the Jewish community and its history. We've hosted a talk from a Jewish feminist scholar about Jewish law and abortion, a talk from the leader of a rabbinical seminary for the deaf and hearing, as well as many student-led initiatives.
By bringing Jews together over shared history, I hope to strengthen the community and build a more educated Jewish future.
Why do you fit at Brandeis?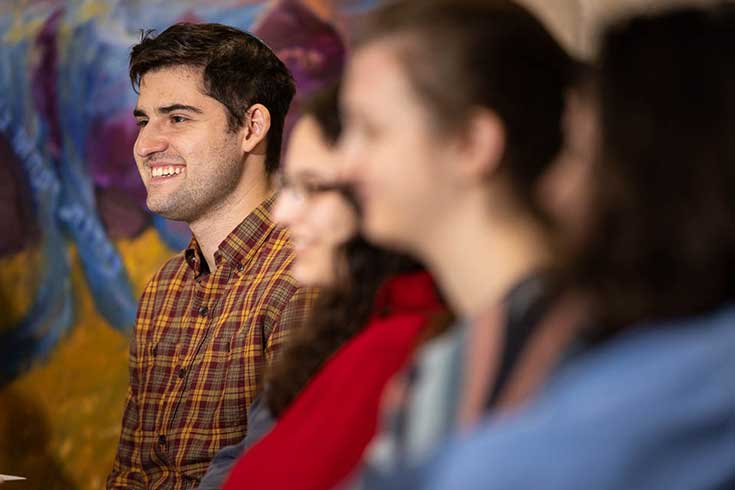 The attitude here is very much me. It's not hyper-competitive, and people are very nice to each other. There's a great sense of community where people want to help each other and collaborate. I never feel like I'm competing with my classmates or that I'm competing for resources.
What is your favorite class so far?
Last spring I took a class with Professor Yehudah Mirsky on Hasidism. It was very inspirational for me. The class was in a small setting, taught by a world-class professor who is at the top of his field, and I could bounce ideas off of him and have meaningful conversations about Jewish practice and what it has meant over the centuries. Professor Mirsky's approach to Jewish practice is very similar to mine, and I see him as a role model. I have tried to emulate his honest and serious contemplation of Jewish identity and practice.
What's your favorite place on campus?
The Humanities Quad – once you finally get up the Rabb steps! It's a very beautiful setting, but you also have leading scholars of all of these wide-ranging fields of study all walking around together and talking to each other. I have most of my classes up there, and I don't always think about it, but once in a while I'll take a step back and take it in. It's just like, 'Whoa, this is a special place.'
If you could give one piece of advice to incoming students. What would it be?
The opportunities are there, you just have to take them. If you're interested in class, professor, club, or organization, just reach out to them! They'll almost always get back to you right away, and they want to help you thrive. You just have to take that initial step.