Julia Bandini PhD'19 Applies Qualitative Research Skills Acquired at Brandeis to Her Work with the RAND Corporation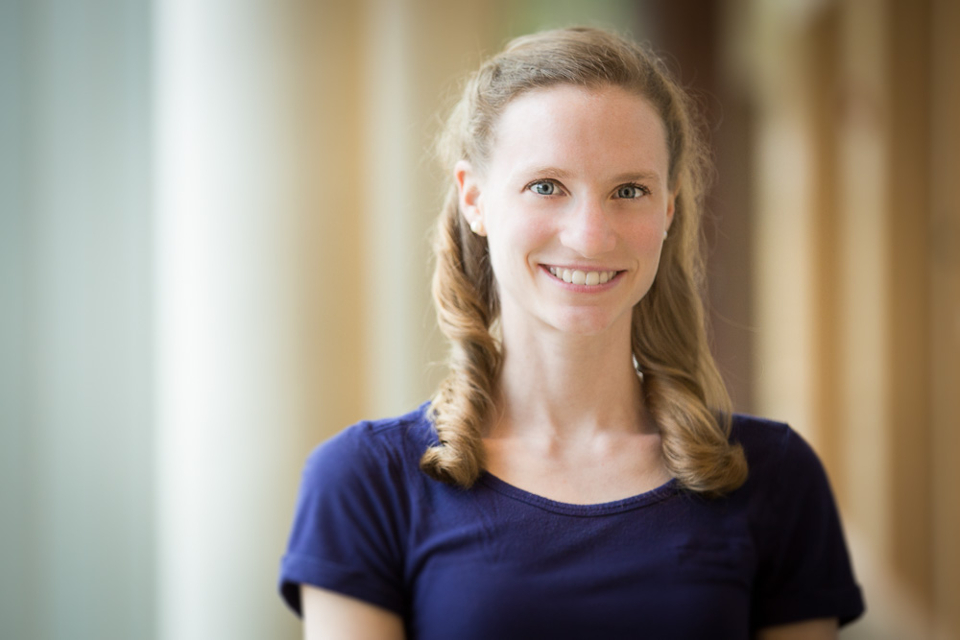 Photo Credit: Simon Goodacre
June 24, 2021
Julia Bandini PhD'19 has long been interested in issues involving health, aging, death, and bereavement. She began to explore these interests as an undergraduate in the sociology department at the College of the Holy Cross. When it came time to continue developing her skills as a researcher, Bandini sought a doctoral program in sociology with expertise in these areas. She chose Brandeis because of its "strong reputation in medical sociology." She was pleased to find that the department offered "several opportunities to engage in applied research," which proved essential for her career.
For her dissertation, Bandini focused on the decisions family members make at the end of life and the grief that they experience after the patient's death. "I really enjoyed 'being in the field' and conducting ethnographic research for my dissertation in intensive care units," she recalls. Merging her interests in medical sociology with grief and bereavement, Bandini used the intensive care setting to study the experience of dying patients and their family members at the hospital. For two years, she conducted observations on intensive care units, interviewed over 50 clinicians about their experience with end-of-life care and decision-making, and interviewed family members of dying patients at the hospital, following up three and six months after the loss of their relative. "It was a tremendous learning experience and greatly expanded my skills as a researcher."
The dissertation experience was not only important for Bandini's personal and professional development — her research also yielded some simple but profound discoveries. "What I believe is the most important finding is also the simplest and most humanistic: the compassionate care provided by clinicians through the 'little things' they did—not only for patients at the end of life, but also for their family members—was often considered to be one of the important sources of comfort for family members as they looked back on the end-of-life hospital experience." 
Bandini appreciated her time working with the Brandeis faculty, particularly their guidance and accessibility. "The department was very supportive," she recalls. "I am so grateful for the many opportunities I was given to learn from and work with faculty mentors on a variety of different research projects." Among these professors was the recently appointed GSAS Dean, Wendy Cadge, who "was a wonderful mentor for my dissertation and other research projects we collaborated on." In addition, Bandini feels fortunate to have had Emeritus Professor Peter Conrad chair her dissertation committee just prior to his retirement. "I very much enjoyed working with Peter and am so grateful for his mentorship."
It did not take long for prospective employers to take notice of Bandini's research talents as she completed her dissertation. With the support of Marika McCann, Assistant Director at the Center for Career and Professional Development, Bandini was able to acquire the skills and utilize the professional tools to land the internship that would eventually lead to a full-time position at the RAND Corporation, a nonprofit, nonpartisan policy institute that develops solutions to public policy challenges. "I utilized some of the resources at the Center for Career and Professional Development, particularly for reviewing my CV and cover letter and reaching out to professors," she says. "I was a Summer Associate at RAND and really enjoyed my experience, so I applied for a researcher position." Now, Bandini serves as an Associate Behavioral and Social Scientist, where she performs qualitative research for multidisciplinary research teams. She focuses on care for the vulnerable and seriously ill, including palliative, end-of-life, and hospice care.
Bandini is grateful for her experience at Brandeis, which she says helped prepare her for her current work at RAND. "My experience at Brandeis in Sociology helped me to expand my critical thinking and writing skills and to conduct rigorous qualitative research." To those interested in pursuing a PhD in Sociology, Bandini leaves these words of wisdom: "Sociology is a great foundation for a broad spectrum of skills and career paths — I would encourage students to explore how the skills they learn in sociology can be applied to a variety of different settings and types of work."