Meet the Interns
Every summer, HBI welcomes interns from across the country and world who complete original research related to the HBI mission of fresh thinking about Jews and gender worldwide and support the work of scholars affiliated with HBI and Brandeis.
During the eight-week program, the interns also attend educational lunch sessions with scholars, visit Jewish sites of interest in the Greater Boston area including Mayyim Hayyim, and a walking tour of Jewish Boston.
2020 Interns
Aliyah Blattner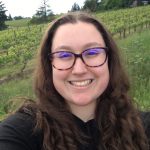 Aliyah Blattner (she/her/hers) is a rising sophomore at Brown University majoring in Literary Arts and Gender and Sexuality Studies. This summer, she will be working with Amy Powell, the HBI Assistant Director, to create content for HBI's Fresh Ideas Blog. Blattner believes that storytelling is the most powerful mode of reclamation for Jewish feminists. She hopes to continue to grow into her personal voice by celebrating Jewish women's stories, including her own, in her writing and art. To that end, Blattner will be completing a chapbook of poetry and visual art to reconstruct traditional biblical narratives in an image of divine queer womanhood. She hopes to reimagine the Torah as a mechanism of empowerment for modern Jewish women, interrogating the silences and erasures that prevent Jewish women from achieving agency through ancient texts and ritual life. Blattner looks forwards to spending the summer in community with other Jewish feminist scholars and creatives. 
Bella Cameron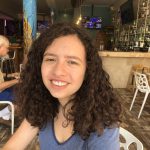 Bella Cameron (she/her/hers) is a rising sophomore majoring in Health: Science, Society, and Policy at Brandeis University. Cameron will be assisting HBI Scholar in Residence Jonathan Branfman as he expands his dissertation research on masculinity, race, and Jewish identity within U.S. popular culture. Cameron looks forward to gaining a deeper understanding of the diversity of Jewish womanhood. She is excited to participate in research that both honors that diversity while also striving to achieve the most inclusive understanding of Jewish feminism possible. To that end, Cameron will be conducting independent research on reproductive justice movements in Israel, specifically analyzing the evolution of Israeli abortion legislation and the activists and politicians involved in its development. Cameron hopes to broaden her own understanding of Jewish feminism and the intersecting narratives that contribute to how Jewish womanhood is understood in both scholarship and activism.
Joelle Galatan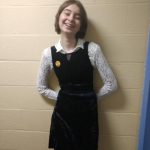 Joelle Galatan (she/her/hers) is a rising junior at Brandeis University studying
Health: Science, Society and Policy.
As an avid cyclist, Galatan attributes much of her passion for feminism in the lessons she has learned from the cycling world.
Galatan will be assisting
Marla Brettschneider, Professor of Political Science at the University of New Hampshire, with her ongoing book project
Revolutionary Legacies: Jewish Feminist Political Thinking,
specifically editing Brettschneider's chapter on Emma Goldman. For her personal project, Galatan's research will focus on exploring the experiences of chronically ill and disabled women in the Jewish community. Galatan is driven to diversify the narratives that exist in the Jewish imagination relating to disability, illness, and womanhood. She hopes that by centering the experiences of disabled Jewish women, she will
be helping to build both an accessible and feminist future for the American Jewish community. Galatan looks forward to learning from the other fantastic scholars and speakers at the HBI.
Goldie Gross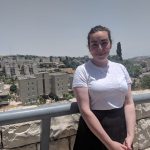 Goldie Gross (she/her/hers) recently graduated from Baruch College and will be attending New York University in the fall to pursue her MA in History. Coming from an Orthodox background, Gross is invested in the inner workings of and the challenges that exist within the Orthodox community, particularly as they pertain to women. She will be assisting Women's Studies Research Center Scholar Janet Freedman in her developing project on language, racism, and women in the Orthodox community. Additionally, Gross will be completing a project that documents the lack of representation of women in ultra-Orthodox media. She hopes to track the history, reach, and effects of this erasure by creating a collage per publication that refuses to publish photos of women. Within her collages, she will use the images published in the place of women to reflect on the erasure of women from ultra-Orthodox media. Over the course of the summer, Gross looks forward to working with scholars she admires and developing a creative project that speaks to the issues about which she is  passionate.
Dora Kianovsky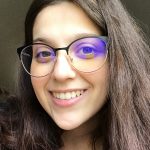 Dora Kianovsky (she/her/hers) is a rising sophomore at Smith College focusing Jewish Studies. Kianovsky's love for Jewish literature and history inspires her to continue to tell the stories of other Jewish women as well as to pen her own. She will be embarking upon a creative writing project set during WWII and rooted in Jewish mysticism, mythology, and Kabbalah. Her protagonist will wield Jewish magic in a quest to combat the antisemitic forces that plague her community. In addition to her creative pursuits, Kianovsky is assisting Women's Studies Research Center Scholar Penina Adelman in researching the historical background of her family's fictionalized memoir
Rebels in the Family: A Memoir from Creation to Now
. Kianovsky is looking forward to exploring biblical sources and the concept of Shechinah through her work with Dr. Adelman and hopes to learn more about Jewish feminist history and ideologies during her time as an intern.
Brianna Lavelle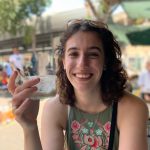 Brianna Lavelle (she/her/hers) is a rising senior at Clark University where she is majoring in History with a specialization in Jewish history. This summer, Lavelle is assisting HBI Director Lisa Fishbayn Joffe in creating the curriculum for a course on Israeli feminism that she will be teaching at Brandeis. As a girl, Lavelle identified strongly with her Jewish matrilineal ancestry. While she had many outlets in her high school and early college years to explore Judaism and gender, she felt that she lacked opportunities to specifically explore her relationship with Jewish womanhood. Lavelle is deeply passionate about telling Jewish women's stories and believes that in learning about and sharing the stories of other Jewish women, she is also telling a piece of her own story. In this vein, Lavelle will be researching genre-bending and genre-defiance in the creative works of Jewish women, specifically exploring Charlotte Salomon and Rachel Zucker among other authors. She will complete her own genre-defiant creative piece that aims to explore her own story of Jewish womanhood. Lavelle looks forward to broadening her knowledge of Jewish feminism and learning more about the Jewish feminist journeys of her fellow interns.
Sara Sharpe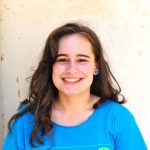 Sara Sharpe (she/her/hers) is a graduate student at Concordia University where she is pursuing a MA in Judaic Studies. Sharpe will be assisting Debra Kaufman, Professor Emeritus of Sociology at Northeastern University, in contributing a new essay on Jewish women scholars and their influence in Women's, Gender and Sexuality Studies in the United States for a new and updated (2021) edition of the
Jewish Women in America: An Historical Encyclopedia
. Additionally, Sharpe will be working on her master's thesis entitled "Friendship, Gender, and Jewishness: Interpersonal Connections Between Jewish Women in Montreal." Her research is an ethnographic project employing participant observation and audio recorded interviews surrounding friendships between senior Jewish women in Montreal. Sharpe is passionate about Jewish women's history and stories. She believes that the representation of senior Jewish women's friendships is severely lacking and hopes to expand this representation through her project. Sharpe is excited to work with Dr. Kaufman and to learn from her fellow interns over the course of the summer. 
Andie Watson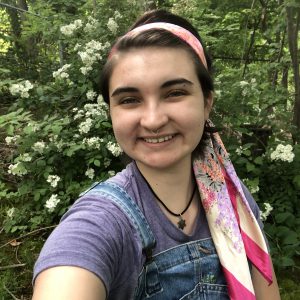 Andie Watson (they/them/theirs) is a rising senior at Brandeis University where they are majoring in Health: Science, Society, and Policy Studies and Women, Gender, and Sexuality Studies. Watson will be aiding Ph.D. candidate Sari Fein in her doctoral dissertation "
Conceiving Motherhood: The Reception of Biblical Mothers in the Early Jewish Imagination,
" which explores biblical motherhood through prayer, resistance, grief and loss, and martyrdom. As a nonbinary person, Watson feels they have a unique lens through which to examine gender, sexuality, and relationships within the Jewish imagination. Their independent project will revolve around the study of the Jewish lesbian community during the AIDS crisis in New York City and San Francisco. In addition to a formal research paper, Watson also hopes to design and complete a memorial quilt. Watson looks forward to developing a better understanding of gender, specifically womanhood, in Judaism through engagement with the different educators and students involved with the HBI this summer.
Maya Zanger-Nadis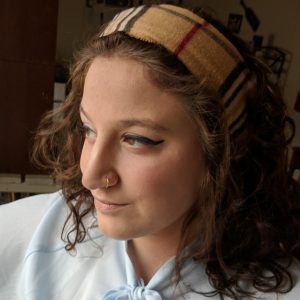 Maya Zanger-Nadis (she/her/hers) is a rising senior at Brandeis University where she studies Linguistics. Ever since Zanger-Nadis, during her own bat mitzvah, became the first woman to lead the services at her Orthodox synagogue, she has been interested in exploring how she can be involved with and exert agency in Orthodox Jewish practice as a single woman. This summer, Zanger-Nadis will be working with Lynn Kaye, Assistant Professor of Rabbinic Literature and Thought at Brandeis University, in her project "Acts of Resistance in Talmudic Judicial Narratives" which examines legal narratives in the Talmud where ordinary Jews resist or talk back to judges and the subsequent portrayal of the judges' reactions to those challenges. Zanger-Nadis finds incredible power in studying Talmud with non-male identifying scholars and is excited to embark on her own journey within the world of Jewish feminist scholarship. Additionally, Zanger-Nadis will be writing her own version of the poem "Eishet Chayil" that aims to reflect a more modern understanding of womanhood.