Publications, Lectures and Awards
September 14, 2020
Lucia Finotto is a 2020-2021 Frankel Institute Fellow! 
Lucia Finotto received her PhD in May 2016 and the title of her dissertation is "Between Arabic, Hebrew and Latin: Jewish Translators of Islamic Sciences in the Medieval Kingdom of Sicily."
Bar Guzi will be presenting his paper, "The Nonreductive Naturalism of Hans Jonas" at the Mordecai Kaplan Center for Jewish Peoplehood conference.
September 13, 2020
Bar Guzi will be presenting his paper, "The Nonreductive Naturalism of Hans Jonas" at the Mordecai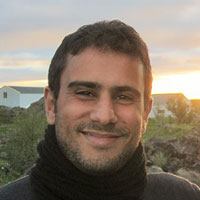 Kaplan Center for Jewish Peoplehood conference September 13-14, 2020 via Zoom. The conference is entitled, "Do Religious Naturalists Really Believe in God?" Exploring some fundamental issues at the intersection of theology and philosophy. 
This conference is open to the public, but advance registration is required.  
Bar Guzi is PhD student in the Department of Near Eastern and Judaic Studies currently writing his dissertation on "Insisting on God:  The Varieties of Naturalistic Jewish Religiosity on Twentieth-Century America." 
July 1, 2020
Released July 2020, The New Jewish Canon offers a conceptual roadmap to make sense of the rapid change that has occurred over the past 35 years. With over eighty excerpts from key primary source texts and insightful corresponding essays by leading scholars, on topics of history and memory, Jewish politics and the public square, religion and religiosity, and identities and communities, The New Jewish Canon promises to start conversations from the seminar room to the dinner table. The New Jewish Canon is both text and textbook of the Jewish intellectual and communal zeitgeist for the contemporary period and the recent past, canonizing our most important ideas and debates of the past two generations; and just as importantly, stimulating debate and scholarship about what is yet to come.  (Academic Studies Press)

It features essays by numerous Brandeis faculty, and alumni, some of whom include:
David Ellenson
Rachel Fish
Sylvia Fishman
Alexander Kaye
Hannah Kober
Yehuda Kurtzer
Jon Levisohn
Shaul Magid
Jonathan Sarna
Yuval Evri publishes a book with Magnes Press
July 21, 2020
Magnes Press publishes Yuval Evri's new book, "The Return to Al-Andalus: Disputes Over Sephardic Culture and Identity Between Arabic and Hebrew." Yuval Evri will be joining us in Mizrahi Studies in August 2021. 
July 5, 2020
Abstract from Article:
"The term "a light unto the nations" is a hallmark of modern Jewish identity but the subtle divergences in the meaning of the expression among its diverse proponents shed light on the continuities and differences among modern Jewish ideologies. David Ben-Gurion, in particular, regarded the calling to be "a light unto the nations" as a central mission of the State of Israel. Before the 1950s, however, almost all Zionists, including Ben-Gurion himself, repudiated the term because they associated it with diasporist ideology. This article explores its shifting meanings in Zionist discourse, with a special focus on Ben-Gurion's rhetoric. It explains Ben-Gurion's changing attitudes term and shows how his innovative uses of the term allowed him to navigate between modernity and traditional Judaism, between Zionism and its opponents, and between the various streams within the Zionist movement. It reminds us that the lexical continuity of figurative terms can mask conceptual fluctuation and enhances a picture of Zionism that acknowledges both its revolutionary novelty and its place in the long continuum of Jewish life."
July 2, 2020
Jonathan Sarna publishes "
Woodrow Wilson was a hero to Jews. What should we do with his racism?" in Forward.
Tzvi Abusch publishes several books
July 1, 2020
Further Studies on

 

Mesopotamian Witchcraft Beliefs and Literature.

 (Ancient Magic and Divination 17; Leiden/Boston: Brill, 2020)

.

Corpus of Mesopotamian Anti-witchcraft Rituals

,

 

volume 3 (with Daniel Schwemer

, Mikko Luukko, and Greta Van Buylaere)

 (Ancient Magic and Divination

 

8/3

; Leiden

/Boston

: Brill, 2020)

. 
A second edition of 

Babylonian Witchcraft Literature: Case Studies

 (Brown Judaic Studies, vol. 132; Atlanta: Scholars Press, 2020 [2nd edition]) with a new preface.  
 The book that will appear in the fall is:
Essays on Babylonian and Biblical Literature and Religion (

Harvard Semitic Studies, vol. 65; Leiden/Boston: Brill

,

 2020.)
Bernadette Brooten publishes two new books
July 1, 2020
Bernadette Brooten's Women Leaders in the Ancient Synagogue is now freely available in digital form witha new introduction. The volume is currently hosted on JSTOR, Project MUSE and the Brown Digital Repository.
Secondly, a revised German edition of Love Between Women: Early Christian Responses to Female Homoeroticism has appeared in print with a new introduction. The book will soon be available as an open access publication through the University of Giessen's library.