Publications, Lectures and Awards
Publications, Lectures and Awards
Elizabeth Imber receives faculty appointment at Clark University
January 15, 2019
Elizabeth Imber, who received her BA in 2009 and MA in 2010 in Near Eastern and Judaic Studies at Brandeis before receiving her PhD at Johns Hopkins University in 2018, has been appointed Assistant Professor of History and the Michael and Lisa Leffell Chair in Modern Jewish History at Clark University.  Elizabeth had been Assistant Professor at the College of Idaho.
Elizabeth will be presenting a Brandeis Schusterman Scholars Seminar on April 16, 2019 on "Empire of uncertainty:  Zionism, British Imperialism, and the Future of the Yishuv."
Jason Lustig awarded Wasserman Prize
January 15, 2019
Jason Lustig who received his BA in 2008 and MA in 2009 at Brandeis before going to UCLA, where he wrote a Ph.D. (2017) with David Myers has been awarded the Wasserman Prize from the American Jewish Historical Society for his article entitled, "Building a Home for the Past: Archives and the Geography of American Jewish History," 102, no. 3 (July 2018): 375-399.  The prize committee wrote:   "The article's creative interrogation into how ideological differences, regional considerations, and administrative practicalities shaped the ways that scholars have and continue to produce American Jewish history speaks to the core goal of this prize. It asks the journal's readers to think about the pillars of the field and the broader materiality of historiography, as it demands all historians to pay attention to the forces that condition how we research the American Jewish past.
He is currently the Harry Starr Fellow in Judaica, Center for Jewish Studies at Harvard University.
Jason will be offering a Brandeis Schusterman lunchtime seminar on January 24, 2019 discussing the development of archives in Israel during the 1950s and 1960s and recent changes regarding digitization.
Golan Moskowitz receives Ray D. Wolfe Postdoctoral Fellowship for 2019-2021
January 14, 2019
Golan Moskowitz, PhD, '18, has accepted the prestigious Ray D. Wolfe Postdoctoral Fellowship in Jewish Studies at the University of Toronto, 2019-2021.  He is currently working to transform his PhD thesis entitled, "Wild, Outside, in the Night:  Maurice Sendak, Queer American Jewishness, and the Child" into a book.
January 9, 2019
Jonathan Decter, Edmond J. Safra Professor of Sephardic Studies, was the winner in the category of Sephardic Studies for his Dominion Built of Praise:  Panegyric and Legitimacy Among Jews in the Medieval Mediterranean (University of Pennsylvania Press).
January 9, 2019
Lynn Kaye, Assistant Professor of Rabbinic Literature and Thought, was a finalist in the category of Scholarship for her Time in the Babylonian Talmud:  Natural and Imaged Times in Jewish Law and Narrative (Cambridge University Press).
January 9, 2019
Daniel Judson, Dean of the Rabbinical School at Hebrew College (Newton), was a finalist in the category of American Jewish Studies for Pennies for Heaven: The History of American Synagogues and Money (Brandeis University Press).  He received his PhD in 2015 at Brandeis University, Department of Near Eastern and Judaic Studies.
December 19, 2018
Professor Yehudah Mirsky participated in a panel on Progressivism, Zionism and Messianism at the Halakhah Conference at Harvard Law School, December 19-20, 2018.  Presentations were made by Don Seeman ("Secular Apostasy and the Limits of Progressive Law: The Case of the Feres Mura Jews in Israel"), Ronit Irshai ("Religious Feminism, Trapped between Halakhah, Essentialism and Nationalism"), Yehudah Mirsky ("Reflections on Teleology, Change, and the Nationalization of Halakhah in the State of Israel").
Professor Reuven Kimelman Invited to Peace Forum in Abu Dhabi
December 5, 2018
The Fifth Forum for Promoting Peace in Muslim Societies
Alliance of Virtues: An Opportunity for Global Peace
Dec. 5-7, 2018, Jumeirah Etihad Towers Hotel, Abu Dhabi

by Reuven Kimelman
Some remarkable interfaith initiatives have recently been coming out of the Arab Muslim world – not least of all those led by Sheikh Abdullah Bin Bayyah, recently appointed as head of the UAE's supreme Fatwa Council. This octogenarian Islamic scholar, a former Mauritanian Minister and Professor of Islamic Studies in Saudi Arabia, has emerged as arguably the most authoritative and impressive opponent against violent Islamist ideology in the world today.
Bin Bayyah has gone further and called for interfaith partnership to combat violence and promote peace around the world. Less than a year ago he convened Muslims, Jews, and Christians in Washington D.C. for what he termed an Alliance of Values, and he has promoted an Abrahamic "caravan of dialogue" bringing this message to wider audiences. His peace fora held in the UAE, supported by the royal family, have brought Muslim leaders and thinkers together with representatives from the Christian and Jewish worlds.
Last week's Muslim-Christian-Jewish gathering, during Hanukah, in Abu Dhabi to deepen interreligious understanding and work together to promote peace, was also remarkable for the broadening of the non-Muslim representation, especially from the Jewish side. Rabbis from Israel, the US, Europe and Australia were given prominent roles on the programme, including yours truly, Reuven Kimelman, who spoke on "The Biblical Meaning of an Alliance of Abrahamic Faiths."
Amber Taylor, ABD, starts new job
December 3, 2018
Amber Taylor, who plans to defend her dissertation this spring, has accepted a position as Historian/Writer at the History Library of the Church of Jesus Christ of Latter-day Saints.  We wish Amber every success.
January 2, 2019
In this Tablet Magazine article, Yehudah Mirsky explores the legacy of key events in the year Israel of Israel's founding and the impact that continues to resonate today.
"2018 was, on top of everything else, one long procession of 70th anniversaries of the raft of monumental events of 1948. Those 70-year-old decisions were critical in creating the historical reality we have been living in for two generations, and, taken together, they comprise a set of ideas about what it takes to make a decent, livable world. Looking at those anniversaries together helps us better understand how and why that world is now coming apart, and what it might take to put at least some of it back together, and maybe even move forward..."
Allyson Gonzalez, PhD '15 (Brandeis, NEJS) receives Fulbright Fellowship
Allyson Gonzalez has won a Fulbright Fellowship to start Fall 2019.  The title of her project, as well as the tentative book title, is "Petitions of Love: Antisemitism and Modern Sephardi Citizenship," which examines the affective practices of modern Sephardi citizenship based on extensive archival research and periodicals from the late nineteenth and early twentieth century. Allyson completed her PhD in the Department of Near Eastern and Judaic Studies at Brandeis;  her dissertation title was "Finding a Place for the Past: Sephardic Reconfigurations of Spain and Palestine, 1914 - 1968."
October 28, 2018
Professor Yehudah Mirsky's essay in "The American Interest:" The New Jewish Question and the New Jew Hatred.
A new permutation of the oldest hatred manifested itself yesterday (October 27, 2018) in Pittsburgh.
September 28, 2018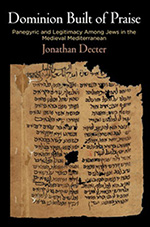 Dominion Built of Praise:  Panegyric and Legitimacy Among Jews in the Medieval Mediterranean

Panegyric texts were a constant feature of Jewish culture in the medieval Mediterranean and can tell us as much about the society that produced them as the individuals they portray.  Decter looks at them from several perspectives—social, historical, ethical, poetic, political, and theological—and demonstrates how ideas of Islamic political legitimacy profoundly shaped the ways in which Jews conceptualized and portrayed their own leadership.
Eitan Fishbane, PhD '03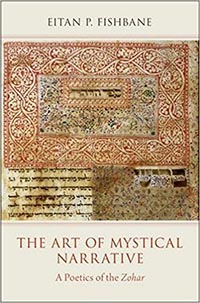 The Art of Mystical Narrative:  A Poetics of the Zohar, available for pre-orders will ship on 10 October 2018.
Argues for interpreting the Zohar, a Jewish kabbalistic text, as a literary work
Breaks new ground while engaging extensively with traditional kabbalistic scholarship
Places the Zohar in the literary context of its origin in the thirteenth century Spain  
Daniel Judson, PhD '15
Pennies for Heaven:  The History of American Synagogues and Money, is the first book-length treatment of how synagogues are financed in the United States. 
Delving back from 1728 to the present, Judson examines how synagogues raised funds, financed buildings, and paid clergy.  These records provide an array of new insights into the development of American synagogues and the values of the Jews who worshiped in them.
Michael Zank, PhD '94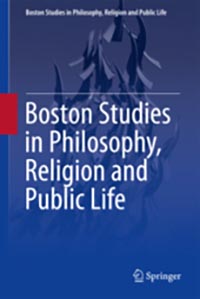 Boston Studies in Philosophy, Religion and Public Life, co-authored by Michael Zank (PhD, Brandeis University) and Allen Speight (PhD, University of Chicago) gives shape to several key facets of the relationship among politics, theology and religious thought.