Student Representatives
Undergraduate Departmental Representatives
The Undergraduate Departmental Representatives serve as a resource and representative for fellow majors and minors and potential majors and minors, and bring student concerns and/or ideas to the program faculty. They also provide feedback to the program chair, undergraduate advising head and faculty regarding scheduling problems, course offerings, etc. and help organize events for majors, minors, and other interested students.
Graduate Student Representatives
Graduate Student Representatives are resources for fellow and potential graduate students. They can assist students with learning about the program from an experienced student's perspective, give advice on housing and getting around town or navigating campus, share questions or concerns about being a graduate student, and suggest ideas for promoting social connections with fellow students. They represent NEJS graduate students at the monthly departmental faculty meetings and can share your suggestions or areas of concern.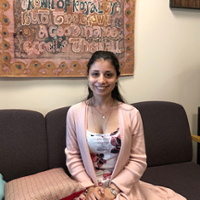 Shirah Cohen
Graduate Student Representative
Born in Israel and raised in Japan, Shirah completed her undergraduate studies in liberal arts at Doshisha University in Kyoto, during which she also spent time at Leiden University in the Netherlands and wrote her honour's thesis on the impact of nationalism on the development of Modern Hebrew and Modern Japanese literatures. Her main interest is in the relationship between modernity and literature in the early 20th century, in particular in how writers processed their place in the world. She is especially interested in topics such as alienation and exile, as well as intertextuality and literary subversion. In her graduate studies, she hopes to further delve into these topics, focusing on Hebrew, Japanese, English, and German literatures.