Student Representatives
Undergraduate Departmental Representatives
The Undergraduate Departmental Representatives serve as a resource and representative for fellow majors and minors and potential majors and minors, and bring student concerns and/or ideas to the program faculty. They also provide feedback to the program chair, undergraduate advising head and faculty regarding scheduling problems, course offerings, etc. and help organize events for majors, minors, and other interested students.
Graduate Student Representative
Graduate Student Representatives are resources for fellow and potential graduate students. They can assist students with learning about the program from an experienced student's perspective, give advice on housing and getting around town or navigating campus, share questions or concerns about being a graduate student, and suggest ideas for promoting social connections with fellow students. They represent NEJS graduate students at the monthly departmental faculty meetings and can share your suggestions or areas of concern.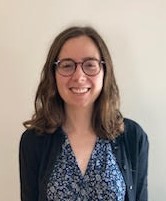 Tamar Aizenberg
Graduate Student Representative
Tamar is a PhD student; her research focuses on the grandchildren of Holocaust survivors and the grandchildren of perpetrators; examining how these sets of grandchildren have been taught to remember this history by their families and how they do so themselves as they grow older. She holds a BA in History and Jewish Studies from Williams College.
Contact her with any questions about our grad programs!