Student Representatives
Undergraduate Departmental Representatives
The Undergraduate Departmental Representatives serve as a resource and representative for fellow majors and minors and potential majors and minors, and bring student concerns and/or ideas to the program faculty. They also provide feedback to the program chair, undergraduate advising head and faculty regarding scheduling problems, course offerings, etc. and help organize events for majors, minors, and other interested students.
NEJS
Charlotte Cooper
NEJS Undergraduate Departmental Representative
Charlotte Cooper '23 is double majoring in Near Eastern and Judaic Studies (NEJS) and an independent major in Philosophy, Politics and Economics. She is passionate about Jewish education, and bringing comprehensive sex education into Jewish spaces. She will be working as a student researcher for Professor Hassenfeld in the SCRoLL lab this year. Charlotte also serves as a CA, and spends her free time as a member of the Student Sexuality Information Services (SSIS) and playing quidditch. Charlotte is excited to be a Near Eastern and Judaic Studies UDR and the Humanities Lead UDR this year.
Maya Klareich
NEJS Undergraduate Departmental Representative
Maya Klareich (she/her/hers) is a fourth-year student majoring in Near Eastern and Judaic Studies with minors in Anthropology and Women's, Gender and Sexuality Studies. Outside of the classroom, she is a Violence Prevention Educator at the Prevention, Advocacy & Resource Center (PARC) and is also a member of the sorority Sigma Delta Tau. She plans on pursuing a Master of Social Work (MSW) after she receives her undergraduate degree. In her free time, Maya enjoys spending quality time with friends, trying new restaurants throughout Waltham and Boston, talking about her Jewish summer camp, and meeting new people! She can't wait for this year and to spread her love for NEJS! 
Arabic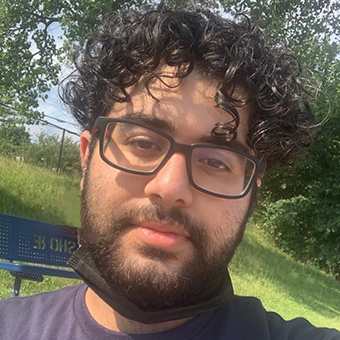 MJ Ibrahim
Arabic Undergraduate Departmental Representative
MJ is a junior dual majoring in HSSP (Health: Science, Society, and Policy) and Biology with a minor in Arabic. To keep where he's from long-story short: He's a dual citizen of Iraq and Russia, born in Libya, raised in Malaysia, and moved to Orlando, FL just over six years ago. In his spare time, he loves to watch Netflix specials, hanging out with friends, going out for tea, and self care nights. His interest in Arabic comes from how different Arabic dialects are usually not understood amongst each other; and being a native speaker of the Iraqi dialect, it's almost a guessing game trying to converse with other dialects. Studying Modern Standard Arabic (MSA) is usually the "compromise" between other Arabic speakers, so it's really cool to see how different MSA is when compared to other dialects.
Sam Nassar
Arabic Undergraduate Departmental Representative
I am one of the UDR's for Arabic. I am a junior majoring in Health, Science, Society, and Policy (HSSP) with minors in Arabic and Economics and am interested in learning Arabic because of family in Egypt. I am also on the basketball team and enjoy spending time volunteering, working, and doing research. I am excited about the events we have planned for the upcoming year and would happy to answer any questions that students have about the Arabic program!
Hebrew
Daniel Chodorow
Hebrew Undergraduate Departmental Representative
Daniel Chodorow is a sophomore from Washington, D.C. who is very excited to be the Hebrew UDR for the 2021-2022 academic year. He loves continuing to improve his Hebrew, which he has been learning for many years. During the summers of 2018 and 2019, he spent time in Israel and Africa to learn and teach Hebrew. Along with his interest in learning Hebrew, he also learns Arabic at Brandeis, has spent time in Amman, Jordan on an Arabic and cultural immersion program, and has an interest in improving his knowledge of the Middle East, its culture, its people, its languages, and relations between countries in the region. He is very excited to meet the new students and assist them with whatever they need!
Yiddish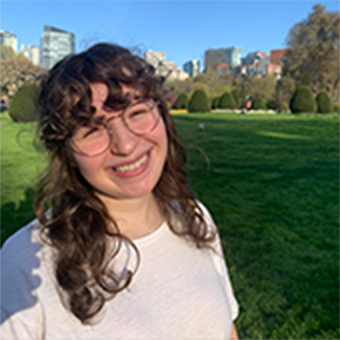 Meirit Cohen
Yiddish Undergraduate Departmental Representative
Meirit is a junior double majoring in Near Eastern and Judaic Studies and Psychology, and minoring in Yiddish and Eastern European Studies.  A Boston native, Meirit loves sharing her hometown favorites with her friends. Wandering around the MFA looking for Jewish art is one of her favorite pastimes.  A proud library student employee, you can find her hiding out in the stacks looking for more books that she definitely does not need. Meirit is so excited to be a UDR for the Yiddish department this year and she can't wait to meet all of the new Yiddish students!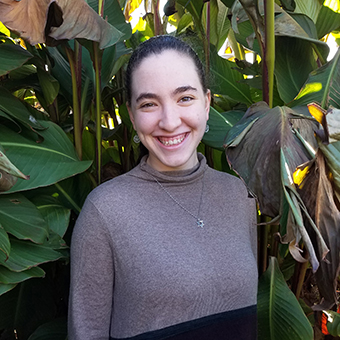 Lia Dankowicz
Yiddish Undergraduate Departmental Representative
Lia is a sophomore majoring in Near Eastern and Judaic Studies with a minor in Legal Studies. She loves learning about history and culture and is especially interested in Jewish history. She is a language enthusiast, and spent this past summer taking classes in Yiddish, Hebrew, and Swedish (though not all at the same time!). Lia would love to practice with anyone interested! Despite the long-distance scenario, Lia is looking forward to spending the year working with other undergraduates to strengthen the Yiddish community and overall NEJS community at Brandeis.
Graduate Student Representatives
Graduate Student Representatives are resources for fellow and potential graduate students. They can assist students with learning about the program from an experienced student's perspective, give advice on housing and getting around town or navigating campus, share questions or concerns about being a graduate student, and suggest ideas for promoting social connections with fellow students. They represent NEJS graduate students at the monthly departmental faculty meetings and can share your suggestions or areas of concern.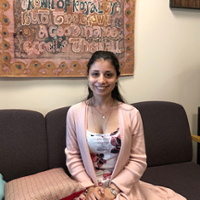 Shirah Cohen
Graduate Student Representative
Born in Israel and raised in Japan, Shirah completed her undergraduate studies in liberal arts at Doshisha University in Kyoto, during which she also spent time at Leiden University in the Netherlands and wrote her honour's thesis on the impact of nationalism on the development of Modern Hebrew and Modern Japanese literatures. Her main interest is in the relationship between modernity and literature in the early 20th century, in particular in how writers processed their place in the world. She is interested in topics such as artistic intertextuality, especially the relationship between literature and music, as well as in themes such as anxiety and the sublime. In her graduate studies, she hopes to further delve into these topics, focusing on Hebrew, Japanese, English, and German literatures.