Student Representatives
Undergraduate Departmental Representatives
The Undergraduate Departmental Representatives serve as a resource and representative for fellow majors and minors and potential majors and minors, and bring student concerns and/or ideas to the program faculty. They also provide feedback to the program chair, undergraduate advising head and faculty regarding scheduling problems, course offerings, etc. and help organize events for majors, minors, and other interested students.
NEJS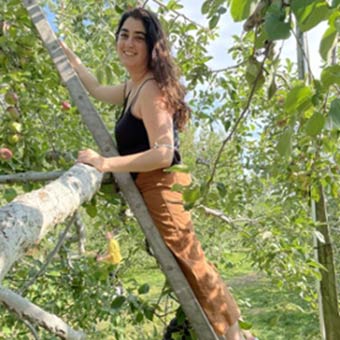 Lila Goldstein
NEJS Undergraduate Departmental Representative
Lila Goldstein (she/her) is incredibly excited to be a NEJS UDR! She is a junior from Wellington, Florida and has two majors: NEJS and Women's, Gender, and Sexuality Studies (WGS). Outside of academics, Lila is the president of the Brandeis Reform Chavurah (BaRuCh), the oldest Hillel group on campus. Lila also writes for Lilith Magazine and New Voices Magazine, and loves creative writing, journalism, and art. In her spare time, Lila enjoys exploring Boston, reading, traveling, crochet, and spending time outdoors. She is thrilled to answer questions about Jewish life on campus, NEJS, BaRuCh, or anything else about Brandeis!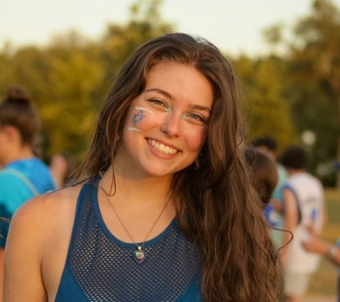 Micah Heilbron
NEJS Undergraduate Departmental Representative
Micah Heilbron, class of 2024, is thrilled to be your NEJS UDR! She is from Austin, Texas, and is double majoring in NEJS and Education Studies. Outside of the classroom, she is a Student Office Assistant at Hornstein Department for Jewish Professional Leadership, a Teaching Assistant at Lemberg Child's Center, the head of the Madrichim program here at BJEP, and researches youth aliya during WW2 through Hadassah. Micah also still finds time to practice yoga, go hiking, and read! She is so excited to make NEJS the most rocking department on campus!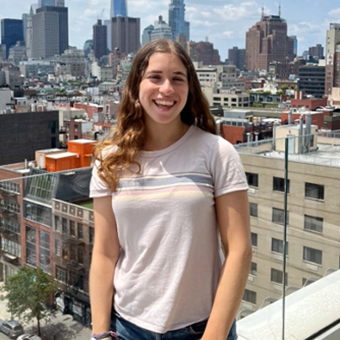 Aviva Weinstein
NEJS Undergraduate Departmental Representative
Aviva Weinstein, originally from Philadelphia, is a senior majoring in NEJS and Anthropology and minoring in Business. Outside of the classroom, she is a member of the Brandeis Women's Ultimate Frisbee Team (BANSHEE), and has been a leader on the Hillel student board, the Shira Chadasha partnership minyan board, and B'yachad, as well as a Chatter in the Brandeis Student Admissions office. She also spent time abroad last semester at the University of Edinburgh would be happy to talk about her experience! In her spare time, Aviva enjoys going on hikes, watching cheesy rom-coms, and eating anything involving chocolate and peanut butter. She can't wait to show other students how awesome the NEJS department is this year!
Arabic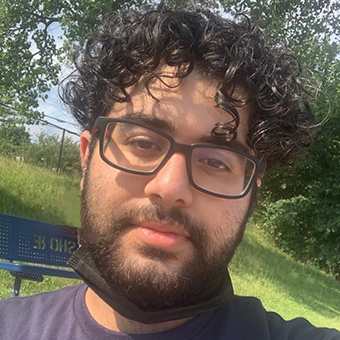 MJ Ibrahim
Arabic Undergraduate Departmental Representative
MJ is a junior dual majoring in HSSP (Health: Science, Society, and Policy) and Biology with a minor in Arabic. To keep where he's from long-story short: He's a dual citizen of Iraq and Russia, born in Libya, raised in Malaysia, and moved to Orlando, FL just over six years ago. In his spare time, he loves to watch Netflix specials, hanging out with friends, going out for tea, and self care nights. His interest in Arabic comes from how different Arabic dialects are usually not understood amongst each other; and being a native speaker of the Iraqi dialect, it's almost ;a guessing game trying to converse with other dialects. Studying Modern Standard Arabic (MSA) is usually the "compromise" between other Arabic speakers, so it's really cool to see how different MSA is when compared to other dialects.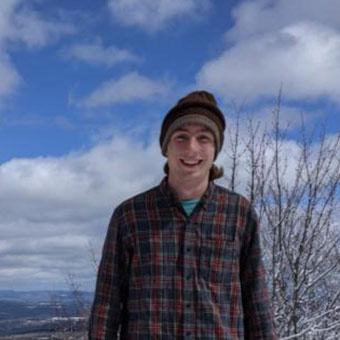 Ben Lambright
Arabic Undergraduate Departmental Representative
I am a Sophomore majoring in Computer Science and Linguistics with a minor in Arabic from Nashua, NH. Perhaps unsurprisingly as a Linguistics major, I love studying languages, and have studied German, Latin, and Arabic in the classroom and many more outside of it. I also love hiking and building things (from computer programs to porches), as well as playing boardgames, quadball, and tennis. In addition to playing sports and being a UDR, I am a Waltham Group Coordinator for Service Without Borders. Of all my responsibilities as a UDR for the Arabic Language, Literature and Culture Program, I'm most excited to practice Arabic and play Arabic language card games and boardgames with new learners!
Hebrew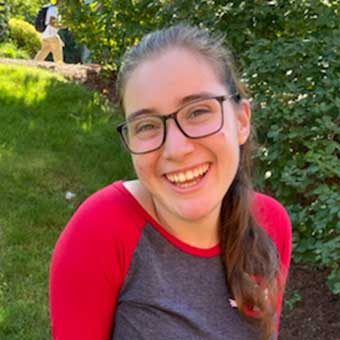 Miriam Fisch
Hebrew Undergraduate Departmental Representative
Miriam
Fisch
is a sophomore at Brandeis, originally from Teaneck, NJ but with roots dating back to Newton and the wonderful chain of JP Licks. She is majoring in Biology, with minors in Hebrew and NEJS, and can also be found teaching Krav Maga, learning Talmud or planning mental wellness events through Hillel. In fact, this combination of her Judaism, passion for new languages and love of supporting others through leaving their comfort zone inspired her to become a UDR. The stellar shakshukah she had in Israel didn't hurt, though. She is so excited to talk with you about finding the right Hebrew class (everything from theater games to understanding deeply-rooted trauma in Israeli culture) and her obsession with Hatikvah 6!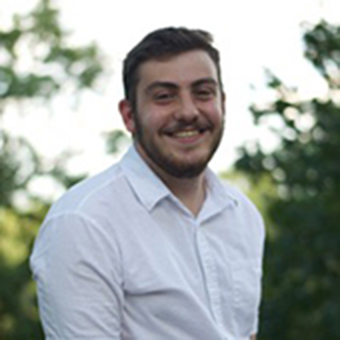 Eitan Marks
Hebrew Undergraduate Departmental Representative
My name is Eitan Marks and I am the new UDR for the Hebrew Language Program! I am a Sophomore, and I am from Englewood, New Jersey. I am majoring in the NEJS Hebrew track and minoring in Politics and Legal Studies. I love listening to Israeli music and watching Israeli TV shows. Some of my favorite shows are Kupa Rashit, Hamefakedet, and Al Ha Spectrum. I am here to support students in the Hebrew program, and answer any questions you may have. I also organize programs and events for students to practice and engage in Hebrew outside of the classroom. (Check out our weekly TV nights this Thursday at 7:30!) I am so excited to get working and to get to know all of you!!
Yiddish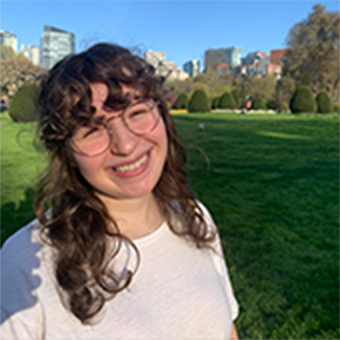 Meirit Cohen
Yiddish Undergraduate Departmental Representative
Meirit is a junior double majoring in Near Eastern and Judaic Studies and Psychology, and minoring in Yiddish and Eastern European Studies. A Boston native, Meirit loves sharing her hometown favorites with her friends. Wandering around the MFA looking for Jewish art is one of her favorite pastimes. A proud library student employee, you can find her hiding out in the stacks looking for more books that she definitely does not need. Meirit is so excited to be a UDR for the Yiddish department this year and she can't wait to meet all of the new Yiddish students!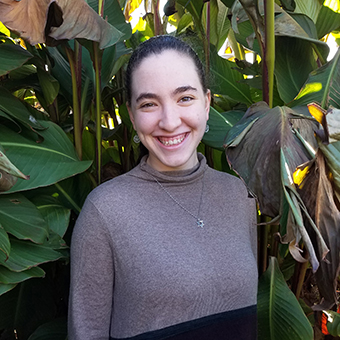 Lia Dankowicz
Yiddish Undergraduate Departmental Representative
Lia is a sophomore majoring in Near Eastern and Judaic Studies with a minor in Legal Studies. She loves learning about history and culture and is especially interested in Jewish history. She is a language enthusiast, and spent this past summer taking classes in Yiddish, Hebrew, and Swedish (though not all at the same time!). Lia would love to practice with anyone interested! Despite the long-distance scenario, Lia is looking forward to spending the year working with other undergraduates to strengthen the Yiddish community and overall NEJS community at Brandeis.
Graduate Student Representative
Graduate Student Representatives are resources for fellow and potential graduate students. They can assist students with learning about the program from an experienced student's perspective, give advice on housing and getting around town or navigating campus, share questions or concerns about being a graduate student, and suggest ideas for promoting social connections with fellow students. They represent NEJS graduate students at the monthly departmental faculty meetings and can share your suggestions or areas of concern.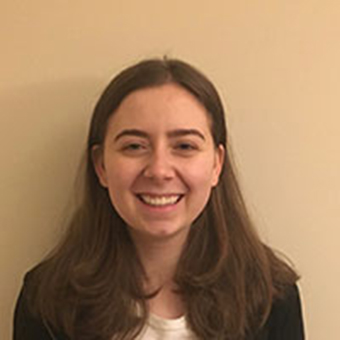 Tamar Aizenberg
Graduate Student Representative
Tamar Aizenberg is a PhD student in Jewish Studies. Tamar's research focuses on the grandchildren of Holocaust survivors and the grandchildren of perpetrators. She examines how these sets of grandchildren have been taught to talk about and remember this history by their families and how they do so themselves as they grow older. In particular, Tamar analyzes how this memory was transmitted, compares the methods of transmission between the sets of grandchildren, and assesses the significance of the similarities and differences in the transmission. She holds a BA in History and Jewish Studies from Williams College.