PhD Students
Tamar Aizenberg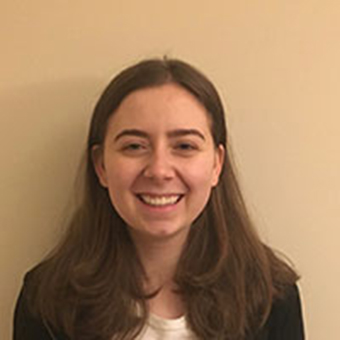 Tamar Aizenberg is a PhD candidate in the Department of Near Eastern and Judaic Studies. She is interested in the memory of the Holocaust -- in particular, how children and grandchildren of survivors have memorialized their families' pasts- -- as well as oral history, transnational history, and the concept of generations. From 2018 - 2020, she was a Fulbright student in Vienna, Austria. While in Vienna, Tamar worked at Centropa, a Jewish historical institute, to create educational materials about World War II and the Holocaust, studied at the University of Vienna, and taught English at three schools. She holds a BA in History and Jewish Studies from Williams College. Based on oral history interviews she conducted, Tamar wrote her thesis on American grandchildren of Holocaust survivors and Jewish identity.

Maham Ayaz

Maham is a PhD candidate and fellow at the Schusterman Center for Israel Studies. She is writing her dissertation on the legal history of Israel from 1992 to 2013. Her research stems from her interests in comparative citizenship, boundaries of membership in nation-states, and courts as political institutions. In Spring 2021, she taught "Defining Status in the Modern State," an original interdisciplinary course on citizenship, nationalism, indigeneity, and migration. She received her BA in International Studies from the University of Chicago, where she wrote her thesis on citizenship law in Bangladesh. She has previously worked at the Young Center for Immigrant Children's Rights and at the American Bar Foundation.
Yair Bar Zuri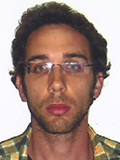 Yair Bar Zuri is a doctoral student in the Near Eastern and Judaic Studies Department at Brandeis University, as well as a fellow at the Schusterman Center for Israel Studies.He is interested in modern Jewish philosophy and history, in particular, the cultural aspect of Zionism. He plans to explore the secularization of the Jewish culture as a significant element of the Zionist project, through different approaches to secularity in sociology, history and philosophy, focusing on the attempt to formulate the question of renewing of the Jewish culture in the Zionist project. To better understand the questionable paradox between secularity and religion in cultural Zionism, he hopes to delve deeper into the character of Jewish myth as it is portrayed in the writings of different Zionist scholars.
Daniel Berman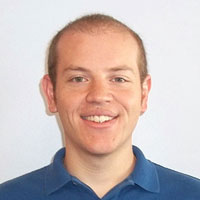 Daniel Berman is a doctoral student in Bible and Ancient Near East. His research interests include ancient Near Eastern religions and the development of biblical texts, especially the Pentateuch and Deuteronomistic History. Dan first became interested in biblical and ancient Near Eastern studies as an undergraduate at Cornell University. Upon earning his bachelors degree, he spent six months as a visiting graduate student at the Hebrew University of Jerusalem, after which he enrolled in the master's program in Bible and Ancient Near East at Brandeis. Dan is delighted to continue his studies in Brandeis' PhD program. A passionate foodie, Dan cooks for his friends and roommates as often as he can, and in the winter, he enjoys taking ski trips with his family.
Shirah Malka Cohen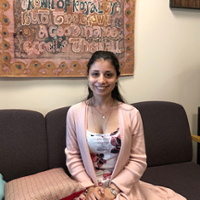 Born in Israel and raised in Japan, Shirah completed her undergraduate studies in liberal arts at Doshisha University in Kyoto, during which she also spent time at Leiden University in the Netherlands and wrote her honour's thesis on the impact of nationalism on the development of Modern Hebrew and Modern Japanese literatures. Her main interest is in the relationship between modernity and literature in the early 20th century, in particular in how writers processed their place in the world. She is interested in topics such as artistic intertextuality, especially the relationship between literature and music, as well as in themes such as anxiety and the sublime. In her graduate studies, she hopes to further delve into these topics, focusing on Hebrew, Japanese, English, and German literatures.
Robert DeBoard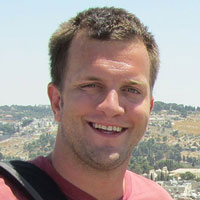 Robert DeBoard received his MA in History from Baylor University, where he wrote his thesis on British security and counter-insurgency in Mandatory Palestine. Additionally, he worked at Baylor's Institute for Oral History on the Texas Holocaust Liberator's Project. Robert's research interests include military history and foreign policy in the Middle East, as well as the Mandatory Period in Palestine and Israel in the Cold War. Tentatively, his research at Brandeis will focus on Israeli defense strategy in the 1950s.
Rima Farah

Rima Farah is interested in the history of Christians in the Middle East, with an emphasis on Christians in Israel. Her research on this issue is focused on the social, political, and cultural causes that contribute to conflicts among the various Christian congregations in Israel, with particular attention devoted to the contemporary divisiveness among Christians, in which there are those advocating for an Arab identity versus the anti-Arab faction who identify themselves as Aramaic and endorse Israel's recent official recognition of the Christian Aramaic nationality. This schism has become more evident today in the wake of the political upheavals in the Middle East and Israel. Rima holds a BA in French and English language and literature, and an MA in Middle Eastern Studies from Haifa University, as well as holding an MA in Near Eastern and Judaic Studies from Brandeis University. Fluent in Hebrew, Arabic, English, she has a good knowledge of French.
Sarah Fein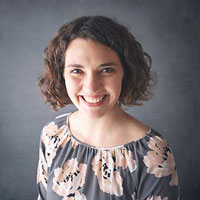 Sarah (Sari) Fein is a PhD candidate in the department of Near Eastern and Judaic Studies, focusing on Bible and the Ancient Near East. Her dissertation considers how the early Jewish imagination reconceived biblical mothers and motherhood in art and literature through the lens of reception history. She is especially interested in how early communities used biblical mothers to "think with" issues such as gender, family, and Jewish identity. Sari holds an MTS in Hebrew Bible/Old Testament from Harvard Divinity School, an MS in Special Education from CUNY Hunter College, and a BA with honors in Religion from Oberlin College. She lives in Northampton with her husband, their two daughters, and their cat.

Deborah Feingold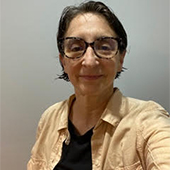 Deborah Feingold is a PhD candidate in the department of Near Eastern and Judaic Studies. Her dissertation explores representations of aging in modern Hebrew literature primarily through the lens of feminist, gender, and sexuality theories. Her research focuses on the embodied aspects of aging including topics such as sexuality and disability, and she is particularly interested in the queering of the aging body at the intersection of family, community, and nation.  As the aging cohort lives longer, the discourse around aging is often focused around "successful" aging. Conversely, Deborah is interested in the uncanny, the hybrid, and the liminal aspects of the experience of aging. Deborah received a master's degree in Women's Gender and Sexuality Studies from Brandeis in 2018.
Eva Gurevich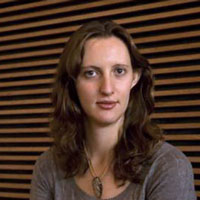 Eva Gurevich is a PhD student at NEJS. She is a cultural historian who is deeply interested in Israeli human geography. Her tentative dissertation topic will deal with left-wing ideological movements that supported Greater Israel and the transformation of the Israeli political spectrum between 1967 and 1981. She is looking specifically at the [Whole] Land of Israel Movement which included many prominent figures, among them Nathan Alterman, Moshe Shamir and Yitzhak Tabenkin.
Bar Guzi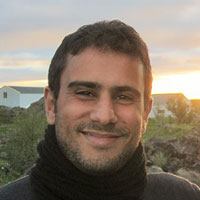 Bar Guzi is interested in American Jewish thought and theology in the twentieth-century, especially among the liberal wings of American Judaism. He is particularly interested in exploring the various ways in which American Jewish thinkers revisit old theological questions – such as concepts of God, the problem of evil, supernaturalism, and questions of religious pluralism – and in the influence of the American intellectual and religious climate on their thought. Among the main themes Bar is focusing on are the American Jewish manifestations of process theology, religious pragmatism, religious naturalism, panentheism, and post-Holocaust theology. Bar holds a BA in philosophy and Jewish philosophy, and a high school teaching diploma in Jewish thought, both from Tel Aviv University.
Iddo Haklai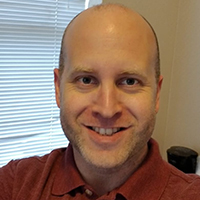 Iddo received his BA in Jewish Thought and Political Science and MA in Political Science (both Magna Cum Laude) from the Hebrew University of Jerusalem and worked for several years at Yad Vashem. His research interests focus on the theological frameworks and concepts developed by thinkers within the religious-Zionist labor movement in British Mandatory Palestine. He is interested in the integration of religious traditionalism, Zionism, modernism, and social-democratic ideas by individuals affiliated with the 'Torah Va'avodah' and 'Hapo'el Hamizrahi' Movement in the 1920s, 1930s, and 1940s, and in the implications of that integration to contemporary dilemmas facing the Israeli society. 
Justin Huguenin

Justin Huguenin is a doctoral student in Bible and Ancient Near East. His research interests focus on Canaanite and Mesopotamian mythology, particularly those dealing with netherworld cult and ritual. He also enjoys studying early biblical literature and seeks to understand its place within the larger Near Eastern milieu. Before enrolling in Brandeis' PhD program, he earned a BA in History at the Ohio State University and an MA in Near Eastern and Judaic Studies here at Brandeis.
Anthony Lipscomb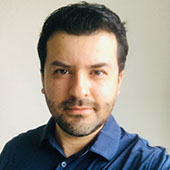 Anthony Lipscomb is a PhD student in Bible and Ancient Near East. His research interests include the formation of the Hebrew Bible, Ezekiel, the reception of biblical traditions in the Second Temple period, emotions in the Bible, and history of emotions. Prior to Brandeis, he completed an MA in Biblical Studies at Regent University and a ThM in Hebrew Bible at Trinity International University. He is happily married and a proud father of two awesome kiddos.
Stephen Naron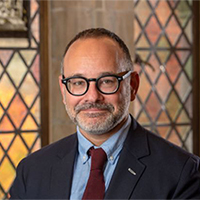 Stephen Naron is a PhD student in the Department of Near Eastern and Judaic Studies. His research focus is Holocaust studies, with an emphasis on the impact of wartime and postwar testimony on Holocaust historiography and memory. He is particularly interested in the evolution/genealogy of audiovisual testimony, and grassroots archival activism. Stephen has worked as an archivist/librarian since 2003, when he received his MSIS from the University of Texas, Austin. He pursued a Magister in Jewish studies at the Freie Universitaet Berlin and history at the Zentrum fuer Antisemitismusforschung, TU. He has a BA in History from the University of Kansas. Stephen is currently the director of the Fortunoff Video Archive for Holocaust Testimonies, where he is responsible for encouraging use of the collection through the access site program, the Archive's fellowship program, and presenting at conferences, symposiums and university classes.
Lenny Prado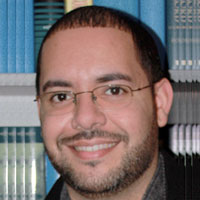 Lenny Prado is a PhD student focusing on Bible and Ancient Near East. He is married and has three beautiful children. His primary research interests include such topics as the composition and compilation of the Torah; development of Israelite Religion (e.g., representation of deities, portrayals of human/divine interaction, cultic ritual practices); scribes and scribal culture in the ancient Near East; and Oral Tradition and Memory. When he is not spending time with his family or hitting the books, you can find him rooting for New York sports teams, especially the Yankees and the Knicks.
Carey Slaeker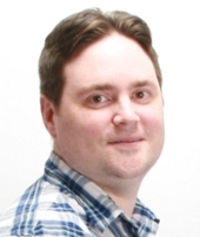 Carey
 received his MA from Brandeis University in Near Eastern and Judaic Studies, and earned his BA from the University of Washington in Biblical and Ancient Near Eastern Studies with a minor in Greek. He is currently working on his 
PhD
 in the Bible and Ancient Near East program. Though he began his studies with a primary interest of the language and culture of the Hebrew Bible, 
Carey
 has come to view with equal fascination the languages and cultures of the broader ancient Near East. In particular, 
Carey
 is interested in the composition of ancient literary texts wherein scribes use particular literary tools for particular purposes. Currently, 
Carey
 is exploring the use of paronomasia in prophetic/divinatory texts as a means of effectuating the divine and human will. 
Carey
 enjoys reading and writing, spending time with his family, and one of his least favorite things to do is write about himself in the third person.
Karen Spira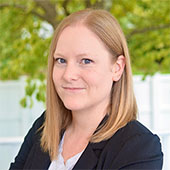 Karen Spira is a PhD candidate and Schusterman Scholar, focusing on Israel Studies. Her dissertation examines the development of Jewish orphanage institutions and child welfare in Mandatory Palestine. Karen holds a dual BA in Religious Studies and English from the University of Arizona, a MA in Religion from the University of Georgia, and a MA in Near Eastern and Judaic Studies from Brandeis University. She is the assistant director of the Crown Center for Middle East Studies and the program administrator of the Islamic and Middle Eastern Studies program at Brandeis. She teaches courses on Jewish and Israeli history at Brandeis and as a community educator in a variety of settings throughout the Greater Boston area and New York.
Seth Winberg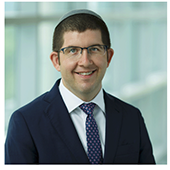 Seth Winberg's research explores the immigrant experience and the writing of American Jewish legal (halakhic) texts. He earned an MA in Medieval Jewish History from Yeshiva University and a BA from York University. He currently serves as Executive Director of Brandeis Hillel and as the University's Senior Chaplain. 
Henry Wudl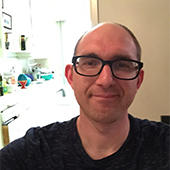 I study the Jews and Judaism of the Islamic world with a focus on the Middle Ages. My interests include Hebrew and Arabic poetry, biblical exegesis, Talmudic commentary, and medieval texts of Jewish law and philosophy. I did my second-year paper on Maimonides's approach to gambling in Jewish law, where I try shed some light on how his position as a Jewish community leader within a Muslim society may have influenced his interpretation of the Talmud and his legal rulings.