Brandeis University Admissions
Making Archaeological Discoveries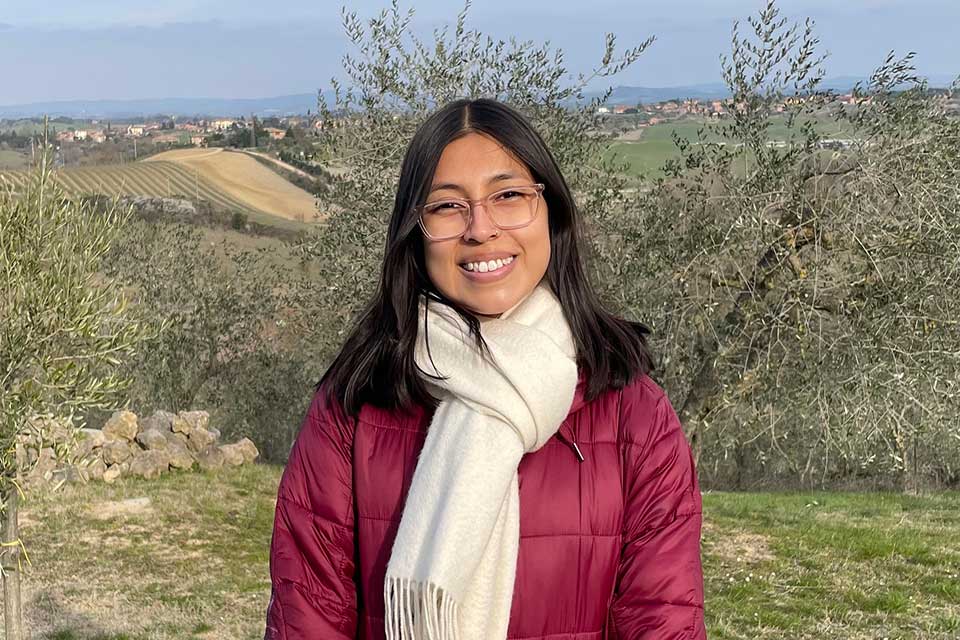 Alex B. '23
After completing her first anthropology courses at Brandeis, Alex B. '23 knew she wanted to become an archaeologist. With the help of Associate Professor of Anthropology Charles Golden, she's making her dreams a reality.
Alex is a double major in anthropology and Latin American studies and minors in art history. During her first archaeology course, Archeological Methods with Lecturer in Anthropology Lauren Santini, Alex showed a true passion for the subject. Santini noted Alex's strong interest, and when Golden's upcoming archeological research came to mind, Santini knew she had to connect her colleague and her student.
Alex was selected by Golden to join his team on its next big project — traveling to Mexico to research ancient Mayan civilizations.
Though the trip, scheduled for summer 2020, was canceled because of the pandemic, the team was still able to make innovative discoveries. Using drone and Lidar technology, an important developing remote sensing technology, the team of graduate students and professors had the opportunity to collect data and then analyze their findings from home.
"The learning experience was very collaborative," said Alex. "I'm not very good with computers, so there was a definite learning curve. But we all worked together to learn as a team."
With the help of Golden, Alex challenged herself to learn the Lidar technology independently. In addition to reviewing material Golden sent, she did her own online research to find more resources online.
The team worked on a weekly basis, studying the 20-mile area that was captured using drone technology. Each member would take a section to analyze, locating different structures and settlement patterns of the area. Alex found herself "digging deeper."
"I noticed one area had been less inhabited despite having a suitable area for civilization," she said. "This sparked my curiosity. Why wasn't anyone living there?"
After sharing her findings with Golden, he assigned her the task of exploring the location as an individual research project.
"Professor Golden challenged me to do something bigger," said Alex.
Her research hypothesized that there may have been larger issues resulting in the lack of civilization, such as conflict among societies. Her findings not only contributed to the overall project, but were also part of a paper published in an academic journal.
"It's an amazing feeling seeing your name as a co-author among your professors," said Alex.
Alex looks back on the experience as being extremely rewarding. "Most people don't learn these skills until graduate school," said Alex. "Professor Golden has given me an educational experience I couldn't get anywhere else."
"Alex has been a truly professional collaborator," said Golden. "She has worked independently to develop her skills, and together with the team she made significant contributions to research that reveals more about the ancient Maya."
The team continues to work toward new discoveries of the Mayan civilization and plans to dig in Mexico this summer. 
"We will finally be able to verify the things we've learned through virtual archeology," said Alex. 
Alex plans to use her findings for her senior thesis project as she continues her research with Golden's team. She also hopes to apply to graduate school to continue her quest to unravel the past of these ancient civilizations. 
"We have found so much, but there is still so much more to discover."
Discovering the lost Maya city of Sak Tz'i'
Professor Charles Golden and Alex B. '23 explain the secrets this lost city holds and the implications it has for our understanding of the ancient Maya population.