Past Events
September 2018
Olga Papaemmanouil, associate professor of computer science, received an NSF grant of $499,993 from the National Science Foundation to design earning-based frameworks for supporting data distribution, query scheduling and performance prediction for relational databases.
This project, "Automatic Learning-based Services for Distributed Data Management Systems," will couple existing learning-driven theory with distributed data management systems, having significant impact on the design of data management systems. By leveraging advanced learning algorithms from machine learning and game theory, the project will allow databases to move away from "hard-coded algorithmic intelligence," rigid data structures and algorithms that are based on informal intuition. Instead, data management systems will be able to incorporate "learning-based intelligence" that provides reasoning on numerous decisions based on pattern recognition capabilities and mathematically proven insights. Read for more details.
July 2018
Professor Nianwen Xue and Professor James Pustejovsky (CO-PI) were awarded a $399,000 grant from the National Science Foundation to develop a uniform meaning representation for natural language processing. This is a collaborative project with University of Colorado and University of New Mexico. Detailed information can be found on the NSF website.
July 2018
The Gladys Krieble Delmas Foundation has granted $10,000 to Brandeis University in support of Professor Harry Mairson's "Digital Amati: Computational Art History and the 1700 Stradivari 'Stauffer-ex Cristiani' Violincello."
May 2018
We are happy to announce that Dr. Hongfu Liu has joined the faculty as a tenure-track assistant professor in the Michtom School of Computer Science at Brandeis University. He received his PhD in the Department of Electrical & Computer Engineering at Northeastern University (NEU), supervised by Prof. Yun (Raymond) Fu.
Before joining NEU, he got his master's and bachelor degrees majoring in management at Beihang University with Prof. Junjie Wu. He also holds two minor bachelor degrees in applied mathematics and laws. His current research interests lie in data mining, machine learning and related applications on business intelligence, computer vision and bioinformatics. He has published several papers and been a reviewer for major conferences and journals. Hongfu was nominated KDD Top 20 rising star in 2016. Read the article in Science at Brandeis.
April 2017
The Dean of Arts and Sciences Mentoring Award is an annual award of $2,500 for "outstanding ability as a mentor" by a member of the faculty involved in the supervision of graduate students enrolled in the Graduate School of Arts and Sciences. We are delighted to announce that Professor Lotus Goldberg, associate professor of language and linguistics and Computational Linguistics Advising Chair received this year's Dean of Arts and Sciences Mentoring Award.
November 2016
Brandeis announced today that< James Pustejovsky, the TJX/Feldberg Chair of Computer Science, has been awarded a two-year $390,000 grant from the Andrew W. Mellon Foundation to expand and deploy the LAPPS Grid Project that seamlessly connects open-source computer programs to quickly analyze huge amounts of language from diverse sources and genres.Read the full story on BrandeisNOW.
November 2016
Leslie Lamport, MA'63, PhD'72, the recipient of the 2013 A.M. Turing Award, an honor widely known as the "Nobel of Computing," will receive an honorary degree from Brandeis at the 2017 Commencement Ceremony. Lamport, a principal researcher at Microsoft Research, received both his degrees from Brandeis University in mathematics. Read full article.
June 2016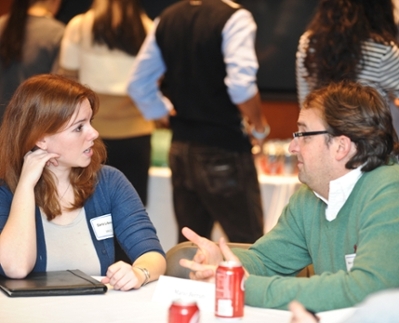 The annual Alumni Weekend CS meetup held between the Norman Barbeque and the Ice Cream social was, once again, well attended. The 2016 classes were 76, 81, 86, 91, 96, 01, 06, 11, but local CS alumni from any year were also welcome!
Alumni came back to share their experiences in finding internships and jobs at the Computer Science Alumni Panel. They discussed what turned out to be important in the application, interview process, and in the job itself as well as what's the same and what's different in a variety of companies and industries.
October 2015
The Brandeis Computer Science Fair has become one of the most popular recruiting events of the fall semester. Employers report that this fair provides an unparalleled opportunity to meet and recruit top students. Attending this fair allows organizations to recruit seniors, master's students and to identify students from all class years for internship roles.
September 2015
Preparing Your Resume for the Brandeis Computer Science Career Fair was sponsored by Hiatt and GSAS and the Computer Science Department. The workshop helped students' resumes ready for the fair. They learned how to create an effecitve description of their experience and got tips and strategies for highlighting their strengths and skills
June 2015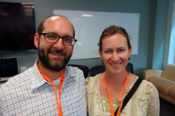 The Brandeis Computer Science Reunion welcomed about 30 people for our annual reunion get-together in the Vertica Lounge, going all the way back to our first class of 1975. Click on the photo to go to a Picasa Album of photographs. Here is a link to the photo album on Facebook.
April 2015
Students were able to stop by between classes for on-the-fly quick chats at Google Day @ Brandeis with Brandeis alumni working at Google. In the evening, they gave a Tech Talk and students were able to get a real sense about immediate groups and positions Google is hiring for now, as well as some insights.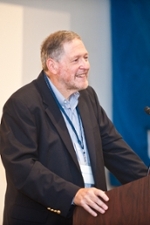 David Litwack '68
At Brandeis University's 2nd Annual Computer Science Alumni Networking and Career Fair, students explored careers in computer science, software development, information technology and other disciplines. They learned about the manifold job opportunities available for computer scientists and networked with graduates of our BA, BS, MA and PhD programs who are now working in this rapidly growing field. There were 246 guests in attendance which included 71 employers and alumni, as well as, 175 students! David Litwack '68, founder of Powersoft and speculative fiction author, received the 2014 Entrepreneur of the Year Award.
October 2014
Tech Talk: Klingon Express — Interplanetary Food Delivery on Yelp: Now that Yelp has launched on Kronos, the seat of the Klingon Empire, any business owner there can claim their own listing and start interacting with customers.
In our talk, we will walk through how a Klingon business owner can start taking orders for delivery from hungry expats around the galaxy. We will review some of the technical challenges involved in getting real-time information to millions of business owners. We will also outline the complex interaction between Yelp's website, mobile apps, and external partners which enables Klingon Express to deliver food to every Yelp customer.
If you're interested in learning more about Yelp's technical innovations, check out our latest projects on the Yelp Engineering blog or follow us on Twitter and Facebook. The fastest way to an epic internship or awesome full-time position is by giving a Yelp recruiter your resume at the career fair or our tech talk. If you just can't wait, take a look at our college positions.
February 2014
Mikel McDaniel, a recent Brandeis graduate and real-life Google engineer, gave a Google Tech Talk. He spoke about engineering projects he's worked on and life as a Googler. He explained that Google does work in all areas of computer science from security, to artificial intelligence, to security, to crazy large distributed systems, to natural language processing, and want to impact people's lives in a positive way by making products that help better organizes the world's information.
February 2014
Kickoff-informational Meeting for BrandITE
What is BRANDITE? Brandite is a discussion group that meets weekly with a group of 10-15 students who are interested in IT entrepreneurship, software engineering, innovation and the computer industry.
What happens at the meeting? Sometimes we have a topic that we explore in discussion (e.g., "Is BITCOIN good or bad for society?"); sometimes we have a hands-on demonstration (e.g., "Arduino vs. Technical Machine — a demo"). Sometimes we have a cool speaker (e.g., Catherine Havasi on "What was it like to start CL company?"), a hackathon (e.g., MongoDB hands-on) or sometimes it's a business topic (e.g., "Using LinkedIn for fun and profit").
Gee, another club? No this is not a club! It's just a weekly meeting for people who just love to talk tech and learn new things from each other.
What does BRANDITE stand for? Well, it started as "Brandeis IT Entrepreneurship Meeting" but it's taken on its own meaning!
February 2014
First Annual Computer Science Alumni Networking and Career Fair.