Upcoming Events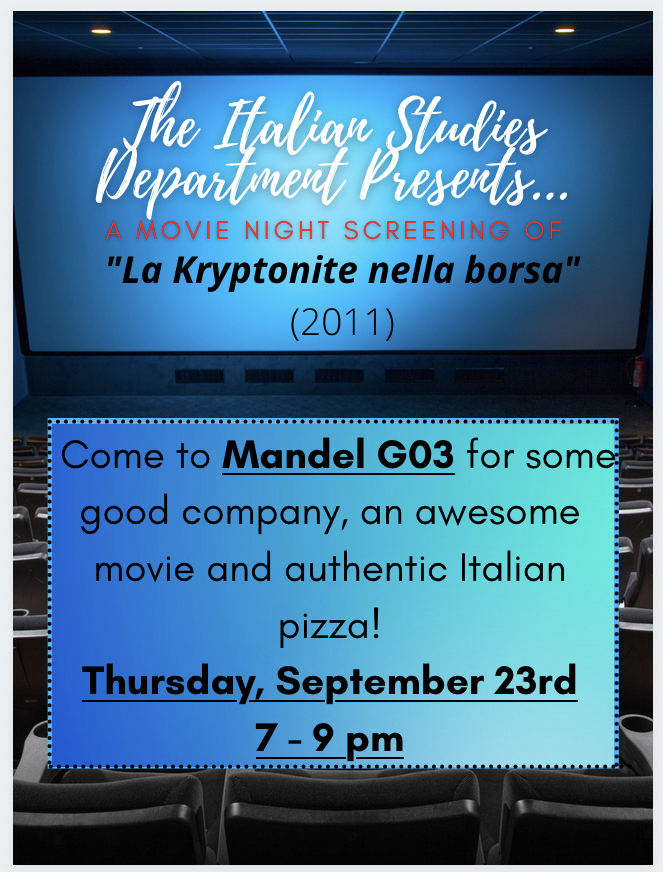 First Italian movie night of fall semester!
Screening of La kryptonite nella borsa (2011)
Thursday, September 23, 2021
7:00 p.m. – 9:00 p.m.
UPDATED LOCATION: Schwartz 112
Pizza will be provided!!!
This is a great opportunity to meet fellow students interested in Italian studies and engage with an Italian film together. Co-curricular actives like these are are a very important part of the Italian curriculum and we encourage you all to attend!
We hope to see you all there!


Grazie — and do not not hesitate to reach out to us with any comments or questions!
The Italian UDRs,
Nick, Bianca + Lola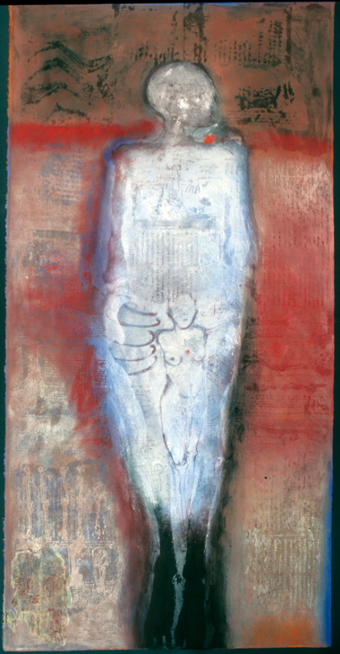 Under the Skin: a workshop of a new play
Tuesday, October 19, 2021
12:00 - 1:30 pm
Zoom - Register here.
Please join the minor in Creativity, the Arts, and Social Transformation (CAST), Hispanic Studies, Latin American, Caribbean and Latinx Studies (LACLS), and Theater Arts, for an online workshop of Under the Skin, a new one-person play about the artist and human rights activist Claudia Bernardi's life growing up in Argentina under a military junta, and her subsequent work digging up the past. This presentation is hosted by Professor María J. Durán as part of her course, Latinx Theatre: Politics, Performance, and Social Change and is funded in part by the Dean's Research Fund.
Under the Skin
A new play by award-winning playwright Catherine Filloux 
Performed by Mercedes Herrero
Directed by Elena Araoz
Commissioned by INTAR (Lou Moreno, Artistic Director; Paul Slee Rodriquez, Executive Director)
After the workshop, Claudia Bernardi and Catherine Filloux will join us online for a discussion.
Trinacria Theatre Company Management Internship Info Session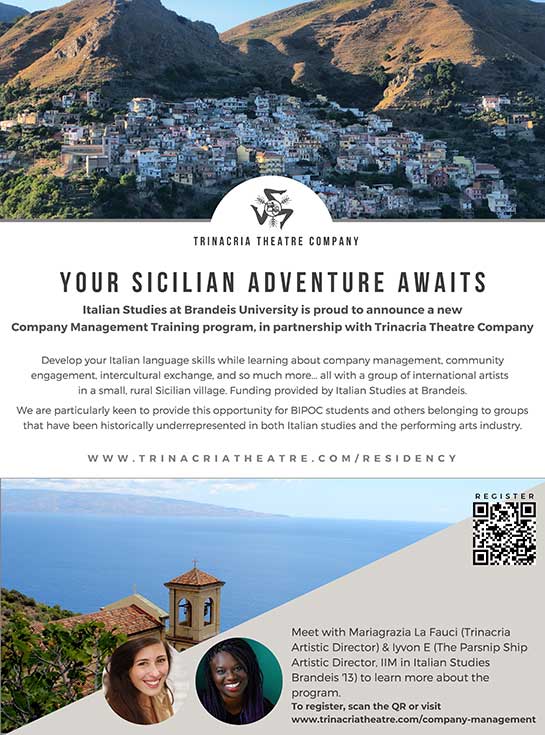 YOUR SICILIAN ADVENTURE AWAITS
Virtual Info Session this fall 2021!
Dates & times TBA!
Meet with Mariagrazia La Fauci (Trinacria Artistic Director) & Iyvon Edebiri (The Parsnip Ship Artistic Director, IIM in Italian Studies Brandeis '13) to learn more about the program for summer 2022.
Through an exciting collaboration between Brandeis University's Interdepartmental Program in Italian Studies and Trinacria Theatre Company, develop your Italian language skills while learning about company management, community engagement, intercultural exchange, and so much more... all with a group of international artists in a small, rural Sicilian village.
We are particularly keen to provide this opportunity for BIPOC students and others belonging to groups that have been historically underrepresented in both Italian studies and the performing arts industry.
Financial assistance available to selected candidates by the Italian Studies Department of Brandeis University.

For more information about the internship, please visit Internship in Sicily on the Romance Studies website or www.trinacriatheatre.com/residency on the Trinacria Theatre Company's website. Thank you!
THE NEW ENGLAND CONTEMPORARY ITALIAN FILM FESTIVAL 2021
COMING THIS FALL!
Thursday, September 23, 2021, 7:00 p.m.–9:00 p.m.
Thursday, October 21, 2021, 7:00 p.m.– 9:00 p.m.
Thursday, November 18, 2021, 7:00 p.m.–9:00 p.m.
For a list of the film, please check this page closer to the event dates.
All screenings are tentatively scheduled to be held in Mandel G03 with opening remarks from Professor Servino, Professor Monteleone, and the Italian Studies Undergraduate Departmental Representatives.
Presented by the Italian Studies Program and the Italian Consulate of Boston.
Other Related Campus Events:
#BrandeisAbroad Study Abroad Fair
Thursday, September 23, 2021
11:30 AM - 2:00 PM
International Lounge, Usdan
Where will your studies take you? Explore study abroad opportunities for Brandeis students from every major and minor. Learn about housing options, financial aid transferability, and health and safety abroad. Study abroad program staff from around the world as well as Brandeis staff from the Office of Study Abroad will be on hand to answer your questions about studying abroad as a part of a well-rounded Brandeis education.
Events held by Student Groups on campus: