Upcoming Events
Interested in ROMS events? Please check this page often! You are also invited to join one or all of our Google Groups in French and Francophone, Hispanic and Italian Studies by using the ROMS sign-up sheet. Thank you and welcome!
Stay tuned for more events in spring 2024!
Organized by the Division of the Humanities
Stay tuned for more events in spring 2024!
Organized by the World Languages and Cultures (WLC) Committee
Stay tuned for more events in spring 2024!
Events held by UDRs and Student Groups on campus:
Recent Events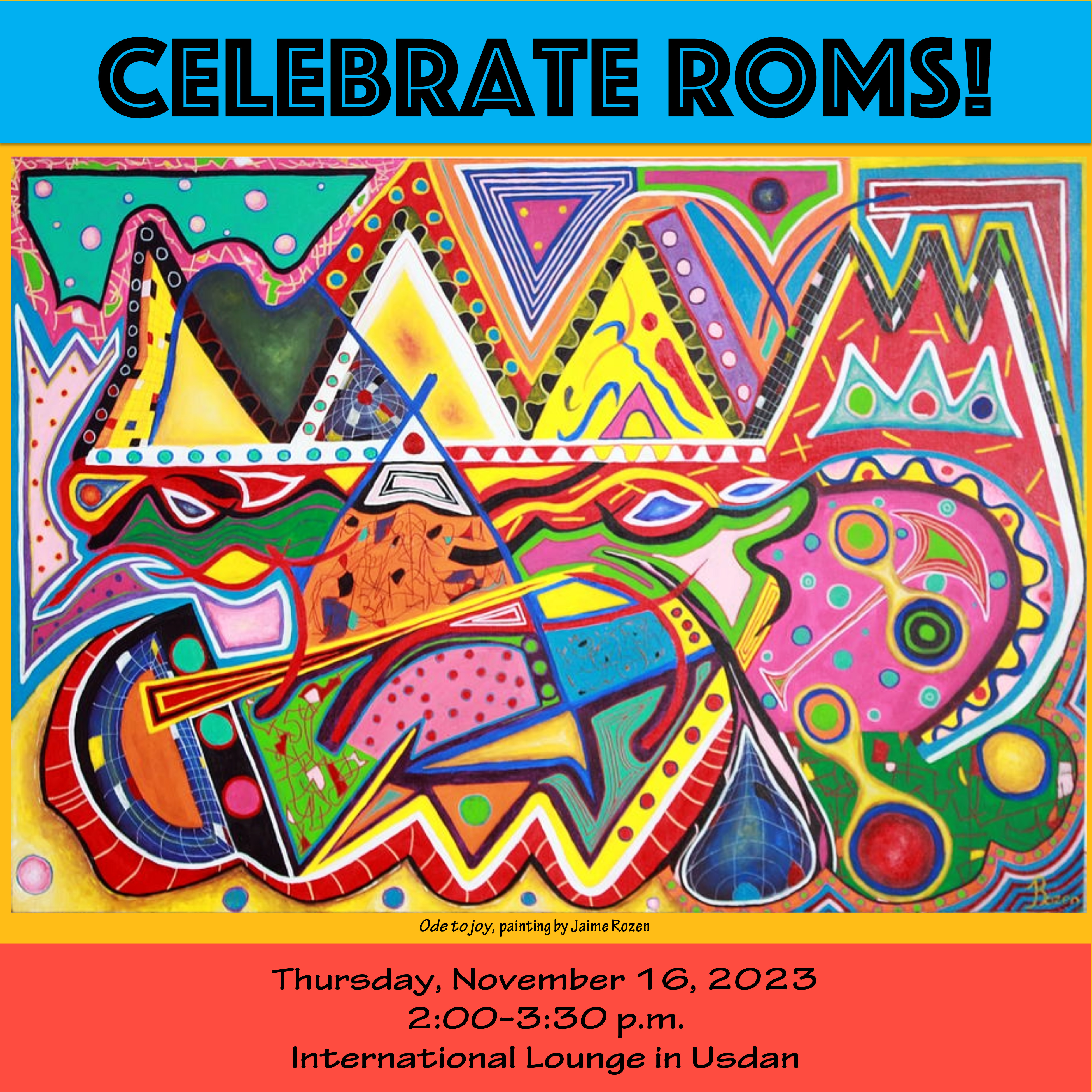 CELEBRATE ROMS!
Date: Thursday, November 16, 2023
Time: 2:00–3:30 p.m.
Location: International Lounge in Usdan
chat with faculty, UDRs, Study Abroad reps, IIM advisors, & more!

learn about our programs and spring 2024 classes!

"HAPPY HOUR" - stop by for snacks & soft drinks

enter a raffle for Lizzy's gift cards!
This event is part of I Am Global Week 2023!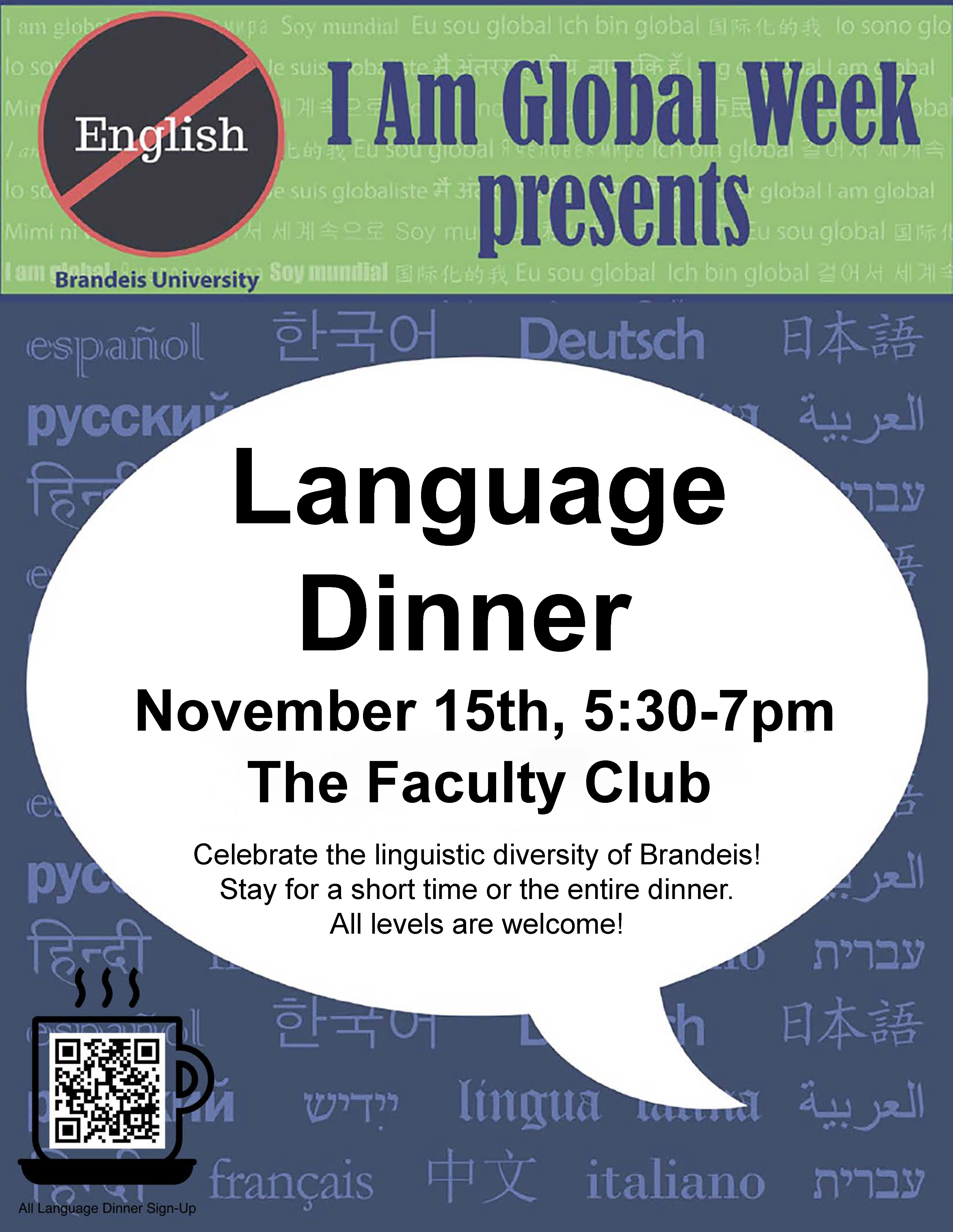 9th Annual All Languages Dinner
All members of the Brandeis Community (undergraduate students, graduate students, faculty, and staff) are invited to experience and celebrate the linguistic diversity of Brandeis during the "I Am Global Week 2023." There will be twelve different languages participating this year: Arabic, Chinese, French, German, Hebrew, Italian, Japanese, Korean, Russian, Spanish, Yiddish, and Latin.
Date: Wednesday, November 15, 2023
Time: 5:30 p.m. - 7:00 p.m.
Location: The Faculty Club
Registration: Starting November 1st, use this link to sign up for the All Languages Dinner.
Stay for a few minutes or for the entire hour. If you speak several languages, visit multiple tables! No matter your level of proficiency, you are welcome! The only rule is NO ENGLISH! Please speak only the language of a specific table (tables) during your visit (you will take a mini language pledge before entering the room).
The first 10 individuals who register for each language will receive a voucher for FREE dinner buffet. There will also be culture-specific desserts/snacks at each language table. Registrants will be notified via email if they will receive a voucher (look for an e-mail from your professor), and the vouchers will be available on each language table on the day. Please note that students are given priority to sign up for the free dinner allotted for each language table. The sign-up form will be available on November 1st.
If you are not among the first 10, please do not be discouraged and bring your own food! You will also be able to enjoy savory or sweet snacks provided by the language program hosting your table.
Hotel Splendid: migration stories through the lens of ethnography
Film Screening and Q&A with writer, producer, director, filmmaker, and editor: MAURO BUCCI
Movie Night with Pizza
Sunday, November 12, 2023; 6:00–8:00 p.m. in Mandel G03
If you plan to attend, use this RSVP form to let us know!
Q&A with Mauro Bucci
Tuesday, November 14, 2023; 12:45–1:35 p.m. in Shiffman 219
Mauro Bucci will join us via Zoom to discuss the film and answer any questions you may have!
Hotel Splendid is the intimate and profound story of an African community that lives in an Italian tourist hotel turned into an emergency camp for refugees.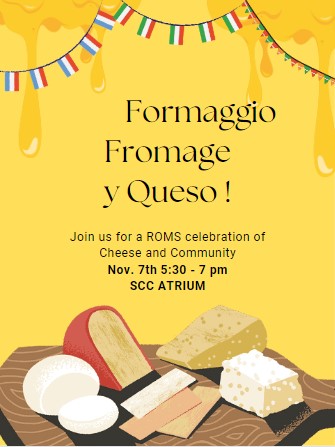 Formaggio, Fromage y Queso!
This is a joint event hosted by the French, Italian, and Hispanic Studies UDRs.
Tuesday, November 7, 2023
5:30 – 7:00 pm
SCC Atrium
Please join us for a ROMS celebration of Cheese and Community: We will be celebrating all three cultures with different cheeses, meats, and breads!!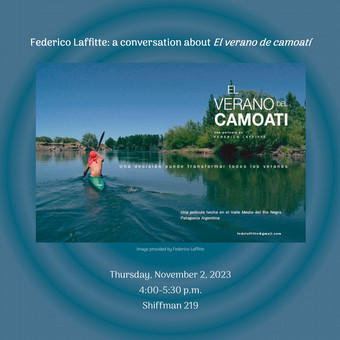 Federico Laffitte: a conversation about El verano de camoatí
Join us to talk virtually with Argentinean director Federico Laffitte about his portrayal of the lives of young people in Patagonia. Event will be held in Spanish.
If you have any questions, please feel free to contact Professor Kristen Turpin, senior lecturer in Hispanic Studies.
Haitian Folklore and Dance
Vin fete!
Venez fêter!
Come celebrate!
A dynamic event featuring Haitian folklore and participatory dance with explanations in English. Haitian-style snacks provided. All are welcome!
If you have any questions, please feel free to contact Professor Catherine Theobald.
Education & Outreach Manager, Guest Company Dancer
Raphaëlle François was born in Haiti and started dancing at nine years old at Artcho Danse, a highly distinguished dance school in Haiti. She trained in several dance styles, such as modern, jazz, contemporary, classical and ballroom dance. Raphaëlle was inspired by Haitian folklore and decided to specialize herself in Afro-Contemporary dance.
At the age of 12, she became a member of the Artcho Danse School Company and launched a professional career that projected her around the world. She performed, gave workshops and promoted Haitian culture in prestigious institutions such as Tokyo National Ballet, Quartier in Paris, Carnegie Hall in New York City, Ballet Hispanico in New York City, Ballet Roto in Dominican Republic and in Cyprus, Jamaica. She has also created pieces, such as "ti mari'' (Haiti), "Marasa," and "Y continuamos'' (Dominican Republic, Dance Festival Edanco). Raphaëlle is currently working on a series of workshops called " Vin danse ak Raphaelle" around the world where she teaches basic Haitian Folklore techniques.
Jean Appolon Expressions (JAE)
Instagram: @jaebostonhaiti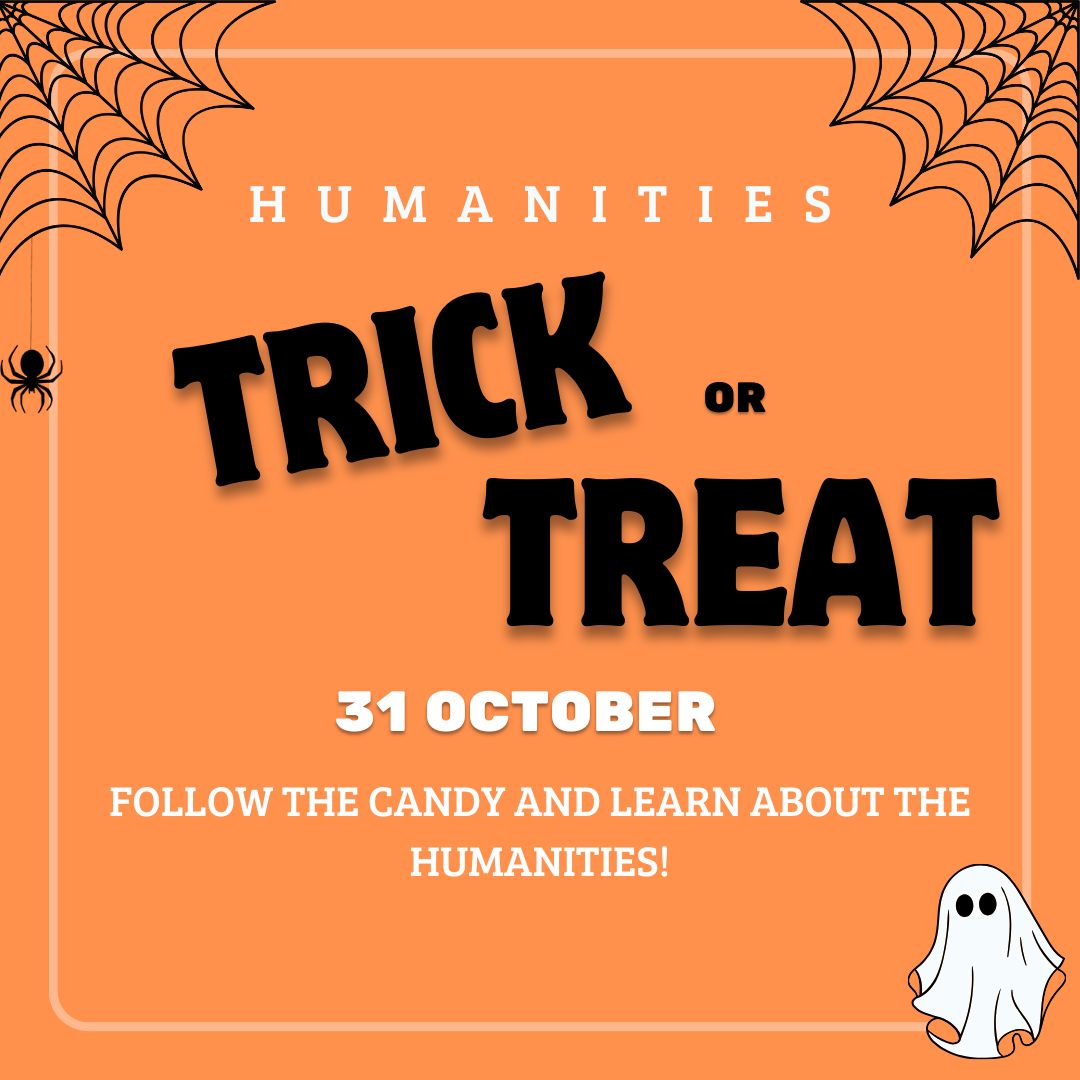 Humanities Trick or Treat
10 am - 1 pm
English - Rabb 144
Philosophy - Rabb 303
ROMS (Romance Studies) - Shiffman 108
COML (Comparative Literature & Culture) - Shiffman 108
12 - 4 pm
Division of Humanities - Mandel Center Pod 127
Classical and Early Mediterranean Studies - Mandel Center Pod 225
NEJS (Near Eastern & Judaic Studies) - Lown 211
GRALL (German, Russian & Asian Languages & Literatures) - Shiffman 116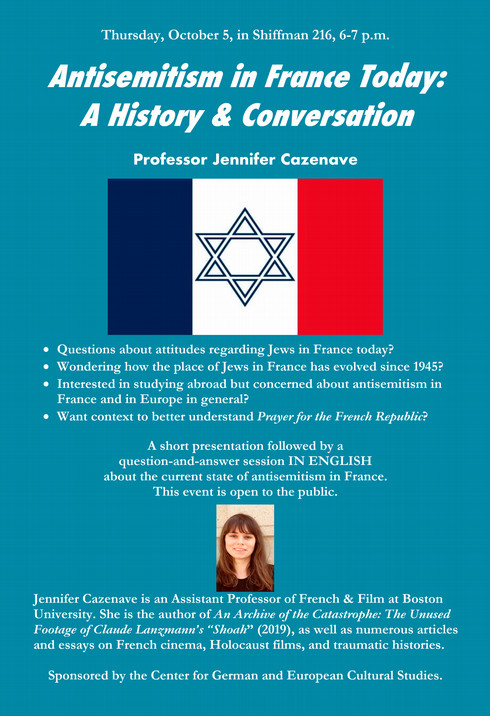 Antisemitism in France Today: A History & Conversation
With Professor Jennifer Cazenave
Questions about attitudes regarding Jews in France today?
Wondering how the place of Jews in France has evolved since 1945?
Interested in studying abroad but concerned about antisemitism in
France and in Europe in general?
Want context to better understand "Prayer for the French Republic?"
A short presentation followed by a question-and-answer session in English about the current state of antisemitism in France.
Jennifer Cazenave is an assistant professor of French & Film at Boston University. She is the author of "An Archive of the Catastrophe: The Unused Footage of Claude Lanzmann's 'Shoah' " (2019), as well as numerous articles and essays on French cinema, Holocaust films and traumatic histories.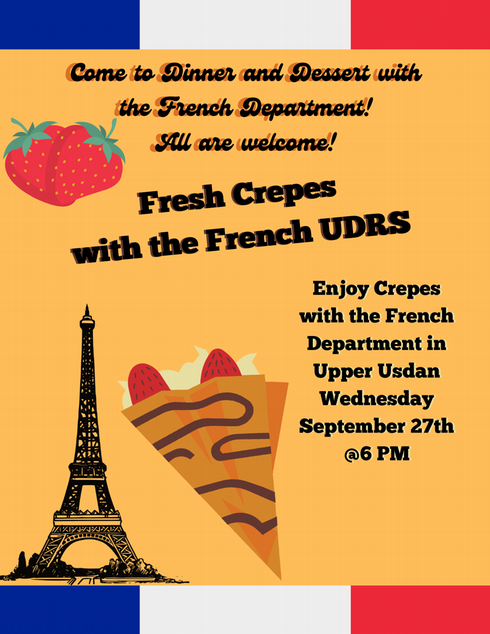 Fresh Crêpes with the French UDRS
Enjoy crêpes with us!
Come to dinner and dessert with the French Department. All are welcome.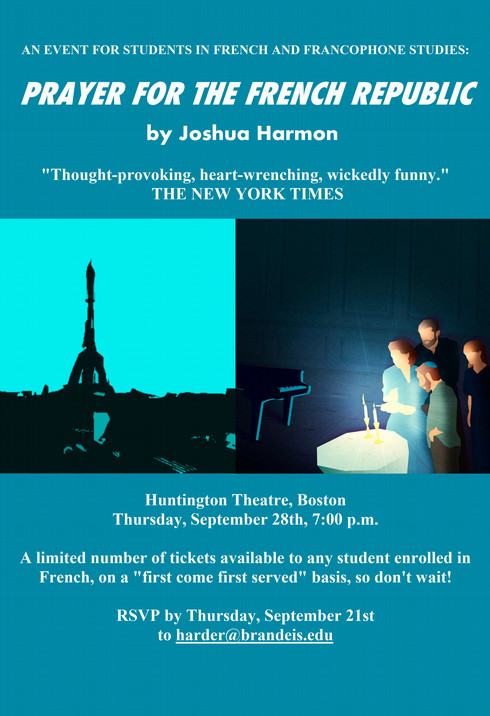 "Prayer for the French Republic"
"Prayer for the French Republic" by Joshua Harmon
An event for students in French and Francophone Studies. A limited number of tickets available to any student enrolled in French, on a first-come, first-served basis, so don't wait!
"Thought-provoking, heart-wrenching, wickedly funny." — The New York Times