Hispanic Studies UDRs
Undergraduate departmental representatives serve as a resource and representative for fellow majors and minors and potential majors and minors, and bring student concerns and/or ideas to the program faculty. They also provide feedback to the program chair, undergraduate advising head, and faculty regarding scheduling problems, course offerings, etc. and help organize events for majors, minors and other interested students.
2022-23 UDRs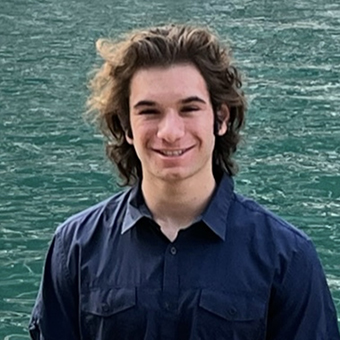 Cooper Gottfried
Class of 2025
Pronouns: he/him
I'm a sophomore double majoring in environmental studies and computer science and minoring in Hispanic studies. I'm a Humanities Fellow, an editor at The Brandeis Hoot (where I primarily write features and opinions articles), and I volunteer with Teaching Assistants in Public Schools (TAPS) through Waltham Group. Although I don't have any specific plans, I'd like to study abroad in a Spanish-speaking country during my time at Brandeis. Post-graduation I'd like to protect our planet in some way, shape or form. In my free time I cook, play video games and spend time with my friends. Fun fact: The Strokes are my favorite band!
Emily McKerrow
Class of 2024, abroad in spring 2023
Pronouns: she/her
I'm Emily McKerrow, an environmental studies major with a Hispanic studies minor. Hispanic studies is very important to me because I love speaking Spanish with my peers and this department in collaboration with Latinx studies has helped me connect with being Brazilian. I am one of the co-founders and the president of the Crafts and Conversations club and the treasurer of Herbicide Free Brandeis. I am a huge supporter of organic lawn care and organic agriculture, I used to volunteer at an organic farm in my hometown! I'm also a TA (or Tree A as I call it) of fundamentals of environmental studies with Dan Perlman. In my free time, I really enjoy cooking, baking, astrology, and fashion. You can catch me on the weekends cooking for my friends and hosting indoor picnics when it gets too cold to be outside. I will be studying in Ecuador in Spring 2023 and I'm super excited to practice my Spanish and learn everything I can about Ecuador's ecology!
As for the future, I really don't know what I want to do, I'm really interested in doing things that bring me joy. I was an event planning and development intern at an environmental organization and it's an incredibly fun field to be in. My dream job would probably be a color of the year stylist for Pantone, but I don't think I have the connections for that. Finally, my fun fact is that I once walked a 5k in Spain at 11 p.m.!