Courses
Notes about fall 2021 ROMS courses:
All ROMS courses will be offered in-person:
 In-person classes are designed to allow students to participate in a safe classroom, and masks are required at all times.  If you have questions about the in-person modality, please feel free to email the professor of the course you would like to take.
While most classes will be scheduled to meet twice per week for 90 minutes (either Monday and Wednesday, or Tuesday and Thursday), language-level courses (numbered 10-30) will be scheduled four times per week, but students will not meet for the full 90 minutes each day.
Fall 2021 Courses
Language Courses
Upper-Level Courses (above FREN 106)
FREN 110A Cultural Representations
(1) M,W 12:00 PM–1:30 PM, Fauré-Bellaïche (in-person)
This class looks at how novels, poems, films and other forms of cultural representations reflect larger social questions throughout the French-speaking world.  Texts and films by modern and contemporary French and Francophone writers and directors, including Emmanuel Carrère, Céline Sciamma, Marjane Satrapi, Nathacha Appanah, Annie Ernaux, and Catherine Cusset.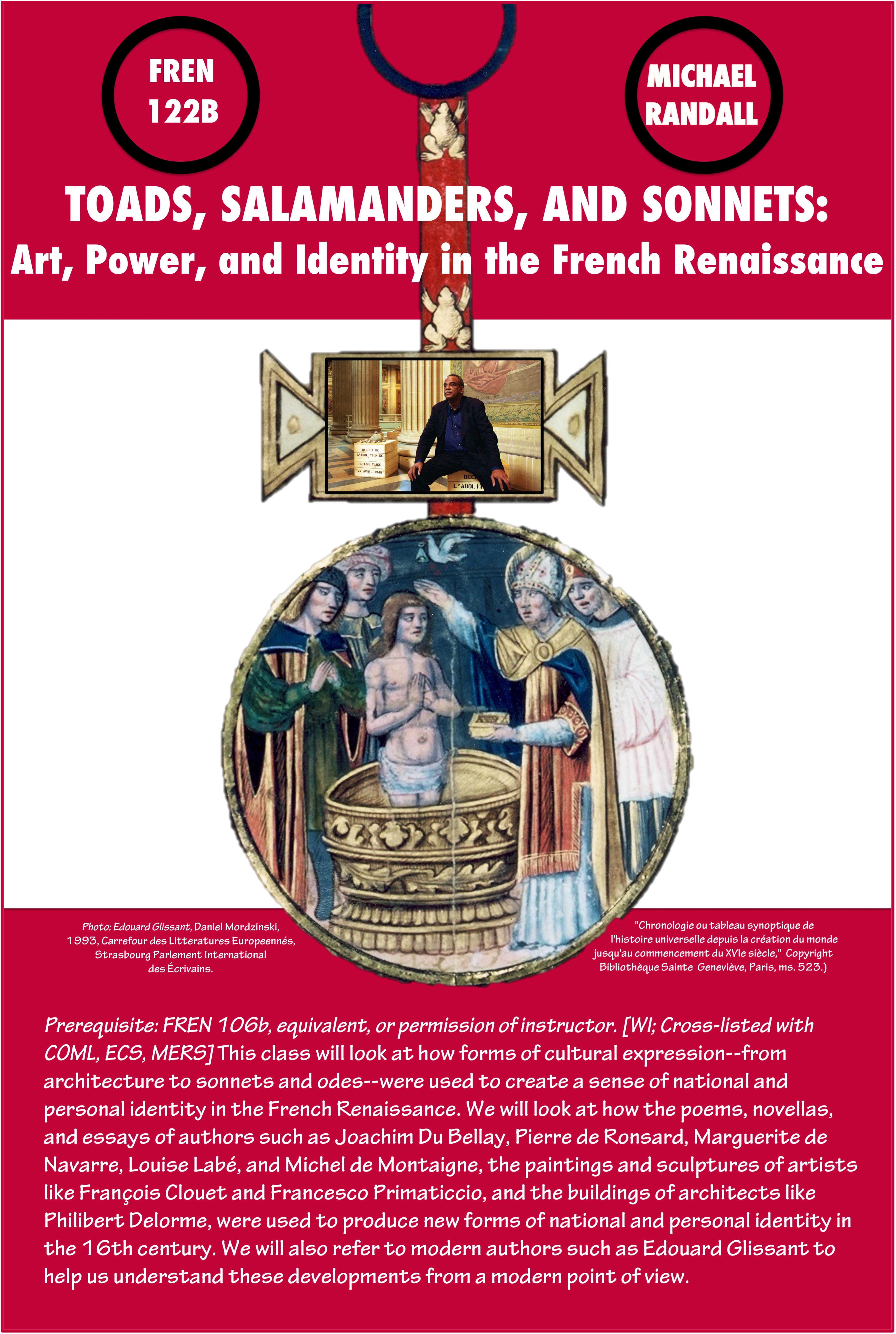 FREN 122B Toads, Salamanders, and Sonnets: Art, Power, and Identity in the French Renaissance
(1) T,Th 2:00 PM–3:30 PM, Randall (in-person)
This class will look at how forms of cultural expression--from architecture to sonnets and odes--were used to create a sense of national and personal identity in the French Renaissance. We will look at how the poems, novellas, and essays of authors such as Joachim Du Bellay, Pierre de Ronsard, Marguerite de Navarre, Louise Labé, and Michel de Montaigne, the paintings and sculptures of artists like François Clouet and Francesco Primaticcio, and the buildings of architects like Philibert Delorme, were used to produce new forms of national and personal identity in the 16th century. We will also refer to modern authors such as Edouard Glissant to help us understand these developments from a modern point of view.
(1) M,W 2:00 PM–3:30 PM, Fauré-Bellaïche (in-person)
Introduces Francophone literature and film, retracing, through the works of great contemporary Francophone writers and directors, the evolution of the Francophone world, from the colonial struggles to the transcultural and transnational trajectories of our global era.
FREN 161A The Enigma of Being Oneself: from Du Bellay to Laferrière
(1) T,Th 4:00 PM–5:30 PM, Randall (in-person)
Explores the relationship of identity formation and modern individualism in texts by writers working in France, Francophone Africa and Canada. Authors range from modern and contemporary writers Romain Gary, Dany Laferrière, Achille Mbembe, Alain Mabanckou, and Edouard Glissant to early-modern writers like Joachim Du Bellay and Michel de Montaigne.
Cross-listed with French and Francophone Studies
ECS 100A European Cultural Studies Proseminar: Modernism
(1) M,W 2:00 PM–3:30 PM, Dowden (in-person)
Explores the interrelationship of literature, music, painting, philosophy, and other arts in the era of high modernism. Works by Artaud, Baudelaire, Benjamin, Mann, Mahler, Schoenberg, Stravinsky, Kandinsky, Schiele, Beckett, Brecht, Adorno, Sartre, Heidegger, and others.