Courses
Please see the Registrar's Schedule of Classes for schedule information.
All students need a consent code to enroll in French Language Courses (FREN 10-106).
Students currently enrolled in FREN language courses (FREN 10-105) will receive instructions about consent code distribution before the beginning of registration.
All others should email Professor Harder as soon as possible with a description of their background in French, including classes taken, standardized test scores, and/or other exposure to the language. She will reply with further instructions about obtaining a consent code for the appropriate language course.
---
Spring 2020 Courses
---
Language Courses
FREN 10A Beginning French
(1) M,W,Th,F 9:00–9:50, Nenciu
What do Montréal, Paris, and Dakar have in common? What are the rules regarding how many times one kisses a friend on the cheeks? Why is France called l'Hexagone? This course will introduce learners to French language and culture and will help them speak, listen, read, and write about everyday situations in France and Francophone countries.
---
FREN 20B Continuing French
(1) M,W,Th 12:00–12:50; F 12:30–1:20, Nenciu
How does the attitude of a French student toward family and strangers differ from the experience of an American student ? How do the French view work and vacation? Learners will deepen their knowledge of French and Francophone cultures while expanding their ability to speak, read, listen, and write in French.
---
FREN 32A Intermediate French: Conversation
(1) M,W,Th,F 10:00–10:50, Theobald
(2) M,W,Th,F 11:00–11:50, Theobald
Did you study French in the past and need more speaking and writing practice plus a grammar review? This Intermediate French class is for you!  Exploring social "controversies" like sexism and globalization, it focuses on essential communication skills such as comprehension, contemporary vocabulary use, and conversational practice. Our materials include videos, music, websites, articles, and short stories.
---
FREN 104B Advanced Language Skills through Culture
(1) M,W,Th 1:00–1:50, Harder
Students advance their study of the French language and culture by continuing to hone speaking, listening, reading, and writing skills, while focusing on key elements of French and Francophone culture, such as the perception of time and space, through the exploration of films, news articles, cultural studies, bande dessinée, and music. We will also examine currents in contemporary French and Francophone youth cultures.
---
FREN 105A France Today: French Conversation
(1) M,W,Th 1:00–1:50, Nenciu
Improve your speaking skills while learning about and discussing socio–cultural issues that distinguish the French view of the world from that of Americans. Students will focus on expressing themselves better orally while continuing their work on reading, listening, and writing.
---
FREN 106B Writing Workshop
(1) M,W,Th 12:00–12:50, Harder
Innovative strategies and online tools enable students to improve their creative and analytical writing skills. Students examine different types of texts, exploring their literary style, determining their authority, and exploring how words and images may move and manipulate readers and viewers.
---
Upper-Level Courses (above FREN 106)
FREN 111A The Republic
(1) T,F 11:00–12:20, Randall
The "Republic" analyzes how the republican ideal of the citizen devoid of religious, ethnic, or gender identity has fared in different Francophone political milieux (France, Ivory Coast, Canada, and European Union). Course involves understanding how political institutions such as constitutions, parliaments, and court systems interact in modern societies in which religious, ethnic, and gender identities play important roles.
---
FREN 150B French Detective Novels: Major Questions for a Minor Genre?
(1) T,F 12:30–1:50, Randall
Examines how French and Francophone detective novels take on big questions such as the origin of evil and how do you know what you know. Authors include Fred Vargas, Simenon, Driss Chraibi, Moussa Konate.
---
FREN 146A Picturing Versailles: Portrait, Space and Spectacle under the Sun King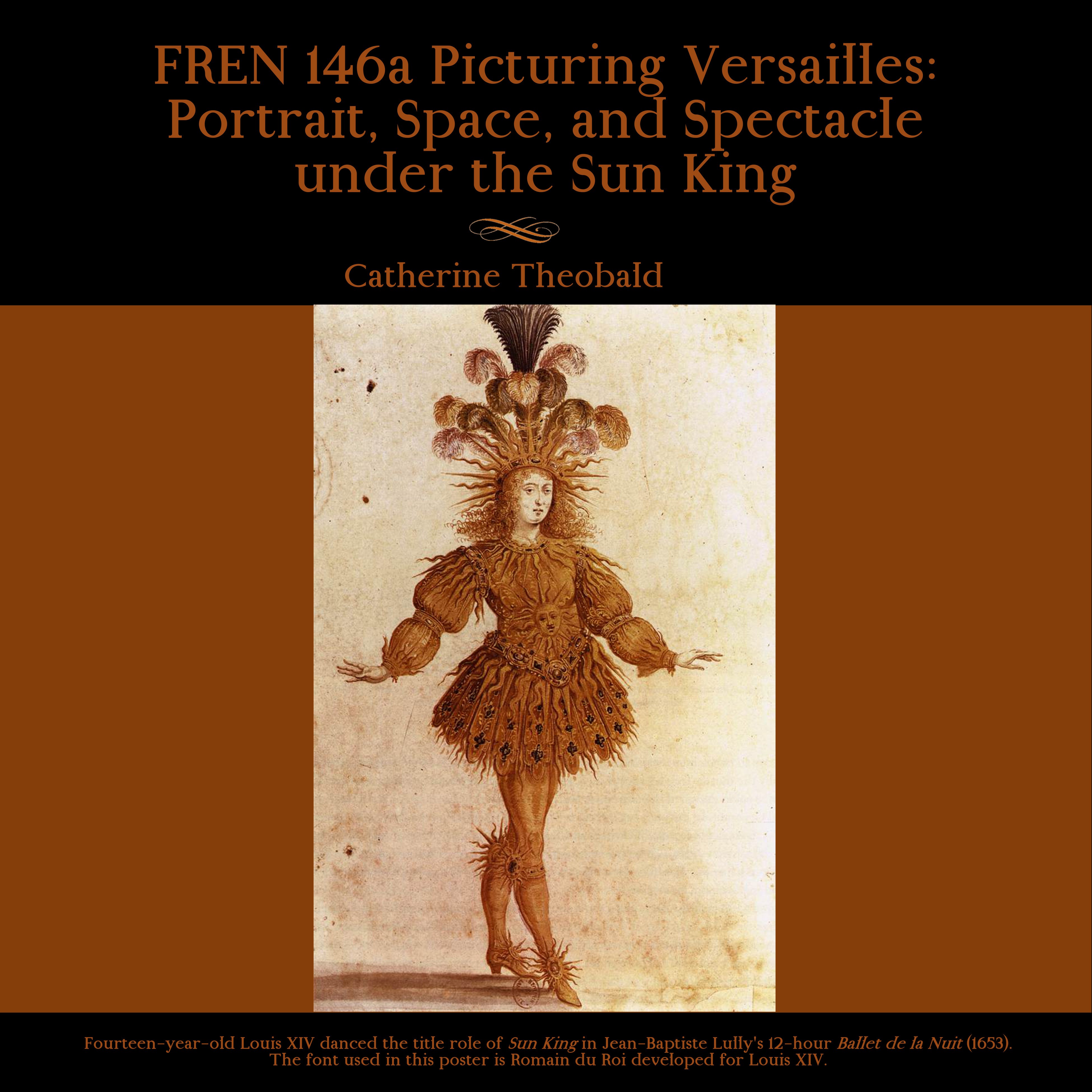 (1) M,W,Th 12:00–12:50, Theobald
Examines bodies of literature, visual arts, and courtiers at Versailles in the theatrical society of intrigue and exile under Louis XIV. Concentrates on how the texts, maps, and art of the palace fashion a global portrait of absolutism: the Sun King.
---