Courses
Click on the following links to skip to a certain section of this page:
Spring 2023 Course Listings
Language Courses
Upper-Level Courses (above FREN 106)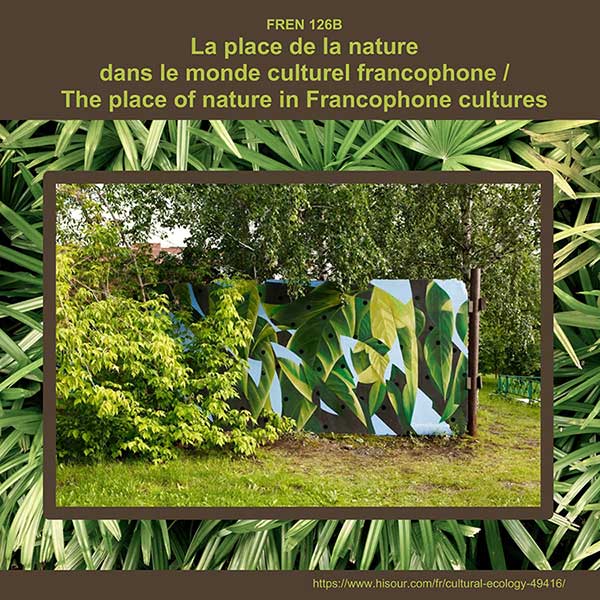 FREN 126B La place de la nature dans le monde culturel francophone / The place of nature in Francophone cultures
(1) M/W/R 1:20 - 2:10 PM, Harder
This course invites students to examine interactions between humans and the environment in texts and images created in Francophone cultures (France, Haiti, Guadeloupe, Martinique, Algeria, Morocco, Quebec, and the fictional nation of the Democratic Republic of Coto [based on the Democratic Republic of the Congo]). Students will discover key notions that have shaped ideas about nature in the Francophone world. By engaging with literary texts, films, and visual arts, they will trace, interpret, and evaluate the rapport between humans in Francophone areas and the natural world from the sixteenth century (when the French nation was established) to the present day.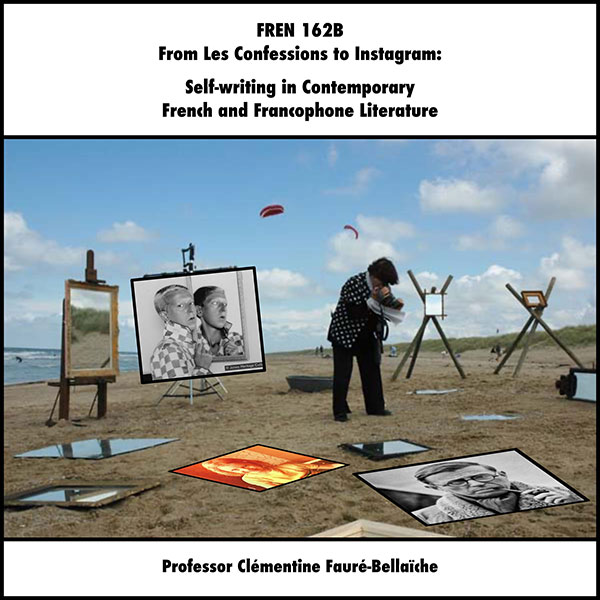 FREN 162B From Les Confessions to Instagram: Self-Writing in Contemporary French and Francophone Literature
(1) M/W/R 11:15 AM - 12:05 PM, Fauré-Bellaïche
Through the works of major writers, the main goal of the course will be to study the many variations of autobiographical writing that characterize contemporary French and Francophone literature, and to relate them to the renewed exploration of the post-modern subject. We will examine along the way how the self relates to the others, how it engages with filiation, memory and history - (especially World War II and the Franco-Algerian War) - and we will put an emphasis on the notions of self-fashioning and performance.
Cross-listed with French and Francophone Studies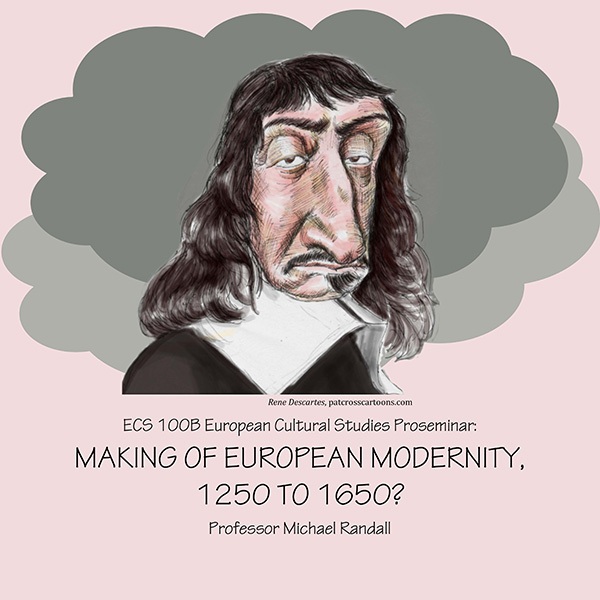 ECS 100B European Cultural Studies Proseminar: Making of European Modernity, 1250 to 1650
(1) M/W 4:05 - 5:25 PM, Randall
Investigates how the paradigm of what we know as modernity came into being. We will look at the works of writers and philosophers such as Descartes, Aquinas, Dante, Ockham, Petrarch, Ficino, Rabelais, and Montaigne. Artwork from the Middle Ages and the Renaissance will be used to understand better what "the modern" means.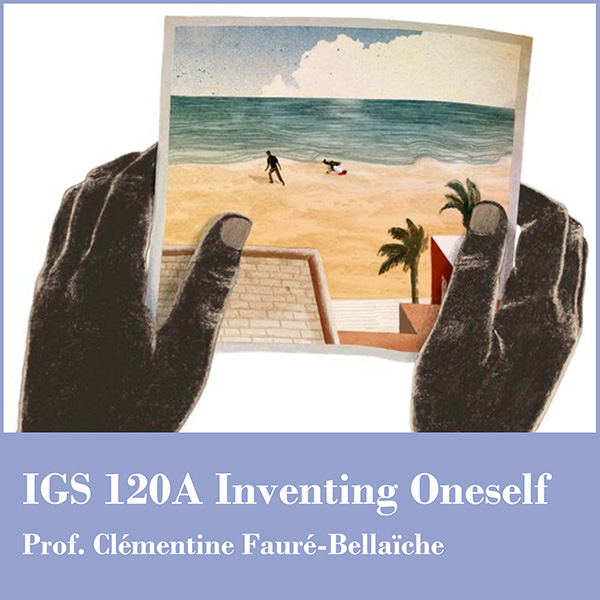 IGS 120A Inventing Oneself
(1) M/W/R 1:20 - 2:10 PM, Fauré-Bellaïche
Do our backgrounds determine our lives, or can we transcend such limits to pursue dreams of our own? This class explores themes of liberation in works by French and Francophone writers and filmmakers and the global artistic and social movements they have inspired. All works in English.