Courses
For a full list of courses offered next semester, download the PDF brochure: French and Francophone Studies Course Offerings Spring 2022.
For a short introduction to each of our course offerings or language levels, click on the course title below.
Spring 2022 Courses
Language Courses
Upper-Level Courses (above FREN 106)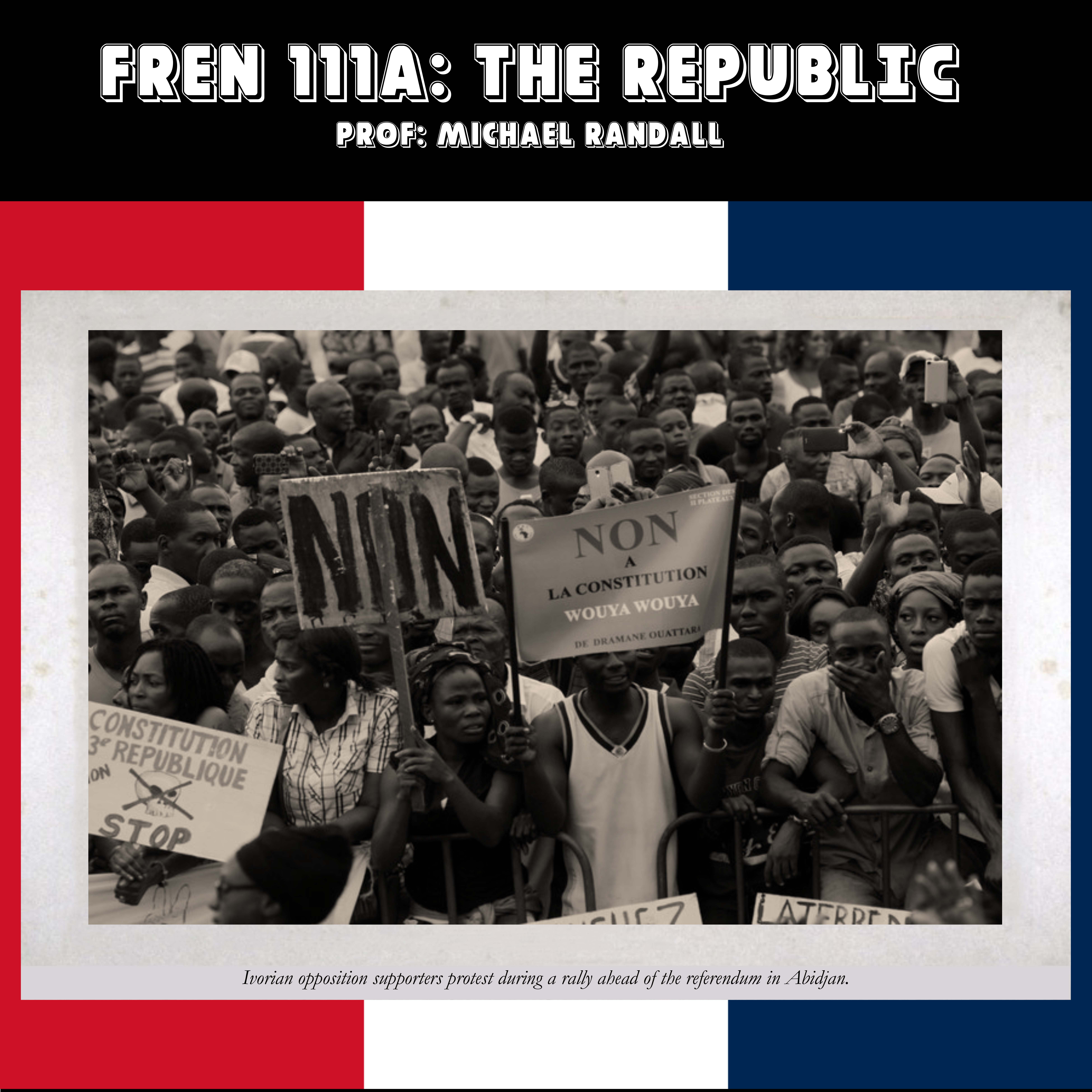 FREN 111A The Republic
(1) M,W 2:00–3:20 PM, Randall (in-person)
The "Republic" analyzes how the republican ideal of the citizen devoid of religious, ethnic, or gender identity has fared in different Francophone political milieux. Course involves understanding how political institutions such as constitutions, parliaments, and court systems interact with reality of modern societies in which religious, ethnic, and gender identities play important roles.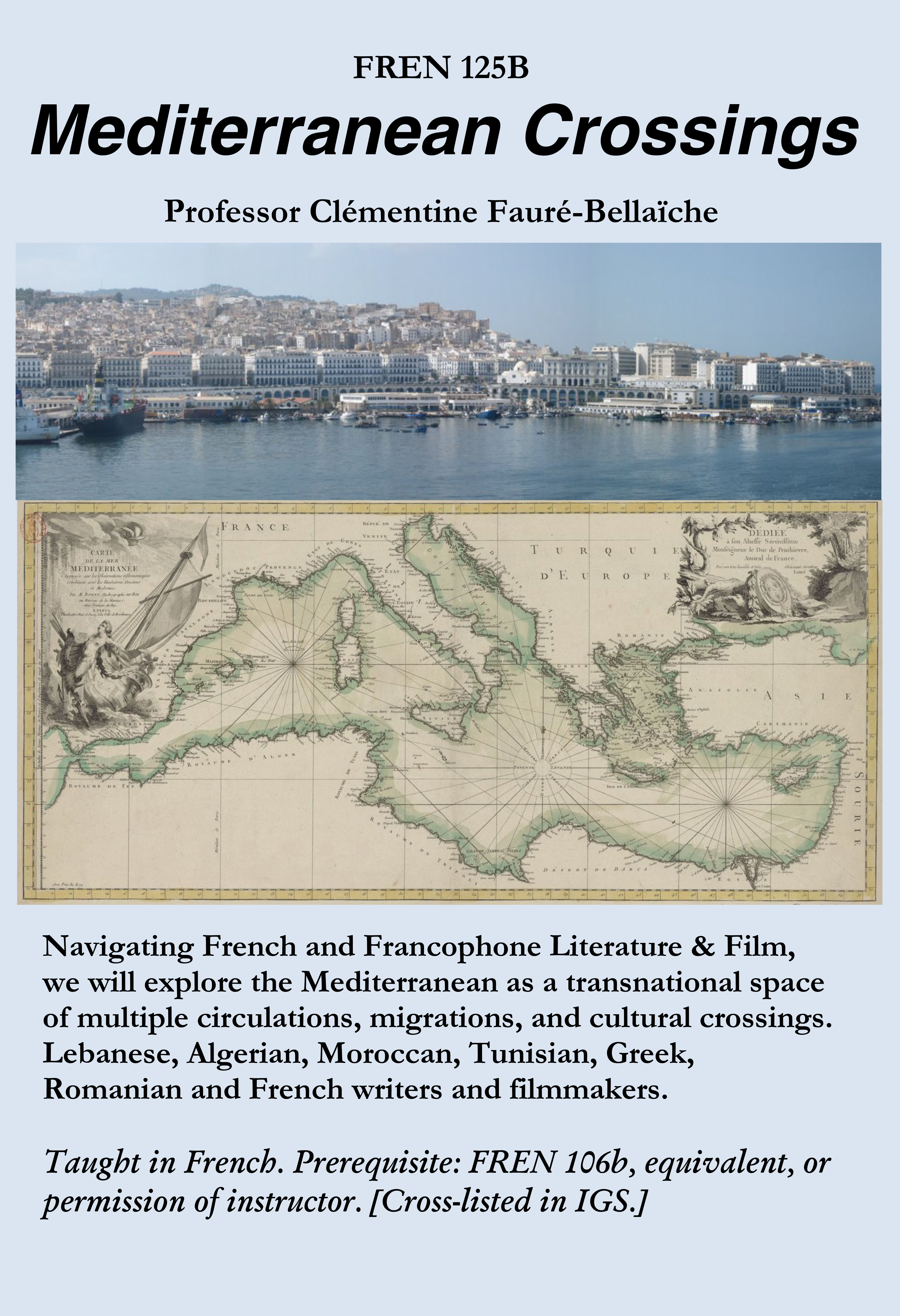 FREN 125B Mediterranean Crossings
(1) M,W,Th 12:00–12:50 PM, Fauré-Bellaïche (in-person)
Navigating French and Francophone literature and film, we will explore the Mediterranean as a transnational space of multiple circulations, migrations, and cultural crossings in works by Lebanese, Algerian, Moroccan, Tunisian, Greek, Romanian and French writers and filmmakers.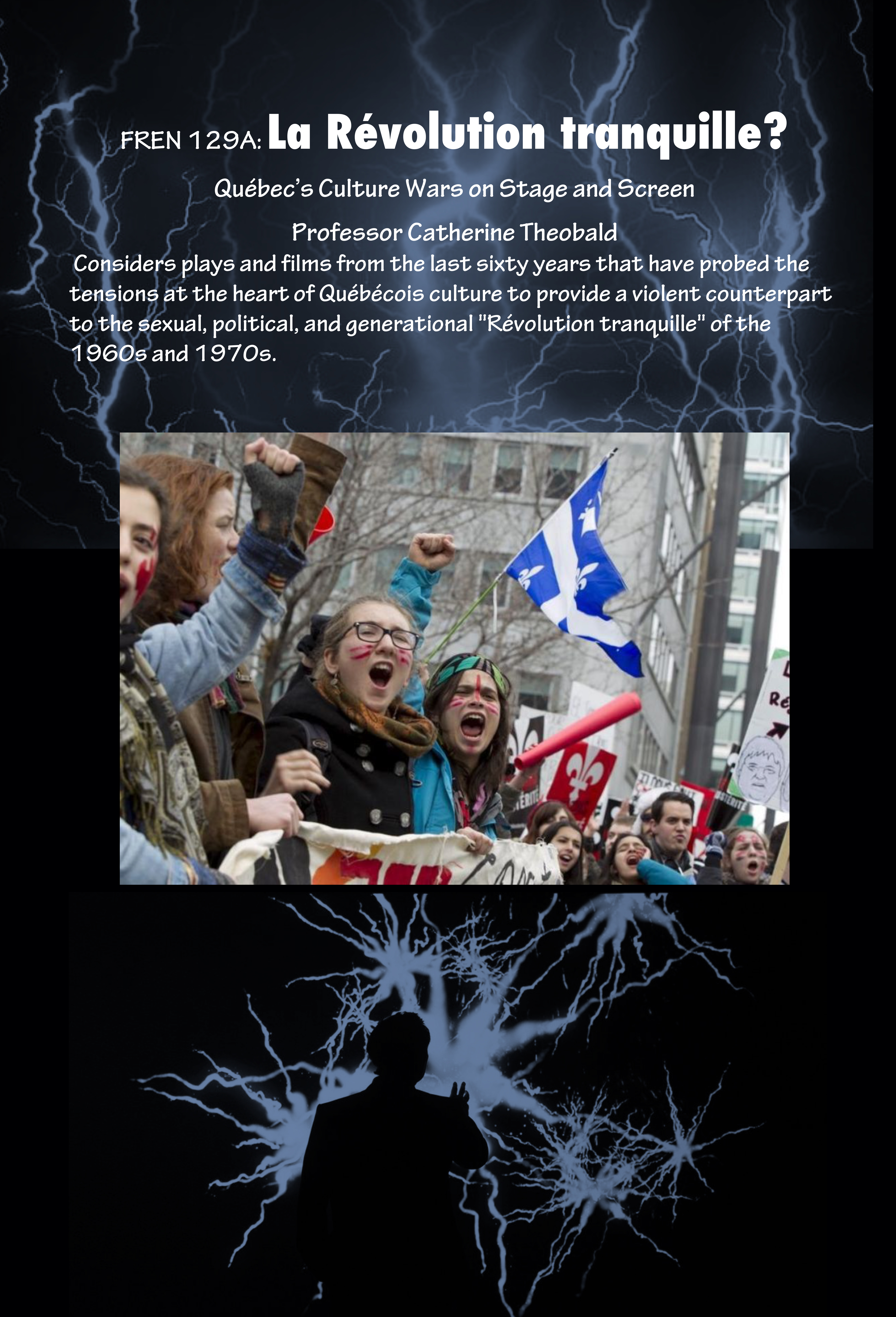 FREN 129A La Révolution tranquille?: Québec's Culture Wars on Stage and Screen
(1) T,Th 2:00–3:20 PM, Theobald (in-person)
Considers the plays and films of the last sixty years that have probed the tensions at the heart of québécois culture to provide a violent counterpart to the sexual, political, and generational "Révolution tranquille" of the 1960's and 1970's.
Taught by French and Francophone Faculty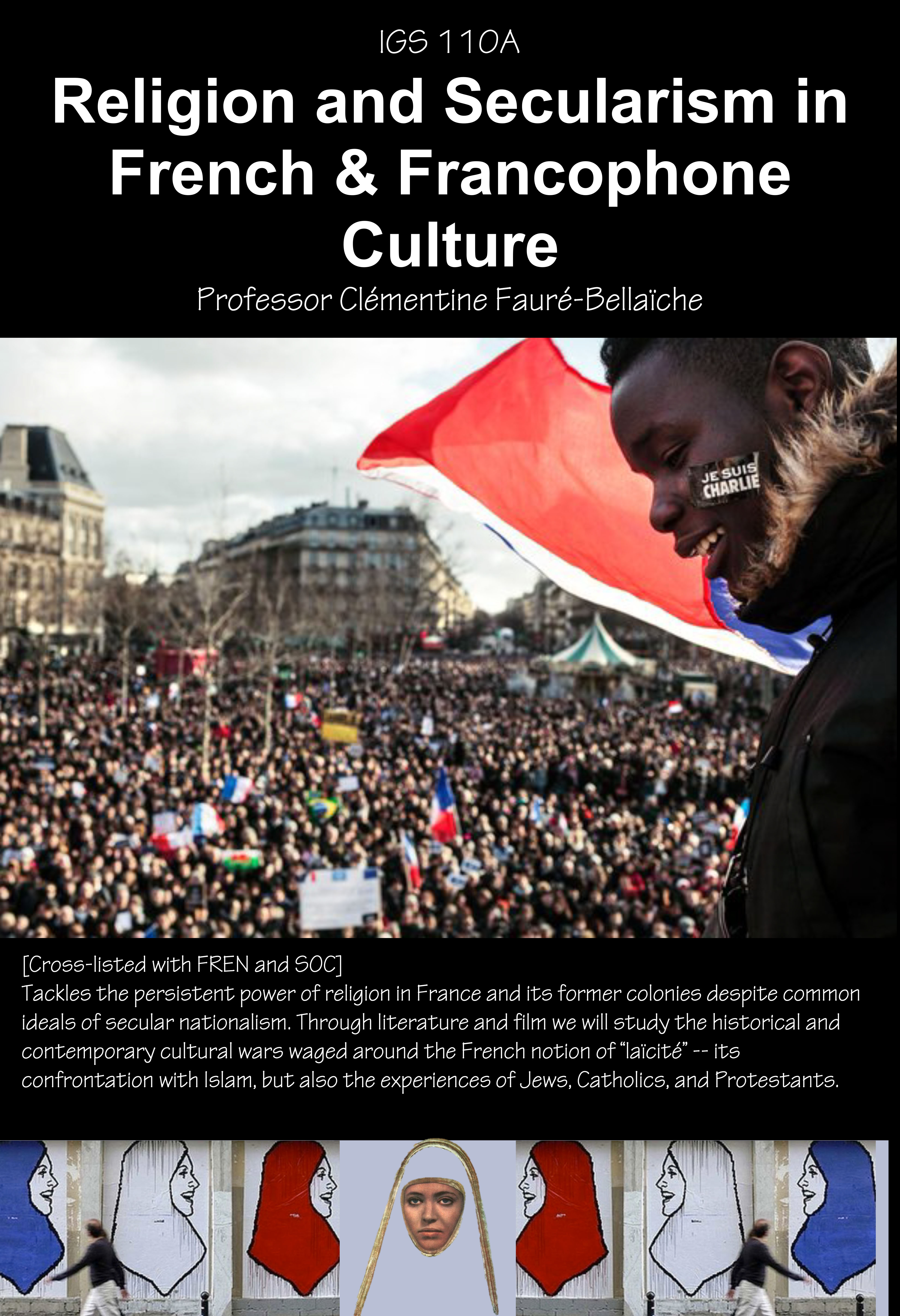 IGS 110A Religion and Secularism in French & Francophone Culture
(1) M,W,Th 11:00–11:50AM, Fauré-Bellaïche (in-person)
Tackles the persistent power of religion in France and its former colonies despite common ideals of secular nationalism. Through literature and film we will study the historical and contemporary cultural wars waged around the French notion of "laïcité" -- its confrontation with Islam, but also the experiences of Jews, Catholics, and Protestants.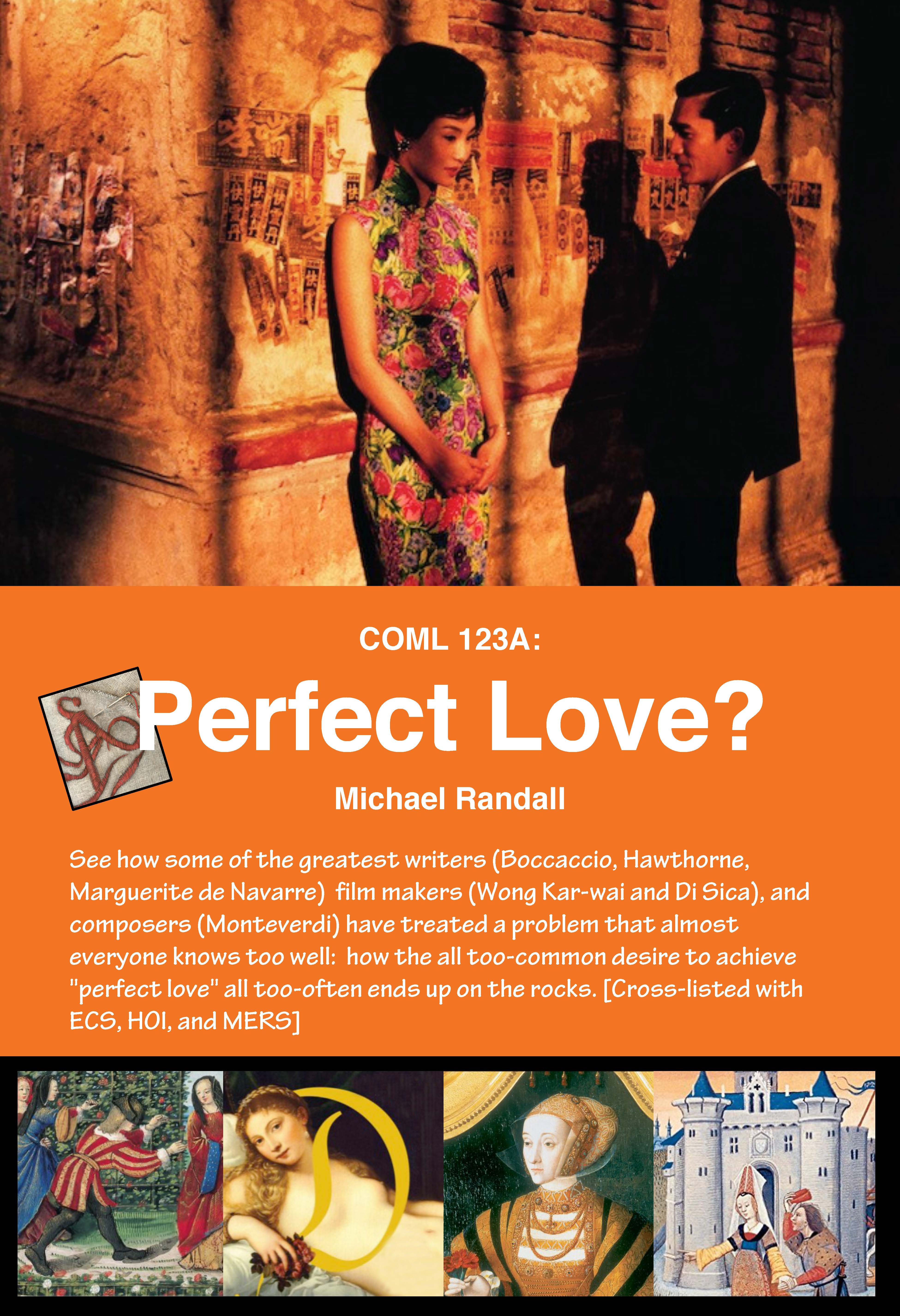 COML 123A Perfect Love?
(1) M,W 3:30–4:50 PM, Randall (in-person)
See how some of the greatest writers (Boccaccio, Hawthorne, Marguerite de Navarre) film makers (Wong Kar-wai and Di Sica), and composers (Monteverdi) have treated a problem that almost everyone knows too well:  how the all too-common desire to achieve "perfect love" all too-often ends up on the rocks.