Courses
Click on the following links to skip to a certain section of this page:
Fall 2022 Course Listings
Language Courses
Upper-Level Courses (above FREN 106)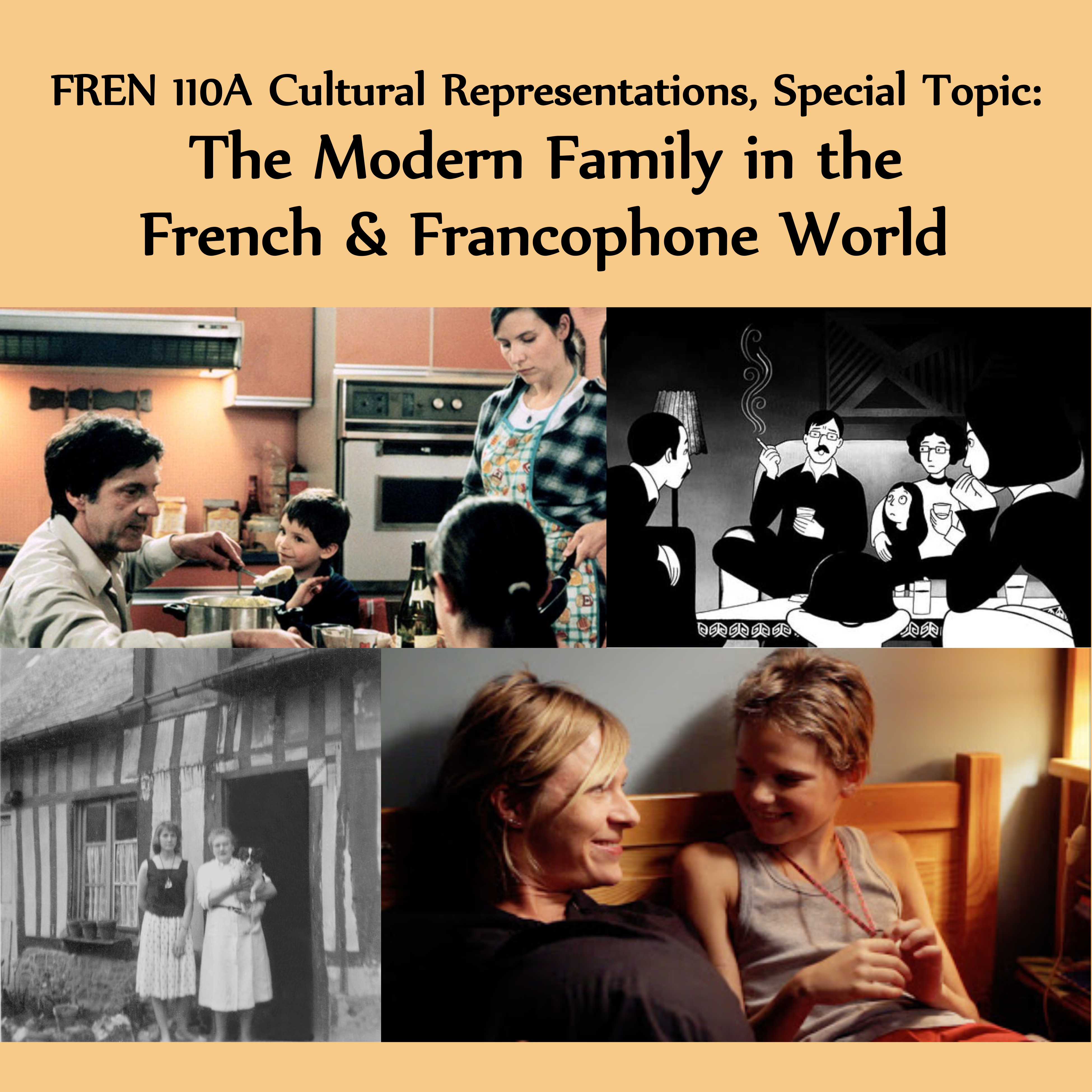 FREN 110A Cultural Representations
(1) M/W 2:30 PM–3:50 PM, Randall
This class looks at how novels, poems, films and other forms of cultural representations reflect larger social questions throughout the French-speaking world. Authors include Faïza Guène, Assia Djebar, Jacques Roubaud, Patrick Modiano, Pierre Corneille, Flaubert, and Marie de France. Films include Amélie by Jean-Pierre Jeunet and Caché by Michael Haneke.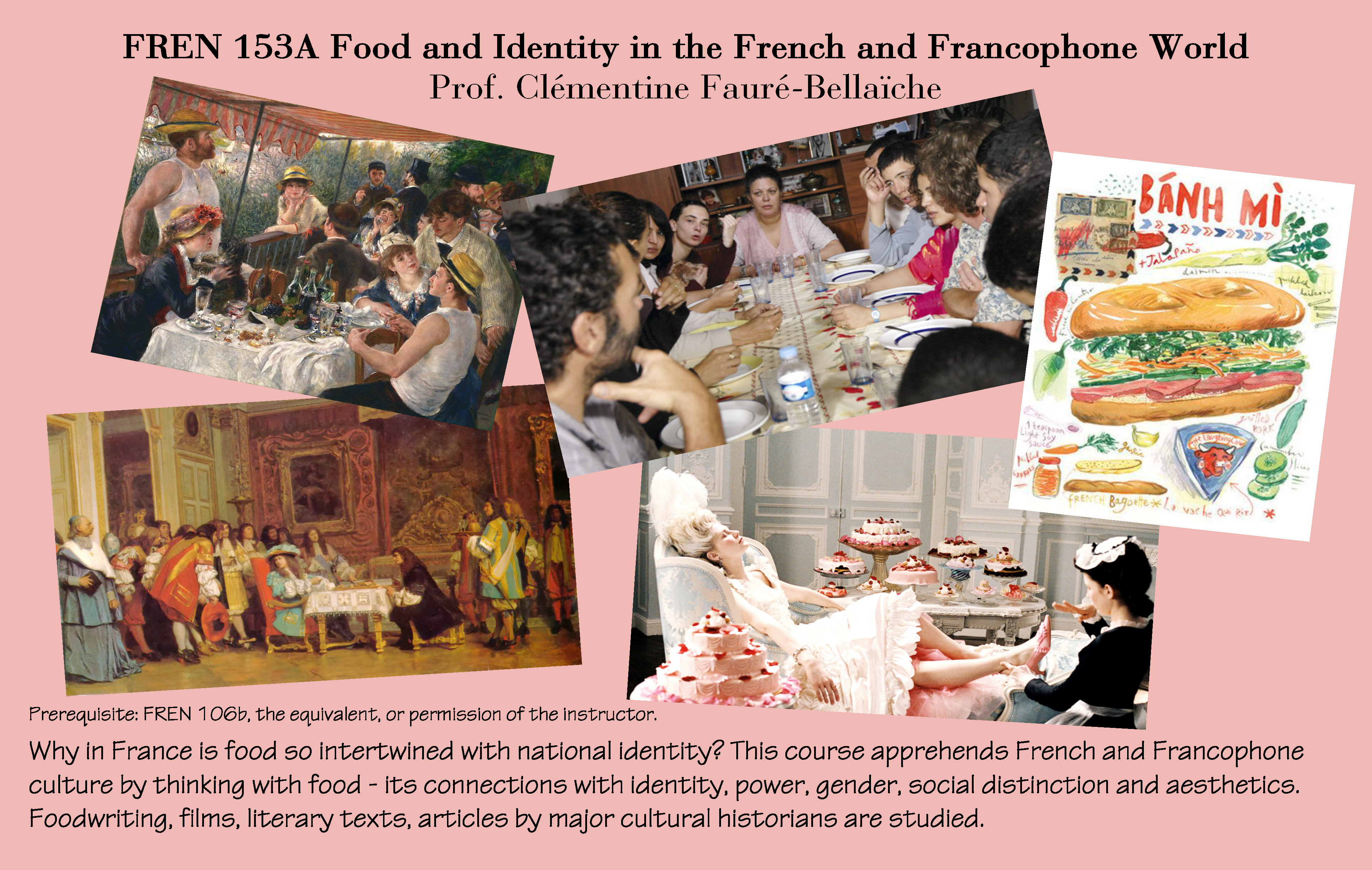 FREN 153A Food and Identity in the French and Francophone World
(1) M/W/R 1:25 PM–2:15 PM, Fauré-Bellaïche
Why in France is food so intertwined with national identity? This course apprehends French and Francophone culture by thinking with food - its connections with identity, power, gender, social distinction and aesthetics. Foodwriting, films, literary texts, articles by major cultural historians are studied.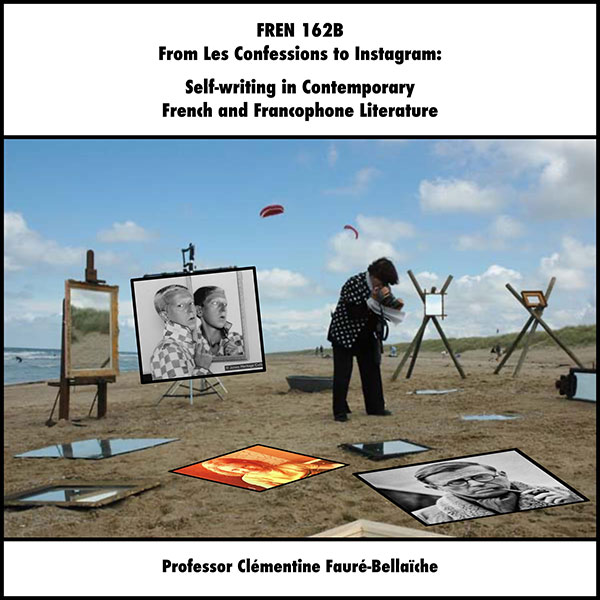 (1) M/W/R 12:20 PM–1:10 PM, Fauré-Bellaïche
Through the works of major writers, the main goal of the course will be to study the many variations of autobiographical writing that characterize contemporary French and Francophone literature, and to relate them to the renewed exploration of the post-modern subject. We will examine along the way how the self relates to the others, how it engages with filiation, memory and history - (especially World War II and the Franco-Algerian War) - and we will put an emphasis on the notions of self-fashioning and performance.
Cross-listed with French and Francophone Studies
ECS 100A European Cultural Studies Proseminar: Modernism
(1) M/W 4:05 PM–5:25 PM, Dowden
Explores the interrelationship of literature, music, painting, philosophy, and other arts in the era of high modernism. Works by Artaud, Baudelaire, Benjamin, Mann, Mahler, Schoenberg, Stravinsky, Kandinsky, Schiele, Beckett, Brecht, Adorno, Sartre, Heidegger, and others.