Internship in Sicily
Brandeis/Trinacria Theatre Company Management Internship
Your Sicilian Adventure Awaits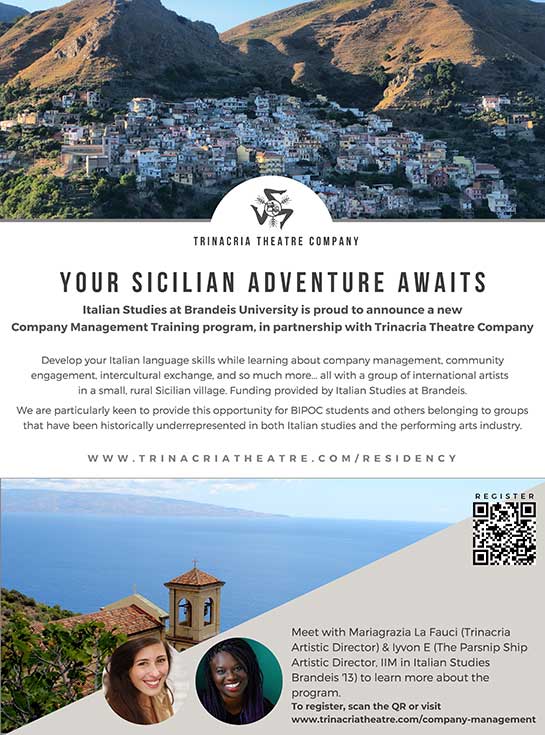 Meet with Mariagrazia La Fauci (Trinacria Artistic Director) & Iyvon Edebiri (The Parsnip Ship Artistic Director, IIM in Italian Studies Brandeis '13) to learn more about the program for summer 2022.
Through an exciting collaboration between Brandeis University's Interdepartmental Program in Italian Studies and Trinacria Theatre Company, develop your Italian language skills while learning about company management, community engagement, intercultural exchange, and so much more... all with a group of international artists in a small, rural Sicilian village.
We are particularly keen to provide this opportunity for BIPOC students and others belonging to groups that have been historically underrepresented in both Italian studies and the performing arts industry.
Learn more about the Trinacria Theatre Company Management Internship
Virtual Info Session with Q&A
1 p.m. Friday, March 24
Register using this link.
Additional Information about the Internship
Program Goals
To build more diverse pathways into the professional nonprofit/arts world for BIPOC students and others who have been historically underrepresented in the industry.
To offer an opportunity for Brandeis students to engage in Trinacria's mission of intercultural exchange, community building, and place-making in Sicily.
To provide students with a unique opportunity to develop their Italian language skills while immersing themselves in Sicilian culture and working meaningfully within a high-needs community.
To develop strong protocols that will set a higher standard for the safety, comfort and support of all Trinacria participants.
What to Expect
A company manager can perhaps best be described as an "R.A. for artists." They are the front line for any hospitality, safety, interpersonal, or logistical issues that artists may have during the residency. They directly oversee communications, schedules, transportation, meals, and expenses. A company manager may also be considered a caretaker, responsible for looking out for the holistic wellbeing of artists and participants.
Prior to the residency, interns will complete a series of professional training sessions with artistic director Mariagrazia La Fauci and Brandeis alumni Iyvon Edebiri. They will also undergo training in CPR, mental health first aid,and anti-racism focused on intervention and harm reduction. They will take responsibility for generating a set of company emergency protocols.
Company managers will then travel to Sicily with Trinacria Theatre Company for approximately one month during the residency. Company Managers will arrive three to seven days before the start of the residency to familiarize themselves with the location, complete on-site training with Mariagrazia, and prepare for the arrival of the artists.
During the residency, interns will execute their duties as company managers, have opportunities to develop their language, leadership, and management skills, and interface directly and meaningfully with international professional artists and the local Sicilian community.
Throughout both training and the residency, Iyvon and Mariagrazia will act as professional mentors. At the conclusion of the residency, interns will receive the Trinacria Certificate of Company Management Training.