Past Events
ROMS/LALS Mini-Celebration 2020
May 28, 2020
The Romance Studies faculty and staff enjoyed celebrating the Class of 2020's accomplishments at our virtual mini-celebration and we look forward to the in-person event in spring 2021.
Virtual Pre-Enrollment Events
Students interested in learning more about our course offerings, majors, and minors before Early Registration attended the following virtual gatherings:
"Looking forward to the Fall with French and Francophone Studies" was held on via Zoom on Tuesday, April 14, 2020 with Professors Harder, Theobald, Nenciu, and Randall.
"Looking forward to the Fall with Hispanic Studies Faculty" was held via Zoom on Monday, April 13, 2020
"Looking forward to the Fall with the Italian Instructors" was held via Zoom on Tuesday, April 14, 2020.
In addition, our HISP UDRs, Becca and Haley held advising sessions via Zoom on Tuesday, April 14th and Monday, April 20th for students with any questions about classes, professors, or balancing their schedule while meeting major requirements.
Cookies and Comics
March 4, 2020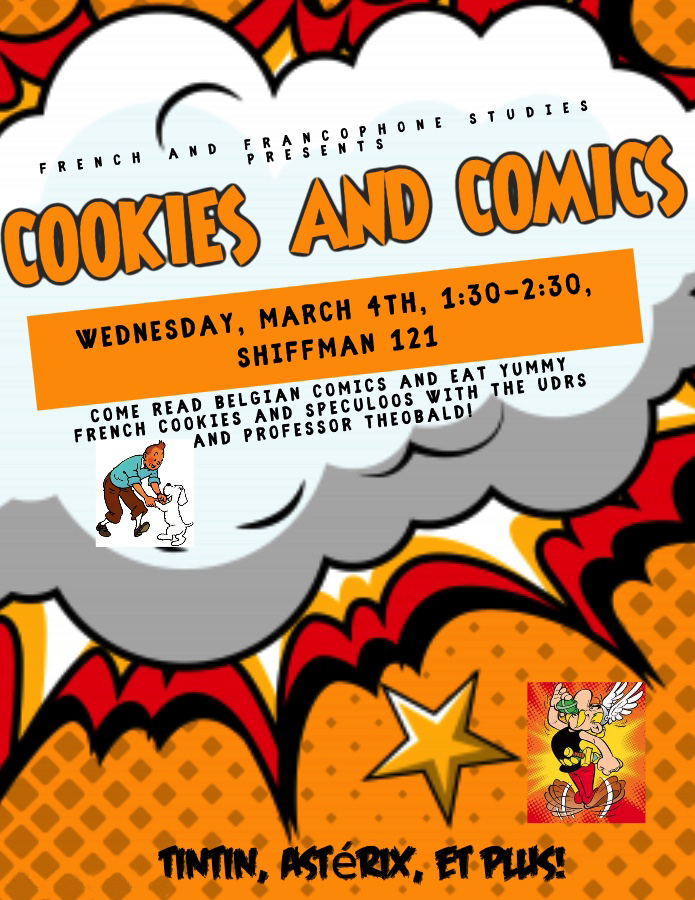 Come read Belgian comics and eat yummy French cookies and speculoos with the UDRs and Professor Theobald!
Presented by French and Francophone Studies.
Class Act IV: Carnevale
Monday, February 24, 2020
10:00 am and 11:00 am
Shiffman 219
A commedia dell'arte workshop with actress/drama instructor Chiara Durazzini
JOIN THE TROUPE! All are welcome no matter what language you are studying! For students not currently taking Italian, please RSVP with an email to Professor Servino (servino@brandeis.edu).

Presented by the Italian Studies Program.
Moods in Manuel Muñoz: Reading Queer Latinx Subjectivity and an Aesthetics of Colorblindness
January 23, 2020
Thomas Conners (PhD candidate, University of Pennsylvania)
Reading Manuel Muñoz's collection of short stories The Faith Healer of Olive Avenue (2007), this talk moves beyond canonical interpretations of the lone queer Latino. Instead, it rethinks Latinx subjectivity as an assemblage of things, spaces, and people connected by feelings of loss and loneliness—by a mood sustained by places (like borders and roads) and objects (such as love letters and fake social security cards) that the text refuses to present in explicitly ethnic, racial terms. Reading for affects in this way both responds to a mainstream tendency to essentialize Latinx identity as it broadly signals ways of conceiving Latinx subjectivity and its possible collectivities rooted in contingent feeling rather than racial or sexual identity.
Towards a Politics of Mourning in Chicana/o Literature
January 22, 2020
María J. Durán is a Florence Levy Kay Fellow in U.S. Latinx Cultural Studies and lecturer in Hispanic Studies at Brandeis University. She is also affiliated with the Latin American and Latino Studies Program. She received her doctoral degree from UNC-Chapel Hill in 2019, and her research interests include Latinx Studies, Latina feminisms, and theater for social change. Durán's current project theorizes a politics of mourning in the works of Chicana/o playwrights. Investigating how mourning is used as a tool for dissent, she argues that public mourning by Chicanas and Mexicanas in response to structural instances of violence leads to the rise of their political consciousness and agency. In this talk, Durán introduces her project, taking Chicana Marisela Treviño Orta's play, Braided Sorrow, as her exemplary text. After enumerating the broad features of the politics of mourning, she pauses to explain the figure of La Llorona, whose various incarnations in popular culture often paint her as a traitorous figure condemned to eternal mourning. Durán then focuses on the reimagination of La Llorona in Orta's play and the play's literary treatment of femicide in Ciudad Juárez, Mexico, delineating how Mexicanas reject the privatization of mourning; question whose losses "count"; and demand both responsibility and accountability from state authorities. Durán concludes with a close reading of one passage that illustrates the affective dimensions of public mourning. 


I Love Study Abroad Week
January 21, 2020
Interested in studying abroad? Don't miss I Love Study Abroad Week, Jan. 20-23, a week-long series of events highlighting global opportunities and preparing students for the upcoming Feb. 13 study abroad deadline (for anyone interested in studying abroad fall 2020, spring 2021) and the March 19 summer 2020 deadline.
Find more information about all of the events!
Event highlight:
Cafe Latin America, Jan. 21, 10:30-11:30am, Mandel/Olin-Sang Connector
Co-sponsored by Hispanic Studies; stop by to learn about program opportunities in Latin America and enjoy free coffee and snacks!
Latinx Comix: Graphic Memoirs and Comic Biography as Counter History
January 16, 2020
Jennifer Caroccio Maldonado is finishing a PhD in American Studies at Rutgers University-Newark. Her research interests include Latinx culture & literature, U.S. cultural production, graphic novels, and women of color feminist theories. Her project, Latinx Comix: Graphic Memoirs and Comic Biographies as Counter History, uses a content analysis of four key graphic narratives, by and about Latinx individuals, to investigate the connections between subjection formation, memory, and trauma. She was a 2017 Hispanic Scholarship Fund Scholar and Presently she a Henry Rutgers Graduate Fellow. In January 2019, she won a course re-design grant from the Lumina Fund for Racial Justice and Equity. Most recently, she won First Place and People's Choice at the 2019 3-Minute Thesis competition at RU-N. She has presented at multiple regional and national conferences, like The American Studies Association, the Latino Studies Association and the Puerto Rican Studies Association. Her public criticism and essays are found online at The Establishment, Bold Media, MNT Comics, and The Huffington Post.
2019 Mega Language Lunch
November 19, 2019
The World Languages and Cultures Committee with generous support from the  Division of Humanities, the Provost and the Dean of Arts and Sciences, invite all members of the Brandeis Community (students, faculty, and staff) to experience and celebrate the linguistic diversity of Brandeis during the "I'm Global Week 2019."

The Mega Language Lunch will feature individual language tables for speakers of the following languages - Arabic, Chinese, French, German, Hebrew, Italian, Japanese, Korean, Russian, and Spanish. If you speak one or more of these languages, please join us at this event. You can stay for a few minutes or for the entire hour. If you speak several languages, you can visit multiple tables! No matter your level of proficiency, you are welcome! The only rule is NO ENGLISH! Please speak only the language of a specific table (tables) during your visit (you will take a mini language pledge before entering the room).

There will be a buffet lunch for the first 10 people who register for a particular table. Please note that priority is given to undergraduate students. You are welcome to bring your own lunch or share the small desserts and snacks provided at the language tables. While we do not guarantee that you will be able to get free food at the event, we hope you will come to celebrate and support language diversity at Brandeis.
The New England Contemporary ITALIAN FILM FESTIVAL
November 21, 2019
La felicità è un sistema complesso
Thursday, September 19, 2019
7:00 – 9:00 pm
Golding 101
The Startup: Accendi il tuo futuro 
Wednesday, October 16, 2019
7:00 – 9:00 pm
Mandel G03
Il Padre D'Italia
Thursday, November 21, 2019
7:00 – 9:00 pm
Golding 101
THE WRITING BEHIND AN AWARD a conversation with Edoardo Albinati
October 29, 2019 Edoardo Albinati is a novelist and screenwriter who lives in Rome. His novel Svenimenti won the 2004 Viareggio Literary Award, and The Catholic School won the Strega Prize in 2016. For the last twenty-five years, he has worked as a teacher in Rebibbia, the largest prison in Rome.
Presented by The Italian Studies Program at Brandeis University and the Consulate General of Italy, cosponsored by the Mandel Center for the Humanities.
Meet the ROMS Students and Faculty
October 17, 2019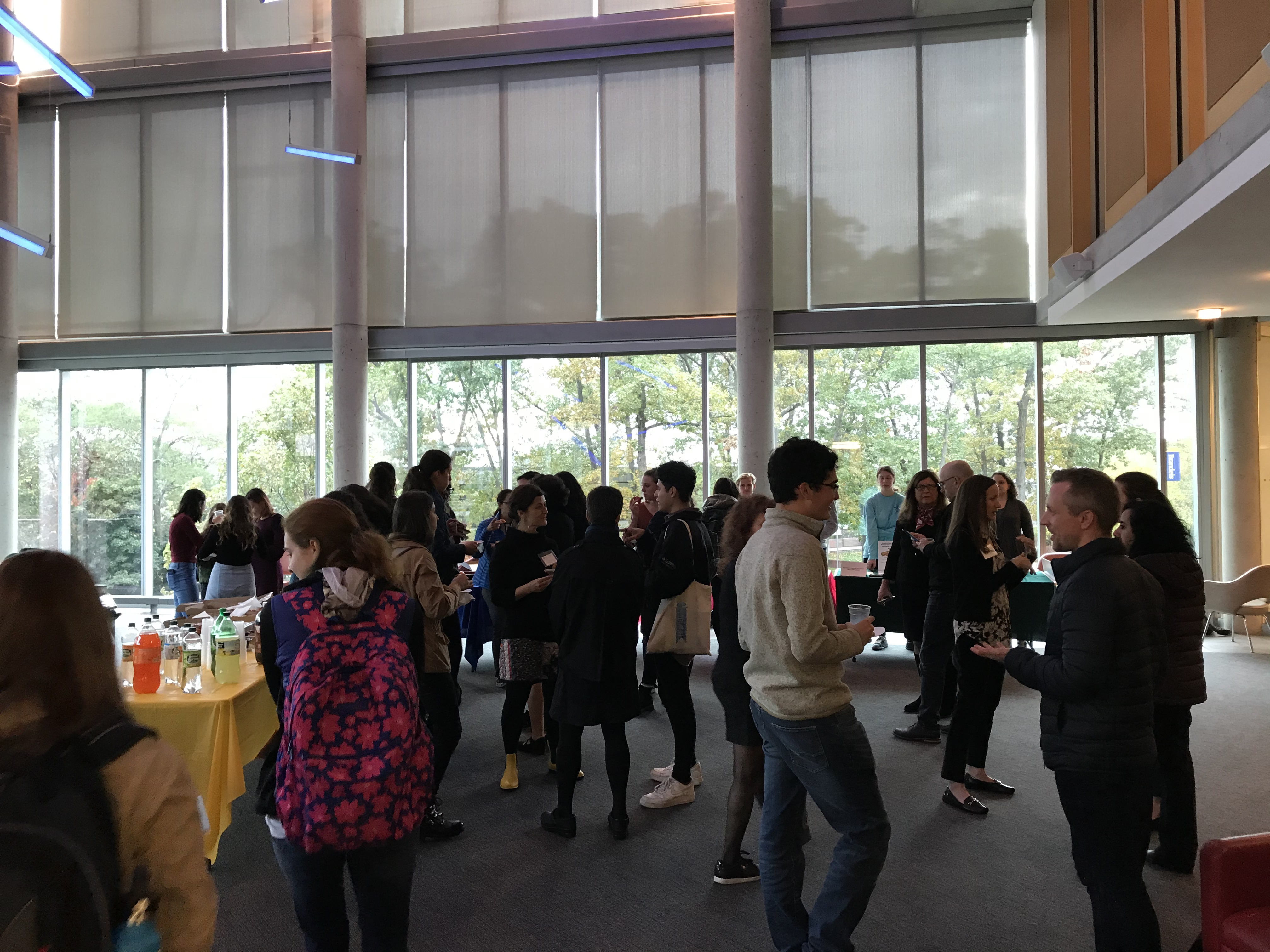 Apéro–Tapas–Aperitivo–Petiscos
'Happy Hour' with appetizers, desserts, and soft drinks!
Meet faculty, UDRs, and students from our Romance Studies areas: French and Francophone, Hispanic, and Italian Studies.  Speak with representatives from Study Abroad, Hiatt Career Center, the Master of Arts in Teaching (MAT) Program, the IIM, and ROMS student groups and clubs, too! There will be a raffle, appetizers, soft drinks, and international desserts!!!
If you missed the event, you can still check out our the ROMS spring 2020 course offerings on our Courses page.
Hispanic Studies Meet the Majors
September 18, 2019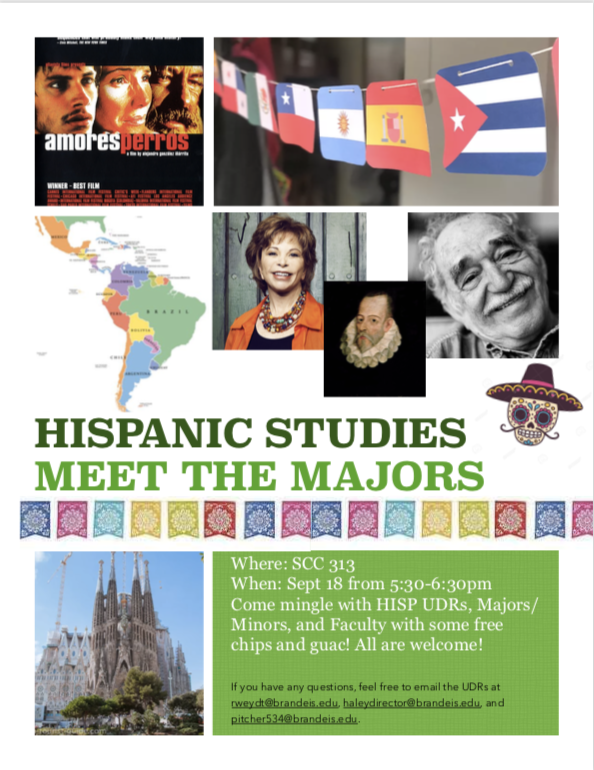 From the Hispanic Studies UDRs, Haley Director, Albert Gutierrez, and Rebecca Weydt: We are so excited to invite you to our Meet the Majors (and minors) event! It is this Wednesday, September 18th in the SCC 313 from 5:30-6:30. We will be having chips and homemade guacamole! Hope to see you there!
IIM Spring Proposal Feedback
September 16, 2019
Are you a sophomore or junior proposing your IIM this semester? Come to our event on to get feedback on your proposal and learn more about the proposal review process.
April 16, 2019
Language Video Competition
Multi-lingual (with English subtitles)
Created by second-semester language students.
International desserts and popcorn!

Presented by World Languages and Cultures Committee and Office of the Dean of Arts and Sciences
Hollywood and the French Resistance: The Paramount Theater during the Nazi Occupation of Paris
April 16, 2019
Ross Melnick
In 1927, the first Hollywood-owned and operated cinema in France, Le Paramount, opened in Paris. Over a decade later, Le Paramount's director, manager, chief projectionist, secretaries, and ushers were all enlisted in a clandestine operation to use the formerly American movie house as a base of French Resistance activities under Nazi occupation. "Hollywood and the French Resistance" examines the history of why and how Hollywood began operating cinemas around the world—from Sao Paulo to Sydney—and how Le Paramount became first a symbol of that cultural and industrial expansion after World War I and then a monument to the work of Hollywood's (ex-)employees during World War II. Employing wartime newsreels, archival images, and contemporaneous accounts, this talk will reanimate a forgotten history while recounting the many ways in which the war interrupted Hollywood's international expansion and decimated the offices, cinemas, and lives of its global workforce.
Co-sponsored by the International Global Studies Program, the Department of Romance Studies, and the American Studies Program at Brandeis University.
Italian Film Screening: La Prima Cosa Bella
April 3, 2019
Refreshments will be available before the screening. Opening remarks from Professor Servino, Professor Monteleone and the Italian Studies Undergraduate Departmental Representatives. Presented by the Italian Studies Program.
Equatorial Guinea, Literature, and Activisms in the Diaspora 
March 27, 2019
Equatoguinean writer Juan Tomás Ávila Laurel embarked on an unexpected hunger strike in February 2011 to protest against the repression of civil liberties in Equatorial Guinea. Exiled now in Barcelona, Spain, Ávila Laurel continues using his literary work to denounce the second dictatorial regime established in Equatorial Guinea since 1979.  


Located in the Gulf of Guinea, Equatorial Guinea is the only African country that has Spanish as its official language. Since independence in 1968, two consecutive dictatorial regimes have impacted the country with a long history of diasporic movements among a people that strives to escape arbitrary rulers.


The literature of Equatorial Guinea represents the voice of those silenced in a country marked by the opacity of information, lack of freedom of expression, and violation of human rights. Ávila Laurel's latest book, The Gurugu Pledge, is a novel dedicated to the migrations of black Africans to Europe, and offers a vision of an extended phenomena resulting from decolonization and dictatorships.


The author's talk will be in Spanish, and it will be introduced and interpreted into English by Carolina Nvé Díaz San Francisco (Medical Anthropology and Cross-Cultural Practice, Boston University). 




This event is sponsored by the Ethics Center and cosponsored by African and African American Studies, the English Department, and Romance Studies. 

Questions? Contact ethics@brandeis.edu 
Meet the ROMS Students & Faculty
March 21, 2019
Meet faculty, UDRs, and students from our Romance Studies areas: French and Francophone, Hispanic, and Italian Studies.  Speak with representatives from Study Abroad, Hiatt Career Center, the Master of Arts in Teaching (MAT) Program, and ROMS student groups and clubs, too! There will be a raffle, appetizers, soft drinks, and international desserts!!!
Class Act III: Carnevale
March 20, 2019
a commedia dell'arte workshop with actress/drama instructor Chiara Durazzini
JOIN THE TROUPE! All are welcome no matter what language you are studying!
For students not currently taking Italian, please RSVP with an email to Professor Servino (servino@brandeis.edu).
Presented by the Italian Studies Program
Let's Dance! International Evening of Dance
March 10, 2019
All members of the Brandeis community are invited to an international evening of dancing and fun that will feature performances by various campus dance groups, brief dance lessons, international dance music, and various languages studied and spoken at Brandeis. Formal attire, costumes or national dress are encouraged, but NOT required. You can ask someone to dance in different languages, learn about world dances, acquire a few new words, and get dance lessons! Dancers of all levels and non-dancers are all welcome!
Perfetti Sconosciuti
February 27, 2019
Brandeis Italian Studies Program hosted pizza and a movie!
Border Horror: Genre and Death on the US-Mexico Border
February 13, 2019
Orquidea Morales is currently the César Chávez Postdoctoral Fellow in the program of Latin American, Latino, and Caribbean Studies at Dartmouth College. Morales received her PhD in American Culture at the University of Michigan. Her work on border violence, Latinx media, and Chicana feminism has been published in journals such as
Label me Latina/o
and
the Utah Foreign Language Review
. She is currently working on her book manuscript entitled
Border Horror: Death and Filmic Genres in South Texas and Northern Mexico
.
The New York Rican Lens: Visuality and Narrative from the Burnt Bronx and Beyond
February 7, 2019
Sebastián Pérez is the current Gaius Charles Bolin Dissertation Fellow in Latina/o Studies at Williams College and a Ph.D. candidate in American Studies at Yale University. He is at work completing his dissertation entitled Beyond Borinquen: Images and Their Afterlives in the Puerto Rican Diaspora, 1970-Present. Sebastián teaches classes on Latina/o/x New York and Caribbean diasporic cultural production and locates his scholarship at the intersections of Puerto Rican Studies and Visual and Cultural Studies. You can find his writing in the forthcoming anthology Critical Diálogos In Latino and Latina Studies out with NYU Press in 2019 and in Art in America Magazine.
'XISTER, ARE YOU PSYCO?' | Bicycling, Social Media, and Xicana Feminist Praxis
January 31, 2019

Andrea Delgado is a Doctoral Candidate in the Department of Comparative Literature, Cinema, and Media at the University of Washington, Seattle. Her book project, Indelible Practices of Hope: Worldbuilding in 1990's Los Angeles, explores literature, film, theater, and cultural practice to analyze the alternative worlds built by communities of color in the wake of increasingly neoliberal policies at the end of the 20th century. Currently, Andrea is a UW Graduate Opportunity and Minority Achievement Program Presidential Dissertation Fellow and a Summer 2019 Andrew W. Mellon Fellow for Public Projects in the Humanities at the UW Simpson Center. Her Mellon-supported public scholarship project is titled "Captured on VHS: Personal Narratives Situated in History."
Hotel Splendid: Representing Migrations through Ethnographic Cinema
November 14, 2018
Hotel Splendid is the intimate and profound story of an African community that lives in an Italian tourist hotel turned into an emergency camp for refugees.
Co-sponsored by Italian Studies, Mandel Center for the Humanities, and I am Global Week.
Free and Open to the Public
September 28, 2018
LALS and FTIM co-hosted Film Screenings as part of BLIFF
September 28-29, 2018
Wasserman Cinematheque
 
Friday, September 28
12:30-2:00 p.m. SER GRANDE (WHEN I GROW UP)
2:30-4:30 p.m. EXTRATERRESTRES
5:00-7:00 p.m. THE REST I MAKE UP and COR DE PELE
7:30-9:30 p.m. LA FAMILIA
 
Saturday, September 29
1:30-3:30p p.m. O SOM DOS SINOS (The Sound of Bells) and MENINAS FORMICIDA
4:00-6:30 p.m. COCOTE and ABUELA'S LUCK
7:00-9:00 p.m. LOS VIEJOS and DESAYUNO CON TIFFANY (Breakfast with Tiffany)
 
For film descriptions, see the BLIFF at Brandeis website.
For the full schedule of events, see the BLIFF website.
Il Novecento italiano
***CANCELLED - stay tuned for rescheduled date
SONATAS FOR VIOLIN AND PIANO IN NINETEENTH-CENTURY ITALY: JEWISH MUSICAL COMPOSITION IN THE AGE OF ITALIAN FASCISM
A concert with Eleonora Carapella, pianoforte, and Maurizio Cadossi, violino. Music composed by Leone Sinigaglia and Aldo Finzi. Refreshments will be served at a reception following the performance.
Co-sponsored by the Italian Studies program, Department of Computer Science, Mandel Center for the Humanities, and the Department of Music.
April 20, 2018
This is an annual one-day event with five speakers, organized around a single novel. Each year, the conference will have a dual focus: both on a particular novel and on the theoretical and scholarly questions it raises. This year's theoretical and critical topics unfolded around the question of Science Fiction and its relationship to other canonical and non-canonical fiction. 
Clinica de Migrantes: life, liberty, and the pursuit of happiness
March 27, 2018
"Clinica de Migrantes" is a medical drama about a year in the life of Puentes, one of the only health clinics in the U.S. involved in the politically controversial practice of providing healthcare to undocumented immigrants. By law, illegal immigrants cannot obtain health insurance, and receive no regular medical treatment. At Puentes, a team of volunteers led by Dr. Steve Larson attend to an ever-growing population of housekeepers, prep cooks, and construction workers. Many come to Puentes after being turned away at other hospitals. Full of unforgettable patient-doctor interactions and human portraits, Clinica de Migrantes tells the story of America's true untouchable class and of the heroic few who reach out to help them. For more information on the film visit Third Party Film's website.
"Kiss of a Spider Woman"
March 12, 2018
Exclusive screening of a 35mm copy of a classic film, "Kiss of a Spider Woman," which is the story of political imprisonment during a military dictatorship in a Latin American country. But it is also a story about the emergence of queer identities, and about the power of film and storytelling.
February 27, 2018
Speaker: Kim Potowski, Associate Professor and Director of the Spanish Heritage Language Program University of Illinois at Chicago

The U.S. has the second largest population of Spanish-speakers in the world after Mexico.
What are some of the principal characteristics of Spanish as it is spoken in the US?

Is "Spanglish" a positive or a derogatory term?

Is a single US Spanish dialect likely to emerge?

What are the best ways to encourage Spanish development among heritage speakers?
Class Act II: Carnevale
February 8, 2018
A Commedia dell'Arte Workshop with actress and drama instructor Chiara Durazzini and multi-instrumentalist/Renaissance musician Dan Meyers
Algunos Aspectos del Feminismo Transnacional a Principios del Siglo XX: El consejo internacional de la mujer y sus vínculos con las experiencias de organización femeninas en América Latina
November 30, 2017
Speaker: Dr. Marcela Vignoli
Marcela Vignoli es Profesora en Historia y Doctora en Humanidades por la Universidad Nacional de Tucumán, realizó su estancia posdoctoral en la Universidad de San Pablo, Brasil. Es investigadora asistente del CONICET y docente de Metodología de la Investigación Histórica en la carrera de Arqueología de la UNT. Es autora de Sociabilidad y cultura política. La Sociedad Sarmiento de Tucumán, 1880-1914 (Prohistoria, 2015) y de varios artículos publicados en revistas de la especialidad, nacionales e internacionales. Es titular de un PICT financiado por la Agencia Nacional de Promoción Científica y Tecnológica. Desde una perspectiva de género estudia la historia socio-cultural de Tucumán entre fines del siglo XIX y primeras décadas del siglo XX.
The New England Contemporary Italian Film Festival
Fall 2017 Screenings:
Padroni di Casa
October 25, 2017
La città ideale
November 15, 2017
As part of I Am Global Week 2017
EX
November 29, 2017
Opening remarks from Professor Servino, Professor Monteleone and the Italian Studies Undergraduate Departmental Representatives.
A multinational coalmine in Colombia displaces Indigenous communities: a conversation with Aviva Chomsky
November 16, 2017
Aviva Chomsky is Professor of History and Coordinator of Latin American, Latino, and Caribbean Studies at Salem State University. Her current research weaves together labor and environmental histories, focusing on a region of Colombia where Indigenous and Afro-descended peoples have long evaded state control. Today they face an onslaught of extractivist projects, and changing legal and social meanings of race and ethnicity in the context of continent-wide movements for plurinationalism and alternative visions of economic development. In Spanish. 
"La Buena Vida/The Good Life"
March 29 and November 9, 2017
"La Buena Vida/The Good Life," is an award-winning documentary about the forced displacement of Wayúu villagers from Tamaquito in the forests of northern Colombia. Confronted by the encroachment of the vast and rapidly expanding El Cerrejón coal mine, the villagers fight to save their way of life against a global backdrop of rising energy consumption driven by the pursuit of growth and affluence. In Spanish and Wayuunaiki with English subtitles. 
A Nation Anew: García Márquez's Noticia de un secuestro (1996) as Refoundational Fiction
November 3, 2017
Speaker: Héctor Hoyos, Associate Professor of Latin American literature and culture, Stanford University
This talk presented a new reading of a relatively understudied work by the Nobel-prize winning author. Focusing on the role of human rights discourse to mend the nation's social fabric, Hoyos tackles the question of whether elite historiography or class struggle predominate in García Márquez's rendering of the deeper causes of narcotrafficking. Consideration is given to the potential role of this sui generis non-fiction work within genre-codified fictions of the drug trade and its aftermath.
Italy Calls Africa: Rhymes and Images Across the Mediterranean
October 16, 2017
Speaker: Alessandra Di Maio, PhD, University of Palermo
La Journée de la Culture du Québec (Québec Culture Day)
September 28, 2017
The New England Contemporary Italian Film Festival
April 5, 2017
Film #5: nessuno me puo giudicare
Opening remarks from Professor Servino, Professor Monteleone and the Italian Studies Undergraduate Departmental Representatives.
Made in Italy: La giornata della Lingua Italiana
April 7, 2017
This was a friendly competition among high school students created to motivate and to spark interest in learning Italian. Each participating high school created a skit, a song, or other form of expression in Italian about the topic chosen by the organizing committee.
Follow-up Lunch Talk with Avi Chomsky (in Spanish) for Screening of "La Buena Vida/The GoodLife"
April 5, 2017
Avi Chomsky is Professor of History and Coordinator of Latin American, Latino, and Caribbean Studies at Salem State University. Much of her recent work focuses on northern Colombia's coal industry and the forced displacements of Indigenous and Afro-descended peoples it has caused.
Critical Made in Italy: Italian Design
March 28, 2017
A talk with Daniele Balicco
Daniele Balicco is a Lecturer in Theory and Critical Studies at the EHESS (Ecole des Hautes Etudes en Sciences Sociales) of Paris and at the IED (European Institute of Design) of Rome.
France's Jewish Star: Rachel at the Comédie Française
March 6, 2017
Speaker: Maurice Samuels, Betty Jane Anlyan Professor of French & Chair of French Department, Yale University
Maurice Samuels will be visiting Brandeis to talk about his latest book, The Right to Difference - The Jews & French Universalism. 
Class Act: Carnevale
March 2, 2017
A Commedia dell'Arte Workshop with actress and drama instructor Chiara Durazzini
How Albert Camus's L'Étranger became The Stranger: Literary Translation and the Long Life of a Classic
January 30, 2017
A Talk by Alice Kaplan, Yale University
Albert Camus's "L'Etranger" has been best-seller for so long, we forget it was ever anything else. But literary classics are made, not born: though "The Stranger" was a book very few readers understood or appreciated when it was published in 1942, it became a household name—a regular on lists of the great books of the 20th century. Alice Kaplan delved into publishers' archives to uncover a a key episode in "L'Etranger's" career: the first translation of the French novel into English, in the United States and in England, four years after its publication--in 1946, when the war in Europe had been over for only a year. This is a tale of two cities, involving an author, his publishers, his translator, and his readers and reviewers.
Reimagining the Ghetto through the Arts
December 5, 2016
A lunch talk with Professor Shaul Bassi, Associate Professor of English Literature at Ca' Foscari University in Venice, Italy and Director of Beit Venezia - A Home for Jewish Culture. 
The New England Contemporary Italian Film Festival
November 16, 2016
Film #2: Corpo Celeste
Opening remarks from Professor Servino, Professor Monteleone and the Italian Studies Undergraduate Departmental Representatives. 
Diversity in Italian Cinema
November 3, 2016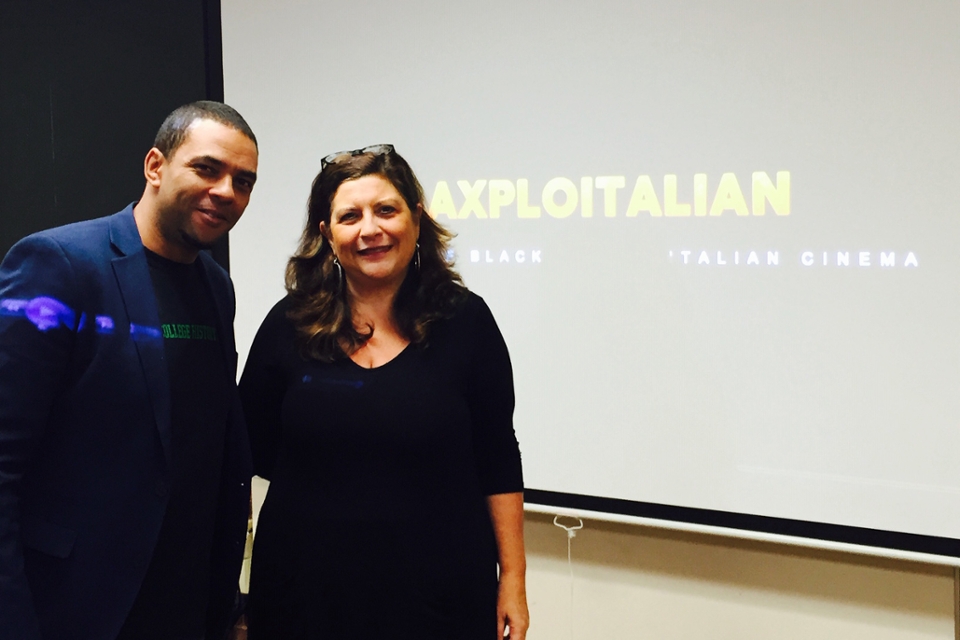 A lecture by Fred Kuwornu, an African Italian film maker and activist. He will be presenting his last video "Blaxploitalian 100 Years of Blackness in Italian Cinema."
L'État français et le pluralisme religieux
October 5, 2016
Relations between religions and the French State (in French)
Speaker: Béatrice de Gasquet
Surveillance, Shame, and Spain's Early Modern Drama
September 27, 2016
Speaker: Professor John Slater, UC Davis
Spect-actors Change the Script towards more Equality and Inclusion: A Forum Theater Event with Doris Sommer and Jennifer Cleary
September 15, 2016
Richard Blanco Poetry Reading and Book Signing
May 2, 2016
Digital Cuba: Contemporary Screen Cultures
April 14, 2016
Professor Paloma Duong, Assistant Professor of Latin American Studies, MIT, will discuss youth culture and digital media in Cuba.
Masks off Stage: A Commedia dell'Arte Workshop
March 9, 2016
With actress and drama instructor Chiara Durazzini
French Comedy Club
February 29, 2016
Join the French Business & Lifestyle Club for a night of superb entertainment, featuring performances from your fellow students, as well as from special guest stand-up comedians Michael Sehn & Marina Rollman!
The New England Contemporary Italian Film Festival
February 10, 2016
Sponsored by the Italian Consulate of Boston
Art Race Activism
November 30, 2015
Yoshua Okón, Artist Talk
Yoshua Okón is a Mexican artist whose videos blur the lines between documentary, reality, and fiction, creating sociological examinations that ask viewers to contemplate uncomfortable situations and circumstances.
The New England Contemporary Italian Film Festival
November 17, 2015
Q & A with Dr. Lucía Reyes de Deu
October 13, 2015
Sponsored by Latin American and Latino Studies