Student Activities
Fall 2021!
La Tavola Italiana
Italian Studies Program Presents :

La Tavola Italiana
Friday, October 29, 2021
4:00 p.m.
Upper Usdan
We will meet there and have our conversation at one of the tables towards the back of Upper Usdan, behind Louis' Deli.
A presto!
Gli UDRs
***For those of you who are enrolled in either Italian 10 or Italian 30, two out of the three Italian Tables are mandatory. We will be holding three Italian Tables this semester and we highly encourage you all to attend! ***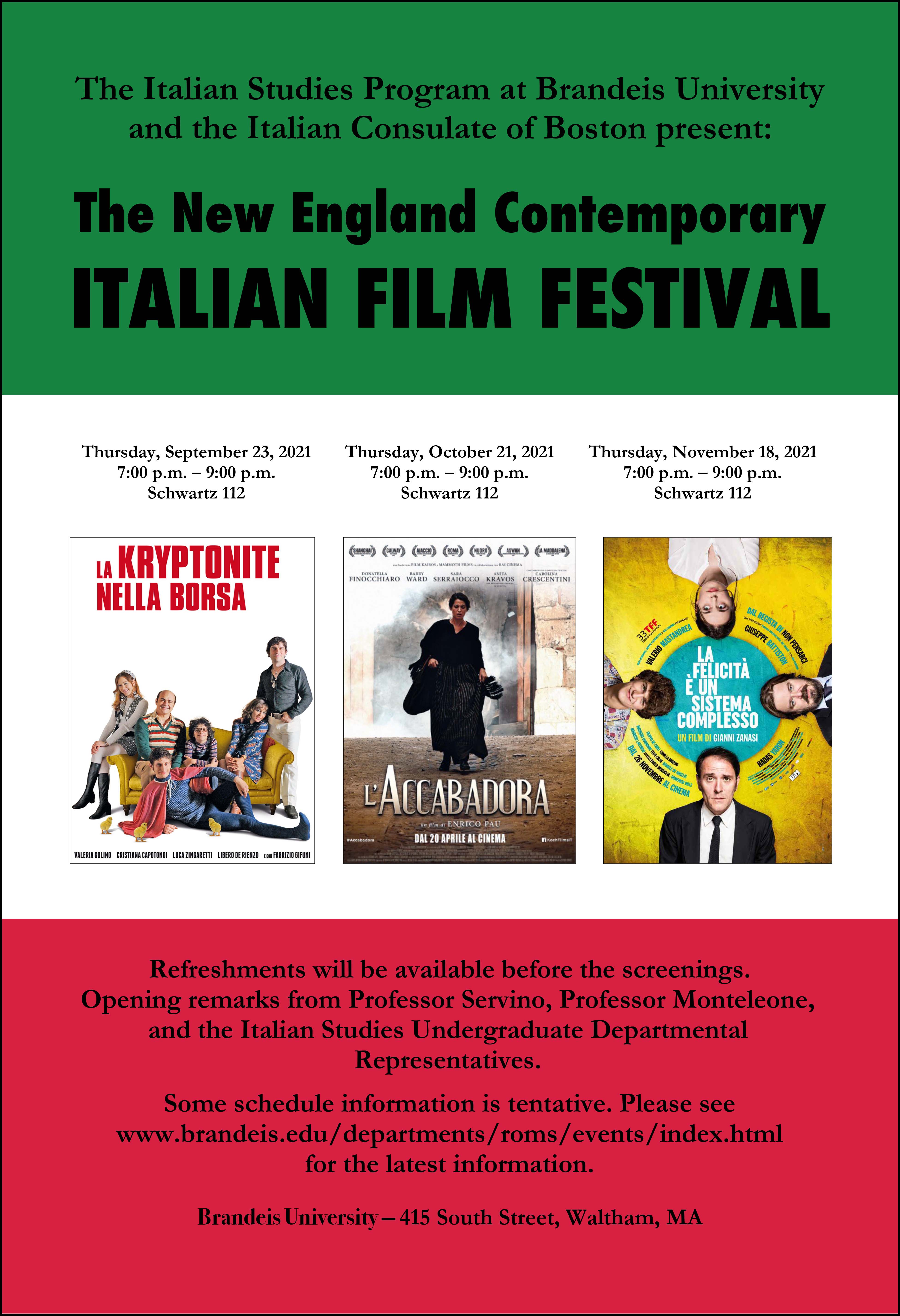 THE NEW ENGLAND CONTEMPORARY ITALIAN FILM FESTIVAL 2021
La felicità è un sistema complesso
Thursday, November 18, 2021
7:00 p.m. – 9:00 p.m.
Schwartz 112
Pizza will be provided!!!
This is a great opportunity to meet fellow students interested in Italian studies and engage with an Italian film together. Co-curricular actives like these are are a very important part of the Italian curriculum and we encourage you all to attend!


We hope to see you all there!


Grazie — and do not not hesitate to reach out to us with any comments or questions!
The Italian UDRs,
Nick, Bianca + Lola 
And, please save the dates for the next film in the series:
Thank you!
--------
Previous films presented:

Screening of La kryptonite nella borsa (2011)
Thursday, September 23, 2021
7:00 p.m. – 9:00 p.m.
Schwartz 112
L'accabadora
Thursday, October 21, 2021
7:00 p.m. – 9:00 p.m.
Schwartz 112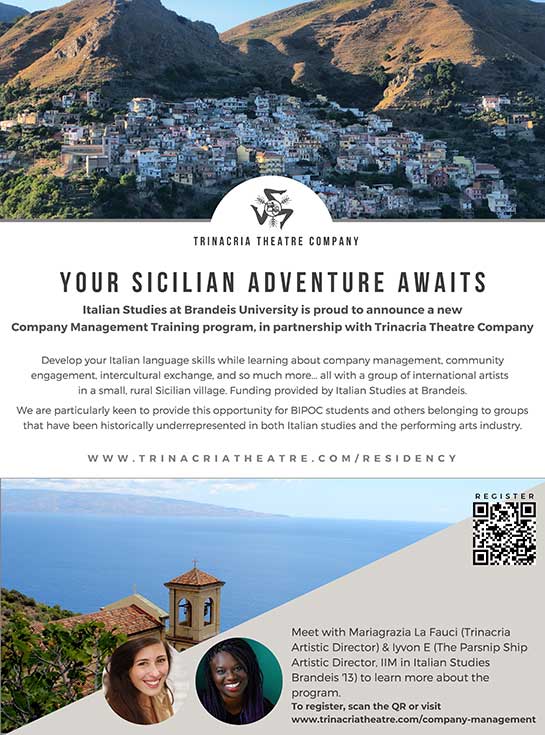 Trinacria Theatre Company Management Internship Info Session
YOUR SICILIAN ADVENTURE AWAITS
Virtual Info Session
November 19, 2021
11:00 A.M. EST
Please register in advance.
Meet with Mariagrazia La Fauci (Trinacria Artistic Director) & Iyvon Edebiri (The Parsnip Ship Artistic Director, IIM in Italian Studies Brandeis '13) to learn about this exciting program for summer 2022.
In the meantime, for more information about the info session and the internship within the Italian Studies web pages, please visit Internship in Sicily.