Courses
Click on the following links to skip to a certain section of this page:
Spring 2023 Course Listings
Italian Studies Courses
ITAL 20B Continuing Italian
(1) M/T/W/R 11:15 AM - 12:05 PM, Monteleone
(2) M/W/R 1:20 - 2:10 PM; T 12:45 - 1:35 PM, Servino
Are you interested in experiencing a taste of Italy right here on campus? If reading an Italian menu with the right accent, understanding Bocelli and Botticelli, speaking the language, and learning about love and passion beyond the stereotypes are not enough to get you involved, we will find many more ways to make your Italian experience worthwhile. Just as in Italy, if you have no specific reasons to study Italian, we will make one up just for you!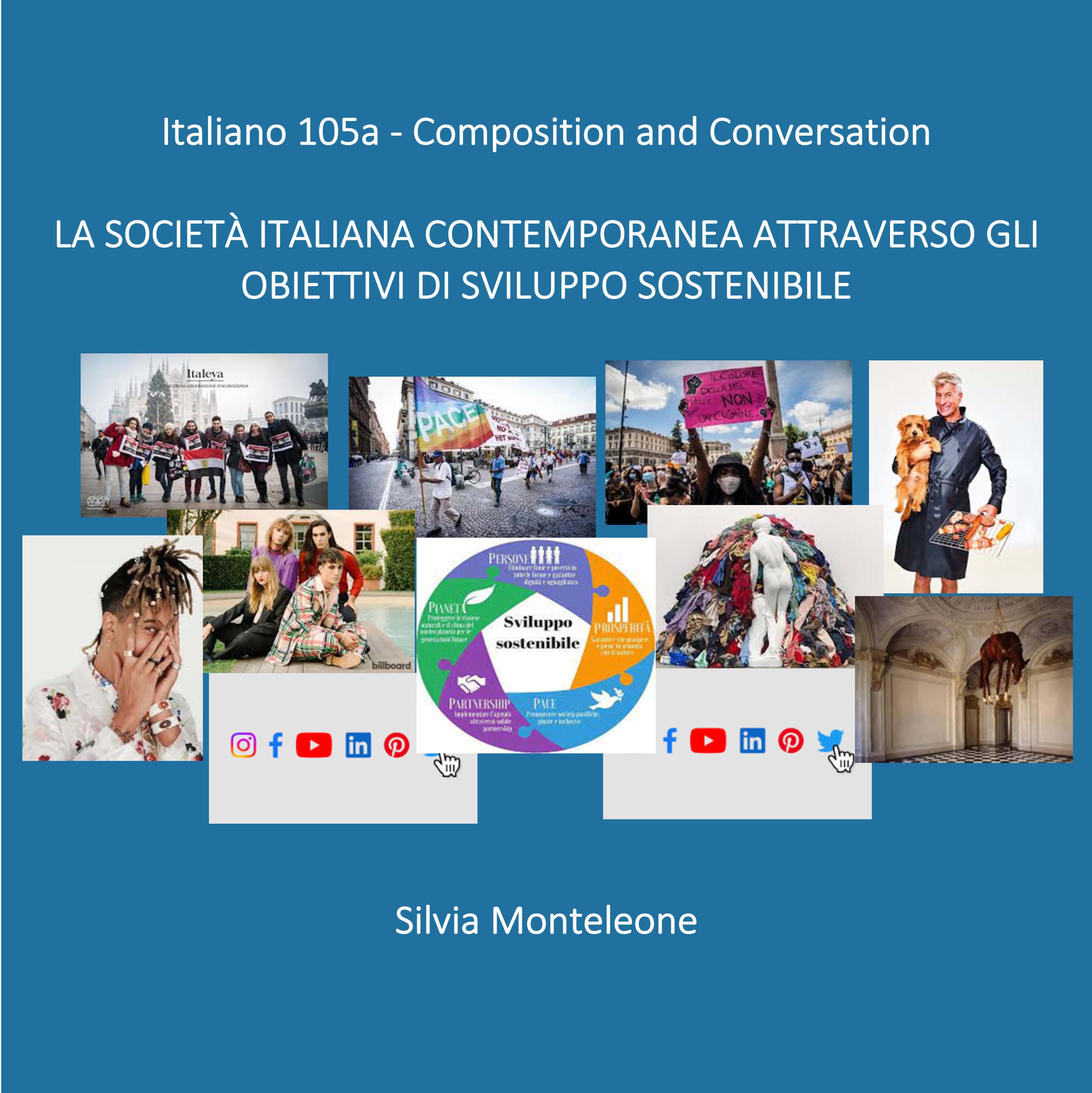 ITAL 105A Italian Conversation and Composition
(1) M/W/R 12:20 - 1:10 PM, Monteleone
LA SOCIETÀ ITALIANA CONTEMPORANEA ATTRAVERSO GLI OBIETTIVI DI SVILUPPO SOSTENIBILE
Bring your Italian language skills to the next level. You will practice and improve your listening, speaking, reading, and writing skills in Italian, while learning how Italian society is changing.  In this course we'll address issues related to globalization, the environment, and social justice in contemporary Italy and see how music, art, and social activism represent and create change.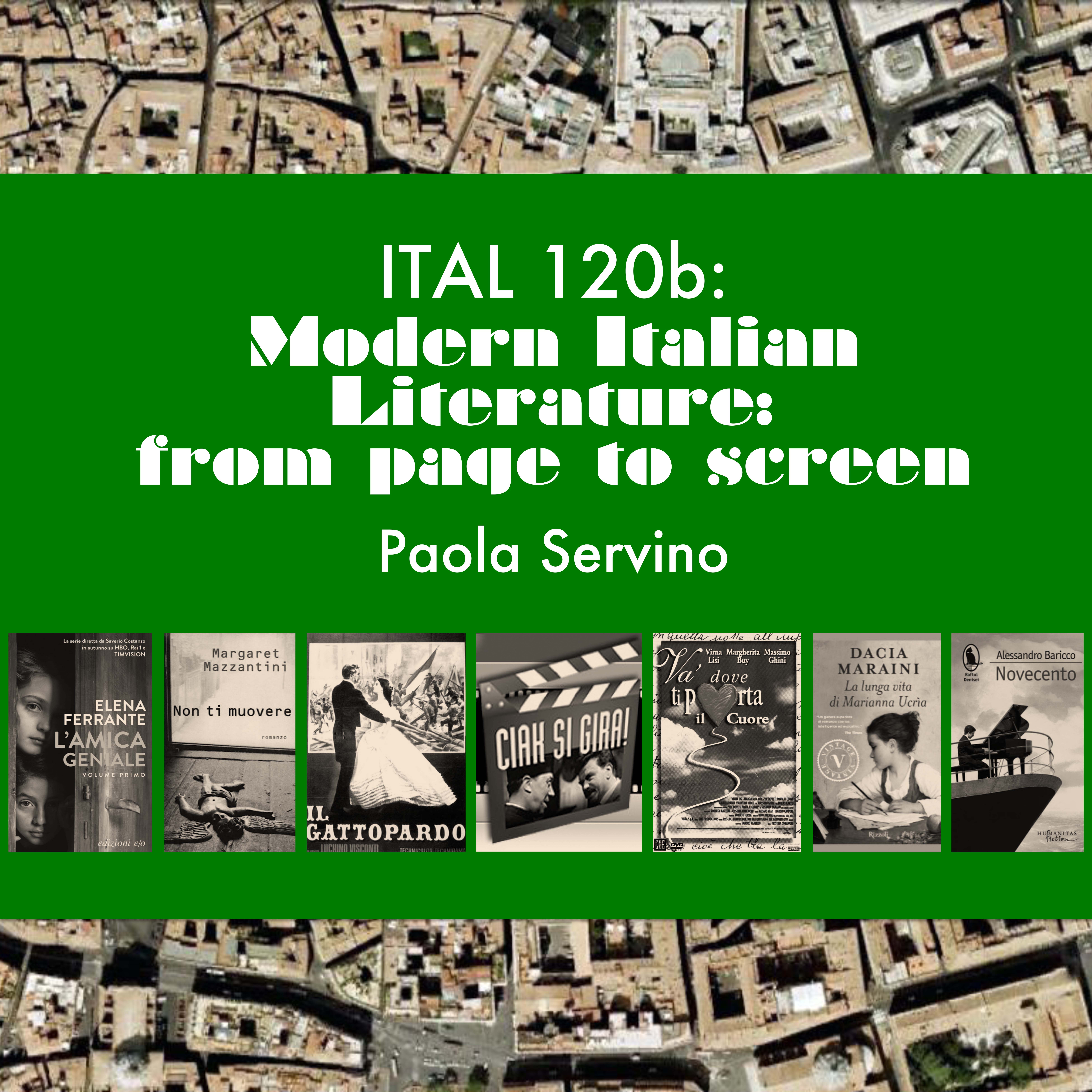 ITAL 120B Modern Italian Literature: From Page to Screen
(1) T/R 3:55 PM - 5:15 PM, Servino
What compels directors to create a movie from a book? To bring to action a story, a character, an idea, or a specific context? This course will focus on Italian masterpiece literature from the twentieth century to the present, including writers such as Lampedusa, as well as contemporary writers, such as Baricco, Ammaniti, and Ferrante with emphasis on the theme of historical, individual, and familial identity within the context of socio-economic upheaval and transformative cultural events. Several films based on these works will be examined, with emphasis on an analysis of cinematic innovation.
Italian Studies Electives
CLAS 115B Topics in Greek and Roman History
(1) M/W 2:30 - 3:50 PM, Sausville
Topics vary from year to year and the course may be repeated for credit with permission of the instructor. Topics include the Age of Alexander the Great, the Age of Pericles, the Greekness of Alexander, and Imperialism in Antiquity. Topic for spring 2023: Greco-Roman Urbanism.
CLAS 134B The Art & Archaeology of Ancient Rome
(1) M/W 4:05 - 5:25 PM, O'Donoghue
Surveys the art and architecture of the ancient Romans from the eighth century BCE to the end of the empire in Sicily, mainland Italy (with focus on Rome, Ostia, Pompeii, and Herculaneum), and in the Roman provinces.
HIST 140A A History of Fashion in Europe
(1) T/F 11:10 AM - 12:30 PM, Kelikian
[DL, WI, cross-listed with ECS, ITAL]
Looks at costume, trade in garments, and clothing consumption in Europe from 1600 to 1950. Topics include sumptuous fashion, class and gender distinctions in wardrobe, and the rise of department stores.