Courses
Click on the following links to skip to a certain section of this page:
Fall 2022 Course Listings
Italian Studies Courses
ITAL 10A Beginning Italian
(1) M/W/R 10:10 AM–11:00 AM; T 10:00 AM–10:50 AM, Monteleone
(2) M/W/R 12:20–1:10 PM; F 12:45–1:35 PM, Servino
Are you interested in experiencing a taste of Italy right here on campus? If reading an Italian menu with the right accent, understanding Bocelli and Botticelli, speaking the language, and learning about love and passion beyond the stereotypes are not enough to get you involved, we will find many more ways to make your Italian experience worthwhile. Just as in Italy, if you have no specific reasons to study Italian, we will make one up just for you!
ITAL 30A Intermediate Italian
(1) M/T/W/R 11:15 AM–12:05 PM, Monteleone
(2) M/W 2:30–3:50 PM; F 2:20–3:10 PM, Servino
Is Italian synonymous with pizza and the Mafia? Of course not! Students in this course advance their study in Italian language and culture by improving their ability to recount events, give descriptions, and make comparisons —both orally and in writing. Working with newspaper articles, short stories, and films, students gain an understanding of what growing up in Italy is all about! Students learn how the closeness of family and friends is the basis of Italian culture and how Italians are able to live in a modern Italy despite their old soul that comes from ancient values and colorful imagery of its people.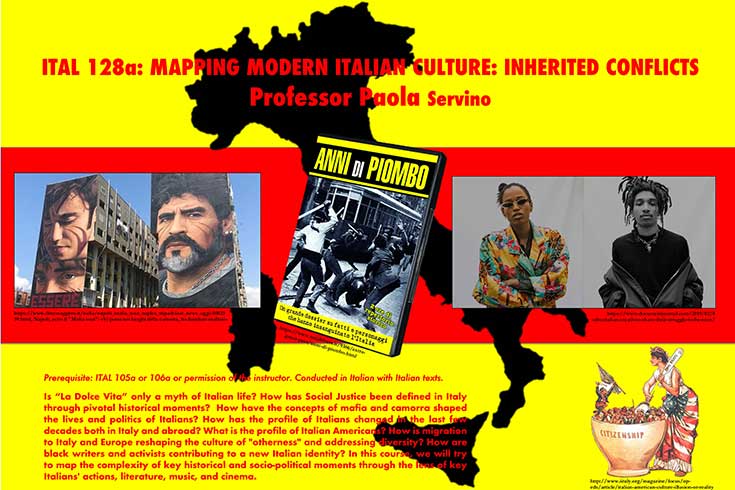 ITAL 128A Mapping Modern Italian Culture: Inherited Conflicts
(1) M/W 4:05 PM–5:25 PM, Servino
Is "La Dolce Vita" only a myth of Italian life? How has Social Justice been defined in Italy through pivotal historical moments? How have the concepts of mafia and camorra shaped the lives and politics of Italians? How has the profile of Italians changed in the last few decades both in Italy and abroad? What is the profile of Italian Americans? How is migration to Italy and Europe reshaping the culture of "otherness" and addressing diversity? How are black writers and activists contributing to a new Italian identity? In this course, we will try to map the complexity of key historical and socio-political moments through the lens of key Italians' actions, literature, music, and cinema.
Italian Studies Electives
CLAS 115B Topics in Greek and Roman History
(1) T/R 2:20 PM–3:40 PM, STAFF
[WI] Topics vary from year to year and the course may be repeated for credit with permission of the instructor. Topics include the Age of Alexander the Great, the Age of Pericles, the Greekness of Alexander, and Imperialism in Antiquity.
FA 48A Baroque Art & Architecture in Italy
(1) T/F 9:35 AM–10:55 AM, Unglaub
Examines the artistic spectacle of Papal Rome, focusing on the works and legacy of Caravaggio and Bernini as the prevailing artistic forces, with major contributions by the Carracci, Poussin, Borromini, and Cortona. Apart from Rome and the patronage strategies of successive Popes, we will consider artistic and architectural production in such diverse centers as Venice, Naples, Bologna, and Turin.
HIST 103A Roman History to 455 CE
(1) M/W/R 1:25 PM–2:15 PM, Kapelle
[Cross–listed with ECS, MERS, CLAS]
Survey of Roman history from the early republic through the decline of the empire. Covers the political history of the Roman state and the major social, economic, and religious changes of the period.
HIST 131A Hitler's Europe in Film
(1) T/F 11:10 AM–12:30 PM, Kelikian
Takes a critical look as how Hitler's Europe has been represented and misrepresented since its time by documentary and entertainment films of different countries beginning with Germany itself. Movies, individual reports, discussions, and a little reading.