Courses
Click on the following links to skip to a certain section of this page:
Spring 2024 Course Listings
Italian Studies Courses
ITAL 20B Continuing Italian
(1) M,W 2:30–3:50 PM; Th 5:30–6:20 PM, Monteleone
(2) M,W,Th 1:20–2:10 PM; T 12:45–1:35 PM, Servino
Are you interested in experiencing a taste of Italy right here on campus? If reading an Italian menu with the right accent, understanding Bocelli and Botticelli, speaking the language, and learning about love and passion beyond the stereotypes are not enough to get you involved, we will find many more ways to make your Italian experience worthwhile. Just as in Italy, if you have no specific reasons to study Italian, we will make one up just for you!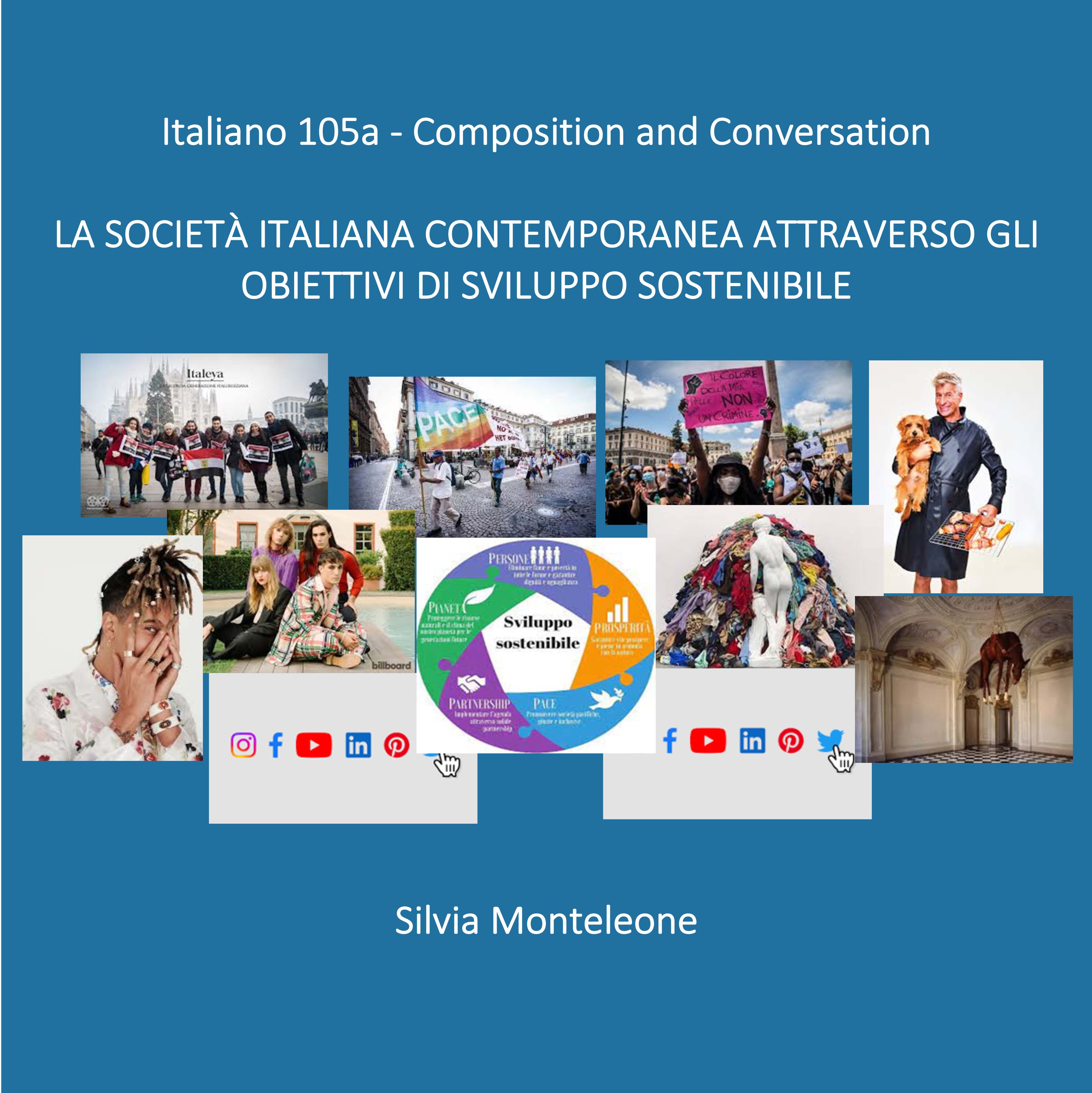 ITAL 105A Italian Conversation and Composition
(1) T,Th  2:20–3:40 PM, Monteleone
LA SOCIETÀ ITALIANA CONTEMPORANEA ATTRAVERSO GLI OBIETTIVI DI SVILUPPO SOSTENIBILE. Bring your Italian language skills to the next level. You will practice and improve your listening, speaking, reading, and writing skills in Italian, while learning how Italian society is changing.  In this course we'll address issues related to globalization, the environment, and social justice in contemporary Italy and see how music, art, and social activism represent and create change.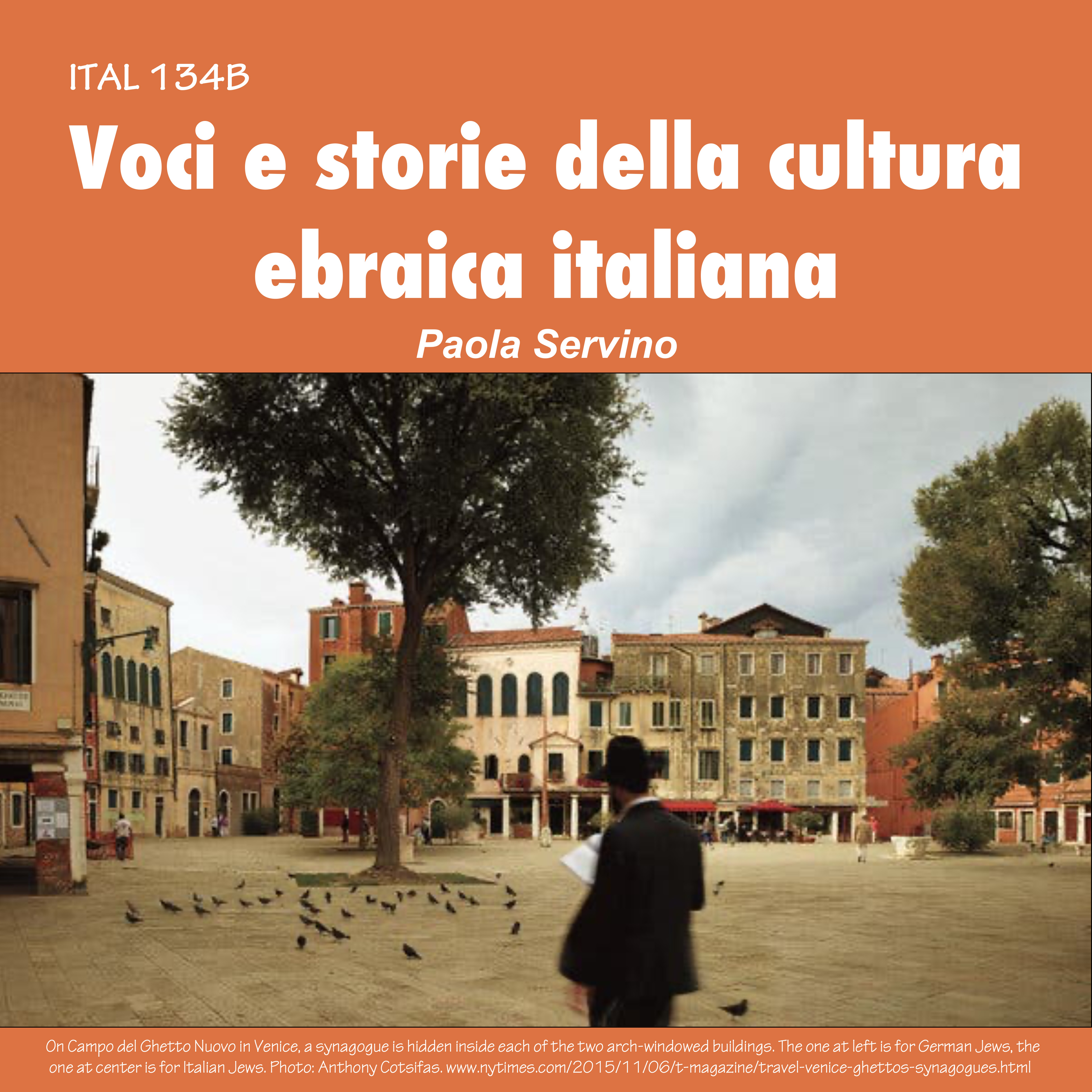 ITAL 134B Voci e storie della cultura ebraica italiana
(1) M,W 4:05–5:25 PM, Servino
Analyzes Italian Jewish representations in Italian culture from medieval times to the founding of the ghetto in Venice in 1516 and leading Jewish figures of the Renaissance. Works of modern Italian Jewish writers and historians are examined as well as Italian movies that address Jewish themes within the mainstream of Italian culture. This course has an interdisciplinary approach while focusing on advanced Italian language skills.
Italian Studies Electives
CLAS 140A Women, Gender, and Sexuality in Greek and Roman Art and Text
(1) M,W 2:30–3:50 PM, Caitlin Gillespie
An exploration of women, gender, and sexuality in ancient Greece and Rome as the ideological bases of Western attitudes toward sex and gender. Includes, in some fashion, Greek and Roman myth, literature, art, architecture, and archaeological artifacts.
HIST 123A The Renaissance
(1) M,W,Th 11:15 AM–12:05 PM, William Kapelle
Culture, society, and economy in the Italian city-state (with particular attention to Florence) from feudalism to the rise of the modern state.
HIST 142A Crime, Deviance, and Confinement in Modern Europe
(1) T,F 11:10 AM–12:30 PM, Alice Kelikian
[Cross-listed with ECS, ITAL, LGLS]
Examines the crisis of law and order in old regime states and explores the prison and asylum systems that emerged in modern Europe. Surveys psychiatry and forensic science from the Napoleonic period until World War II.