Courses
Click on the following links to skip to a certain section of this page:
Fall 2023 Course Listings
Italian Studies Courses
ITAL 10A Beginning Italian
(1) M,W,Th 12:20–1:10; F 12:45–1:35 PM, Monteleone
(2) M,W,Th 1:20–2:10 PM; T 12:45–1:35 PM, Servino
Are you interested in experiencing a taste of Italy right here on campus? If reading an Italian menu with the right accent, understanding Bocelli and Botticelli, speaking the language, and learning about love and passion beyond the stereotypes are not enough to get you involved, we will find many more ways to make your Italian experience worthwhile. Just as in Italy, if you have no specific reasons to study Italian, we will make one up just for you!
ITAL 30A Intermediate Italian
(1) M,W,Th 1:20–2:10; T 12:45–1:35 PM, Monteleone
(2) M,T,W,Th 11:15 AM–12:05 PM, Servino
Is Italian synonymous with pizza and the Mafia? Of course not! Students in this course advance their study in Italian language and culture by improving their ability to recount events, give descriptions, and make comparisons —both orally and in writing. Working with newspaper articles, short stories, and films, students gain an understanding of what growing up in Italy is all about! Students learn how the closeness of family and friends is the basis of Italian culture and how Italians are able to live in a modern Italy despite their old soul that comes from ancient values and colorful imagery of its people.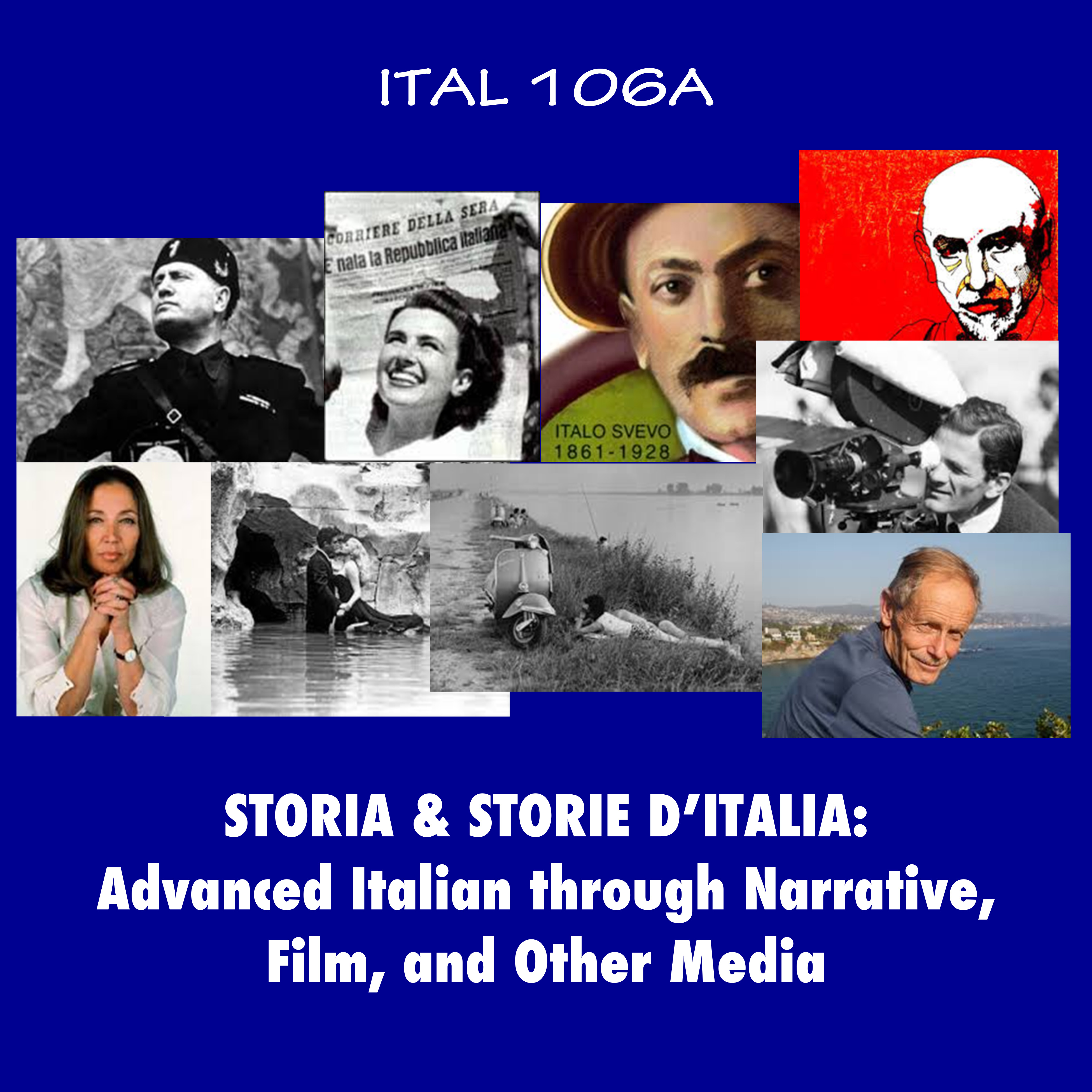 ITAL 106A Storia e storie d'Italia: Advanced Italian through Narrative, Film, and Other Media
(1) T,Th 2:20–3:40 PM, Monteleone
Let's learn about Italians through their stories and practice reading and communicative skills while learning about the developing of Italian identity from the end of 1800s to the present. In this course, students will analyze and discuss short Italian texts, selected for their relevance and accessible language, as well as videos and films. Proficiency in Italian will be improved through interpretive, interpersonal, and presentational activities. This is an Oral Communication course.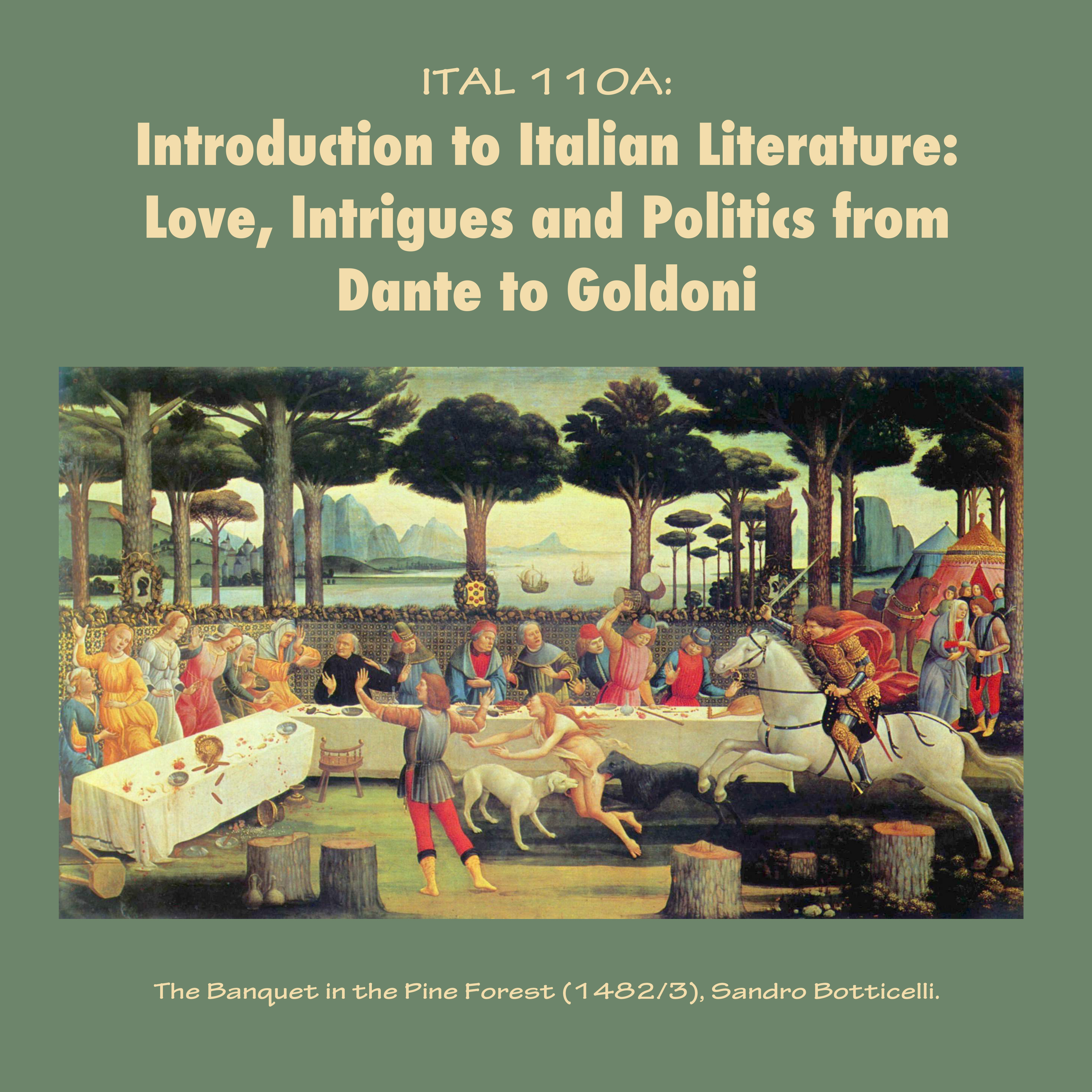 ITAL 110A Introduction to Italian Literature: Love, Intrigues and Politics from Dante to Goldoni
(1) T,Th 3:55–5:15 PM, Servino
Why Study Dante (and much more!)? Just for the Hell of it! Surveys the masterpieces of Italian literature from Dante's journey to Goldoni's stage. Come explore intrigues of love and politics in Italian culture and literature, through dynamic analysis and discussions of primary texts. 
Italian Studies Electives
CLAS 150B Pompeii: Life in the Shadow of Vesuvius
(1) M,W 4:05–5:25 PM, O'Donoghue
Examines Pompeii and Herculaneum, buried by Vesuvius in 79 CE, using the ancient cities' art, architecture, and wall writings to understand the social, political, economic, and religious realities of Roman life on the Bay of Naples, especially in the first century CE.
HIST 103A Roman History to 455 CE
(1) M,W,Th 1:20–2:10 PM, Kapelle
Survey of Roman history from the early republic through the decline of the empire. Covers the political history of the Roman state and the major social, economic, and religious changes of the period.
HIST 170A Italian Films, Italian Histories
(1) T,F 11:10 AM–12:30 PM, Kelikian
Explores the relationship between Italian history and Italian film from unification to 1975. Topics include socialism, fascism, the deportation of Jews, the Resistance, the Mafia, and the emergence of an American-style star fixation in the 1960s.