Courses
Click on the following links to skip to a certain section of this page:
Fall 2022 Course Listings
All schedule information is tentative. Please see the Registrar's site for the latest information.
For full lists of courses offered next semester, download the PDF brochures:
For short video introductions to many of our courses, click on the course titles.
Questions about major/minor requirements, course offerings, or studying abroad? Contact our Undergraduate Advising Head: Professor Lucía Reyes de Deu.
Language Courses
Upper-Level Courses (above HISP 108)
HISP 109b Introduction to Modern Spanish Cultural Studies - Hunger in Spain
(1) M/W 7:15 PM–8:35 PM, Pérez Arranz
This course offers a panoramic view of the most representative figures in literary history and culture in Spain, examined through the lens of food and hunger. By disseminating the cultural production of Spain through different genres (comics, cookbooks, poems, short stories, film, novella, material culture, and television), the course pays special attention to social, cultural, political, literary and artistic representations of hunger and traces common desires, satisfactions and anxieties throughout Spanish history. 
(1) T/F 12:45 PM–2:05 PM, Reyes de Deu
Examines key Latin American texts of different genres (poems, short stories and excerpts from novels, chronicles, comics, screenplays, cyberfiction) and from different time periods from the conquest to modernity. This class places emphasis on problems of cultural definition and identity construction as they are elaborated in literary discourse. Identifying major themes (coloniality and emancipation, modernismo and modernity, indigenismo, hybridity and mestizaje, nationalisms, Pan-Americanism, etc.) we will trace continuities and ruptures throughout Latin American intellectual history.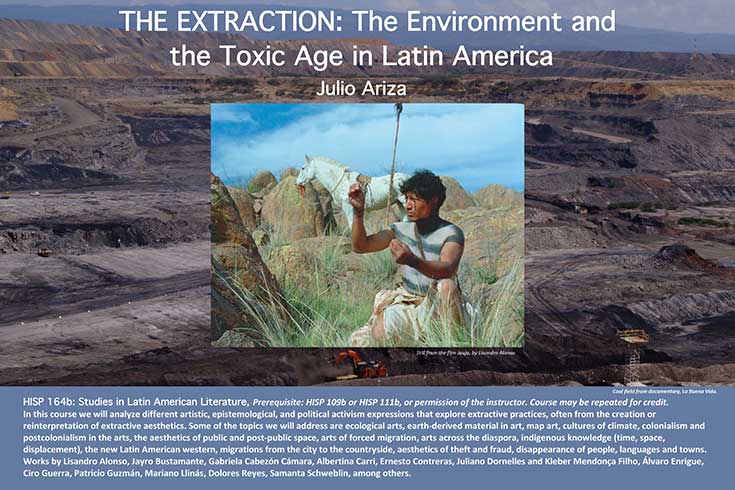 (1) M/W 4:05 PM–5:25 PM, Ariza
Prerequisite: HISP 106b, or HISP 108a, or permission of instructor. Taught in Spanish.
In this course we will analyze different artistic, epistemological, and political activism expressions that explore extractive practices, often from the creation or reinterpretation of extractive aesthetics. Some of the topics we will address are ecological arts, earth-derived material in art, map art, cultures of climate, colonialism and postcolonialism in the arts, the aesthetics of public and post-public space, arts of forced migration, arts across the diaspora, indigenous knowledge (time, space, displacement), the new Latin American western, migrations from the city to the countryside, aesthetics of theft and fraud, disappearance of people, languages and towns. Works by Lisandro Alonso, Jayro Bustamante, Gabriela Cabezón Cámara, Albertina Carri, Ernesto Contreras, Juliano Dornelles and Kleber Mendonça Filho, Álvaro Enrigue, Ciro Guerra, Patricio Guzmán, Mariano Llinás, Dolores Reyes, Samanta Schweblin, among others.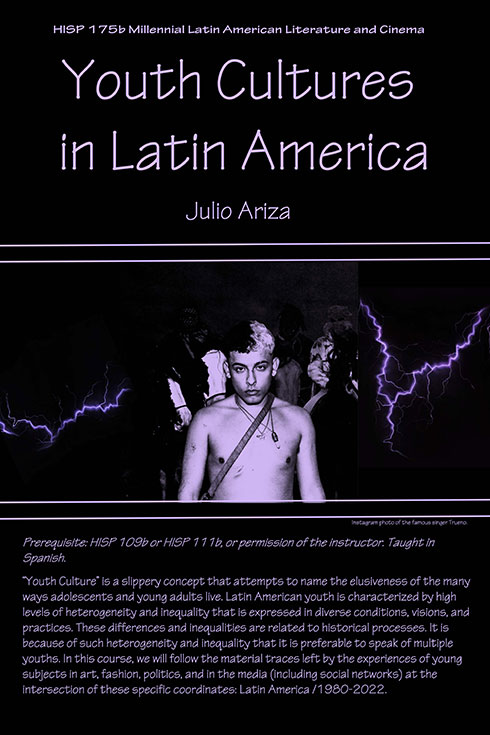 HISP 175b Millennial Latin American Literature & Cinema - Youth Cultures in Latin America
(1) M/W 2:30 PM–3:50 PM,  Ariza
"Youth Culture" is a slippery concept that attempts to name the elusiveness of the many ways adolescents and young adults live. Latin American youth is characterized by high levels of heterogeneity and inequality that is expressed in diverse conditions, visions, and practices. These differences and inequalities are related to historical processes. It is because of such heterogeneity and inequality that it is preferable to speak of multiple youths. In this course, we will follow the material traces left by the experiences of young subjects in art, fashion, politics, and in the media (including social networks) at the intersection of these specific coordinates: Latin America / 1980-2022.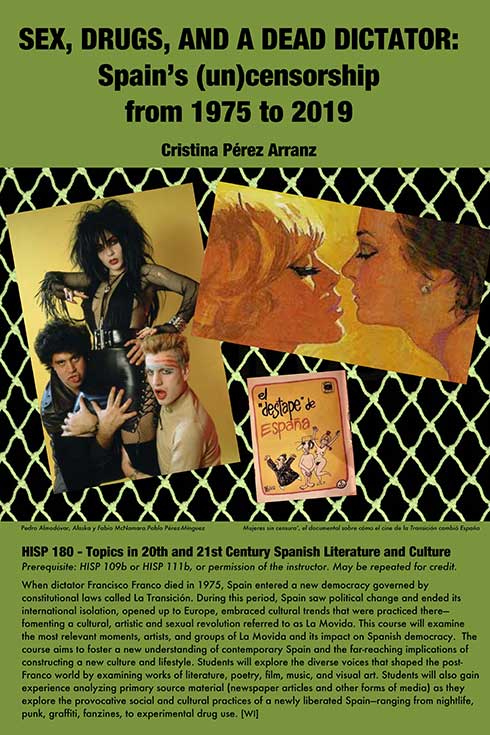 HISP 180a - Topics in Twentieth and Twenty-First Century Spanish Literature and Culture - Sex, Drugs, and a Dead Dictator: Spain's (un)censorship from 1975 to 2019
(1) T/Th 7:05 PM–8:25 PM, Pérez Arranz
When dictator Francisco Franco died in 1975, Spain entered a new democracy governed by constitutional laws called La Transición. During this period, Spain saw political change and ended its international isolation, opened up to Europe, embraced cultural trends that were practiced there—fomenting a cultural, artistic and sexual revolution referred to as La Movida. This course will examine the most relevant moments, artists, and groups of La Movida and its impact on Spanish democracy.  The course aims to foster a new understanding of contemporary Spain and the far-reaching implications of constructing a new culture and lifestyle. Students will explore the diverse voices that shaped the post-Franco world by examining works of literature, poetry, film, music, and visual art. Students will also gain experience analyzing primary source material (newspaper articles and other forms of media) as they explore the provocative social and cultural practices of a newly liberated Spain—ranging from nightlife, punk, graffiti, fanzines, to experimental drug use.