Courses
Click on the following links to skip to a certain section of this page:
Fall 2023 Course Listings
All schedule information is tentative. Please see the Registrar's site for the latest information.
For full lists of courses offered next semester, download the PDF brochures:
For short video introductions to many of our courses, click on the course titles.
Questions about major/minor requirements, course offerings, or studying abroad? Contact our Undergraduate Advising Head: Professor Lucía Reyes de Deu.
Language Courses
Upper-Level Courses (above HISP 108)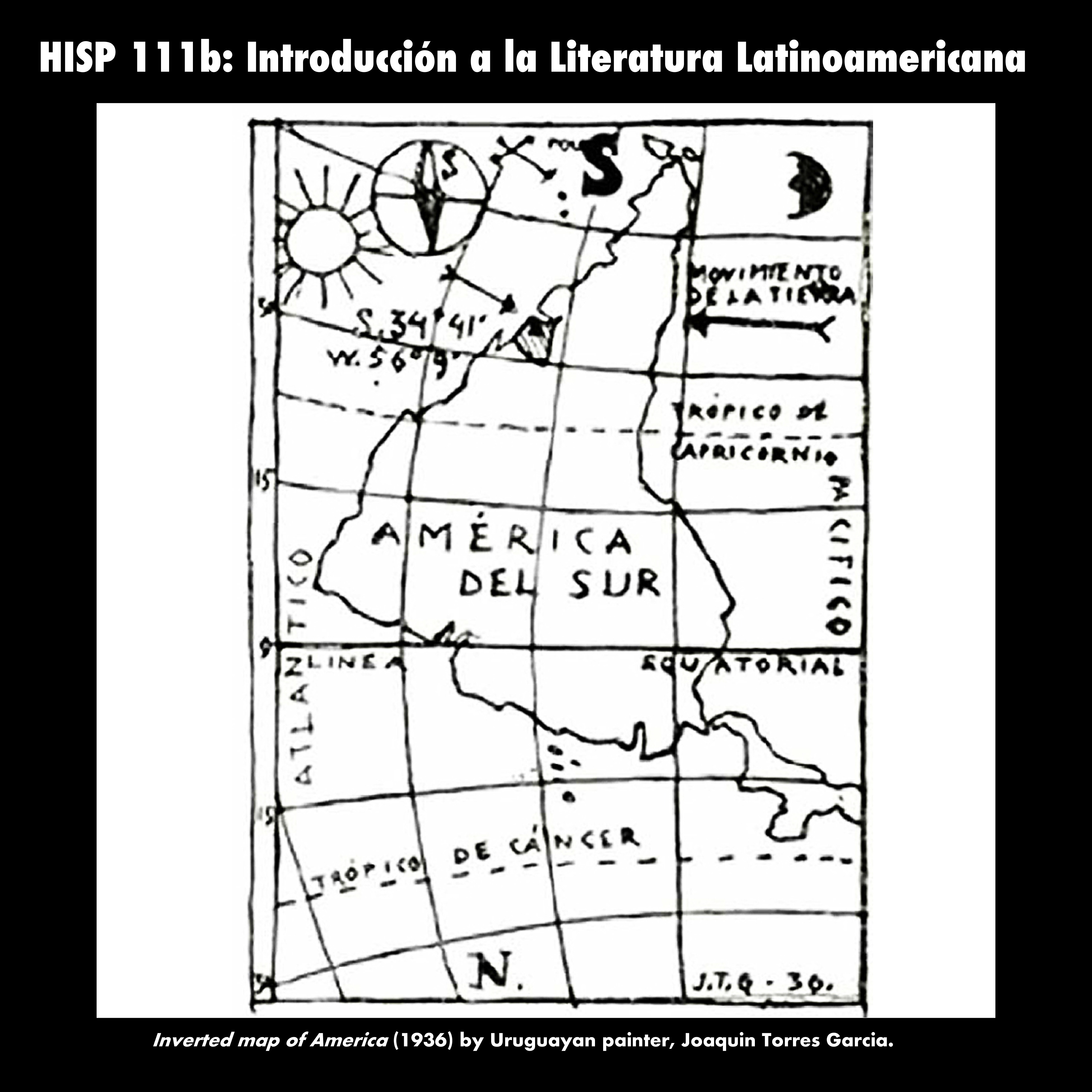 (1) M,W 4:05–5:25 PM, Herrera Díaz
Examines key Latin American texts of different genres (poems, short stories and excerpts from novels, chronicles, comics, screenplays, cyberfiction) and from different time periods from the conquest to modernity. This class places emphasis on problems of cultural definition and identity construction as they are elaborated in literary discourse. Identifying major themes (coloniality and emancipation, modernismo and modernity, indigenismo, hybridity and mestizaje, nationalisms, Pan-Americanism, etc.) we will trace continuities and ruptures throughout Latin American intellectual history.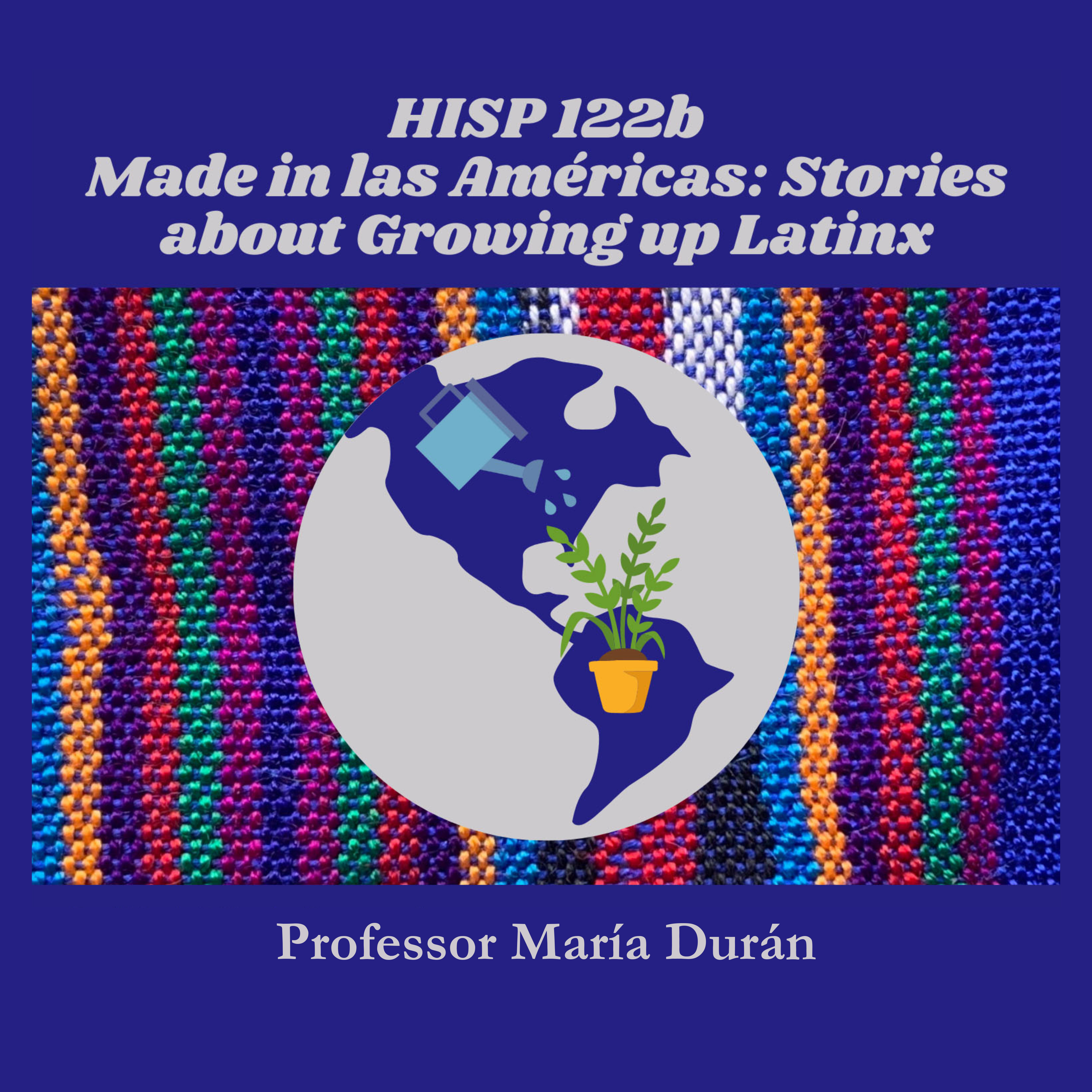 HISP 122B Made in las Américas: Stories about Growing up Latinx
(1) T,F 11:10 AM–12:30 PM, Durán
Taught in English.

This course examines what it means to grow up Latinx in a multicultural United States through a focus on Latinx young adult literature and Latinx youth culture. Surveying a range of literary works that address the development of Latinx children and adolescents, we will pay special attention to coming-of-age stories that explore how Latinx negotiate ethno-racial identity, find and assert their own voice, and gain a greater understanding about their cultural differences. We will explore what intimate knowledge Latinx youth share and how they make meaning of critical, even ostensibly trivial, life moments to construct their ever-evolving sense of self and their relationship to both Latinx and non-Latinx communities.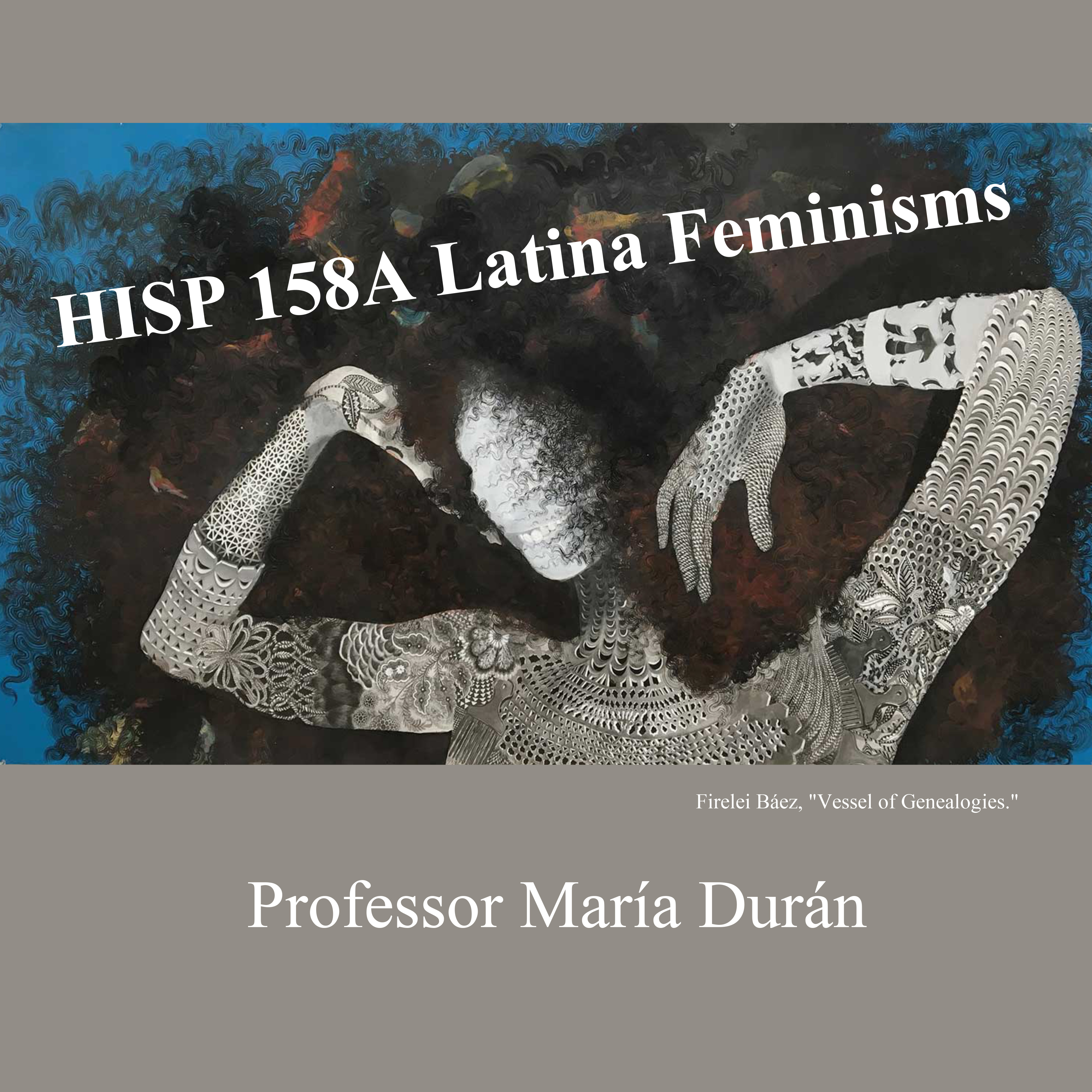 HISP 158A Latina/x Feminisms
(1) T,F 9:35–10:55 AM, Durán
This course explores the theoretical frameworks and literary productions of feminisms developed by Latina/xs. It introduces students to a diversity of backgrounds and experiences (Chicana, Dominican American, Cuban American, Salvadoran American, and Puerto Rican authors) as well as a variety of genres (i.e. fiction, poetry, short stories, drama). Using intersectionality as a theoretical tool for analyzing oppressions, students will explore the complex politics of gender, sexuality, class, ethnicity, and race in the lives of Latina/xs. They will also explore Latina/x feminists' theoretical and/or practical attempts to transcend socially-constructed categories of identity, while acknowledging existing material inequalities.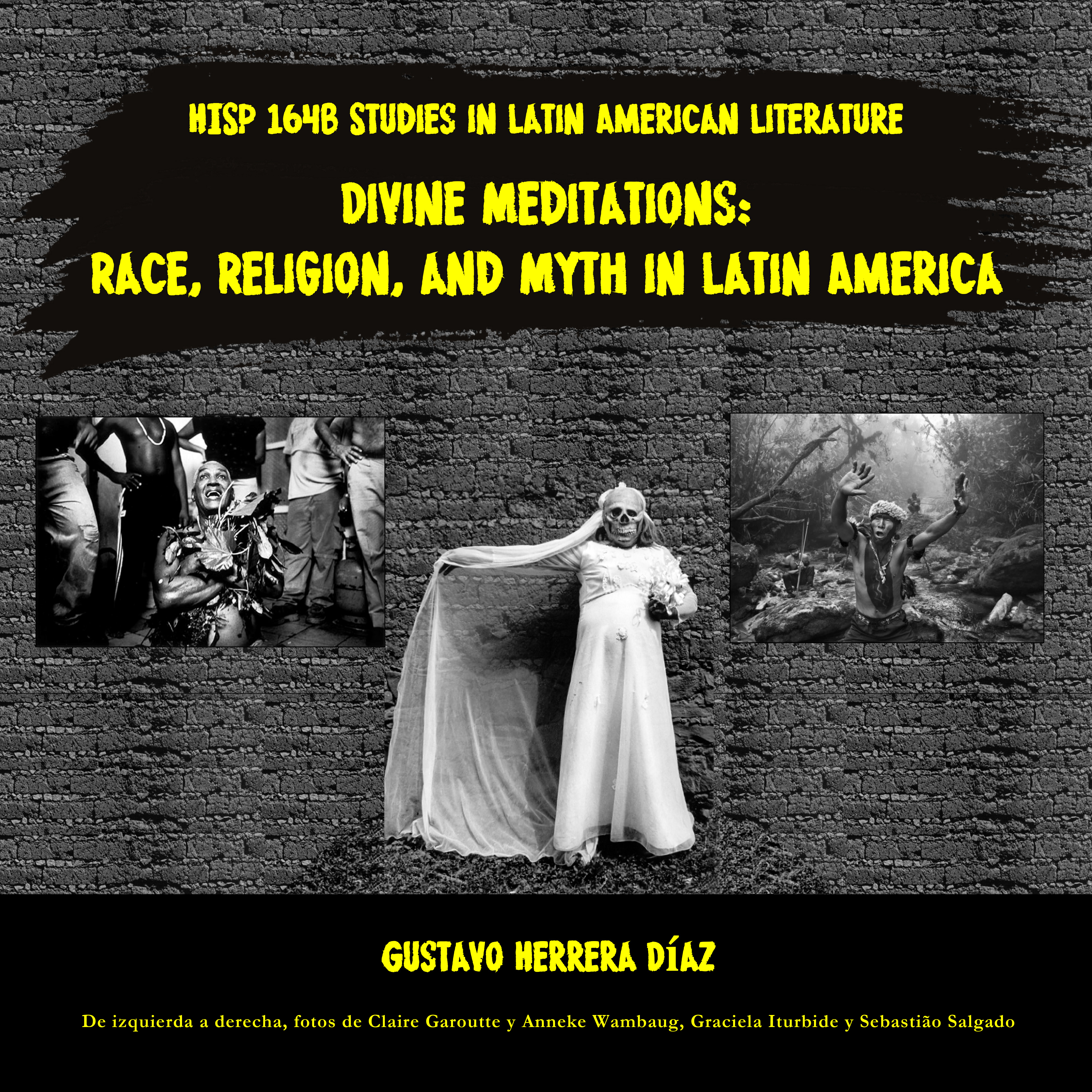 HISP 164b Studies in Latin American Literature
(1) M,W 5:40–7:00 PM, Herrera Díaz
Topic for fall 2023: Divine Meditations: Race, Religion, and Myth in Latin America
This course will explore the intersection of race, religion, and myth in Latin America from colonial times until the present. By analyzing a wide array of media (i.e., maps, paintings, photographs, comics, literary texts, performances and films), we will focus on how Afro-Atlantic and Indigenous cosmogonies and identities have shaped colonial, imperial, and national realities, often challenging dominant representations of gender, labor, race, and identity. The course is divided into four units: Nation, Gender, Capitalism, and Borders. Over the course of the semester, we will examine a variety of marginalized and transgressive identities such as maroons, malandros, zombies, shamans, ghosts, and spirits and discuss their influential role in Latin American transcultural practices and experiences.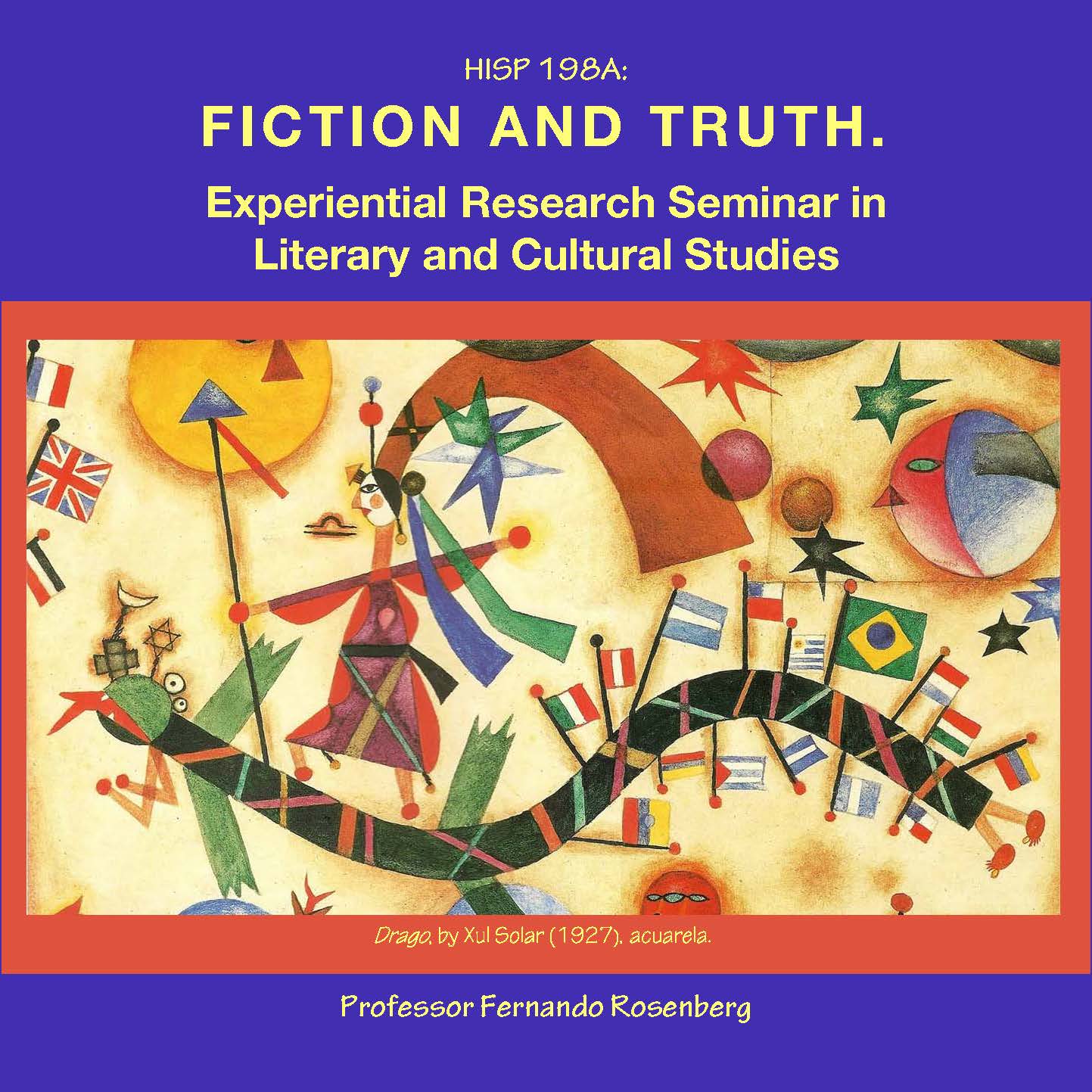 HISP 198A Fiction and Truth. Experiential Research Seminar in Literary and Cultural Studies
(1) W 2:30–5:20 PM, Rosenberg
Required for Hispanic Studies majors, but open to minors and other programs. This year, the topic of the research seminar is Fiction and Truth. How does literature intertwine with reality, fiction with history, narrative and identity? We will study texts and watch films (in Spanish and English) that present themselves as having a commitment to truth, to reflect on their strategies of representation and authority. The reflection will accompany students through the process of choosing and developing their essay or multi-media project, which might focus on literature or other artistic and cultural media. Along this path, we will revisit a number of topics and problems central to Hispanic Studies, particularly when it pertains to the students' paper topics. The class will be strongly shaped by students' own developing interests. Taught in both English and Spanish; the final project might be completed in either language.