Undergraduate Departmental Representatives (UDRs)
The Undergraduate Departmental Representatives serve as a resource and representative for fellow majors and minors and potential majors and minors, and bring student concerns and/or ideas to the program faculty. They also provide feedback to the program chair, undergraduate advising head, and faculty regarding scheduling problems, course offerings, etc. and help organize events for majors, minors, and other interested students.
Italian Studies UDRs
Thom D'Angelo
Class of 2020
Thom is double majoring in Biology and Italian Studies and will be graduating in Spring '20 with a Bachelor of Science. He is involved in a number of on-campus/off-campus activities including volunteering with Prospect Hills Kids Club, Brandeis National Committee, serving as TA for Physiology Lab, and being a member of the Alpha Delta Phi Fraternity. Additionally, in the summer he will be a Clinical and Surgical Observer at Orthopedic Associates of Dutchess County, NY. He has unfortunately never studied abroad, but would take the opportunity in the future should it present itself. He is planning to apply to medical school after graduation and hopefully someday be a doctor. He is currently interested in orthopedics and maternal-fetal medicine as specialties but expects his mind to change a few times before he decides what most interests him. In his free time, he mostly cooks, plays basketball, lifts weights, reads or does yoga. FUN FACT: He is a first-generation college student.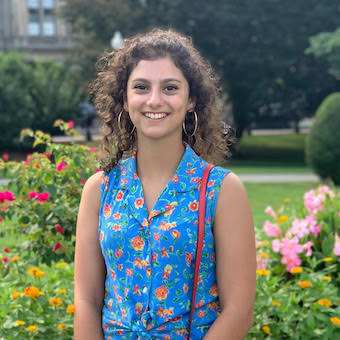 Stefania Molinaro
Class of 2020
Stefania Molinaro is a senior, double majoring in Italian Studies and HSSP. She is a member of the Delta Phi Epsilon sorority and works as an office assistant at the IBS Office of Academic Affairs and Student Experience. She studied abroad this past spring in Rome, Italy where she traveled, ate gelato every day, and interned at LN Age, a Contract Research Organization. She loves listening to music, playing soccer and tennis, and reading books in her free time. FUN FACT: Stefania's favorite pasta is Spaghetti alla Carbonara. 
Leah Sagan-Dworsky
Class of 2021
Leah is double majoring in Italian Studies and Music and minoring in Creativity, the Arts, and Social Transformation (CAST). She is involved in the Adagio dance company and participates in 2-3 dances per semester. In addition, she danced in Liquid Latex last semester. She is also involved in WBRS' student music committee as part of the e-board. In this role, she plans music events including Jam Sessions and Open Mics in the Stein. Leah studied abroad in Cremona, Italy her senior year of high school as part of a Rotary Club Scholarship. She is planning on studying world music abroad in Cape Town, South Africa the spring of her Junior year. In the future, Leah plans to live abroad. After college, she hopes to either teach English abroad or work for an organization that uses art to bring different groups of people together. Her dream job would be running a choir that brings two adversary groups together. In her free time she writes songs, skis up hills, and sings opera in hidden places on campus. FUN FACT: Leah can touch her tongue to her nose.
Independent Interdisciplinary Major UDRs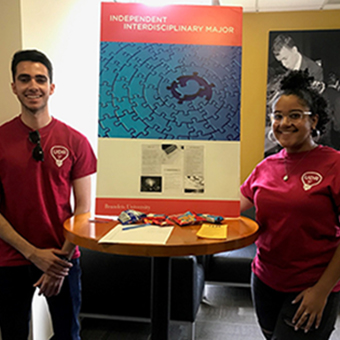 Michael Heldman and Makayla Richards
Class of 2020
Michael Heldman (michaelheldman@brandeis.edu; on the left in the photo)
IIM: Urban Studies
Michael became an IIM UDR to help support students through the IIM process the same way others did for him as a way to give back. Michael said, "I feel so fortunate that Brandeis offers the IIM. The IIM has allowed me to take courses from a variety of disciplines and take the first steps to pursue the career of my dreams. I would like to bring attention to the program as much as possible."
Makayla Richards 
(
mrichards@brandeis.edu
; on the right in the photo)
IIM: Black Women's Studies

Makayla became an IIM UDR because having the ability to cultivate a major that encompassed her interests and passions was life changing for her. She shared, "I believe I have learned so much about myself, the type of work I want to do and how I want to do it through this process, and I want to support other people in being able to experience this as well."
IIM Academic Advisor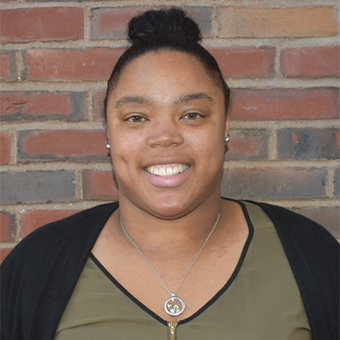 IIM Advisor
Academic Services
We are extremely happy to welcome LaKiyah Russell to the team! LaKiyah is an academic advisor in Academic Services who will be working to support IIM students.
Prior to starting at Brandeis in May, she was a Residence Director at Emerson College. LaKiyah is especially interested in helping students gain a holistic experience during their time in college. In her spare time, LaKiyah enjoys listening to music, baking cookies, and enjoying family time!