Italian Studies UDRs
Undergraduate departmental representatives serve as a resource and representative for fellow majors and minors and potential majors and minors, and bring student concerns and/or ideas to the program faculty. They also provide feedback to the program chair, undergraduate advising head, and faculty regarding scheduling problems, course offerings, etc. and help organize events for majors, minors and other interested students.
2022-23 UDRs
My name is Lang, and I am currently a junior majoring in environmental studies and Italian studies. I have been learning Italian since middle school and I am also a native speaker of Mandarin and Cantonese. Over the summer, I participated in the Trinacria Company Management Training Program, an internship in partnership with Brandeis Italian Studies that took place in Sicily. On campus, I am involved with Herbicide-Free Brandeis, an environmental organization that is advocating for Brandeis to transition from using synthetic herbicides to sustainable landscaping methods. Off-campus, I work at the Lemberg Children's Center and in my free time, I like to go on long walks, watch horror movies with friends, and listen to movie soundtracks. Feel free to reach out if you have any questions or if you just want to chat!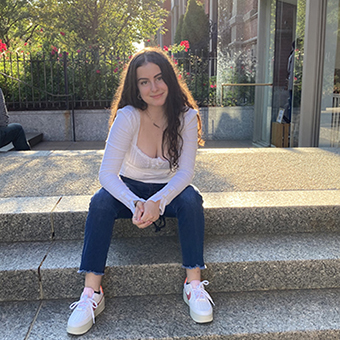 Bianca Kisin
Class of 2023
Bianca is an economics major with a double minor in art history and Italian studies. She is also a part of the Waltham Group, Brandeis Admissions, and Chabad Board. After graduation, she would like to pursue a marketing career with a focus on the auction/art industry. In her free time, Bianca enjoys painting and dancing :) Fun fact: English is not her first language.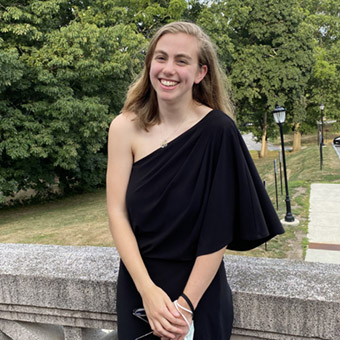 Liana Perlman
Class of 2023
Pronouns: she/her/hers
My name is Liana Perlman. I am a senior (class of 2023) currently majoring in vocal performance in the Music Department and minoring in Italian studies. On campus, I am a member of the University Chamber Singers and have previously been involved with the Undergraduate Theater Collective. Off-campus, I am a substitute teacher at a Jewish pre-K children's center in Needham, Massachusetts. I am a midyear student, and I studied abroad in Florence, Italy, my first semester (fall 2019).
I'm hoping to one day become a choir conductor and lead incredible college and professional choirs. I'm so excited to be starting on that journey here at Brandeis! You'll likely find me in the Slosberg music building practicing voice or piano or just doing homework. A little interesting tidbit about me is that I used to be fluent in Hebrew, and I lived in Jerusalem, Israel for six months when I was about 10 years old! Unfortunately, I've lost all my conversational Hebrew. I'm so excited to be involved with ROMs as a UDR!
Independent Interdisciplinary Major UDR
Madison Dulong & Sarah Goldstein
More information coming soon.
IIM Academic Adviser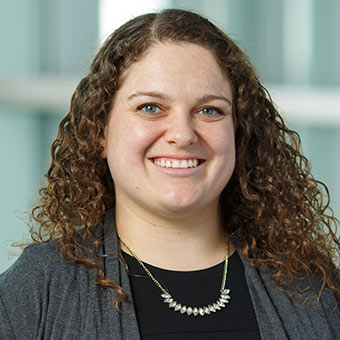 Kate Colahan
IIM Coordinator, Assistant Director, Academic Advising
Kate works on the advising team and coordinates the Independent Interdisciplinary Major (IIM), which allows students the opportunity to develop a unique course of study. She joined the Academic Services team in 2010 as the SSSP Department Coordinator, and after a brief time away to pursue a master's degree, she returned in 2014 as an academic advisor. Kate holds a BA in philosophy from Tufts University and an EdM in higher education from the Harvard Graduate School of Education. Kate is particularly interested in issues related to college access and persistence, the first-year student experience, and helping students navigate the search for purpose and meaning.
In her free time, Kate enjoys playing with her dogs Riley and Milo, strategy board games, knitting, reading both fiction and non-fiction, and exploring new places.