Italian Studies UDRs
Undergraduate departmental representatives serve as a resource and representative for fellow majors and minors and potential majors and minors, and bring student concerns and/or ideas to the program faculty. They also provide feedback to the program chair, undergraduate advising head, and faculty regarding scheduling problems, course offerings, etc. and help organize events for majors, minors and other interested students.
2021-22 UDRs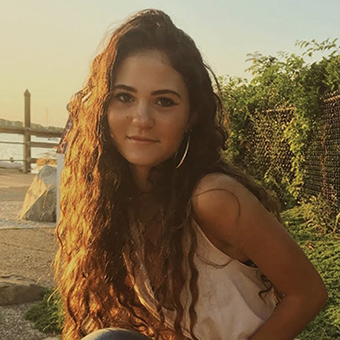 Lola Calotychos
Class of 2023
Lola is a prospective Italian Studies and Sociology double major minoring in Legal Studies. On campus, Lola is a Community Advisor (CA) as well as a tutor with the Language Empowering Action Project (LEAP). Through LEAP, Lola works alongside other Brandeis peers in providing free English classes to adult-learners and immigrant communities who currently reside in Massachusetts; supporting beginner, intermediate, and advanced level English learners in bettering their literacy skills and knowledge of American culture. Lola also works with the Petey Greene Program, a non-profit organization providing educational support and resources via tutoring to incarcerated populations in various states throughout the country. Before the COVID-19 pandemic, Lola tutored in-person at a correctional center in Framingham, Massachusetts once a week. Additionally, Lola is the Co-Founder of and a coach for the non-profit college preparatory tutoring company, UniVirtual Learning. Aiming to service college prep and information to high school-aged students, UniVirtual Learning provides virtual courses assisting students in completing the college preparation and application process. Lola hopes to study abroad in Rome, Italy in the fall of her senior year. As of now, Lola is still exploring different options post-graduation, whether that be going to graduate school, law school, or working. In the future, Lola hopes to live abroad -- either in her native country of Greece or elsewhere in Europe -- and would ideally be working a job that deals with immigration and human rights law, surrounding specifically refugee rights and advocacy.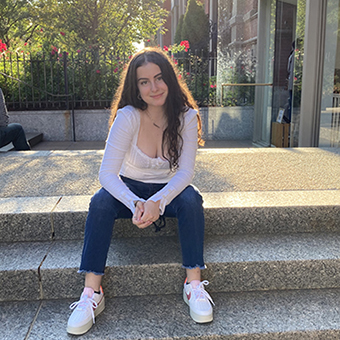 Bianca Kisin
Class of 2023
I am an Economics major with a double minor in Art History and Italian Studies. I am part of the Waltham Group, Brandeis Admissions, and Brandeis Barbell Club. I will be studying in Milano in the Spring of 2022! After graduation, I would like to do something that involves marketing in the realm of the art world. In my free time, I like to paint and dance :) FUN FACT: English is not my first language.
Nicholas Simonetti
Class of 2022
I am majoring in Economics and Business Administration and minoring in Italian Studies. I am an A Team member for TRON, the men's competitive ultimate Frisbee team. I have not studied abroad, but I would be open to the idea in my senior year. My dream job would be owning a successful restaurant somewhere in Northern Italy. In my free time I like to work out, play piano and read literature. I try to maintain my Italian by conversing with native speakers and watching Italian YouTubers. Over the past few summers, I have worked as a chemical sales associate at a swimming pool store and have helped clear up customers' pools.
Independent Interdisciplinary Major UDR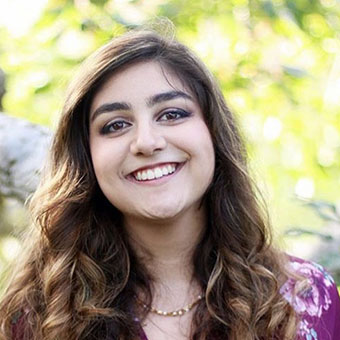 Elizabeth Fricker
Class of 2022
I am a senior at Brandeis with an IIM in History of Science and a double major in Mathematics. My IIM focuses on developments in mathematics, physics, and philosophy in the Early Modern and Modern periods. To me, the IIM program was an opportunity to delve into my particular area of interest and prepare for my goals post-Brandeis. Outside of academics, I can usually be found going for walks, painting, working at the Center for Spiritual Life, or reading.
Wherever you are in your IIM journey (or even if you just want to chat), please reach out! I'm excited to help you with one of the most unique and rewarding programs that Brandeis has to offer.
IIM Academic Adviser
Katy Colahan
IIM Coordinator, Assistant Director, Academic Advising
Katy works on the advising team and coordinates the Independent Interdisciplinary Major (IIM), which allows students the opportunity to develop a unique course of study. She joined the Academic Services team in 2010 as the SSSP Department Coordinator, and after a brief time away to pursue a master's degree, she returned in 2014 as an Academic Advisor. Katy holds a B.A. in Philosophy from Tufts University and an Ed.M. in Higher Education from the Harvard Graduate School of Education. Katy is particularly interested in issues related to college access and persistence, the first-year student experience, and helping students navigate the search for purpose and meaning.
In her free time, Katy enjoys playing with her dogs Riley and Milo, strategy board games, knitting, reading both fiction and non-fiction, and exploring new places.