Dr. John R. Hose P'97, P'00 Research Fellowship
This fellowship was created in 2023 by Jessica S. A. Hose '00 and husband Thomas H. Witt, along with her brother, John D. H. Hose '97 and husband Maxfield Fulton, in memory of their father, Dr. John R. Hose P'97, P'00, a cherished member of the Brandeis community who served in the administration as a close advisor to four university presidents over a 30-year career on campus.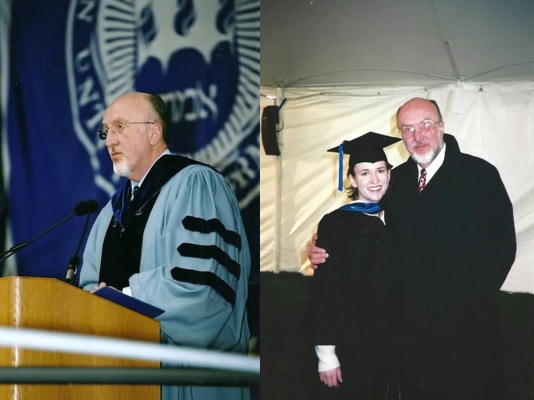 Among his many roles, Dr. Hose was known as "the voice of Brandeis" for serving as master of ceremonies at the university's commencement exercises. Over his career, Dr. Hose played a significant role guiding the operations of the Office of the President and providing administrative support to the board of trustees, serving as both the executive assistant to the president and associate vice president for university affairs.
Dr. Hose was beloved for his kindness and respected for his intellect and impartiality. For these reasons, students, faculty, and staff sought his counsel on a diverse array of matters over the course of his career. Dr. Hose was thoroughly committed to education and the academic experience for all Brandeis students, often providing advice to students seeking to conduct academic research with faculty, identifying collaborations and partnerships to further students' careers and life interests. Former Brandeis colleague Rick Sawyer summed up Dr. Hose's sense of service and collaboration best when he wrote, "When there was a chance to create opportunity for students, he was an essential partner."
In this spirit, Dr. Hose's daughter Jessica '00 and her husband Thomas created the Dr. John R. Hose P'97, P'00 Research Fellowship to provide need-based stipends to undergraduate students pursuing research or creative collaborations alongside members of the faculty. The fellowship supports student-driven research across any and all disciplines, and seeks to further Dr. Hose's legacy of enabling students to access opportunities that further their careers and intellectual journeys.
Brandeis University is grateful to Dr. Hose for his many years of service and to the Hose family for establishing this meaningful Fellowship.
A stipend of $5,000 will be awarded for intensive summer research projects. The fund especially seeks to support the students who receive need-based financial aid.
Eligibility
Brandeis undergraduates in good academic standing at the time of application.
To be eligible for academic year funding, students must be full-time, on campus Brandeis students during the academic year of the award.
To be eligible for summer funding, students must be continuing Brandeis students. (Graduating seniors are not eligible.)
Students who receive need-based financial aid are especially encouraged to apply.
How to Apply
The 2023 application cycle has closed. The next application cycle will be for Summer 2024 funding.

Your completed application should contain the following:
Student Applicant Information
Transcript (unofficial is acceptable)
One-page resume that highlights your qualifications to conduct this research
Research proposal (2,500 words or fewer, excluding reference list)


Organize your proposal as follows:

Project Summary (a 250-word overview of your proposed project)
Background and Introduction to the research or creative topic and project, 
Project aims and goals (specify exactly what you plan to do), 
Methods or approach (how you plan to do it), 
Project output, outcomes, and deliverables
Project timeline (outline what you will work on and when)
Project significance and impact

References cited 

(recommended if standard in the research area)

Contingency plan

If your project involves travel, field- or laboratory-based research, in-person human or animal research, or in-person group studio-based projects or performances, please submit a brief contingency research plan in the event that travel and research restrictions are in effect for the location of your project.

Mentoring Plan

How often will you meet with your faculty mentor over the summer? 
Will you be able to attend group research meetings or communicate with other researchers or creative professionals in your field of interest? 
What type of training will your mentor provide (either directly or by referral to other people or resources)?

Students should direct their faculty mentors to submit their letter of recommendation via the Faculty Letter of Recommendation Form (Brandeis email required to access).
Fellowship awardees will be required to submit a project summary at the end of the summer and present their research to the Brandeis community at the URCC Symposium.
If you have general questions or want to discuss your application, contact
Margaret Lynch,
director of Undergraduate-Faculty Research Partnerships.