Faculty-Undergraduate Research Partnership Spotlight
Diving into Maritime Archaeology: Working in the Field by Playing in the Lab
Faculty mentor: Charlotte Goudge, assistant professor of anthropology

In fall 2021, Brandeis anthropology undergraduates were given new lab-based opportunities to develop hands-on skills in maritime archaeology by working on mini-sites.
During the pandemic, field opportunities for students have become scarce. The epidemic has made it impossible to take students into the field or underwater, so students have had no opportunities to learn the vital technological and research skills required in archaeology. Therefore, developing new strategies to provide practical, applied experience in archaeological methods and maritime archaeology became imperative. In response to this skills crisis, the Brandeis anthropology department has been working on developing new and innovative ways to teach practical archaeological methods on campus, introducing students to hands-on, functional techniques.

ANTH 124 Maritime Archaeology: The Salty Relationship Between Society and The Sea was developed with this in mind. Supported by funding from the Center for Teaching and Learning, over the summer Dr. Charlie Goudge (Anthropology) built three confined, scale models of shipwreck sites to create a mini-research project for students to investigate. The sites, each consisting of a historically accurate shipwreck, local landscapes, and artifacts sunk in a transparent acrylic tank, were then sent to the Brandeis lab. Unfortunately, Dr. Goudge was, at the last moment, unable to teach this class in person due to COVID-19 related issues. However, with the help of PhD student and teaching assistant Van Kollias and wonderful Brandeis colleagues, the in-person lab classes continued.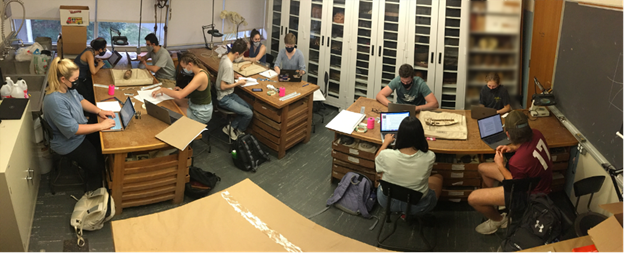 Twelve undergraduate students from various programs enrolled in ANTH 124. Throughout the semester, they worked on multiple aspects of project management, developing skills in survey and mapping, GIS, pPhotogrammetry and 3D reconstruction.
Survey and Mapping
Students designed their own survey plan, working out how best to map and draw their sites. Most ultimately designed a grid system to triangulate location using the embedded nails as datum points, and tapes alongside their tanks to take measurements using offsets.

Excavation
Once the site surveys were complete, students went on to excavate their site by quadrants utilizing tools employed during actual excavations (such as tapes, leaf trowels and brushes), and some smaller items used to simulate full-sized kit (e.g., mini sieves and teaspoons). Students came upon several artifacts during their excavations, which they then recovered and analyzed to gain information on use and dating.
The excavation aspect of the class was extremely popular with the students: "I learned a lot about how fieldwork works! The fact that we went through the entire excavation process? Really cool! I learned how to use new technologies (including the plum bob) that I wouldn't have another chance to learn unless I actually end up going to field school [...] I learned that I really like sticking my hands in dirt and researching artifacts, so maybe that'll help me figure out what I want to do when I graduate."

GIS and Illustrator
After a few false starts with software issues in various computer labs, Alex Willett, the GIS and Social Sciences librarian at the Brandeis Library, taught sessions on GIS, and Van Kollias (an anthropology PhD student) instructed on Illustrator. The students were then able to utilize both platforms to create their own -site maps using coordinates they were given at the beginning of the semester. In addition, students were encouraged to research their sites' wider environment and historic environment, mapping in other areas of interest.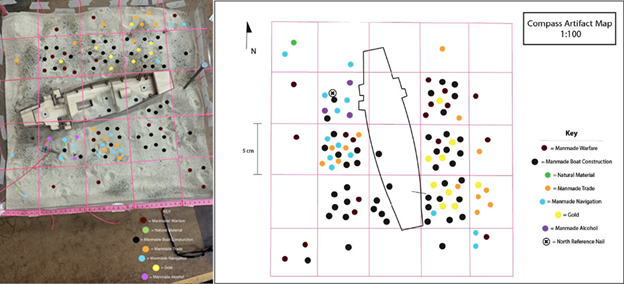 Site Photography and Photogrammetry
Ian Roy from the Brandeis MakerLab spent time instructing the students on 3D photogrammetry, aiding them in building reconstructions of their sites using Reality Capture and Metashape models. This approach, allowing students to develop their own outputs while under supervision, worked very well: "I really enjoyed the actual excavation work with the model and the photogrammetry sessions."

For their final projects, students were given a choice to complete a written report or an online museum website focused on information dissemination and designed to showcase their research project and wreck site. Esther Brandon, digital literacy specialist in Brandeis Library, also kindly taught an introduction session to Google sites, allowing students to integrate the outputs they had developed throughout the semester effectively. Two of the three groups elected to build their own engagement website demonstrating the skills they learned in class (Brandeis Archaeology Virtual Underwater Museum website).
As this was the first time running the class, it is still being adjusted to fit students' needs, but many who took the class found it extremely useful and exciting. Many observed that they most enjoyed learning about the archaeological fieldwork: "The lab sessions were great. I had a great time learning about our ship through the excavation and research of artifacts." Others found the combination of archaeological excavation and use of technological platforms most stimulating: "I've learned more about archaeological methods in this class and feel like I have a better understanding of archaeology as a science. Generating 3D models was a new experience and something I genuinely enjoyed making them. The excavation work in the archaeology lab was also really fun and helpful."
ANTH: 124 will be running again in Spring 2023 with new sites, new ship and new artifacts!