Faculty-Undergraduate Research Partnership Spotlight
Brandeis Educational Justice Initiative
The Brandeis Educational Justice Initiative (BEJI), founded in January 2020, is an emerging program that enables Brandeis students to provide educational opportunities for individuals impacted by the carceral system. BEJI was founded by three full-time faculty members: Rosalind Kabrhel Associate Professor of the Practice in Legal Studies, John Plotz, Professor of English and Barbara Mandel Professor of the Humanities, and David Sherman, Associate Professor of English, to further the University's core values both within the curriculum and through co-curricular opportunities for students through partnerships with external organizations.
BEJI nurtures the growth of undergraduate and graduate students from their early curiosity about the criminal justice system through participation in hands-on carceral education programs and by supporting their pursuit of innovative research. Some students initially choose to become involved with BEJI through course offerings, among which is the Legal Studies Practicum LGS145a Experiences with Justice, offered every semester. The practicum is a place where students can develop critical understanding about the foundations of the criminal justice system and mass incarceration.  Students are provided opportunities to assist in the delivery of BEJI's educational programs and reflect upon their experience as well as explore their own research areas of interest in a supportive classroom environment. The practicum can also serve as a springboard that encourages further investigation after its completion, fostering a sustained intellectual community. By working directly with individuals within and impacted by the carceral system, students are afforded a unique and valuable perspective in their understanding of mass incarceration, an important social justice issue. 
Whether or not they choose to pursue coursework, as students become more involved in and experienced with BEJI programing they have the flexibility to work with more than one program and pursue multiple areas of interest. For example, students can tutor incarcerated students one-on-one through BEJI's partnership with the Petey Greene Program, assist with a semester long skill development workshop series for recently released individuals through our Partakers Empowerment Program, or assist a graduate student or professor teaching a credit-bearing course to incarcerated individuals.  BEJI also hosts a reading group that explores carceral themes. This diverse experience gives students more than one perspective and enables them to explore multiple avenues of research investigating the carceral system. Students who work with BEJI also have the opportunity to pursue leadership roles in BEJI itself. BEJI presents an opportunity for students to be as involved as they like, with participation stretching from one to multiple semesters, including over the summer and winter recesses.  The chart below illustrates a student's possible path through BEJI.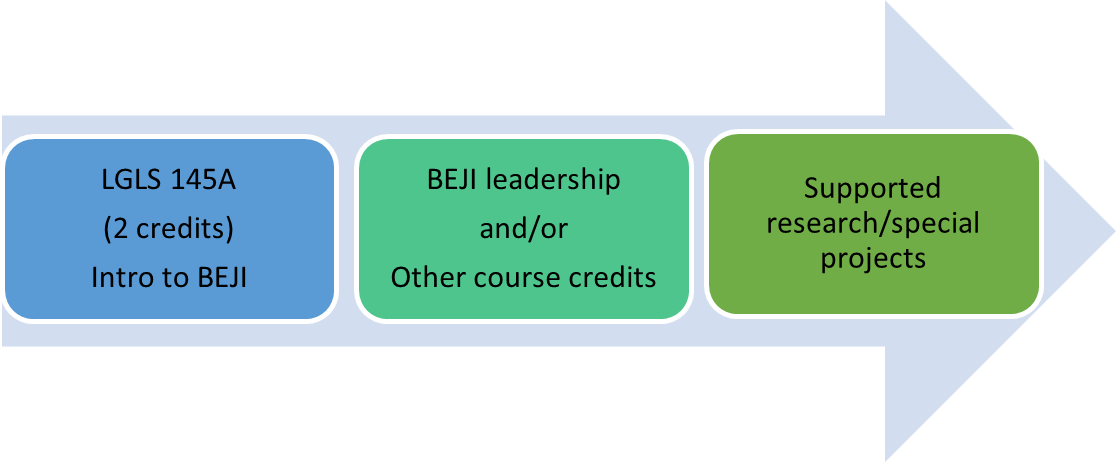 Brandeis senior Caroline O. is an exemplary case of a student whose research interests are supported by BEJI and the Undergraduate Research and Creative Collaborations Office (URCC).  Caroline was initially inspired to work with BEJI after taking Professor Rosalind Kabrhel's course, LGLS 141b Juvenile Justice: from Cradle to Custody as a sophomore. She worked with BEJI as a junior, serving as a teaching assistant to Professor David Sherman when he taught a poetry class to students in custody at the Department of Youth Services. As an English major, this experience offered a unique opportunity to bridge her academic interests. Caroline then decided to examine this experience further by developing her own research project; she was an inaugural recipient of the Jane Kahn '77 Undergraduate Research Fellowship, which funds student research focused on emerging issues in criminal justice reform. Caroline reflected on these experiences:
I was fortunate enough to be a recipient of the Kahn Fellowship, in which I had the opportunity to delve deeper into the world of juvenile justice, and how creative arts might help those who are involved in the system. While doing this research, I was also teaching poetry with Professor Sherman to those in the juvenile facilities. These incredible experiences helped shed light on how different fields of interest--for me, being English and juvenile justice--can interact with one another to hopefully create change.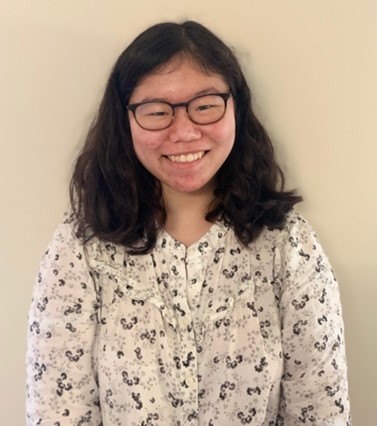 Caroline O, '22