Graduate Researcher and Mentor Spotlight
A Conversation with Graduate Student, Mentor, and Research Associate Zora Haque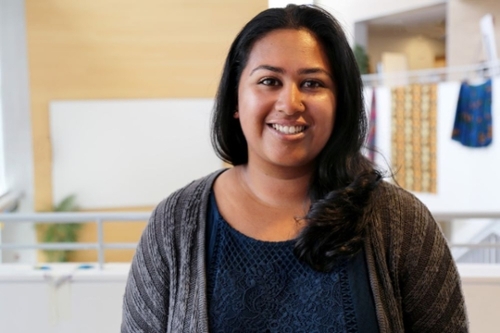 Zora Haque, pronounced ZO-ruh HAWK, she/her/hers
In this edition of the URCC Graduate Spotlight, we highlight the research and mentoring contributions of Zora Haque, a Research Associate at the Heller School for Social Policy and Management who is also a graduate student in the Master of Public Policy Program.
Zora was an integral team member and undergraduate mentor for a project led by Derron Wallace, Assistant Professor of Education and Sociology. This project involved an analysis of survey responses from over 17,000 Boston Public Schools families, as the district sought to understand their experiences with remote learning [during the Spring of 2020] and opinions on school reopening options [for the Fall]. Examination of the data uncovered racial inequalities in access to remote learning. The research team presented their results to the Boston Public Schools in Fall 2020.
Zora shared her experiences in a Zoom conversation with Margaret Lynch, Director of Undergraduate-Faculty Research Partnerships in the Undergraduate Research and Creative Collaborations Office. This interview has been condensed, reordered, and edited for length and clarity. Thanks to Natasha Chairyarat '22, the URCC Undergraduate Assistant, for her help with the interview transcription process.
URCC: Did you participate in research as an undergraduate?

Zora: Getting to have that experience was a [major factor in my college search]… so [I chose] to go to Clark [University, in Worcester, Massachusetts], for its reputation as a strong research-based college with a [robust] Psychology program, which I majored in. I got there and spent the first two years taking research methods classes and really getting to learn how the process works, what tools you need, the skills that help you conduct ethical and efficient research and how to problem-solve…For the second half of my degree…I was able to conduct my own independent research. I spent two years completing a thesis on academic achievement motivation, [examining]how public-school students formulate this on their own terms over time… But I think more importantly, [during] my junior and senior years…[I took] classes where I assisted grad students and professors in their own research. And I would say that those were probably my more critical experiences … in college because if I didn't learn the skills that these [experienced] people taught me, I don't think that I would have been able to complete my own research as successfully as I did….Their style of mentoring me…catered …to my own personal learning style while still encouraging my growth, so I could really retain the information and know how to actually apply that knowledge to my own [work].

URCC: What sparked your interest in what you're working on now?

Zora: I've been really engaged in researching the American public school system for quite some time now…which [I get to do in various ways in my] current research role at the Heller School…[and other related positions at Brandeis]. My own upbringing, hometown culture, and other parts of my identity made the system really intriguing to me, and made me question a lot about its structure. . There were definite and clear differences in school culture [considering my high school and those that my friends and family attended], which for myself absolutely impacted my ways of navigating my own education and defining what success meant to me. It made me consider how strongly [all of this intersected and] influenced me, and wonder if and how similarities and differences may have materialized among and between my classmates. [I wanted to know] what the root cause[s] of that might be.

I knew early on that I wanted to teach in my future career, and I wanted to …represent what I really wish I had in my high school experience [as an] educator of color, [especially] as a woman…Now in my Master's program, I concentrate in child youth and family policy to dig more deeply into my interest in education. And because of that, I ended up taking a class with Professor Wallace [in the Spring of 2020]. The professional relationship that we've continued to foster has led to my continued involvement in both these types of evaluations, [as well as serving in] mentorship roles to undergraduates.

URCC: What part of the [Boston Public Schools] project did you work on? What questions were you asking and what were approaches to answer those questions?

Zora: We specifically chose to focus on family data. [BPS] was looking to receive some policy and programmatic recommendations for how to move forward with school reopening plans…so through our work [in assessing parent surveys specifically], we were able to determine feasible and evidence-based solutions to the district, focusing specifically on approaches that may assist in mitigating inequalities in current and future student's learning and their family's engagement…We needed such a large team to make sure we [met] the district demands for the evaluation to be delivered in time for the new academic year…Because the nature of the data was from open ended questions, it was all qualitative information. We had a lot of…data cleaning and coding [to do]…to …[identify parent]…concerns and needs for both themselves and their children [that they stated would]…best help them in an either fully remote or hybrid learning model.

URCC: Tell me a little bit more about the data cleaning and coding. What kind of skills did you need to accomplish that in terms of software?
Zora: [The] Atlas Ti [program was used for our research].

URCC: How did you learn to use Atlas Ti?
Zora: I learned it at a previous job… [where] a former boss of mine taught me how to navigate the system and how to apply codes, [and] how to…[troubleshoot].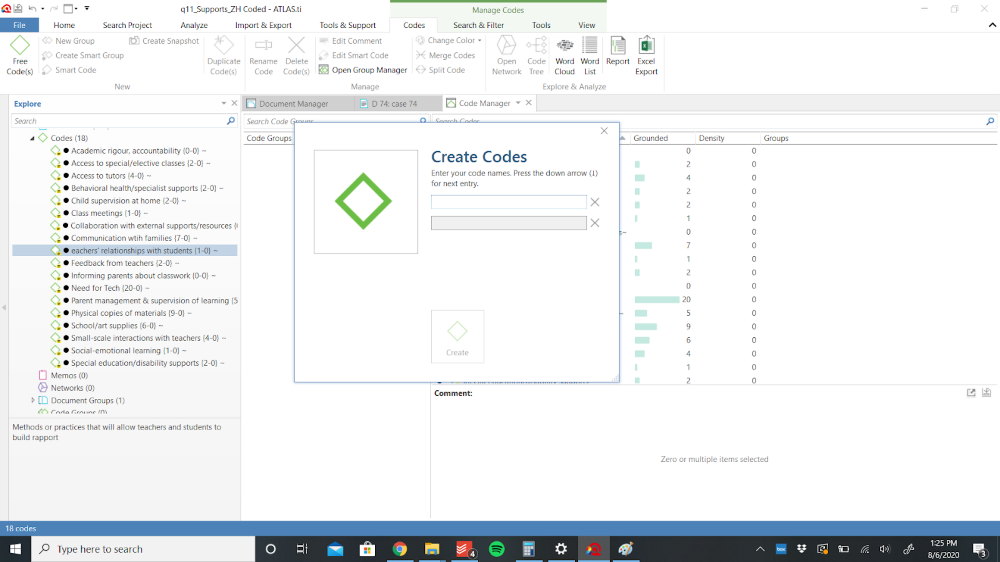 Dashboard in Atlas Ti, a program used to code and analyze qualitative interviews
URCC: How did the undergraduates learn Atlas Ti?
Zora: [Myself and my coworkers within the senior team]…[including] a current doctoral student at Brandeis and a recent graduate from the Heller School Social Policy [PhD] Program…oversaw and[taught the undergraduate team how] to use Atlas Ti…[This included]going through individual examples [as a group], and then having people go off on their own and code [their own portion of the dataset, before we reconvened] as a team to review things together…There was a lot of teamwork needed for this project in [general, but particularly in] mentoring [the] undergrad [team]…so that we were as efficient and accurate as possible when it came to this important analysis.
URCC: Given your positive experiences as an undergraduate researcher, how did you draw on those experiences in your relationships with undergrads this past summer in terms of your mentoring style and approach?

Zora: The mentors that I had as an undergrad…both taught me new skills and also helped me refine them more within very targeted research contexts. Having very personal connections and relationships [with them too] helped me see myself as someone who really belonged in this space, whether that meant as a researcher or as a leader. As I grew more confident while improving my skills, I increasingly gained confidence in my own abilities to pass that knowledge on. [My experiences as an undergrad] involving working in small research teams alongside my classmates also showed me… [that] every single individual matter[s],and [this] absolutely translates into how I operate as a mentor now. No team can succeed without equitable opportunity and attention, and I've carried that with me since my research experiences in college.

I think that if I didn't have the mentors I had throughout college…, [I would have had a harder time believing] that I belonged in this space or that I would have been able to succeed in [my pursuit of] the career that I wanted. And I think particularly as a young person of color, that was even more important… [Since]…our team for the [BPS] project [was] primarily [comprised of] students and academics of color… it was very rewarding to see the undergrads emerging from this [experience] as even more skilled researchers, by the end of it. I think that [this] was one of the best parts of this experience for me because …I saw [their growth mirroring my own]…when I was in [their position].

URCC: Do you have any actionable advice you can give for aspiring early career mentors, for example, people in the post back or grad student stage?

Zora: In terms of yourself, if you want to be a good mentor, you have to know the material and skills required for a job inside out. So as you're progressing in your own academic and early stages of your career, really take everything in and perfect your expertise to your best ability. You of course can't learn everything, but want to be as confident as possible before sharing knowledge with others, who have yet to get more, if any, exposure to this field. [Also]… remembering that the relationship between you and your mentees goes both ways and… that mutual respect is an absolute necessity…Remembering that you were once in their place too…reminds [us] of what it felt like …[to be] overwhelmed, confused and unaware of everything that's needed …in order to complete the task at hand and continue to move forward…[So,] I would say, putting yourself in your mentee's shoes is … often the best way to ensure that you're giving them the advice and help that they really need.