Provost's Undergraduate Research Fund
The Provost's Undergraduate Research Fund supports a Brandeis student's research or creative scholarship during the summer or academic semester.
To apply for a Provost's Research Fellowship or grant, applicants must be current a Brandeis undergraduate who will be an enrolled undergraduate during the award period. Each student must have a Brandeis faculty mentor who will oversee their research project.  The program supports projects in all disciplines, including all areas of the creative arts, humanities, social sciences, natural sciences, and interdisciplinary projects. Please note that you first must login to your Brandeis Gmail to gain access to the application forms below. Previous recipients are listed on our Recent Awards page.
Students who have questions about these awards can contact Margaret Lynch, Director of Undergraduate-Faculty Research Partnerships.
Digging Up History: Alex Bazarsky '23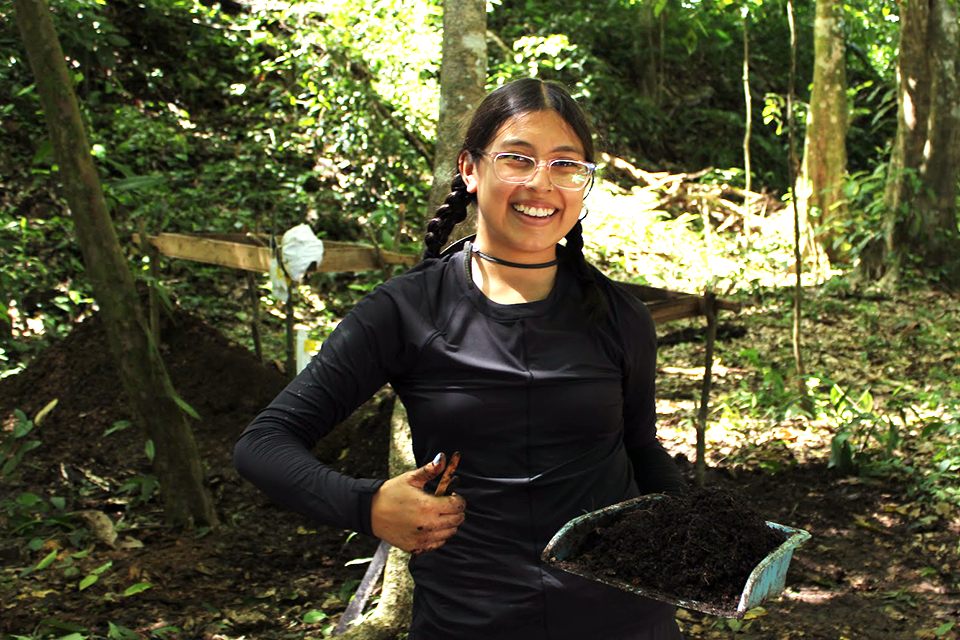 For many college students, an ideal trip to Mexico means kicking back on a beach, digging their toes in the sand. For Alex Bazarsky '23, a double major in anthropology and Latin American studies with a minor in art history, it meant digging up history deep in a remote forest.
In the summer of 2020, Bazarsky participated in a virtual archeology internship under the mentorship of professor Charles Golden, developing skills in lidar, a remote sensor technology that can create a nearly complete picture of ruins otherwise hidden to the naked eye.
After two years of research, Golden asked Bazarsky to join his team in Chiapas, Mexico, excavating in-person. Her two summers of research were funded through the Provost's Summer Undergraduate Research Fellowship. Read more in BrandeisNow!
Types of Awards
Congratulations to the Summer 2022 Provost Undergraduate Research Fellows!
Alex Bazarsky '23
Majors: Anthropology; Latin American, Caribbean, and Latinx Studies
Title: Excavation and Ground Verification of Lacanjá Tzeltal Post-LiDAR Analysis
Faculty Mentor: Charles Golden
Jillian Brosofsky '23
Major: Psychology
Title: A Holocaust Survivor's Surprise Family, and What It Tells Us About the Future of Kin
Faculty Mentor: Neil Swidey
Sungwon Cho '23
Majors: Biology; Chemical Biology
Title: Applications of azobenzene: Visible light-activated self-assembly of DNA duplexes and nanoporous solid-solid phase change materials for thermal energy storage
Faculty Mentor: Grace Han
Elinor Eggers '23
Majors: Education Studies; African and African American Studies
Title: Justice or Just Us: What Racial Justice Means to Brandeisians
Faculty Mentor: Derron Wallace
Kyla-Yen Giffin '23
Major: Anthropology
Title: Lucid: A Vietnamese-American Family Dreaming in the Diaspora
Faculty Mentor: Howie Tam
Claire Hou '23
Majors: English; Sociology
Title: Asian- American Visual Media History and Chinese- American Female Creators on TikTok
Faculty Mentor: Dorothy Kim
MJ Ibrahim '23
Major: Health: Science, Society, and Policy
Title: How Does Being Undocumented Affect One's Experience in Higher Education
Faculty Mentor: Kristen Lucken
Zoe Lacroix '23
Majors: Health: Science, Society, and Policy; Sociocultural Anthropology
Title: Perspectives on Discrimination through Art
Faculty Mentor: Patricia Alvarez Astacio
Christopher Li '23
Majors: East Asian Studies; History; International and Global Studies
Title: Slurp! From Working Meal to National Symbol – An Analysis of Post WWII Ramen Through Japanese Literature and Movie
Faculty Mentor: Amy Singer
Eric Liu '24
Major: International and Global Studies
Title: The Return of Ideology: Wang Huning and China's New "Cultural Confidence"
Faculty Mentor: Professor Chandler Rosenberger
Frank Liu '23
Majors: Computer Science; Applied Mathematics
Title: Curriculum and Causal GCL Brings More Robustness to Out-of-Distribution Graphs
Faculty Mentor: Chuxu Zhang
Julia Plaisted '23
Major: Anthropology; Environmental Studies
Title: Analysis of Pipe Artifacts from Croatoan Archeological Site
Faculty Mentor: Charlotte Goudge
Sasha Soboleva '23
Major: Linguistics
Title: Language Ideology and Identity of Teenagers In Cusco: How Quechua and Spanish Languages Coexist In The Classroom Environment
Faculty Mentor: Patricia Alvarez Astacio
Grace Wang '23
Majors: Psychology; Neuroscience
Title: The Effect of TikTok on College Students' Mental Health During the COVID-19 Pandemic
Faculty Mentor: Ellen Wright