Undergraduate Research Spotlights
The Undergraduate Research and Creative Collaborations Office highlights students who have engaged in research and creative projects. We share their experiences through our website, newsletter, and other Brandeis channels.
The lastest undergraduate spotlight is provided below, or you can read about other research experiences on our Past Spotlights page.
URCC Undergraduate Spotlights: Annabelle Fitch, '23 and Jason Walter, '23
Annabelle Fitch, '23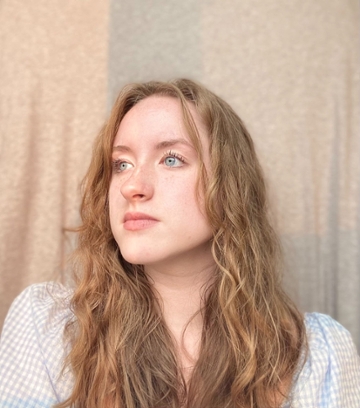 URCC: Can you tell us a little about your research project?
Annabelle: I am a psychology and neuroscience major, and so a lot of my research and my research interests really center on the brain. One of my primary research interests is looking into different trauma and anxiety disorders. When I entered the Howard lab [James Howard, Assistant Professor of Psychology], I saw that there was a lot of equipment that would enable us to do behavioral studies with physiology measurements, and it also is a really unique lab in that they have a lot of breathing measuring equipment […] Seeing all this equipment [and] knowing my own interests, I looked into the research, and found that there were certain breathing patterns that were associated with more anxiety and panic and that other nasal breathing patterns, conversely, were associated with slowing these hippocampal and amygdala responses. I'm looking not at fear or trauma acquisition, but at the extinction  of the behavioral and emotional responses to trauma in relation to these breathing patterns.
URCC: What sparked your interest in this field, and did you have any projects prior to this one?
Annabelle: I don't really think I had a ton of background coming into this […] I was a mid-year student [when] the pandemic started, so I was never able to do any research until I entered the Howard lab in late spring of my sophomore year. But my dad is a school counseling psychologist, and my mother works in a psychiatric hospital as a psych nurse, so I'd always had all these materials around different books regarding psychology and neuroscience that I would just read and be so fascinated [...] in this sort of anxiety and trauma realm of psychology and neuroscience.
URCC: From whom did you receive mentoring and guidance?
Annabelle: My psychology advisor is Dr. Margie Lachman and my research advisor is  Dr. James Howard.
URCC: So, you mentioned that you didn't have much prior experience with research. How did you get skills or training?
Annabelle: A lot of my research hinges on programming through MATLAB to set up the experiment and have all of the physiological variables be recorded so they can be analyzed. Coming into it, I really had no experience, but I developed some proficiency in MATLAB through two things. One, I did a workshop with the library, actually, which was really helpful. Two, Dr. Howard pretty much just walked me through all the basics [and] let me try out experiments with little sections of code […] We had to write an IRB application, but that was mostly writing and defending that this was an ethical experiment. I feel like I really developed those skills through Brandeis's own psychology and neuroscience classes, so that's what I had going into it.
URCC: What type of funding did you have for the project?
Annabelle: I did get two fellowships which I'm incredibly grateful for. I had the Provost's Summer Undergraduate Research Fellowship last summer from sophomore to junior year and currently my work is funded by the Schiff fellowship.
URCC: Were there any obstacles or challenges you faced while starting your  project and how did you overcome them?
Annabelle: I would say my main challenge or obstacle was my lack of proficiency in MATLAB because so much of psychology experiments happen on the computer now, and rely on coding. I got help through the Library, and I got help through lab members and Dr. Howard, so it's been alright since then.
URCC: Did you experience any unexpected benefit from engaging in this project, or the research you're doing?
Annabelle: Having a lot of support from my PI or other members of the lab. If I'm struggling with literally anything, I know that I can go to them and they're just absolutely wonderful. I would say that doing my study has made me into a more analytical and scientific-thinking person. I'm able to think more critically about information presented to me and both critique what prior authors have done in terms of other literature and see how I could build upon it in this new way that I learned during my literature review.
URCC: Do you have any advice for other students who want to participate in similar research?
Annabelle: Mostly just keep reaching out to people […] communicate with professors, be persistent. I'd say definitely look into fellowships; this has been one of my most enriching student experiences and have fun with it.
---
Jason Walter, '23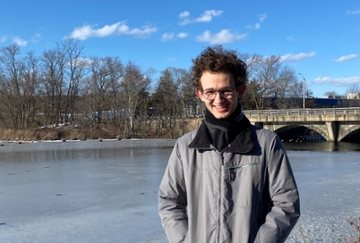 URCC: Can you tell me about the questions you're exploring for your research project?
Jason: My research for the summer was with Professor Kerry Chase in the Politics Department and mainly about the Kosovo war in 1999 where NATO launched an intervention to stop genocide outside of the UN […] and this is notable because […] NATO had previously acted within the UN. In this case, they chose to go outside [and] beyond. How did that happen? What diplomacy made it possible? And what was essentially the role of the UN in this? How did they view the UN? I always struggle to concisely summarize it. Essentially, how was the intervention successful without the UN and how do they reach a diplomatic solution that was really accepted while still remaining outside the UN?
URCC: What sparked your interest in this particular research area and did you have  any prior research projects?
Jason: This research project stemmed from a term paper that I wrote for Professor Chase's class on the same subject. In the Fall of 2020 I took the class called The United Nations and the United States with Professor Chase. The [assignment for the] term paper was to write about an instance of UN action that the US was involved in or something close to that; but the point is to design your own research question about this case and do your own research to support that, and so I wrote mine about the Kosovo war […] I wrote a paper arguing that NATO had sort of legitimated directions in the eyes of the world without use of the UN. Then Professor Chase later came back to me after I wrote that paper and said this connects to a lot of current publications in political science, so we can do some research on this, if you like. So that's what sparked my interest in this, it stemmed from a paper I wrote in his class.
And then did I engage in any research projects before this? Yes, in the summer of 2020 actually through fall of 2020 and the spring of 2021 I was working on a project with Professor Kogan who used to be a professor at the Heller school about the Cuban missile crisis. I had been funded last summer with the Louis Brandeis Legacy Fund for Social Justice to work on this, and was a research assistant. The project was about JFK and his negotiating style during the Cuban missile crisis.
My current project [is] about Kosovo; I'm a co-author with Professor Chase on a paper that we're doing research on together. With this first project on the Cuban missile crisis with Dr. Kogan, I was a research assistant, and it was an entry experience into the world of academic research.
URCC: How did you find out about these opportunities? Was it mainly through your professors?
Jason: I think about this all the time; that I'm really, really lucky that both times it was the Professor who came to me and said either, would you like to work for me on this, or would you like to work with me on this? The second time, it was because I had enrolled in Professor Chase's class. The first time, it was a little bit more complicated. I'd seen a flyer for a lecture given by Dr. Kogan at the Heller school; I went to the lecture and I really liked it. I asked him if he was teaching classes, and the next semester I enrolled in a proseminar that he was teaching […] After that class, he asked me to work for him.
URCC: What research skills did you need to get started, and did you need training?
Jason: I honestly don't think it was anything that training relevant. For my first project […] it was very much learning on the job - working with primary source documents and finding primary source documents - and I was able to develop those skills slowly through working on the Cuban missile crisis project. When I was in Professor Chase's class I knew sort of how to work with primary source documents […] So it turned from learning on the job on the first one to: "I have that skill I'm going to apply to something else for my second user experience."
URCC: Is there anyone who gave you mentoring, guidance or inspiration?
Jason: Yeah definitely Professor Chase […] He was really helpful to explain the new concepts and figure out how we can apply them to the case and really widen the possibilities. In addition to him, Dr. Kogan from my Cuban missile crisis project. His guidance - when I was working for him, and showing me where to look for certain things - he set a really high standard of how concise you want me to be, and so I really had to get myself together and make sure that I was producing quality work, and that has really benefited me and my work since then [...] A lot of times I think about how working for him on that project really prepared me for my project on Kosovo. Finally, I'd say Meredith Monaghan [in Academic Services]; she gave me a ton of help and advice.
URCC: What type of funding did you receive for your project?
Jason: This past summer [2021] I was funded by the Provost's Undergraduate Research Fund
URCC: What were some of the challenges or obstacles you faced during the research process and how did you overcome them?
Jason: I think the sort of biggest challenge getting into research for me was time management. This work was something that's very open-ended; like, I need to get through these many documents. In addition to that open-endedness, everything was online, so Professor Chase and I were both working at home. The nature of the work we're doing is unstructured. It's really like we weren't commuting anywhere to try to get these resources, so there wasn't anything to build a schedule around, initially. But you don't want to get burnt out during this, so for both my research experiences I really started off summer with setting limits like, "alright, I'm going to work from 10am to 5pm then once 5pm hits, I'm done, I don't think about it until tomorrow morning." And that worked really well with making sure that I avoided being burnt out and I had an opportunity to do research, and also that I had enough time to do other things and enjoy my summer.
URCC: Did you experience any unexpected benefit from engaging in your project, and are you doing research now?
Jason: Yes, and sort of. So, for the first part with unexpected benefits two main things: one relates to my senior thesis (I'm a junior right now). Next year I'm going to     be writing a thesis for the politics department. After doing all this research on Kosovo, I want to at least have my thesis relate to it.
And then it's also helped me figure out what I want to do after college. After my first research experience, I found that I want to focus on international relations instead of American politics. After the second one, I found out that within international relations, I want to focus on conflict resolution negotiation, specifically in situations related to political violence. This doesn't mean, "I go to this program for grad school and I go to this job". But I do sort of know, in a more focused way, what to look for when I'm looking at grad schools. I'm not currently working on the research with Professor Chase right now. I'm studying abroad in London for this year, but we are going to continue work this summer and work on writing up a draft paper.
URCC: What advice do you have for students who also want to participate in similar research?
Jason: A few things: If you have a topic you're interested in, find a professor you like and bring it up with them because, even if they can't supervisor research, they will be able to help you narrow down your research interests into a more defined ask, It's like the difference between saying, "I'm interested in international crisis negotiations" and then saying, "I'm interested in the negotiations surrounding micro civil war and how the UN was or was not involved in that". Once you've got that down it's then much easier to find a mentor and find funding, because you have a much more focused topic that will stand out a lot more. I'd like to emphasize how much all this is a bit specific to like politics and history students.
I am really, really lucky that both of my research opportunities came about without much searching on my part. But what I can say is that you should really look for and take every single opportunity that arises. So I mentioned that I only met Dr. Kogan because I saw a flyer on Facebook for a lecture he was giving and I went! That led to me taking his class, and that led to me working for him, and I often think about what would have happened if I never went to that lecture that day. So if you see something that interests you, go for it; talk to the Professor, see what else they offer and you never know what that might lead to.