Past Spotlights
CLARC – Ancient History and New Technologies Come Together in CLARC's New Research Agenda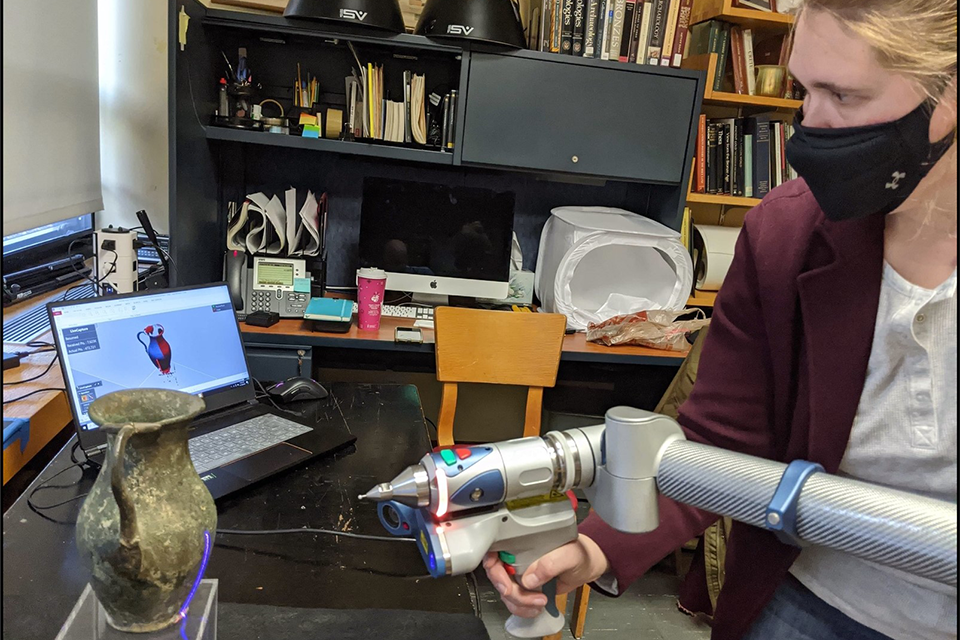 In the Classical Artifact Research Collection (CLARC), Brandeis undergraduates are given opportunities to work with both ancient artifacts and cutting-edge technologies.
Through an internship program within the CLARC, students are encouraged to create their own research projects, working hands-on with artifacts. The CLARC includes more than 800 artifacts: ceramics, glass, statuary, jewelry, and coins from the ancient Mediterranean. The artifacts date from the Bronze Age to the Byzantine period and provide the Brandeis community with a unique lens through which to study ancient history. Joshua Aldwinckle-Povey (CLARC intern '20-21) notes that, "Before becoming a CLARC intern, I had only ever studied history through texts and through others' interpretations. Working directly with material culture has given me a new way to tell the stories of human history and there are many to be found in CLARC's collection!"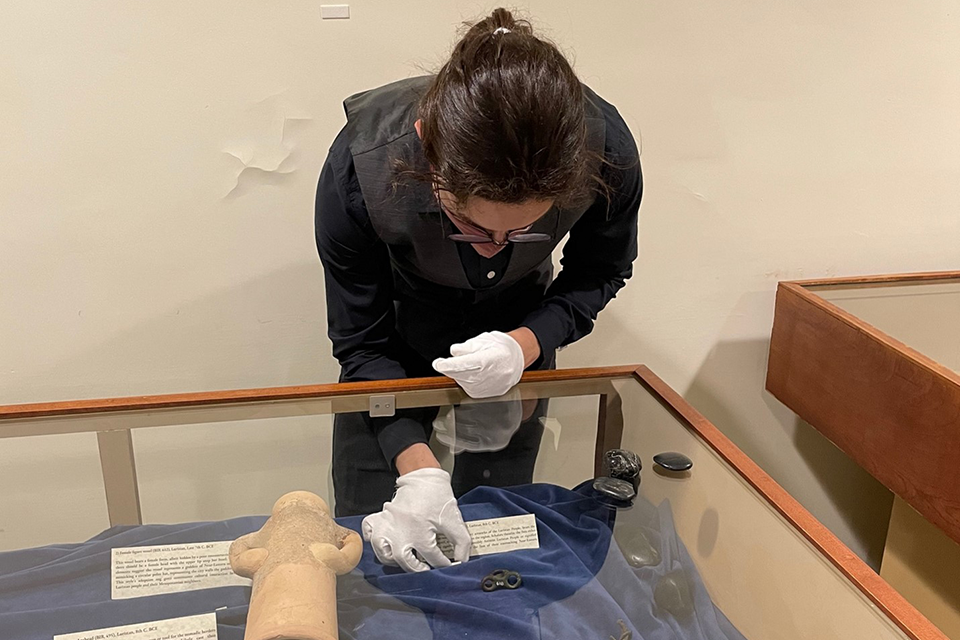 While CLARC boasts an impressive permanent collection, recent acquisitions provide interns with further opportunities to interact with material culture hands-on. This summer, Dr. Alexandra Ratzlaff (Classical Studies), the director of CLARC, established an agreement with the Joint Expedition to Caesarea Maritima Project and Drew University to bring an assemblage of Roman ceramics to Brandeis. This material, which consists of more than 5,000 ceramic fragments will allow Brandeis students to gain unique insight into the process of archaeological study as they work alongside Dr. Ratzlaff to document, interpret and eventually publish the ceramics. This new collection of pottery is the basis of a course being offered for the first time in Fall '21, "Pots, Processes and Meanings: A Practicum in Archaeological Ceramics." In this course, both graduate and undergraduate students work to analyze, document and curate the pottery.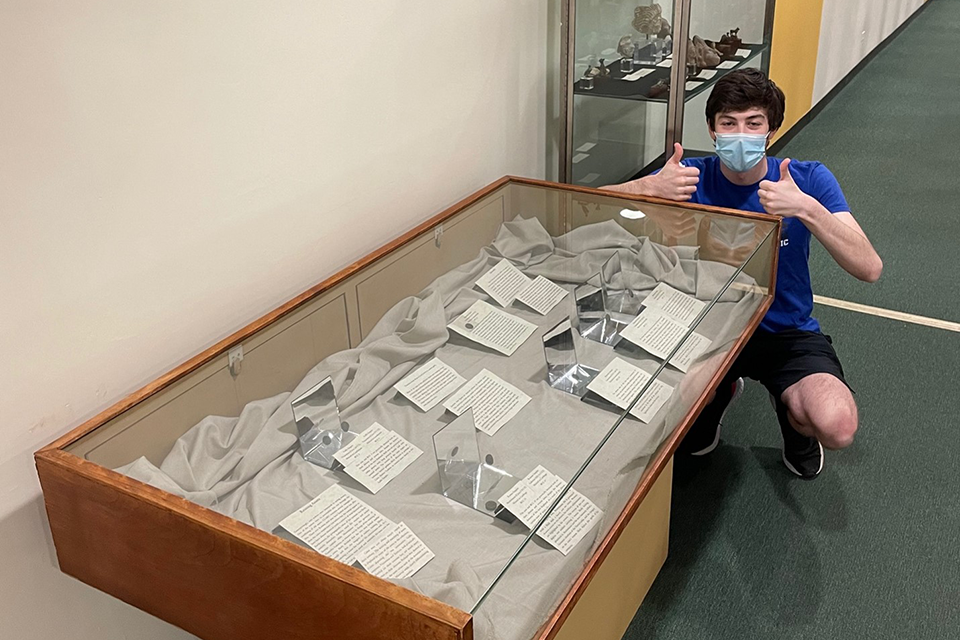 Each year, the CLARC undergraduate interns develop thematic projects on targeted groups of artifacts. The final product of their research and analysis is the curation of a museum exhibit displayed in the Brandeis library. In the Spring '20 semester, four new displays were installed in the library. The exhibitions are entitled "Roman Coins", "The Utility of Ancient Artifacts Represented Through the Physical Senses", "Linear A and Cyrus Gordon" (in cooperation with the Brandeis Archives), and "Artifacts of Luristan." Draken Garfinkel (CLARC Intern '20-22) conducted research on a group of metal and ceramic artifacts from the ancient region of Luristan (modern Iran). Of his experience working in CLARC, Draken says, "As researchers we combine data from disparate sectors and synthesize it into meaningful conclusions: One time to identify a certain axe-head I checked out books on ancient artifacts from Goldfarb, reviewed the collections of museums online, and read excavation reports from nearly 80 years ago...in one day. It amazes me how much of the data we seek is already out there, just waiting to be connected properly."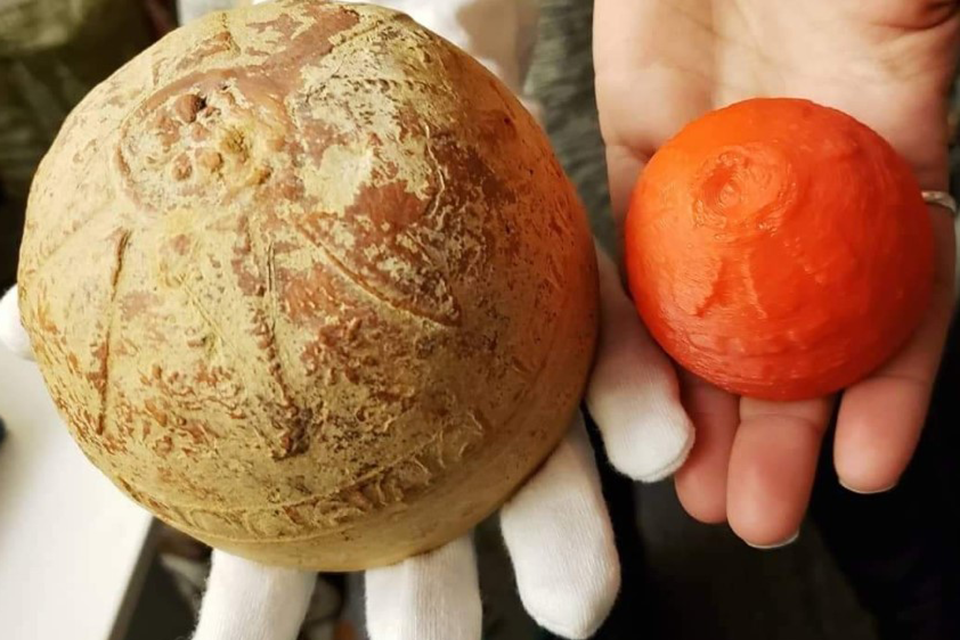 Graduate students are also encouraged to work in CLARC. Nicole Constantine (MA '22) is the Graduate Supervisor of the collections, and her role includes overseeing interns' research projects. "For graduate students," Nicole says, "CLARC provides a unique opportunity for pedagogical growth, as we learn how best to support students' interests and help them to create meaningful research projects within the collection. During weekly check-in meetings with the interns, we hear about the progress of everyone's research and share ideas for how to expand our research goals."
Along with more traditional methods for studying artifacts, students in CLARC are also trained to use a variety of technologies to photograph and 3D model the artifacts they study. According to Constantine, "In CLARC, we explore best practices for the 3D documentation of artifacts, including photogrammetry, structured light and laser scanning. We have the flexibility to design different methodologies and experiment with a wide variety of tools." The 3D artifact models created by students will be featured in a Virtual Reality CLARC Museum, which will launch this winter. The VR Museum will allow anyone to tour the collections and interact with the artifacts, creating a accessible, immersive experience. Jalon Kimes (CLARC Intern '20-22) is designing dynamic VR scenes in which the artifacts will be displayed, "I would describe my learning experience as a CLARC intern has been a very exploratory one. As the VR specialist, once we decided on a goal for each part of the project, I have the freedom to explore and learn about many different methods for achieving the final product. My 3D modeling and texturing skills have continually improved throughout this internship. I have also learned more about the architecture and materials used to create these environments."
Alongside her role as director of CLARC, Dr. Ratzlaff also serves as the Project Lead for the Brandeis Techne Group, an interdisciplinary team of scholars and researchers working to study the digital imaging and 3D modelling of archaeological materials.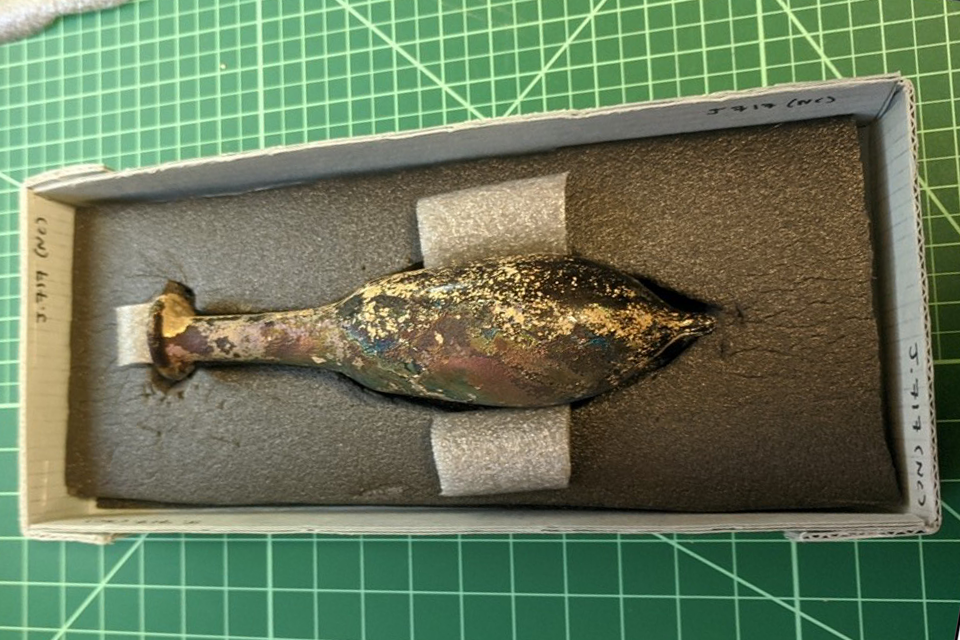 The Techne Group includes members of the Research Technology and Innovation Department - Ian Roy, Tim Hebert and Hazal Uzunkaya - as well as Brandeis graduate student Nicole Constantine and Jalon Kimes, an undergraduate student and CLARC intern. Since 2019, the Techne Group has held a residency at Boston Autodesk Technology Center. Since COVID-19 prevented the Techne Group from accessing the excellent resources available to them at Autodesk, Dr. Ratzlaff organized the loan of a Faro Laser Scanning Arm to CLARC in Fall '20. With this technology, the Techne team was able to 3D model a variety of CLARC artifacts that are difficult to model using other methods. The 3D models produced with the Scanning Arm will be displayed in the virtual reality museum, and the project allowed the Techne Group to further explore best practices for 3D modelling a variety of ancient materials.
CLARC is looking forward to a year of interesting and engaging projects with a new cohort of interns. Dimbiniaina Raveloson (CLARC Intern '21-22) shares his excitement about the upcoming year, "I thought working in CLARC would be the best of both worlds. The classics courses I have taken in the past year has encouraged me to put my learnings to practice and work hands-on with the information I learned. I am interested in learning about the technologies currently used to date and analyze artifacts. I am also interested in working hands-on with material culture to identify patterns and themes to understand these artifacts and the people who used them." Sasha Astrof (CLARC Intern '21-22) shares this excitement - "I think working with artifacts first-hand is amazing -- it feels like I'm going to touch history, and by working with the physical artifacts, I am also getting to leave my mark."
---
Erin Magill and Ruth Rosenblum
URCC Undergraduate Assistant Natasha Chaiyarat '22 interviewed two undergraduate students (Erin Magill and Ruth Rosenblum) on their research at Brandeis for the May 2021 issue of the URCC Newsletter. The interviews are provided below.
Erin Magill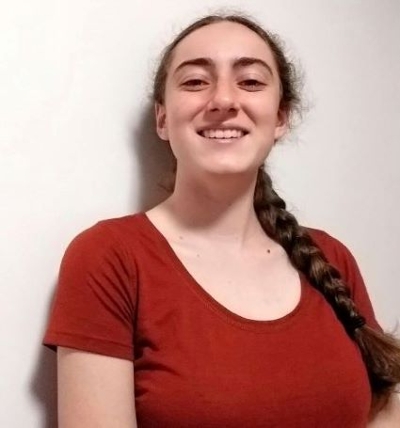 Chaiyarat: My name is Natasha and I'm a junior. I work with the Undergraduate Research and Creative Collaborations Office and this interview is to just get an understanding of your undergraduate research experience. What is your subject of research and what made you interested in research in the first place?

Magill: We [the research group] started with helping build a linguistic corpus, which is the DID recordings of children who speak Russian- growing up in Russian speaking households, but in the United States, Germany and in Russia- and then transcribing all of that speech, and then annotating it for linguistic information. So, anybody can then- once it's published- use this corpus to do research on Russian and language acquisition, bilingual language acquisition. The way I started with it was this summer by working as an annotator doing segmentation on the data where I was listening to the recordings and reading the transcripts and essentially breaking it up into sentences so that people can search the corpus when it's published and get the data in the right units. The segments that I was making are what you will end up searching for and getting a relevant amount of language.

Chaiyarat: How did you get interested in this topic?...Are you a major in Linguistics?

Magill: Yeah I love Linguistics and French and Francophone studies, but I've also taken Russian. I'm hoping to minor in that and so I ended up working for the project because I was asked by Professor Malamud, who's a Linguistics professor and Professor Dubinina, a Russian professor… I had both of them in class and they were looking for people who had a background in Linguistics and also spoke Russian.

The amount of Russian I spoke when I started working on the project was small. I had taken a year Russian classes, so I was quite a bit intimidated by the idea of working in a Russian-speaking environment, but I'm sure I was slower than other people doing segmentation; I was managing to at least understand.

Chaiyarat: That's awesome. If you could just talk a little bit more about your relationship with your mentors? You said that when you were dealing with the Russian it was kind of nerve wracking a little bit, so how did you maneuver your experience and how did your mentors help you?

Magill: First, I think they both were more confident about my ability to do the work in Russian then I was myself. So, I got the instructions about what I was supposed to do, and I was like, it was so far over my head in my opinion. I was overwhelmed and I was also thinking, if Professor Dubinina and Professor Malamud think I can do this, I must be able to.

Chaiyarat: I would like to talk more about- you mentioned that it's a group thing. Like you have two mentors, you have another person working, so how is that? What is the dynamic like working on a group research effort?
Magill: When we were building the corpus we're all doing the same annotation job. So, we would have a meeting once a week to meet and go through what questions we had, talked about it with Professor Malamud, and now we still have weekly meetings. But the three of us each have our own separate topic that we're learning about. I'm learning about the way that children make requests in different languages, and how requests are made in different languages, and then how children start learning to make requests- especially in Russian. I've been looking at the Russian equivalent of the word, "please". And then Ruth [Rosenblum] is looking at passes, which I'm sure she'll talk more about, and Keren is looking at gender and case acquisition. So, the three of us are all doing really different areas of linguistics that have to do with Russian language acquisition.

Then once a week we get together and take turns presenting what we've learned about and then discussing it. So, we're all involved in each other's research projects in the way that- we're seeing the presentations and are there for the discussions, so we have some idea of what everybody else is working on.

Chaiyarat: Could you reflect on the research, like the process so far, what would you say has been the greatest advantage and the biggest challenge that you've experienced while working on this?

Magill: The biggest challenge is definitely not being fluent in Russian. So, one of the big things I've learned is how to operate in our Russian-speaking environment. Also, I have learned from the research part of it how to critically read studies that other people have done and think about, not just what can this teach me but also what other questions it raises that haven't been answered: How can it be improved upon? How can we use the data we now have to get a better answer to a question?

Chaiyarat: You've definitely developed more avenues of problem solving different perspectives and techniques. Did you receive any type of funding or grants for your project?

Magill: Yeah, I'm in the research experience for undergraduates, I know the corpus building project, and the two professors, got a grant to get undergraduates involved.

Chaiyarat: Is there anything else you want to say about your experience, if you have any advice for students?

Magill: I didn't realize I was doing this when I started college, but I took a lot of classes in my linguistics major in freshman and sophomore year and that I realized later that it allowed me to do things like research as an upperclassman. I already quickly got that background, instead of waiting until I was an upperclassman to take classes, that you would need to do research for.
---
Ruth Rosenblum
Chaiyarat: My name is Natasha and I'm a junior. I work with the Undergraduate Research and Creative Collaborations Office and this interview is to just get an understanding of your undergraduate research experience. Could you give me information about what your academic project is and the research or creative questions that you're exploring?

Rosenblum: The project is a linguistics project and it has sort of two parts. So first we're just building a corpus of speech…The goal is to build a one-million word corpus and annotate with different linguistic information. We were doing morphological imitation and syntactic annotation, things like that. And then, once that corpus is built, it can basically be used to do different sorts of research on the Internet. Like anyone interested in Russian child speech or like Russian acquisition or things like that or comparing modeling will to bilingual acquisition could use it to do that research on it. Now that the corpus- parts of it-are built in, parts of it are very close to being finished, we're starting to do our own research on it. My group has undergrads that are working on this project, each person is doing their own research. Specifically, I'm doing research about the acquisition of passive constructions in Russian. And the goal is to compare how multilingual kids that grow up only speaking Russian acquire assets to help them speak Russian and German, and in English, like kids that grow up in English-speaking, German-speaking countries.

Chaiyarat: What sparked your interest in linguistics research?

Rosenblum: I took a couple of classes in Linguistics and thought it was really cool. I didn't think I was going to do Linguistics before college. I thought I was going to do Math and Computer Science and then I took a Linguistics class, and it was really interesting. I started exploring Linguistics and General Intro core classes. Also, just because the project requires knowledge of Russian- or at least the part I'm doing requires knowledge of Russian- when I took a Russian class at Brandeis the professor, who is also working on the projects, asked me if I would like to participate and that seemed really interesting.

Chaiyarat: This wasn't something that you actively pursued? It was an opportunity that came to you?

Rosenblum: Yeah, I knew both professors; one is the Linguistics professor and one is the Russian professor and can you believe it, I have some experience in Linguistics and some experience in Russian, and that's why they asked.

Chaiyarat: How did you find out about opportunities for undergraduates to do research? I know you mentioned they scouted you, but how did you get started with the whole research process?

Rosenblum: I think in the very beginning, I was just doing annotation and so I didn't even know that I was going to work on it for a long time. It was just kind of like; we need people to do annotations that know Russian basically. Then I think, so the grant for specifically undergraduate research, which is when we started doing our own research on projects and that was this year. I think that's pretty much it…

Chaiyarat: That makes total sense. Were you always interested in research, apart from linguistics? Was that something that kind of interested you?

Rosenblum: Yeah, I started working on this and the middle of freshman year, I think. So, I think I was definitely interested in it, but wasn't thinking specifically about opportunities yet. Definitely when they told me about it, I thought it was really cool, in part because they wanted to do research that's cool.

Chaiyarat: [How is] your relationship with your mentor and how are the dynamic is between you guys.

Rosenblum: I really liked my mentor. I really enjoy working on the projects with her; I took two classes, I think three. I'm taking one class with her now so three in total. I think part of the reason that I agreed to the project and I'm enjoying the project is because I really liked her as a professor, and I'd known her before that. That helped…The dynamic, I think, is pretty casual, like a lot of the meetings we have. All the people that are working on the project and some of them are not Brandeis students…so it's a very diverse group of people, I guess, because English-speaking people and Russian-speaking people and people in the Ukraine and students in the US and all these people working together and, yeah, I think it makes the dynamic a lot less formal, I feel like, then if it was just a professor and student.

Chaiyarat: What were some challenges or obstacles that you face during the process and, if you could talk about how you overcame them, that'd be really cool.

Rosenblum: Yeah, I think one thing that could be difficult for not even just me specifically, but the group in general, would be communication and organization. Because as I said, a lot of people are in different countries and speak different languages. Just the fact that we need to meet with 15 people every week can be hard because it could be hard to find a time for everyone to meet…I guess another thing is, people are just willing to meet at difficult times, too. For example, people in California meet at six in the morning and other people meet at midnight and make accommodations for the time…

Chaiyarat: Can you talk about who you got guidance or inspiration from?

Rosenblum: Yeah, the professors- both the professors that lead that were guiding and helping me know what to do and where the project is going and what they might be doing in the future. But yeah that was helpful.

Chaiyarat: I was just wondering if you received any type of funding for this project? That can include grants or fellowships or paid research assistant positions, anything.

Rosenblum: This was a paid research assistant position. So, I specifically didn't get a grant but the professor got a grant that she used for undergraduate research…it was an NSF grant I think…Then they got a grant or supplements to the grants that were specifically for undergraduate research and so that was used.

Chaiyarat: As we start to close, I was just wondering if you maybe had any advice for other undergraduates who don't know if research is something that they want to pursue, or what advice would you have for them?

Rosenblum: I guess talk to professors that you like, and chances are they're doing research that is interesting and especially if it's in the subject that you're studying in your major…They're definitely always really happy to talk about what they do so, it could just be like: hey, are there any positions in your lab and what would that involve? I think that that has worked for a few people in different departments, I think that would be something to do.

Chaiyarat: [Is there] anything else that you kind of want to highlight that I didn't mention from your experience?

Rosenblum: There's a lot of directions to go in, even if you're working on just one project, which was something that was interesting and surprising to me because I thought- when I started working on this project- I thought I would basically be doing the same thing I'm doing until I'm done working on it, which hasn't been the case at all. I switched three times between doing pretty different things, from just annotation to coding computer programs to actual research and reading literature about it. It depends on the project, but often there are very different parts of the project that you could be working on depending on what experience you have. That was really cool and something I really liked about the experience.
---
Chelsea, Hannah, and Jason are three of 31 undergraduates awarded fellowships in the summer of 2020 for their research. For additional stories, read about recent partnerships in Social Sciences.
---
Chengrui (Chelsea) Wu, '22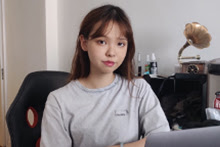 Major: Psychology & Education
Minor: East Asian Studies
Project Title: The Mediating Effect of Dependent Stress Frequency and Perceived Controllability on the Relationship Between EF and Internalizing Psychopathology
Faculty Mentor: Hannah Snyder, Assistant Professor of Psychology
Funding: Louis D. Brandeis Legacy Fund for Social Justice Fellowship
About the project: The COVID-19 pandemic has added many new stressors to a college student's daily life. Chelsea notes that "previous research has found that dependent (self-generated) stress and the perceived controllability of stress play potent roles in the development of internalizing psychopathology" such as anxiety, health anxiety, or depression. Her research project, in collaboration with other researchers, examines potential associations between Executive Function (EF) performance and depression, general anxiety, and health anxiety in a population of more than 150 Brandeis undergraduates, who were recruited through Brandeis-related pages on social media platforms. Chelsea will continue with data collection and analysis during this academic year.
Personal reflection: This summer, Chelsea gained experience conducting a literature review and working as part of a collaborative research team. She advises new undergraduate researchers that "always staying positive" helped her address challenges.
Hannah BenDavid, '22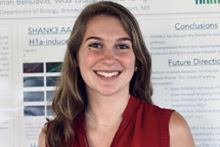 Major: Neuroscience
Minor: French
Project Title: Sleep disruption in SHANK3 knockout mice
Faculty Mentor: Gina Turrigiano, Joseph Levitan Professor of Vision Science
Funding: Provost's Undergraduate Research Summer Research Award
About the project: Hannah responded to travel restrictions imposed in response to the COVID-19 pandemic with resilience and positivity. She had arranged a collaboration with a research group at Humboldt University in Germany to image live neurons using cutting-edge techniques. When it became apparent that travel would not be possible, she consulted with her faculty mentor, Professor Turrigiano, and shifted to a new remote research project. For this project, Hannah used a behavioral tracking program and computational approach to investigate the role of a specific neuronal protein in the sleep-wake cycle of mice, a model organism used to study human diseases. Mutations in this protein in humans are associated with Autism Spectrum Disorders, which are typified by abnormal sleep. Hannah will continue her research this academic year.
Personal reflection: Hannah "would advise anyone working on independent research to recognize that setbacks and troubleshooting are a core part of research" and that "knowing when to ask for help is extremely important." She appreciates the mentoring she received from her faculty and graduate student research mentors.
Jason Frank, '22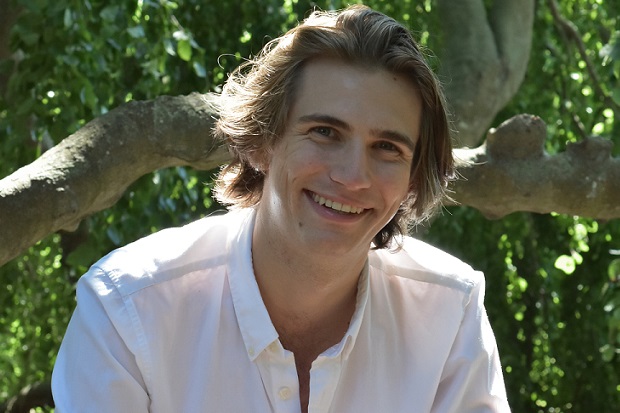 Read in BrandeisNOW about Jason Frank, '22, and his inquiries on "why there are no famous gay comedians."
Recent Research Partnerships