Brandeis University Admissions
A Day in the Life: Taking Steps (Lots of Them) to Seize Opportunities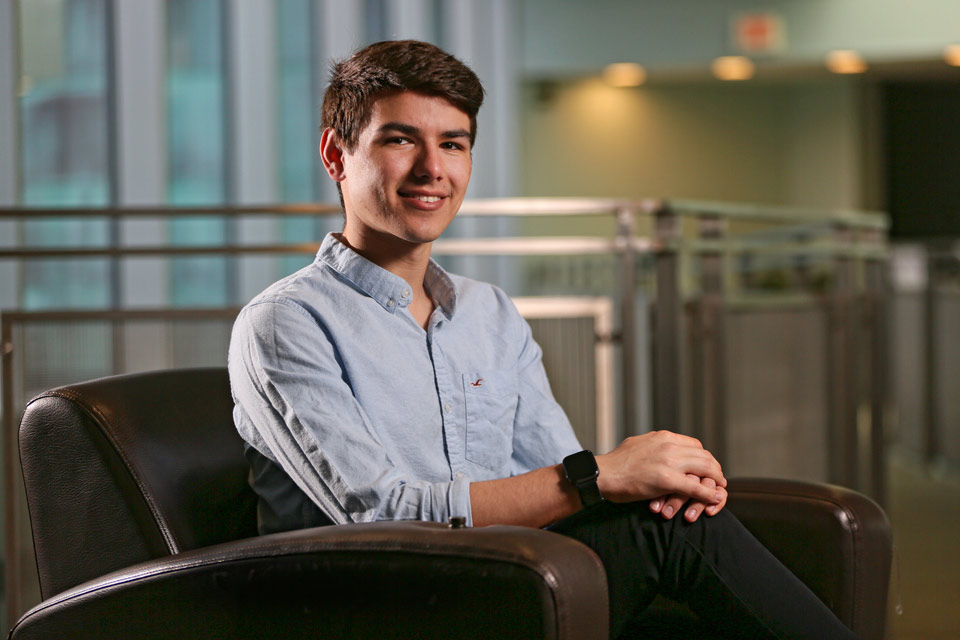 By Peyton G. '25
Living away from home for high school didn't nearly prepare me for the adventure of living 5,000+ miles away from home in a region that feels culturally like living in a completely different country. In Hawaii, I was only about 27 miles, or a 30-minute island hop from home. Coming from a small, community-oriented island, Brandeis caught my eye as a university that upholds similar values: A place where students are able to form meaningful, close-knit relationships with like-minded students in an urban area centered around supporting the college experience. 
There is never a lack of opportunities or adventure to be had both at Brandeis and in Boston. As a first-year student, I have found myself overwhelmed at the opportunities to not only pursue my academic passions, whether that be as a senator in the Student Union or a staff member at The Right to Immigration Institute, but also to take advantage of Boston's college life: riding bikes through the city, experiencing a concert for the first time, or going out with friends for my birthday to enjoy an original musical composed in Boston.
That being said, it would be impossible to write a perfect day-in-the-life that fully encompasses the Brandeis experience. Everyone's journey here is unique, and I am excited to share a little piece of mine with you. Enjoy!
Wednesday
7:30 a.m.
My first of two alarms yanks me from the sweet envelope of sleep to the cold reality of my room in Usen Hall, in Massell Quad. I blinked hard, subconsciously hoping that this action might dually offset the chill in the room and act to kickstart my sleepy brain. It accomplished neither. As the looming prospect of the long day ahead pushed its way to the front of my mind, I mustered the will to crawl out of bed, shut the window, make my bed, and prepare for a warm shower. 
8:05 a.m.
I meet one of my friends, James, for coffee at Dunkin' in the Usdan Student Center before our first class of the day, The American Presidency. I order my usual drink — a medium iced coffee with a shot of caramel, and James settles for a hot chocolate. It's snowing as we hike up the Rabb steps and enter the Humanities Quad.
8:20 a.m.
James and I arrive in the classroom 10 minutes early in order to grab our usual seats and begin our ritual pre-class card game of War. Professor Daniel Kryder arrives just as we are completing our game: a win for me — looks like it's gonna be a good day.
9:50 a.m.
After class, I say goodbye to James and make my way to Upper Usdan, where I meet Selah, director of Climate Justice and Sustainability on the executive board of the Student Union, to discuss some of our goals and projects, like our initiative to transition clubs to only using compostable cutlery, on the Senate Sustainability Committee, of which I am the chair. 
11:00 a.m.
It's time for my next class, so Selah and I wrap up our meeting and I make my way into the teeming lecture hall where Intro to Anthropology is hosted. Near the end of class (and despite the no-phone rule) I discreetly order lunch on the Byte app so that it is ready for pickup by the end of class.
11:50 a.m.
At the end of class, I eagerly make my way back to the food court at Upper Usdan and pick up my awaiting pastrami sandwich from Louis' Deli, where I meet my friends Samra, Gabby and Effie for lunch. As we eat and joke, they work tirelessly on their chem homework and I tease them relentlessly about being STEM majors. "Don't you ever get sick of doing STEM work all the time? Come to the politics department, we have so much more fun. What would your chem professor think if you were playing cards as she walked into class?"
1:00 p.m.
It's time for Intermediate Hebrew! As someone who identifies as secular Jewish, learning Hebrew is my way of establishing a connection with my heritage and culture. In my mind, language is the best lens through which to immerse oneself in a particular culture. I make my way back up the Rabb steps, this time a little slower, as I can already feel the soreness in my thighs from my second of three ascents of the day. Our lively professor, Guy, greets us with a warm "Shalom!! Ma nishma (what's up)?" and in the middle of class goes on a hilarious rant about the correct pronunciation of "hummus" (it's "CHU-mus") which leaves us all laughing.
1:50 p.m.
From Hebrew, I make my way to the library, where I meet my friends Maya and Savannah for a study session. I take this opportunity to catch up on the readings for my next class (that I definitely should've read the night before). The first floor of the Farber side of the library is my favorite place to study on campus; it's just quiet enough, but not too quiet, and the lighting is also just right.
3:20 p.m.
Before my final class of the day, I make a quick stop over at the Game Room in Lower Usdan to pick up a ticket for opening night of Orlando, a theatrical performance that some of my friends are performing in. Then, I make my way up the Rabb steps for a third time (I'm really kicking myself now) to my last class of the day — Comparative Politics.
4:50 p.m.
Following Comparative Politics, I walked with a friend down to the C-Store in Lower Usdan to pick up some snacks to drop off at my room. Cheez-It Duoz has become my latest obsession from the C-Store, and I am sure to keep a stock of them in my room for late night cravings.
5:30 p.m.
I make my way back to Farber for a group Hebrew tutoring session, led by one of my friends, Sarah. One of my goals is to elevate my Hebrew as much as possible before I travel to Israel for the first time with one of my friends in May, and additionally for when I plan to study abroad in Tel Aviv junior year.
6:30 p.m.
Finally having reached the end of my longest day of the week, I am ready to grab a green take-out box from Sherman Dining Hall and go back to my room to watch my favorite show, Suits. Following dinner and a couple of episodes, I settle into my desk to do homework for the next couple hours before calling my younger brother and then FaceTiming with a couple of my Brandeis friends.
Peyton was elected Student Union President for the 2022-23 academic year.