Events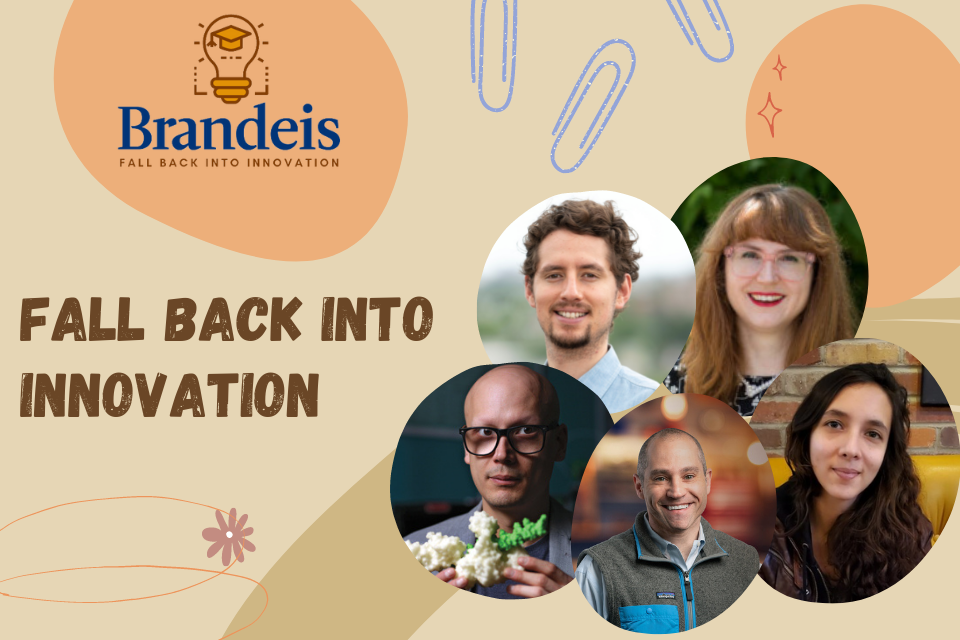 Do you have an idea for a business, social enterprise, app, or creative project? Participate this year in a unique extracurricular activity: the Spark program. Each week, you will learn about entrepreneurship, develop innovation skills, and meet like-minded people. You will also become eligible to win funding to develop your project - grants range from $1,500 - $5,000. Sound interesting? Check out the full agenda below, and sign up for the Spark program.
Click on the button below to sign up at once for the entire series. We will send you calendar invitations for each event. 
Sign Up Here for the Entire Event Series
Business Model Generation
Speaker: Christina Inge
October 20, 2021
Brandeis International Business School, Lemberg Room 54, 6PM - 7:30PM
You have a good idea for a business - but that is all you have! How do you actually build a business? How do you figure out how to distribute your product, identify trusted partners, gain customers, and generate revenue? To get a business off the ground, you need more than an interesting idea. You need a business model.
In this workshop, you'll learn how to design effective business models to create, deliver, and capture value. Learn the ins and outs of building a business across all its key facets, from winning and supporting customers to securing partnerships. You'll leave empowered with a practical roadmap to success which will take your idea from concept to a real vision.
LEARNING OBJECTIVES
Identify and summarize how a venture creates, delivers, and captures value.
Label the different components of a business model using the business model canvas.
Compare different revenue models and how these affect the overall business model.
Gathering Data for a Successful Product Launch
October 27, 2021
Brandeis International Business School, Lee Hall, Lemberg Room 180, 6PM - 7:30PM
Do you know what your prospective customers want, what they really, really want? How might we design and run simple market tests to evaluate promising opportunities? 
Most businesses do not succeed on the "if we built it, they will come" model. Instead, you need to fill a real market need. You will also need to be able to adapt to the market as those needs change. 
This workshop covers the basics of customer discovery and the Lean Startup methodology - proven ways to launch a business that taps into existing high demand. You will learn how to learn from customers what they're most likely to buy. You'll also get a framework for continuously taking the pulse of your business landscape to stay ahead of the trends.
Learn how to conduct customer discovery effectively
Specify criteria used to assess new opportunities.
Identify low-cost ways to test new ideas.
Structuring Your Startup for Success
Speaker: Juan Giraldo
November 3, 2021
Brandeis International Business School, Lee Hall, Lemberg Room 180, 6PM - 7:30PM
Having the right business structure is key to your long-term success. In this session, we'll learn how to build and run a business, focusing on all the areas that many other startup training programs miss: What will your day to day key activities be? How will you manage customer relationships? Who will your organization partner with? Where will you distribute your product?
Learn how to set your business up for efficiency, sustainable growth and strong relationships with customers.
LEARNING OBJECTIVES:
Define the operational structures and activities of your organization.

Create mutually-beneficial organizational partnerships.

Develop customer relationships.

Build a sustainable business model.

Explore potential distribution channels that are profitable and ethical.
Fundraising Perspectives with an Investor & VC-backed Entrepreneur
Speakers to Be Announced
November 10, 2021
Brandeis International Business School, Lee Hall, Lemberg Room 180, 6PM - 7:30PM
Winning funding is a key goal for many new ventures. Learn from veteran entrepreneurs how they funded their startups. Gain insights into what angel investors and VCs look for in a company. Build a winning slide deck that attracts investment and prizes. Get all your questions about funding answered.
LEARNING OBJECTIVES:
Understand available funding sources for entrepreneurs and social ventures.
Identify steps to securing funding for your stage of development.
Develop a strategy for approaching investors.
Evaluate term sheets and other critical investment documents.