2020 Year in Review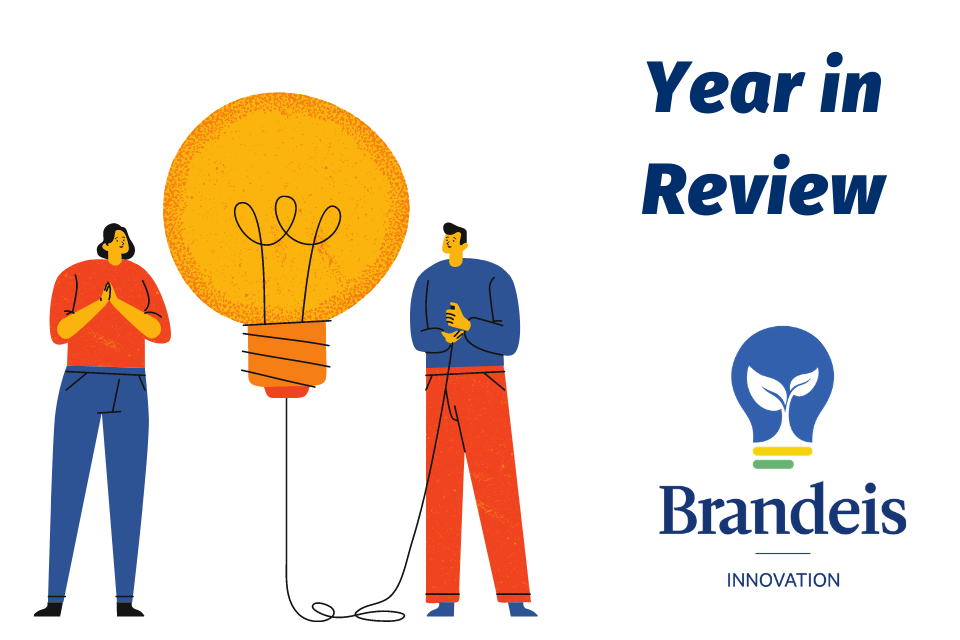 Dear Friend of Brandeis Innovation,
Many of us early await the end of 2020 in anticipation of better days to come. Like you, we here at Brandeis Innovation have experienced many transitions in this time of global challenges. I am amazed, however, with the persistence, resilience, and determination of our Brandeis innovators.
It has been an eventful year for Brandeis Innovation. Naturally, we pivoted online, as did the world, due to the COVID crisis, and have been supporting teams through the challenges of the pandemic and economic constraints. However, there were many other reasons why this year stands out as unique for our innovation programs. We launched new initiatives, reached a global audience with some of our existing events, and saw significant growth in the number of industries in which Brandeis entrepreneurs are making an impact.
I want to thank you for your support throughout the year, and wish you and yours a safe, happy, and healthy 2021.
Rebecca Menapace
Associate Provost for Innovation and Executive Director, Office of Technology Licensing and Hassenfeld Family Innovation Center
Highlights of 2020&
January
Sprout recipients and NSF I-Corps participants WorkingWell demo their app, which helps professionals with mental health challenges thrive at work, at the MassChallenge Healthtech Demo Day.
February
The annual SparkTank pitch competition in February saw teams from a wide range of sectors competing again for funding. Winners Embedded Helper, StudyEng, and Polify represented high tech, edtech, and consumer technologies with promising impact. Sprout and I-Corps alums GreenLabs Recycling marked a milestone with the majority of Boston-area research universities having signed up for their laboratory plastic recycling program.
March
The COVID-19 emergency meant that Brandeis, like universities around the world, had to move instruction online in record time. The Brandeis Innovation team quickly pivoted to supporting our startups virtually, which we were equipped to do thanks to having always been a virtual incubator that brings our programs to our participants. Our team, along with our volunteer speakers and mentors seamlessly moved to offering our innovation curriculum via Zoom.
April
With online instruction in full swing, students, faculty and staff with inventions continued to work on building their companies, pitching their ideas, and winning funding.
May
May is the end of the academic year for many, but it's always a busy time for Brandeis Innovation.
Summer of Opportunity, our first-ever summerlong innovation training program, kicked off a full calendar of weekly training sessions on sales, marketing, team building, and finance for startups with a series of guest lecturers drawn from industry leaders.

Delayed initially by the COVID-19 emergency, the 3rd Annual Mass Innovation Nights showcase moved to May in a fully-online program. Longtime favorites and newcomers alike pitched their products to an appreciative audience of Boston's startup community in one of the highest-attended Brandeis Innovation events to date.

The 9th annual Sprout awards saw bench research in vaccine development, neuroscience, mental health, and materials science, highlighting the diversity of Brandeis' scientists' work. Inventions with the highest potential for becoming commercial products or viable medical treatments were awarded funding with input from a distinguished panel of biotech and other industry experts.
June
TeamLift, led by Brandeis alumna and NSF I-Corps Instructor Bozhanka Vitanova MS '16, wins a coveted spot in the 2020 MassChallenge cohort.
July
HackMyPhD, our unique conference for exploring both academia and industry for emerging doctoral researchers, went month long with a series of workshops on career development, winning funding, and entrepreneurship. The event attracted over 600 participants from around the world, including leading universities such as the University of California, Berkeley, Cornell University, University of Florida and New York University.
August
Applications opened for the annual Spark program, our signature virtual incubator program (which includes virtual elements every year, not just 2020) for non-bench research. Submissions met or exceeded records for many categories.
September
The fall innovation programs kicked off with a new offering, a structured ideation session that helped students develop their ideas for new business ventures, creative programs, and social-impact projects with expert support and mentorship.
October
Training continued in entrepreneurship with weekly workshops, mentorship sessions, and meetings. Each Spark team worked with mentors on perfecting their business ideas while conducting customer discovery to identify business opportunities and social needs which they could address. The focus was on strengthening projects and getting them ready for next steps.
November
The 6th annual Innovation Showcase,  keynoted by Walter Mossberg, '69, brought together the year's leading startups with alumni and members of the local and global community. Part of Global Entrepreneurship Week, the event celebrated the year's multitude of entrepreneurial activities.
December
Spark alumni GreenChoice won a spot among Google Play's Best Apps of 2020. Final Spark applications, representing the culmination of the fall's discovery and development, were submitted. An expert cohort of judges will provide final recommendations by January for the first round of Spark. Winners will go on to SparkTank, the annual Shark-Tank style startup competition, on Feb.7, 2021. 
We're looking forward to seeing more of you in 2021. To receive information on our upcoming funding cycles and event invitations, there are a ton of ways to stay in the loop about entrepreneurial opportunities:
For updates on all of the above, plus in-depth analysis and news on technology licensing and innovation around Boston, connect with us on LinkedIn.