EMet Nanotech Shines at Venture Cafe's BIO Connect Shark Tank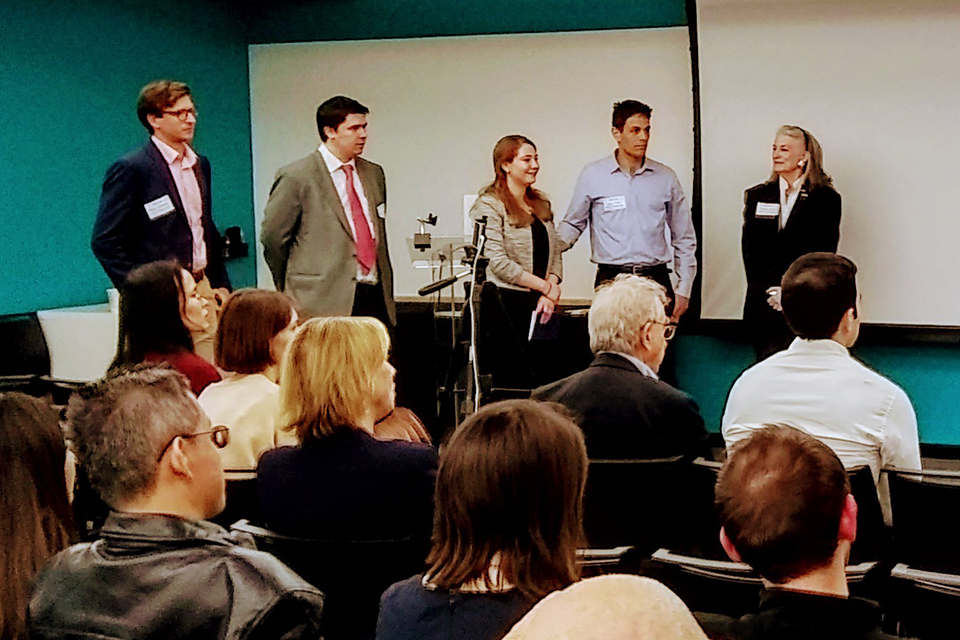 EMet Nanotech, a Brandeis NSF I-Corps™ team, was the most recent startup born at Brandeis to pitch at a regional startup competition to great acclaim.  On April 25, they pitched at Venture Cafe's BIO Connect: the region's premier annual mini-conference for the latest business, technology and regulatory development in drugs and therapeutics.
EMet Nanotech aims to accelerate the research and development of life-saving drugs by making it easier to visualize and image disease molecules. The name EMet Nanotech stems from the Brandeis seal, which includes the word truth (emet) and also focuses on the problem the company is focusing on solving in mind: EM, or electron microscopy. Their technology decreases the complexity of the molecule imaging process for quicker and reproducible results. The product is inserted into existing electron microscopes to allow a better understanding of diseases and how they interact with certain drugs.
In front of a standing-room only crowd, EMet Nanotech joined biotech startups from across the US, sharing a 5-minute pitch per startup. Leana Silverberg, Master's in Biotechnology '19, Entrepreneurial Lead on the project, represented EMet Nanotech ably, explaining the technology and why it's important to the crowd of innovators at the CIC Cambridge.
One of Brandeis University's First National NSF I-Corps Teams
EMet recently completed the National Science Foundation I-Corps National program, where they engaged in extensive validation activities for their technology, to confirm that there is a potential market for their technology. They were among the first two teams of Brandeis scientists to make it into the elite program. During the intensive national program, the EMet Nanotech team conducted over 100  interviews with industry decision-makers, seeking feedback on their invention. The overwhelmingly positive feedback they received during the process confirmed the strong need for this breakthrough innovation, which has a potential market of over $30 Million per year, as well as validating their business plan. Feedback from industry experts included this encouraging quote from a leading industry researcher: "We are willing to fly across the country just to take a look at your solution… Once it is done with R&D, we would like to start collaborating as soon as possible."
Getting a Kickstart from the Brandeis Innovation Program 
The judges at BIO Connect were equally impressed by EMet. They provided thoughtful feedback on the market for the product, future growth directions for the company, and the pitch itself. The pitch helped to further validate the breakthrough nature of EMet Nanotech's technology. Most importantly, it brought greater exposure for both the startup and Brandeis Innovation in front of the Boston innovation community. "Being able to pitch to potential supporters and investors at such a major event was a significant milestone for us," says Leana, adding "we couldn't have done it without the entrepreneurial and pitch training we received through Brandeis Innovation. Working so closely with the Brandeis team led us ultimately to be selected as an NSF I-Corps National team, and  has opened a lot of doors for us. We are so fortunate to have an amazing team and support group where we can work really well together, have fun, and progress quickly."