GreenChoice: Creating a Platform to "Shop Your Conscience"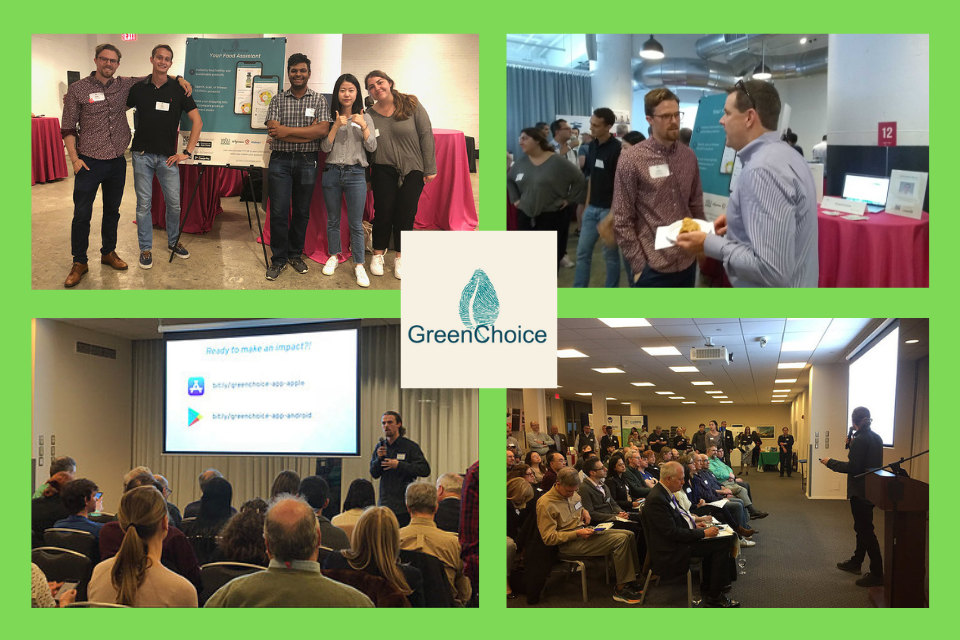 When he first came up with the idea of creating a better way to find sustainable, healthy food, Galen Karlan-Mason had no intention of becoming a social entrepreneur. He had just earned his Bachelor's at Brandeis and was completing his Master's at Brandeis International Business School. He did, however, intend to transform his interest in sustainability into a career. Where he imagined that career was in real estate, an industry undergoing a green transformation in response to climate change and other global challenges.
He had an idea, though, one to which he kept returning: what if it were easier to make sustainable food choices? What if, in addition to being more sustainable, food choices could be healthier overall, tailored to a consumer's values and health needs? Today's consumers have a wide range of choices, but navigating them to find food with, for instance, a lower carbon footprint that is also free of common allergens can be a considerable challenge. Reading labels, researching foods online, and asking for recommendations is time-consuming, making it harder for consumers to eat what they need while living their values. What if data could solve this challenge, by recommending the right foods for them?
Galen believed in his idea, but still didn't see himself as an entrepreneur. Still, he shared his product idea with a trusted professor at IBS, Mitch Tyson. Tyson was initially sceptical of whether the idea could work. Yet, he also saw that Galen was passionate about it. He encouraged Galen to participate in the IBS 3-Day Startup Challenge, an intensive working weekend in which Brandeis students create startup ideas collaboratively. Once at the event, Galen connected with Heller students who also saw the potential in a greener grocery shopping app. Together, they worked on an initial concept, winning a prize at the event. It was there that Galen first connected with the team at Brandeis Innovation. I-Corps Instructor Bozhanka Vitanova also saw great potential in the project that is now GreenChoice. He was encouraged by fellow Brandesians, including Debbie Berechman '86, Executive Director, Global Initiatives & Community Engagement at the Brandeis International Business School, to pursue the idea further. 
With this encouragement, Galen applied for the Brandeis Innovation I-Corps Fellowship. Funded by the National Science Foundation, I-Corps accelerates the commercialization of university STEM research that has high commercial potential. Brandeis Innovation runs one of only 6 I-Corps sites in Massachusetts. Within the program, Brandeis Innovation has created a fellowship that trains STEM innovators in entrepreneurial skills, enabling them to take their ideas from the lab or the back of a napkin and into the world. The focus is on solving significant global challenges in an interdisciplinary way, in keeping with the mission of Brandeis University as a whole. His team also competed in the SparkTank pitch competition, winning a Spark grant as well.
The combined support GreenChoice received from IBS and Brandeis Innovation empowered Galen to consider an entrepreneurial future. "When a startup is new, it's fragile, and yet that's when you also most need constructive feedback" to build out an idea. The respect, steady support, and thoughtful feedback he received from the Brandeis Innovation team, IBS faculty and staff, and the mentors he met through each group helped the team refine their idea while at the same time, building his confidence as a founder. Entrepreneurs tend to experience impostor syndrome as they exit the lab or classroom and pitch their ideas in the competitive Boston startup community. Having the Brandeis Innovation Center and IBS behind him helped Galen make progress during this early phase. "They took us more seriously than we took ourselves at that time," says Galen, noting that the Brandeis teams had confidence he could succeed even when he was hesitant to step onto the startup road. 
The interdisciplinary spirit of Brandeis also helped shape GreenChoice in the right direction. "We're at the nexus of so many different problems," says Galen. Making the food supply more sustainable addresses a host of other global concerns: climate change, global health, food justice, and animal rights among them. By enabling all consumers to make informed food choices, the startup is helping move these issues forward at the grass roots.
For Galen, as for many entrepreneurs, the mission of his company is also a personal one: as a person with ADHD and allergies, he maintains a diet that is essential to supporting his well-being. Yet, identifying food options that meet his needs while being good for the planet takes more work than it should. He hopes that GreenChoice will give global consumers the power to make healthy choices that also support sustainability, fair trade standards, humane treatment of animals, and equal access to nutritious, culturally-appropriate food. 
What's next for GreenChoice? They are at an important transition stage, one where their ties to Brandeis IBS and the Innovation Center remain as strong as ever. They were accepted into the 2019 cohort of Masschallenge Rhode Island, after failing to be accepted last year. This year's win of a spot in the prestigious incubator's Providence program is in part thanks to the support of Brandeis, which partners with Masschallenge, and largely a result of the entrepreneurial grit that is a hallmark of successful founders. Setbacks are a normal part of launching a company, Galen notes. With persistence, they have overcome obstacles, realizing major goals this year. As they progress through Masschallenge, they hope to refine their business model, which will include licensing their technology to major grocery brands, or developing other collaborations. Through it all, the strong support of the Brandeis Innovation community is a pillar of their success. Two of the team's top advisors are connections they formed through IBS and Brandeis Innovation. "We're very appreciative of the connections Brandeis has helped us build."
Galen's advice to other Brandesians looking to explore innovation? Even if you're just thinking about it, give it a try. Let go of impostor syndrome. Don't use excuses about whether you belong at the entrepreneurial table. "Nobody is ready to start a business," says Galen, noting that everyone takes the plunge with some open questions. With support from IBS and the Brandeis Innovation Center, innovators grow, every day, into entrepreneurs.