120th Mass Innovation Nights: Brandeis and Waltham Edition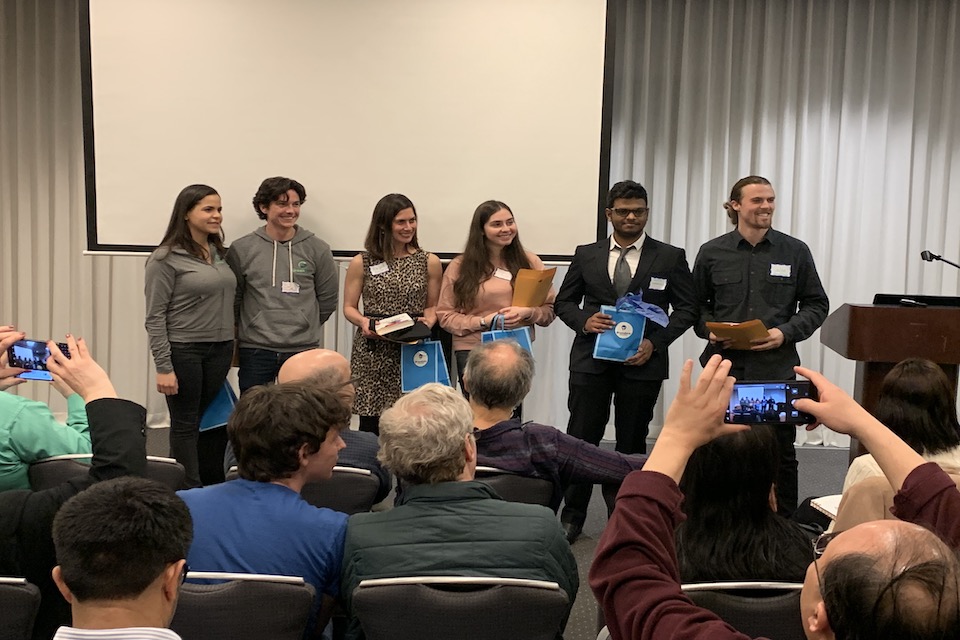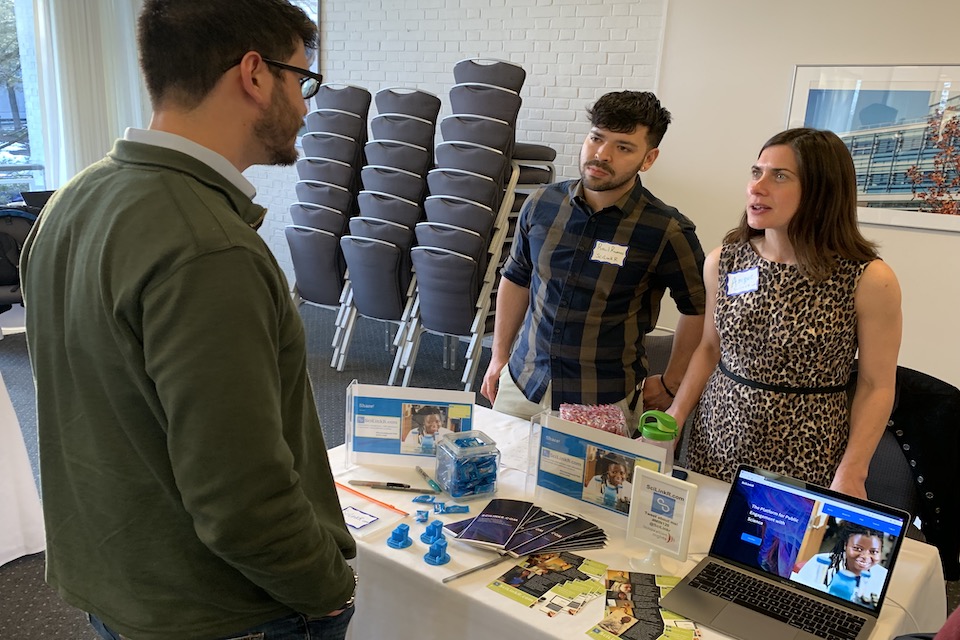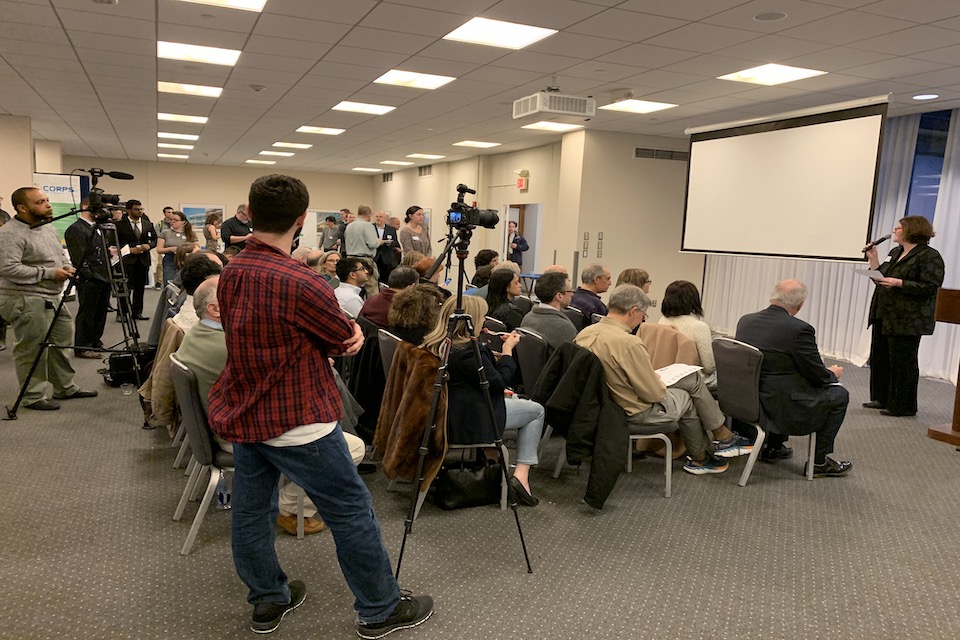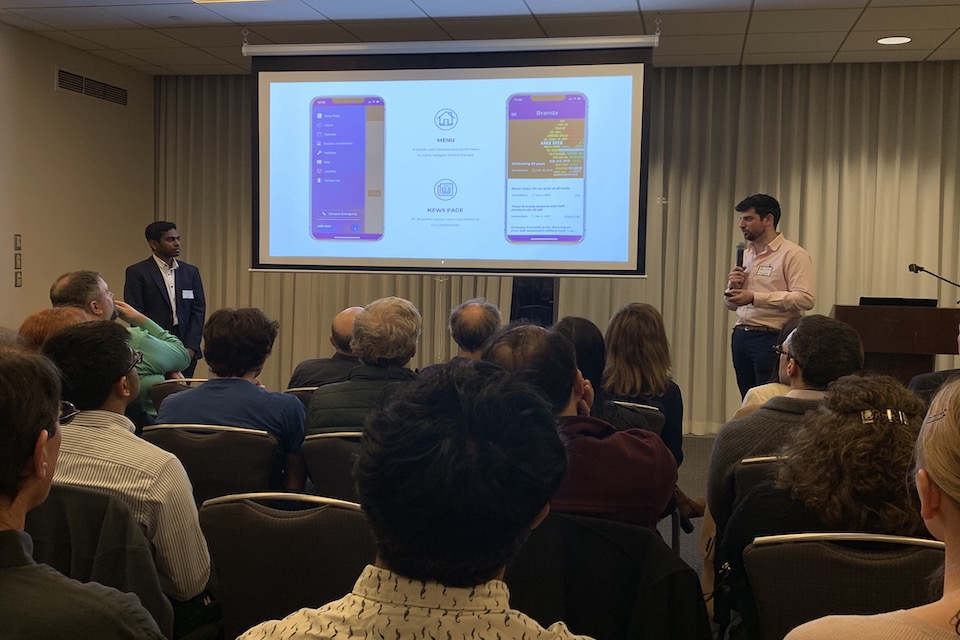 Mass Innovation Nights, Boston's leading forum for launching new startups, returned to Brandeis University for the second year in row on March 14, 2019. Celebrating Pi Day with this innovation showcase is rapidly becoming a tradition for both Mass Innovation Nights and Brandeis. The Boston innovation community gathered in the Faculty Center to meet and greet the wide-ranging startups to emerge this year from Brandeis' labs, dorms, and classrooms. 
Audience favorites GreenChoice were back again this year, updating attendees on their progress. Emerging from our Spark program, GreenChoice has gone on to funding and participation on regional and national startup programs. They were joined by another innovative environmental startup, GreenLabs, which aims to recycle the tons of plastic waste generated by laboratories across the US. The team has been active in our Sprout grant program, as well as participating in our I-Corps Fellowship. Both green startups won the popular vote as two of the four favorite teams of the night.
Joining them on stage was another Earth-friendly company, Roselle Cosmetics. Aiming to transform the makeup industry with their sustainable lipsticks and glosses, Roselle, a current SparkTank winner, offers organic, non-toxic, eco-friendly, and affordable beauty products. 
Flora on the Menorah, a soft toy and book designed to help children learn the meaning of Chanukah, was up next. The brainchild of Brandeis Innovation Center Program Coordinator Fern Shamis, Flora on the Menorah represents an exciting frontier for university startups, targeting, as does Roselle, the consumer-goods market. As the Brandeis Innovation program matures, the range of industries addressed has become increasingly robust. The highly-competitive consumer goods market is becoming an area where Brandeis startups are showing promise, expanding the reach of Brandeis innovations into consumers' everyday lives, and continuing to help make Brandeis University a household name. 
Perhaps the most exciting event of the night was the launch of a new platform for STEM outreach, SciLinkR. Funded by the National Science Foundation, and also a participant in our Sprout program, SciLinkR aims to connect scientists doing outreach with K-12 programs in need of mentors, speakers, and programming to inspire the next generation of scientists. The launch of SciLinkR at Mass Innovation Nights represents the first time a startup was launched live at a Brandeis Innovaion event. The platform rapidly exceeded their target signups post-launch.
Other participants including Keysie, a local Waltham fashion brand that participated in Brandeis Innovation public programming, as well as Branda, an app designed to connect students at Brandeis with the daily services and information they need, from dining halls and the shuttle to laundry facilities. Branda aims to have a direct impact on student satisfaction right here at Brandeis. Eventually, they plan to sell versions of their app to colleges and universities around the US. 
The 2nd annual Pi Day Mass Innovation Nights was a lively, community-focused showcase. As always, it successfully showcased the remarkable range, commitment, and impact of our innovators.