Meet Alison Elliott of The Farmer Foodie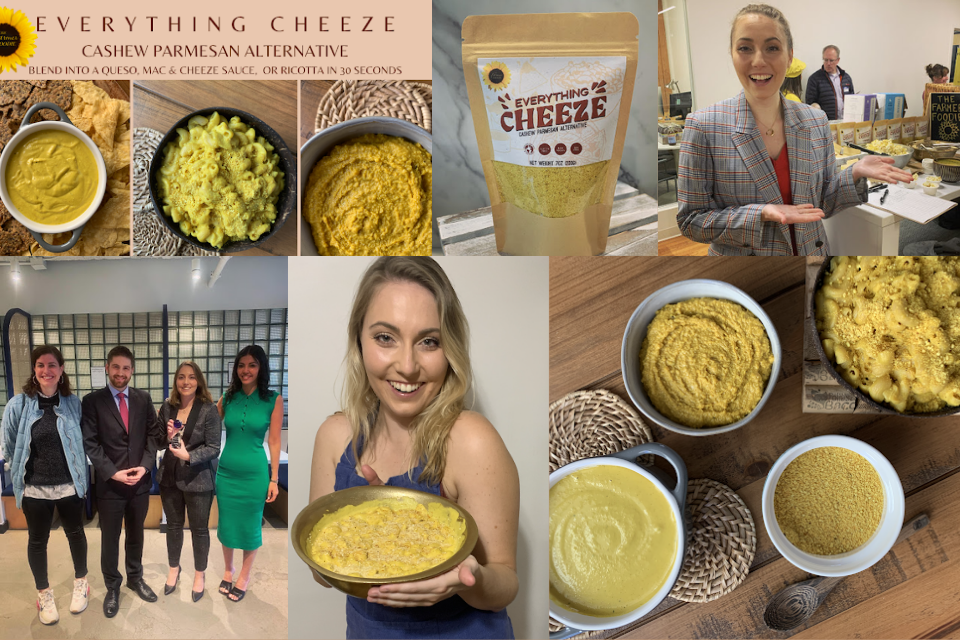 Heller graduate and SparkTank winner Alison Elliott has long had a dream of combining her dual passions for sustainability and delicious, original recipes. Starting with a blog, her brand
The Farmer Foodie
grew during her time in the Brandeis Innovation Virtual Incubator to a groundbreaking new plant-based cheese alternative. Launching this May, it sold out online within hours. She recently won the
WeWork-Oatly sustainable startup pitch competition
, winning support for a year for her food startup. This June, you can meet Ali at local farmers' markets. Learn about Ali's journey from farm educator to the Farmer Foodie, her sustainable lifestyle, and her experience growing her business through the Brandeis Innovation Spark program.
What inspired you to start The Farmer Foodie?
I minored in Sustainability Studies at Muhlenberg College. I became extremely aware of my actions and choices and their associated environmental impacts, all of which prompted a lifestyle shift. For example, I've been using reusable napkins and dish towels for years rather than paper towels or napkins, I drive a hybrid car, and I compost and recycle. 
I WWOOFed (World Wide Opportunities On Organic Farms) in Alaska for three months after graduation. While working on three homesteads during my tenure, I learned how to grow sustainable healthy organic food, how to sell that food through small distribution channels like independent CSA programs (Community Supported Agriculture), and food preservation techniques. This experience led me to accept a role as the Education Manager at McEnroe Organic Farm in Millerton, NY. I wore many hats during my four years there, I managed a 1 acre garden with 14 egg laying hens and 2 goats, and I taught visitors about the farm's sustainable organic food production and preservation efforts. In 2020, while working on the farm, I also became a sustainable recipe developer. I have published over 150 plant-forward recipes as The Farmer Foodie. 
Continuing my keen interest in developing a business focused on sustainable lifestyle and positive social impact, I chose to attend The Heller School for Social Policy and Management at Brandeis University where I earned an MBA in Social Impact and MA in Sustainable International Development. 
Now, The Farmer Foodie is gearing up to launch its first product: Everything Cheeze! Everything Cheeze is a delicious raw vegan, gluten free and soy free Cashew Parmesan Alternative. It is inherently sustainable because of its plant-based organic ingredients and long shelf life. The Farmer Foodie puts sustainability at the forefront of all business decisions, valuing the triple bottom line: people, planet and product. My goal is to be an industry leader, setting the standard for transparent, sustainable, healthy food products that benefit all parties including Mother Earth.
You're currently studying at Heller for your master's. How has what you learned in the classroom helped your entrepreneurial journey?
I founded The Farmer Foodie LLC as my food blog in January 2020 to share my lifelong passion for recipe creation and sustainable organic food. I am a plant-forward recipe and product developer. Many recipes are inspired by my four year career as an Organic Farm Education Manager. 
I'm in two graduate degree programs at The Heller School for Social Policy and Management at Brandeis University from which I will graduate in a few weeks (May 22, 2022) with an MBA in Social Impact and an MA in Sustainable International Development. 
I am a passionate solo social entrepreneur. At Heller, I learned about social entrepreneurship from Carole Carlson and the triple bottom line (people, planet, product) from Michael Appell. These principles have been extremely impactful on The Farmer Foodie's business model, not to mention my thought process as an entrepreneur. I pursued my MBA in Social Impact to continue building The Farmer Foodie and further position the business as a sustainable leader. I knew I wanted to introduce another layer to The Farmer Foodie and expand its offering.
I had dozens of business ideas when I first started school. The process of building multiple business plans throughout school has helped me hone in on one that was both feasible and exciting: Everything Cheeze. Sales start in the coming weeks. 
Everything Cheeze is my first product launch. It is a raw vegan, gluten free, and soy free Cashew Parmesan Alternative. Everything Cheeze is a multi-use product that can be hydrated with boiling water in 30 seconds and blended into a queso, ricotta, or mac & cheeze sauce. 
You were a top winner in the Brandeis Innovation SparkTank competition and have been participating in the Spark spring '22 cohort training. How has that been?
Spark has been a very valuable program. I won the second highest funding amount in the SparkTank pitch competition on February 13, 2022. I pitched my plant-based organic boxed Mac & Cheeze product. About a month later, on March 10th, I had a revelation and I pivoted to Everything Cheeze because of its differentiated and unique product characteristics. Everything Cheeze was born from four plant-based cheeze recipes I perfected over the years. I had individual recipes for my vegan Mac & Cheeze, Parmesan, Queso, and Ricotta. Now, all four of these delicious recipes are accessible in one delicious product. It is a first mover in the food industry. Everything Cheeze is truly a product I feel confident pitching at competitions and accelerators and to investors. 
Through Spark, I have learned a lot from Juan Giraldo, the head of the Spark 2022 program, and my business mentor. Juan is a fellow consumer packaged goods (CPG) founder. A few years ago, Juan launched Waku, a healthy-gut beverage company. They ethically source ingredients from small farming communities in the Andes mountains. Juan's experiences as a serial entrepreneur and his knowledge about the food startup industry has been extremely helpful throughout the Spark program. Juan has truly helped The Farmer Foodie navigate this early startup stage. 
I am so happy to have been awarded prize money and mentorship through SparkTank this semester. I feel so strongly that I have narrowed in on the best go-to-retail market and growth strategy. I am on track to begin sales in early June on eateverythingcheeze.com, at Boston based farmers markets (June-October), and at select specialty retail locations. I will continue to develop my plan to scale The Farmer Foodie and introduce additional products. 
I have found Juan's guidance, advice, and mentorship to be invaluable. Similarly, the entire Spark team has been extremely supportive. They helped me advance to the final pitch round of MassChallenge, which is a competitive summer accelerator program. I am so grateful for the opportunity to utilize the Spark resources and form deep connections with the community.  
What are your goals as you graduate from Spark and build The Farmer Foodie?
The timing of winning first place in the WeWork + Oatly Sustainability Changemakers Pitch Series is perfect. The Spark mentorship program is coming to an end and I am gearing up to launch sales and begin scaling this summer. I won a free private WeWork office and mentorship under Oatly, a global plant-based leader, for one year.
The WeWork office space will truly guide the implementation and growth of the business. The space will facilitate innumerable connections with startups, entrepreneurs, established food businesses, and other industry individuals. It is conducive to meetings, brainstorming sessions, and marketing events, things I wouldn't be able to accommodate otherwise. I plan on demoing my Everything Cheeze product at all Boston WeWork locations, generating organic traffic and brand awareness, and facilitating conversations with my target audience. 
Stay tuned by signing up for The Farmer Foodie newsletter on thefarmerfoodie.com. I can't wait to launch sales of my delicious Everything Cheeze product in a few weeks!