Record Attendance at 4th Annual Startup Mixer Pitchfest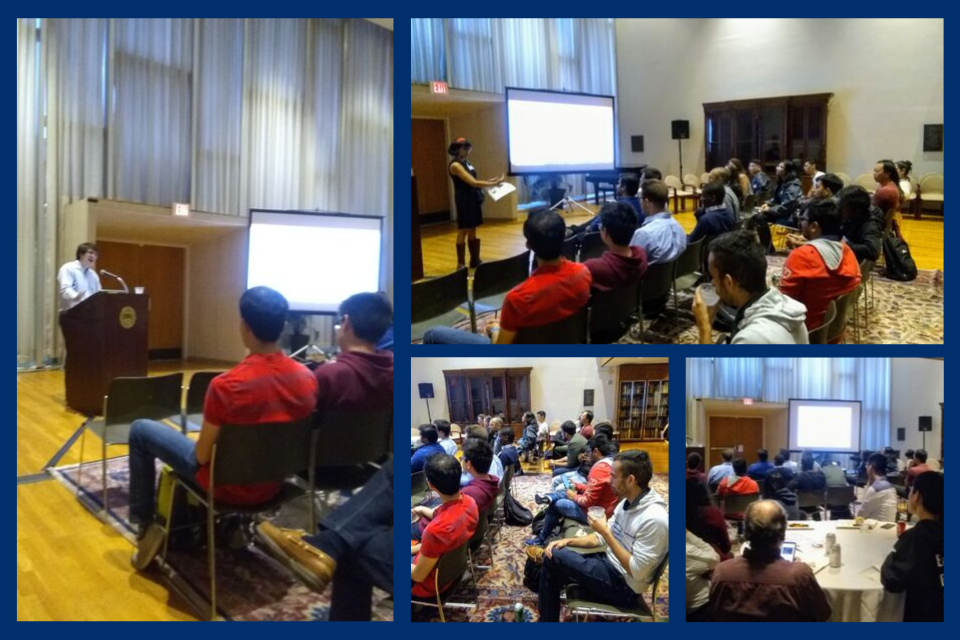 A record number of Brandeis students, faculty, and staff turned out for the 4th annual Brandeis Innovation Startup Mixer, taking place September 12 in Rapaporte Treasure Hall in the Goldfarb Library. From Heller graduate students to International Business School undergraduates, from Rabb School of Continuing Studies faculty to Arts and Sciences students, the attendees were all there with common goals: to see what new startups were emerging from the dorms, classrooms, and labs of Brandeis, and to learn about support available to Brandesians with impactful ideas that they want to explore further. 
Nine attendees pitched their own startup ideas to the assembled crowd. They had 60 seconds to share their ideas, and they made the most of their time. Ideas ranged from a technology to translate text anywhere in the environment--signs, posters, electronic devices--to Braille for visually-impaired users, to an app to enable better self-care. Service businesses, new products for consumers and industry, and apps all met with helpful feedback and a supportive audience. 
This is the fourth year that Brandeis Innovation has offered an early opportunity for Brandeis-based innovators to connect with like-minded peers at the start of the semester. The idea is to help students, faculty, and staff with entrepreneurial ambitions learn about available resources, connect with the larger Brandeis innovation community, and, if they are feeling excited enough, pitch their innovative ideas. 
The MakerLab was also in attendance, demonstrating their creative projects, including the newest: a self-driving car. MakerLab Founder Ian Roy addressed the group, highlighting the many ways in which the makerspace offers ways to turn ideas into tangible reality. It's just one more way in which the innovation ecosystem here at Brandeis supports cross-disciplinary problem-solving and entrepreneurship.
What's next for these aspiring entrepreneurs? Interested applicants can apply to the Spark program, for student startups, apps, consumer products, and other non-bench research, or apply to Sprout, if their work comes out of bench research. They can also attend upcoming events for the innovation community. Coming up next are the Heller Graduate School of Social Policy's 3-Day Startup Challenge, the Brandeis Innovation Showcase, and Codestellation, the friendly hackathon. For some participants, it may make sense to apply for a National Science Foundation I-Corps Fellowship, which provides training for those working on STEM research with high commercial potential. Through Spark, Sprout, and I-Corps, they gain access to mentorship, funding, training, and a growing community of innovators in the larger Boston startup community who support Brandeis. This support can be the catalyst for national recognition. Three years ago, one attendee pitched an idea for an app at the second annual mixer. Wafaa Arbash, then a graduate student at Heller, had an idea for a platform that helped refugees around the world connect with meaningful work. After the pitch, she met with Associate Provost for Innovation Rebecca Menapace and the Brandeis Innovation team, participated in Spark as well as other Brandeis entrepreneurship initiatives, and graduated to work on her idea. That concept, launched at the Brandeis Innovation Startup Mixer is now the award-winning startup WorkAround, a past MassChallenge finalist. 
It goes to show that the Startup Mixer is a true starting point. It's the launchpad from which Brandeisian entrepreneurs can gain the support they need to take a chance on their ideas--and make a positive impact on the world.